On the morning of Feb. 20, 2014, a guard at the Guadalupe County Correctional Facility in Santa Rosa found Danny Tavasci lying face down and motionless in his bunk in solitary confinement. Empty blister packs of medication lay scattered around him.
Tavasci was a 54-year-old former highway worker whose life took a drastic turn in 2008 when he shot his son in the hip and the leg during an argument. A judge sentenced him to 17 years. By the time the guard found him that morning, his body had been ravaged by ailments including diabetes and high blood pressure. He also had been diagnosed with a major depressive disorder. His prison cell was a virtual drugstore — hundreds of pills, 26 different kinds of medications — despite his disciplinary history of abusing them.
A coroner later found 23 potassium chloride tablets, which are used to treat high blood pressure, in Tavasci's throat and stomach, and ruled his death a suicide.
Danny Tavasci
Why Tavasci was allowed to keep so many pills with him despite his mental health history is just one of several questions raised in a federal lawsuit filed by his widow. The court case is one of more than 150 filed by over 200 plaintiffs against Corizon Health since the nation's largest for-profit provider of inmate health care won a contract with New Mexico's prison system in 2007. The brunt of the claims has come since the state awarded the company a four-year, $156 million contract renewal in 2012.
Taken together, the lawsuits, often hand-scribbled by inmates representing themselves, depict agonizing details of medical care they say was often delayed and negligent, and of retaliation by prison staff when they complained.
One inmate said he waited 20 days for X-rays after his hand was crushed in a door; another said he was denied a referral to a specialist for a basketball-sized abdominal protrusion. A woman said she waited years for breast cancer treatment until the cancer had reached a critical stage.
The claims bear striking similarities to lawsuits filed across the country against Corizon, which, more than any other company, has capitalized on the wave of privatized health care that has swept prison systems trying to cut costs. Critics say those cuts too often come at the expense of inmates who, because of their crimes, have little power to demand better medical care.
The Brentwood, Tenn.-based company has lost contracts with correctional departments in at least four states since 2012. Last year, New York City ended its relationship with Corizon at Rikers Island after years of complaints. In September, a Florida oversight board found delays in treatment and other problems at a women's prison to be "life-threatening."
But in New Mexico, Corizon has been allowed to operate largely unregulated, despite red flags raised by the lawsuits, a six-month investigation by The New Mexican has found. State lawmakers have paid little attention to the quality of inmate health care. The New Mexico Corrections Department has conducted only a fraction of the medical audits it was supposed to have done. And any record of settlements in claims over medical care, which might help determine the merit of the allegations, has been kept secret through a contract agreement that allows the company to handle litigation against it, even when the state is a co-defendant.
A review by the newspaper of thousands of pages of state records and court documents and interviews with current and former Corizon and Corrections Department employees shows a department seemingly removed from the details of inmate care. Among The New Mexican's findings:
• Despite a Corrections Department policy requiring contracts to be audited quarterly at every facility where services are provided, department officials sometimes went years without auditing Corizon, known as Correctional Medical Services before a 2011 merger. Of about 160 audits that should have been done between 2012 and 2015, the department could only produce records of 20.
• Employee warnings to the department about short staffing, substandard care and a lack of auditing went unheeded.
• Despite those concerns, the number of people assigned to monitor Corizon's performance shrank from four medical professionals to one lawyer. The department says it intends to add three nurses to the team, but those positions have been vacant since they were created last May.
• When the department finally did begin paying close attention to Corizon's medical staffing in May 2015, after years of accepting Corizon invoices with little scrutiny, the contract monitor found staff shortages month after month, and the department fined the company $1 million. It was the only time the company had been fined since its contract was renewed in 2012, according to records and interviews.
The sporadic and often haphazard oversight came despite glaring signs of trouble. These included an internal memo in 2010 that warned of dire medical conditions at the women's prison in Grants, as well as repeated findings by the State Auditor's Office that the department needed to do a better job of ensuring Corizon delivered what it promised.
In one particularly troubling sign, a Corizon doctor accused of sexually abusing inmates in Santa Rosa in 2011 was simply transferred 170 miles north to another facility, where he was accused of molesting dozens more until inmates complained to police and he was finally fired.
Now, as Corizon's contract with New Mexico is set to expire in May, it is again competing with other companies to provide care for the state's inmate population.
Corrections officials acknowledge failings in monitoring the contract. Department Secretary Gregg Marcantel said the newly structured contract will include tougher oversight provisions, though he declined to provide details because he said the state has an active request for proposals for the new contract.
"We pay a lot for those medical services contracts, and as a result of that, I expect something," he said. "Whoever wins that contract is going to be faced with some performance measures that look very much different than the performance measures look like in any other state and have looked in the history of this state."
The Corrections Department oversees 11 prisons scattered across the state with about 7,000 inmates, including more than 700 women. Corizon has the medical contract for all but one of those facilities.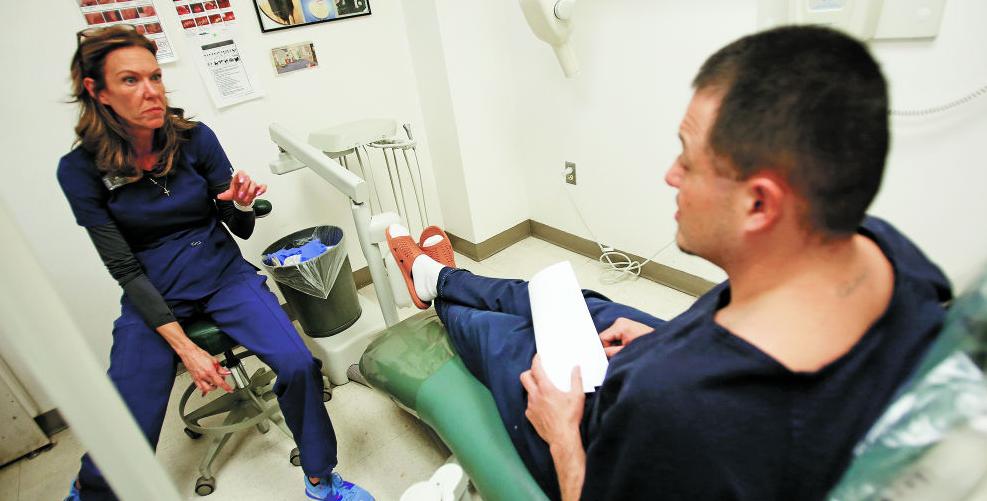 Martha Harbin, a Corizon spokeswoman, defended the company's performance. As evidence, she said, the American Correctional Association, a private accrediting organization that sets standards for prisons, has given the state prison system a "100 percent" in the medical portion of triennial audits of the prison system since Corizon has had the contract.
"This is the result of the commitment and dedication of our front-line health care staff who work hard every day to offer the best possible quality of care, to one of the most vulnerable patient populations, in one of the most challenging environments imaginable," she said.
But some of those excellent scores issued by ACA came as employees with the department were raising concerns over care.
Marc Stern, a correctional health care consultant and former health services director for the Washington state Department of Corrections, said passing an ACA audit is a "necessary but not sufficient" measure of a prison system's health care. ACA audits can determine whether a correctional system has certain standards in place, he said, but they do not test whether officials follow those policies.
"Because you passed, it does not mean that health care is automatically or necessarily safe," said Stern, who is now the medical monitor in a consent decree between Florida's Miami-Dade County and the U.S. Justice Department over issues in the prison system there.
Harbin, who said Corizon could not comment on pending litigation, downplayed the significance of the volume of lawsuits.
Martha Harbin
"It's important to emphasize that the existence of a lawsuit is not necessarily indicative of quality of care or any wrongdoing," she said. "Malpractice suits are a fact of life for most doctors in America today, and that is particularly true in the correctional health care industry, where our patient population is highly litigious."
But in fact, inmates face significant legal hurdles before they can file a lawsuit. The federal Prison Litigation Reform Act of 1996 and a similar state law were designed to weed out frivolous lawsuits by making prisoners exhaust all levels of administrative grievance processes before filing a court action. By 2006, federal lawsuits nationwide had fallen 60 percent from the time the act passed, according to a report by Human Rights Watch.
In New Mexico, however, the number of inmates filing medical-related lawsuits has shot up under Corizon. Between 2004 and 2007, 53 inmates filed lawsuits against the previous provider, Wexford Health Sources, which the state fired in 2007 amid concerns over inmate care and staffing shortages. By comparison, 138 inmates filed suits against Corizon between 2012 and 2015. Three more have filed suits so far in 2016.
Matthew Coyte, a civil rights attorney who frequently represents prisoners, including some who have sued and won settlements against Corizon, said he doesn't know if the number of complaints against Corizon is abnormal.
"All I can comment on," he said, "is that the cases that come through my office are horrific, terrible, an embarrassment. The amount of money we spend on medical care versus the care the prisoners receive is an absolute embarrassment, and the taxpayers should be ashamed."
New Mexico plaintiffs filing lawsuits against prison healthcare providers by year.
The number of prisoners filing lawsuits against Corizon Health has soared since it won a contract renewal in 2012 to provide medical services to 10 state prison facilities in New Mexico. The company has held the contract since 2007, when it was known as Correctional Medical Services before a 2011 merger. Wexford Health Sources held the contract from 2004 to 2007 before it was terminated amid concerns over inmate care and staffing shortages. Lawsuits continued to come in against Wexford in the three years after it lost the contract, suggesting that Corizon could expect more after its contract expires in May. The company is among bidders for the new contract. Hover over the colored segments for more information.
Interactive graphic by Dan Schwartz/The New Mexican
Many of the lawsuits center on the now infamous story of Dr. Mark E. Walden. On Sept. 29, 2011, a 30-year-old inmate at the Guadalupe County Correctional Facility filed a complaint with the prison accusing Walden of fondling his genital and anal areas. He also said the doctor gave him repeated prostate exams when he had only gone into the infirmary for a pain in his side. Each time, the inmate asked the doctor if the genital touching was necessary and was told "yes," the inmate said.
The prison responded by placing the inmate in solitary confinement, according to the report by the Corrections Department's Office of Special Investigations and Internal Affairs. Corizon officials say the complaint was unsubstantiated, and they transferred Walden five months later to the Northeast New Mexico Detention Facility in Clayton so he could be closer to home. Complaints began to stack up there until Corizon fired Walden in July 2012 after an inmate complained to Clayton police.
Lawyers for inmates say the Corrections Department and Corizon should have had ample evidence of alleged sexual abuse by Walden before transferring him from Guadalupe, where inmates referred to him as "Dr. Fingers." Walden, for example, performed two times as many rectal exams as his colleagues — including one for an inmate who came in for a broken wrist and another for a patient with an eye injury, the New Mexico Medical Board later found.
At least 77 inmates have joined in lawsuits involving Walden, many claiming sexual abuse but several also questioning Walden's medical competency, which the Medical Board, in suspending his license, determined was insufficient. One of the lawsuits claims an inmate at Santa Rosa was threatened by Walden. According to the complaint, Walden told the inmate that "he had gotten another inmate sent to segregation for attempting to report Walden's conduct."
"Had they put a stop to it at that time, a lot of our other clients wouldn't have been abused," said Katie Curry, a partner at the Albuquerque law firm McGinn, Carpenter, Montoya and Love, which represented 30 inmates who settled with Corizon under confidential terms in one of the first lawsuits against Walden.
Walden, 58, who received his medical degree from the University of Michigan, has denied the allegations in court records and has not been criminally charged. He declined to comment for this story.
While dozens of inmates have filed claims involving Walden, those account for only 20 percent of the lawsuits filed against Corizon since 2012. The vast majority of the other lawsuits involve claims of delayed or negligent care.
Handwritten court filings include painstakingly documented grievances, which prisoners say often go nowhere or are "lost," requiring them to start the process over numerous times.
Andrew Joey Delgado, an inmate serving 18 years for killing a person while driving drunk, crushed his hand and wrist in a cell door on May 3, 2014. A review of his grievance complaints and the prison staff's answers to them show it took nine days for him to be seen by the medical staff, another two weeks to get X-rays and another 26 days after that to have his hand splinted. Though he was still in pain, Corizon staff repeatedly rejected his pleas to see an outside doctor, the records show.
By the time he was sent to an orthopedist at the University of New Mexico Hospital more than six months later, his lawsuit says, he was told there was little they could do and he would likely live with pain and reduced function in the hand for the rest of his life. The suit, filed in August, remains open.
Angelina Gutierrez, 49, had already been diagnosed with breast cancer when she was remanded to the women's prison in Grants in March 2012 for violating her probation on a drug conviction. In a federal lawsuit, she says she told Corizon staff of her condition during an initial medical screening and that she would need additional treatment. She says in the suit that doctors found masses in both of her breasts, yet the staff waited more than a year to order a mammogram.
"I was in pain. I knew something bad was happening."
—Angelina Gutierrez, former inmate
Even after those tests found reason for concern, she said in an interview, the prison doctors and nurses continued to put off treatment. At one point, they blamed lost paperwork, even as her right breast turned purple and swelled to twice its size.
"I was in pain," said Gutierrez, of Alamogordo, who is now out of prison. "I knew something bad was happening."
By the time Gutierrez began receiving treatment at UNM Hospital in December 2013, more than 18 months after reporting to prison, she had Stage 3 cancer, according to a federal lawsuit she filed in July. The case is currently in settlement negotiations, court records show. Gutierrez's lawyer, Matthew L. Garcia, declined to share her medical records.
Adam Baker, a Santa Fe civil rights lawyer who has represented prisoners but does not have any current cases against Corizon, said the lawsuits reflect "an inherent conflict" between the profit motive of private health care providers and an inmate's need for care.
"That, in my opinion, is why you see these problems coming up over and over again," he said. "In the most egregious cases, I see a reluctance to take an inmate outside of the facility for specialized care. An inmate may need an MRI or to see an orthopedic specialist … and there is a grave reluctance as a system to provide that level of care because it's so expensive. It's very difficult for an inmate to be seen outside the facility even if there is a need."
Carl Takei, a staff attorney with the ACLU's National Prison Project, said prison health care ideally would not be carried out by private contractors.
"Some states rely on universities to provide prison medical care," he said. "Those systems have their own problems, but it's something where you are taking the profit motive out of it, and the interest of an academic institution is probably more aligned with the interests of their patients."
Harbin said Corizon follows "established guidelines just the way your insurance company or doctor has to based on your insurance. We do the referrals where the evidence and clinical guidelines indicate they are necessary."
In the case of Tavasci, the former highway worker who died from the toxic effects of elevated potassium levels in his blood, the lawsuit contends multiple failures on the part of medical staff at the prison, including an allegation that Corizon staff did not alert emergency responders that Tavasci had overdosed, wasting precious time in the emergency room as doctors tried to revive him. The lawsuit also contends Corizon staff failed to complete a mental health evaluation before placing Tavasci in solitary, as required by prison policy.
"He had a documented history of depression, and clearly he was suicidal," said his family's lawyer, Frances C. Carpenter. "And they let him keep his medications on his person."
Corizon was formed in June 2011 through a merger of Correctional Medical Services and Prison Health Services, two companies that had faced criticism from state and local governments over the quality of care they provided to inmates.
That concern has continued under the company's new name. Today, Corizon operates in 518 facilities across the country, serving more than 332,000 inmates in 26 states, according to its website.
CMS took over the New Mexico contract in 2007 after the state fired Wexford. When the state awarded the newly created Corizon a contract renewal in 2012, the company's performance at an Idaho prison had already received a scathing review from Stern, the correctional health care expert and a former CMS employee, who had been appointed by a federal judge to review that prison's medical care. Stern found "multiple problems, including nursing mistakes that likely resulted in the deaths of some inmates; overcrowding at the pharmacy site where some inmates pick up their daily medications; and terminal inmates sometimes being denied meals and left lying in soiled linens," The Associated Press reported at the time.
But in New Mexico, corrections officials gave CMS glowing reviews in press accounts at the time. In fact, there was ample cause for concern, records and interviews show.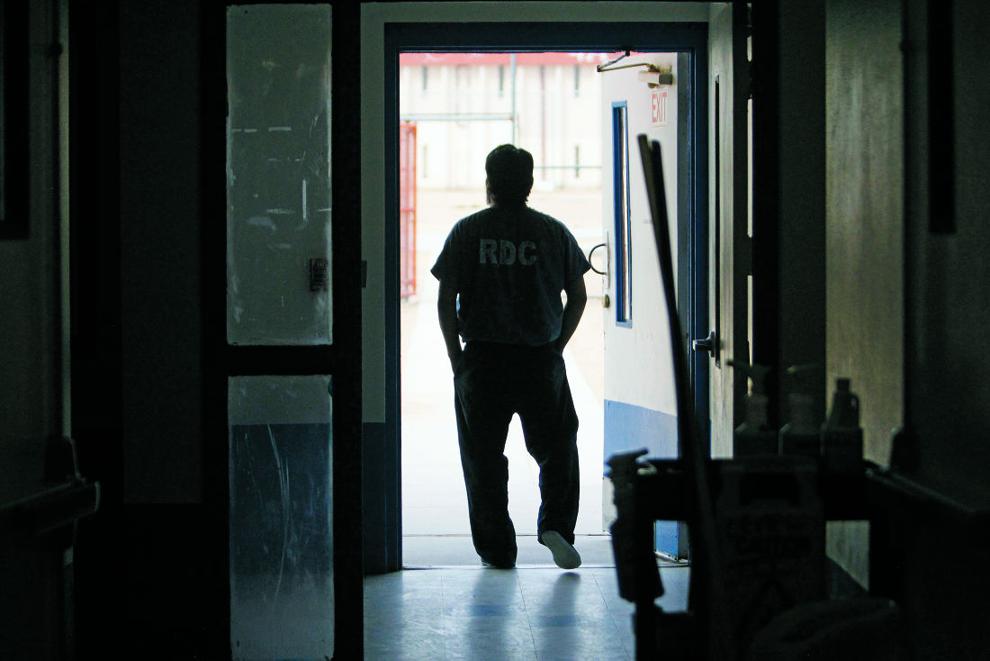 The number of inmate lawsuits filed against CMS in the first four years of its contract was on par with the number against Wexford. Corrections Department medical staff were raising concerns internally about CMS' care. The department itself had clawed back nearly $1 million in payments from the company for staffing shortages, including $230,000 for physician absences, according to staff reconciliation invoices obtained by The New Mexican.
And the number of inmate deaths in the first two full years of CMS' tenure, mostly from health-related causes, far exceeded the national average. In 2008, for example, 31 inmates died, an average of about 490 deaths per 100,000 inmates, compared to the national average of 260 per 100,000 that year.
Nonetheless, Corizon won the contract renewal. Department officials promised that Corizon's new four-year agreement, worth $156 million, would save taxpayers money and provide more accountability than the old one. If the company fell below 90 percent of required staffing levels, for example, it could face penalties of $200 an hour.
But Corizon's new contract contained less specific penalty clauses than the previous one, which had a list of fees associated with failure to deliver care. Those included a $1,000 fine if a physician failed to respond to a page within 20 minutes, a $1,500 fine for failure to conduct chronic care clinics and a $2,500 fine for failing to provide the appropriate level of access to care.
This interactive map shows layers independent prison oversight measures states have implemented. The author of the 2010 study examined eight categories of oversight. New Mexico, like most states, had none. Only one state, California, had three. The author, Michele Deitch, a University of Texas senior lecturer, recently began updating the study and said not much has changed. Hover over any state to see detailed information on independent monitoring.
Source: A September 2010 study titled "Independent Correctional Oversight Mechanisms Across the United States: A 50-State Inventory."
Interactive graphic by Dan Schwartz/The New Mexican
Whether the new contract was tougher or not hardly mattered because the Corrections Department monitored it lightly, often taking the company at its word on staffing reports and other measures, according to repeated findings over the past five years by the State Auditor's Office.
Specifically, the office said, the department relied too heavily on Corizon's own reports when reconciling invoices for payment, failed to verify the information in the reports and didn't adequately look at inmate health.
"The department should consider a monitoring and payment system which is based on verifiable performance measures such as the health and well being of the target populations," the office wrote in its most recent report.
State Auditor Tim Keller said in a statement to The New Mexican that the lack of oversight "creates an environment that is ripe for abuse, putting taxpayer dollars and important medical services in jeopardy. It's time for the Department of Corrections to make the issue a top priority and our office will scrutinize their progress until it is resolved."
State lawmakers, too, have been lax in oversight.
In 2007, the Legislative Finance Committee issued a stinging report on problems with Wexford's quality of care. The committee hired two outside doctors to review the company's performance. But in the eight years since, the committee has done no such follow-up on Corizon. Charles Sallee, deputy director of the committee, said a legislative panel asked for the 2007 report following media scrutiny of Wexford's care. No such request has been made for Corizon, he said.
The Courts, Corrections and Justice Committee, the legislative panel that asked for the 2007 report, also has largely ignored Corizon. A review of committee minutes found only two instances in which the committee discussed Corizon in the last four years: once in 2012 when the company won the contract renewal, and again in late 2014 when committee members asked to be reminded of who held the contract.
In 2015, the state Senate passed Senate Memorial 132, which directed the corrections secretary to establish a task force to study "ways to optimize quality and efficiency" within the prison health care system.
The task force was convened, but in the year since the memorial was passed, it has only met twice — once in February and once in March.
Audits performed on prison medical facilities by year
A six-month investigation into prison healthcare by The New Mexican showed the state sometimes went years without auditing Corizon Health, despite requirements to audit quarterly. Hover over the colored segments within the chart to see key findings of the audits performed by the state.
Interactive graphic by Dan Schwartz/The New Mexican
Bianca McDermott, a clinical psychologist with a doctorate from Yale, was the Behavioral Health Bureau chief for the Department of Corrections for 13 years before she was fired in December over a personnel dispute, which she believes was in retaliation for raising concerns about inmate care.
McDermott said she began alerting corrections officials about the problems as early as 2009 following the unusually high number of inmate deaths the year before.
She saw firsthand what she called poor care being provided by Corizon, then known as CMS, she said.
"My staff was working side by side with them, and we were in a position to see if there was a shortage of physicians," McDermott said. "Inmates would often complain to us, because we were there and available, about what they weren't getting from Corizon. But I couldn't get anyone in central office to do anything about it."
Another former employee in the Corrections Department, who spoke on condition of anonymity, agreed with McDermott.
"Staffing for Corizon has been terrible, especially in the physician area," the former employee said. "Their medical staff is really thin. They've got doctors running back and forth between facilities and filling here and there and, I think, wearing them out."
By 2013, after McDermott's complaints to Secretary Marcantel and Deputy Director of Adult Prisons Jerry Roark fell on deaf ears, she said, it was obvious that no one from the agency was going to do anything about the lack of oversight of Corizon's contract. She filed a Fraud Against the Taxpayers Act complaint with then-Attorney General Gary King's office, which investigated but did not file charges.
In a statement, the department said Roark and Marcantel were "aware of concerns in multiple contracts for the agency and were addressing them with executive team members and staff, to include Dr. McDermott, who was on the team responsible for ensuring compliance. To address the issue of not adequately providing oversight of the medical contracts, management changes were made, an addendum was made to the contract, and the department committed to enhancing the oversight infrastructure of the Health Services Bureau."
At one point, a panel of three physicians and a nurse conducted on-site audits of each facility quarterly. But those audits were eventually reduced to twice a year, McDermott said, and then stopped altogether.
Yolanda Herrera, a nurse who worked for the Department of Corrections' Health Services Bureau from 2005 to 2011 and was part of a team tasked with auditing Corizon's compliance with the medical care contract, said when she first arrived at the department, the bureau was "fully staffed and did audits regularly."
"We were going out quarterly to audit," she said. "Then we switched over to doing it twice a year. When I left, it was every six months."
Toward the end of her time at the department, she said, the then-chief of the Health Services Bureau, Dr. Stephen Vaughn, "was reluctant to hold [Corizon] accountable."
"I would still go out and do audits and try to hold them accountable," she said. "but I didn't have the say-so. I was doing what I was supposed to be doing, but towards the end he was very reluctant and would keep me from going and doing audits. In the last couple of months I was there, Dr. Vaughn was trying to ban me from going out to the sites."
During one site visit, she said, she "discovered tons of discrepancies, stuff the medical vendor was not doing."
Vaughn, who is now in private practice in Albuquerque, told The New Mexican he and his staff did do audits, but he said, "We suspended them when the contract renewal came up because it would be a lot of distraction trying to get the [request for proposals] out and auditing simultaneously."
Asked why Herrera and McDermott would say he discouraged audits, he declined to comment further.
Shortly after she left, Herrera said, all three of the doctors she had worked with on the audits, including Vaughn, also left the department.
In March 2012, Marcantel, who took over as corrections secretary in 2011, revised department policy to require contracts to be monitored at each facility on a quarterly basis, according to a document signed by Marcantel that year. By that standard, the state should have audited the 10 facilities Corizon provides care for at least 160 times over the last four years. But the department could only provide evidence of having conducted 20.
For example, the Central New Mexico Correctional Facility in Los Lunas — which houses the department's in-patient care for male inmates as well as long-term and geriatric care units — has been audited only once in the past four years, records show. That was in 2013.
The audits that were done frequently identified staff shortages and other significant issues. But the facilities still received overall passing grades because scores on other measures that were arguably less important were given equal weight in overall grade.
For example, a 2014 audit of the Northeast New Mexico Detention Facility in Clayton contained a note that said "site is providing less than 90% of contracted hours for the following positions: MD, NP, LPN, XRay Tech, Dentist and Dental Assistant."
Yet the facility still scored a 94 percent compliance rating for the audit's administrative standard, which includes staffing, because each of 17 performance measures — such as whether a current copy of the contract is kept in the office — were given the same weight as meeting required staffing levels, arguably the most important in that category.
Despite the audit findings, Corizon was never penalized for staffing shortages in those years, according to department records. In fact, according to Corizon spokeswoman Harbin, the company received its staffing-related increases in base pay every year of the contract except 2015.
In May 2015, the Corrections Department assigned Angela Martinez, a lawyer, to monitor Corizon's contract. Internal emails obtained by The New Mexican through a public records request show frustration on the part of Martinez as she tried to get staffing reports from Corizon to justify the company's request for another 3 percent increase in its annual compensation for 2015.
"I have been asking for a detailed inventory of staff by facility by license for several weeks," she wrote to a Corizon official in a July 1, 2015, email.
"There are significant staffing shortages and vacancies," she added, "and we are troubled about a request for an increase in light of the staffing concerns that we have been raising."
Among the shortages, she said, was "a very serious shortage in psychiatry" that had recently risen to "crisis levels."
When she finally did get reports, she found significant shortages of medical staff every month from May through November, the latest period for which records were provided to The New Mexican.
At Los Lunas, for example, Corizon's contract called for a medical director and a physician to put in 320 hours a month, or at a minimum 90 percent of that amount, in order not to be penalized. But Martinez found that doctors put in just 248 hours in May and 30.5 hours in June — 257 hours less than required.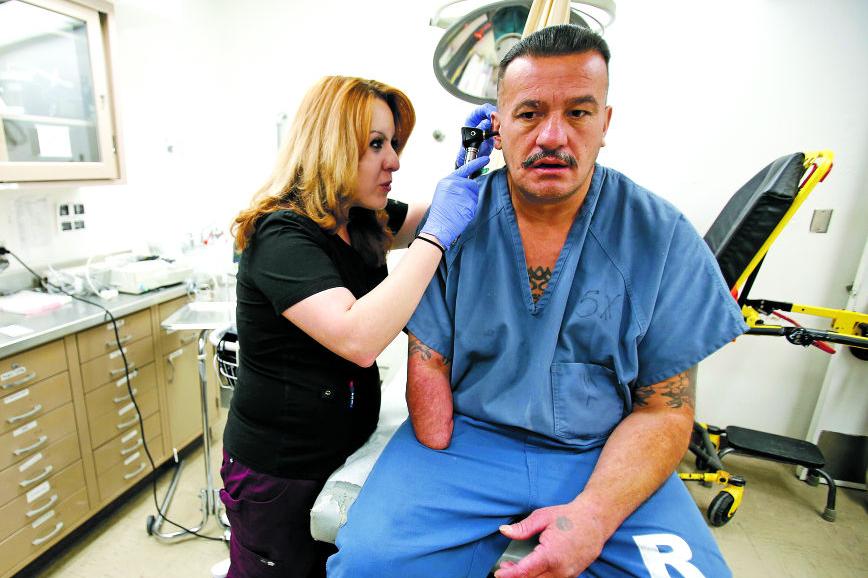 Then in July, the number of required hours, in place since the contract was signed in 2012, suddenly was lowered to 160, though inmates' medical needs had not changed. Corrections and Corizon officials did not explain why. Even then, Corizon missed the mark by 41 hours. In October, it put in just eight hours. And in November, it recorded no hours at all. The department fined the company $1 million for the shortfalls, the first time Corizon had been docked since winning the contract renewal in 2012.
The Corrections Department said in a statement: "The department admits that in years past, under prior medical professionals, the contract was not monitored to the fullest; however, under the watchful eye of Angela Martinez, the department has been more assertive to ensure the standards, set forth in the contract, are strictly adhered to."
McDermott said the New Mexico Women's Correctional Facility in Grants was "the worst of the worst in terms of the inmates' legitimate health care needs not being met because they never had enough docs to deliver services."
Department officials knew this because the facility was among those most frequently audited. Yet findings of poor conditions there were reported year after year, and the most recently available audits show conditions are still subpar.
In the spring of 2010, the facility scored 46 percent for "access and continuity of care" (a score of 85 was considered failing and grounds for requiring a corrective action plan), 60 percent for nursing sick call, the daily period when inmates can report to the infirmary for ailments, and 68 percent for medication management. About 350 of the facility's 550 inmates were on psychotropic medication at the time.
The audit found no evidence that sick call was held five days a week as required, no documentation that inmates could attend sick call unimpeded by security issues and no proof that inmates were actually being seen at sick call. Numerous sick call requests had not been addressed within 24 hours as required, the audit noted, and sick call logs were incomplete.
Included with the 2010 audit documents, which the Attorney General's Office gathered from the Corrections Department while investigating McDermott's whistleblower claim, was a memo marked "Confidential." It was dated June 10 and addressed to "NMCD Nurse Administrator and those who may use the information to improve medical conditions at NMWCF."
The unsigned letter detailed a plethora of problems at the facility that allegedly were reported by staff and prisoners over the previous two to three years. It described an atmosphere of "disrespect and hostility" between patients and medical providers at the facility. It said inmates were "discouraged from attempting to access medical because of treatment that can range from indifferent to overtly contemptuous and hostile."
The letter listed more than a dozen specific issues, including inmates not being offered treatment for hepatitis C.
The letter said that "after CMS assumed the contract only 1 woman was presented for hepatitis C treatment in 2007, 1 in 2008 and (neither received treatment) and 0 in 2009."
The hepatitis C issue was brought up with Corrections Department and CMS staff several times, but nothing was done, the letter said.
The letter said one doctor had offered the justification that "female inmates were too fat. There is no known gender distinction between rates of obesity for NMCD male vs. female inmates," the letter said. "Fortunately, obesity did not interfere with making treatment available to male inmates, but for many reasons, it should be equally available to female inmates."
Despite these concerns, Corrections Department staff did not audit medical care at the women's prison again until the spring of 2013 — more than two years later. That audit found many of the same problems identified in the 2010 audits: sick calls at the facility were "behind and disorganized" and sick call requests — which were supposed to be turned around in 24 hours or less — often took several days or longer. Care visits for patients with chronic issues had a backlog of 124 patients. Seventy-five of those patients had not been seen for more than a month.
Auditors found similar problems again in 2014 and 2015. A spring 2014 audit noted that sick calls were still delayed by several days in some cases. In one sample case, an inmate hadn't received a breast exam "at all during incarceration" for 2011, 2012 or 2013, an audit noted.
One former Corizon nurse said in a recent interview that she cared deeply about providing good medical care to inmates but was routinely given orders from higher-ups that violated her own code of ethics about the standard of care they deserved and made her fear she could lose her license.
The nurse — who spoke on condition of anonymity because she feared future job repercussions — said supervisors directed her not to refer inmates to specialists, to delay sending patients to the emergency room to save money on inpatient charges and not to provide narcotic pain medication, even to prisoners who were dying. Corizon denied the nurse's assertions, pointing out that medication costs are paid by the state, not the company. But the allegation of denied medication is a recurrent theme in the lawsuits.
The nurse said she sometimes disobeyed direct orders from her supervisors to provide what she felt was appropriate care for inmates out of her own desire to be able to face them with a clear conscience, were she ever to encounter them again after their release.
"I wanted to be able to look them in the eye if I ever saw them in Wal-Mart and say, 'I hope you are OK,' " she said.