Two days after an unknown arsonist torched their sculptural installation, artist Tigre Mashaal-Lively was still crying about the loss.
"There's no shame in that," the 36-year-old Santa Fe artist, one of several who created the piece, said in an interview at the Form & Concept gallery on Guadalupe Street, where The Solacii was displayed outside.
"It's important to be able to grieve, and that's so much about what the work is about," Mashaal-Lively said. "I have no interest in performing stoicism."
The artist awoke Sunday morning to phone calls and texts from people telling them about the crime, which took place Saturday night.
The Santa Fe Police Department is still investigating the arson, Lt. Paul Joye said Monday.
"We are working on pulling surveillance footage from the businesses in the area," Joye said, adding the department has not yet identified a suspect but will be releasing more information Tuesday.
Video footage from the gallery shows the arsonist appearing around 11:18 p.m. Saturday from around the corner of Read Street, said Jordan Eddy, the gallery's director. Within two minutes, the suspect lit the 21-foot-tall sculpture on fire and left the scene.
A photo of firefighters battling the blaze shows a red gas can sitting on the center of the sculpture's foundation. Had that ignited, Eddy said, it could have caused considerably more damage.
No one was hurt in the blaze.
Firefighters were on the scene within minutes and put out the fire by 11:45 p.m. — but it was too late to save most of The Solacii. The piece was made of steel frame pipes, fiberglass and fabric.
In a statement, the gallery owner and staff called the destruction of the artwork "an undeniable act of violence against the artist and a considerable cross section of their community."
Eddy and Mashaal-Lively said the work, depicting a towering figure in a cloak reaching out its arms as if to embrace humanity, was a symbol of solace and shelter.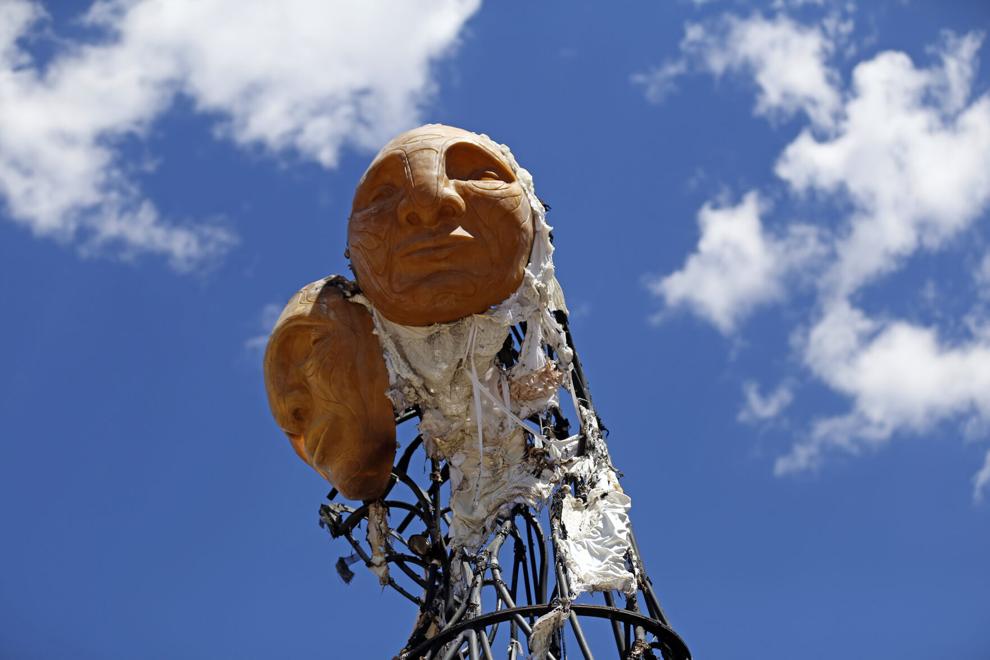 Mashaal-Lively said it took about nine months to conceptualize and create The Solacii, which was first exhibited at the Burning Man event in Nevada in 2017. Mashaal-Lively and a group of artists moved it to California and then to New Mexico and mounted it on the corner of Guadalupe and Read streets in late July.
Eddy said the piece was meant to be part of a larger exhibition on the issue of shelter. The intent was to keep it on display for at least a year, and maybe longer, he said.
It's unclear whether Mashaal-Lively will attempt to rebuild or restore the sculpture.
"A lot of people have expressed hope that it continues, comes back or is rebuilt," the artist said. "I don't know what that would look like, don't know if it would be that same piece, if it would be something else."
Mashaal-Lively said they bear no anger toward the arsonist at this point. Noting every person brings his or her own perspective, support or criticism to a work of art, Mashaal-Lively said, "For the work to move somebody in that way is a testament to how the work cannot be ignored."
Born in Philadelphia, Mashaal-Lively has been creating both visual and performance artworks since childhood. Philadelphia was awash in street art and graffiti, and Mashaal-Lively gravitated toward that kind of work because it is accessible to everyone.
They earned a bachelor's degree in art at Bennington College in Vermont and moved to Santa Fe two years ago. According to their online biography, their works, which include sculptural installations and murals, have been displayed in exhibitions around the country and world.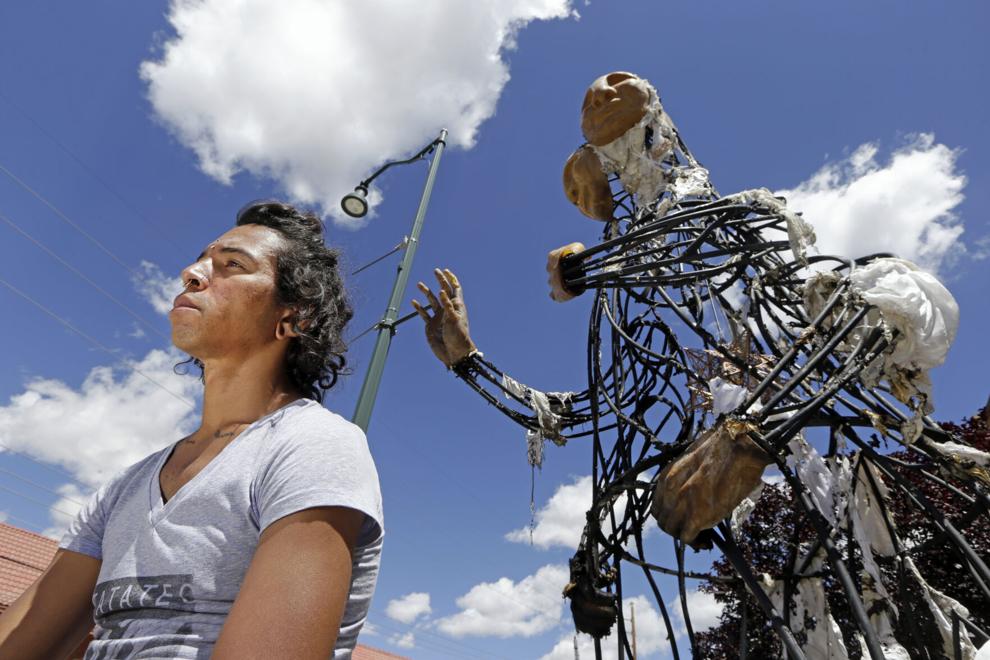 Mashaal-Lively, who identifies as Black-mixed race and queer, said they do not want to believe someone destroyed their work because of prejudice.
But this is the second time something like this has happened to a work Mashaal-Lively had a hand in creating. Earlier this year, vandals damaged a multicultural group altar they spearheaded addressing social justice issues, they said.
"I'm now two for two for public in art in Santa Fe that has been pretty violently vandalized," the artist said. "And we have no real way of knowing why."
Asked what they might say to another artist who suffered the same sort of loss and destruction, Mashaal-Lively said their message would be, "I'm sorry. I know how much it hurts, and I know how easy it is to let a few voices, a few loud voices and actions, shut you down or convince you that what you do doesn't matter."
But, they added, "There's also so many people who value and appreciate. The work always impacts so many more people than you know. It's OK to grieve. And it's OK to give up, too."
Joye said anyone with information on the crime should call Detective Javier Vigil at 505-955-5412.