Lorrie Garcia can't wait to see her family members again after spending so much time away from them.
The Peñasco santera, who has been showing her work at Traditional Spanish Market for 20 years, was disappointed when last year's event was canceled because of the pandemic.
So the market's return this weekend has cheered Garcia, who said she considers her fellow artists at the event her siblings, cousins, parents.
Now, after two years, she'll get to interact with many of them again. 
"Even if the family is smaller, that's OK," she said by phone from her studio.
The longtime event, held on the Plaza, has drawn tens of thousands of visitors in past years. Randy Randall, director of tourism for the city of Santa Fe, said Spanish Market "is one of our anchor markets, not only for our culture and our history but for our brand."
The market won't quite be running at full steam this year, as just 82 artists — a little less than half the usual number — have signed on, said Yvonne Gillespie, finance and logistics director for the Spanish Colonial Arts Society, which runs the event. 
In addition, 22 young artists ranging in age from 7 to 17 will be showcasing their work in the youth category this year — again, about half of the usual participants. 
One of those youngsters is 8-year-old Leoncio Adams of Sapello in San Miguel County, who won the Cathedral Award this year for his age group for his retablo Our Lady of Guadalupe.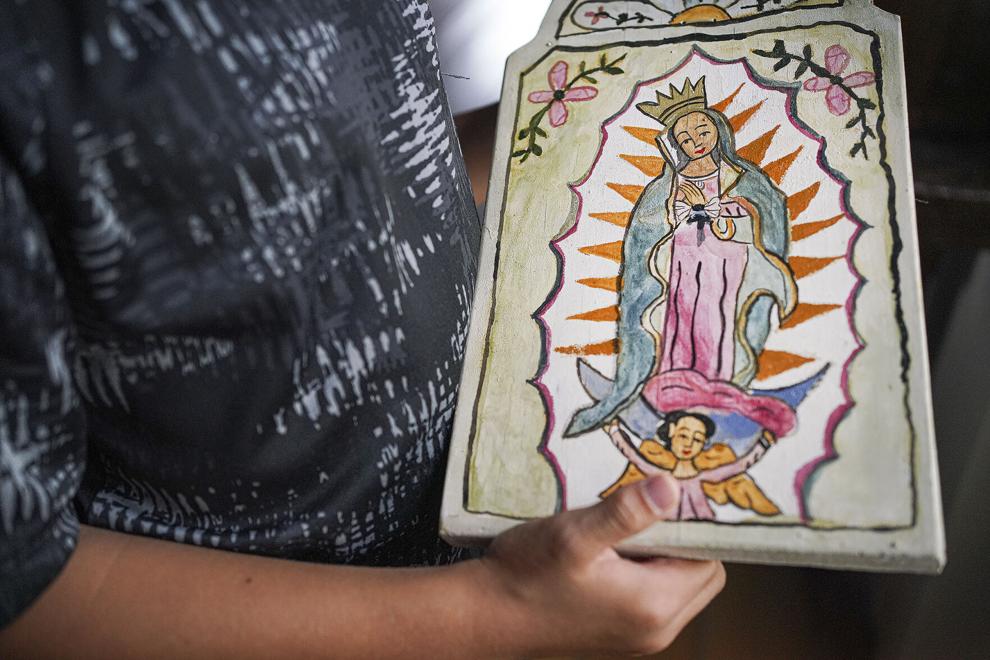 A quiet, polite, unassuming boy who would almost rather talk animals than art — he wants to be a veterinarian and an artist when he grows up — Adams began creating art on his first day in kindergarten. 
"I cried a lot," he recalled of that initial traumatic day, one many kids experience. "There was this kid who was drawing a lot, so I copied him."
Last year during the pandemic, his mother, Celestina García, who is friendly with noted New Mexico retablo artist Felipe Rivera, told him of her son's artistic bent. He offered to mentor the youngster with an eye toward getting him into Spanish Market.
They conducted art classes via Zoom, García said. Adams was a quick study, using all-natural materials to create his works on wood. He'll have almost 10 art pieces at the market this weekend.
Adams said he works alone in his bedroom, thinking about the imagery as he paints. Asked how he feels about the attention, the award he's won and his role in this year's Spanish Market, he responded, after a moment of deliberation, "I really don't have an answer for that." Then he wandered off to wrestle with a cousin.
Adams is not the only young artist happy to be participating this year. Gabriel Durán of Española, a 17-year-old jeweler, woodworker and blacksmith, has been taking part in the market for eight years. He's ready to return with over 50 pieces of jewelry to show and sell.
"It's a joy for me to be back here doing something that I enjoy after it had been ruined the past year," he said by phone.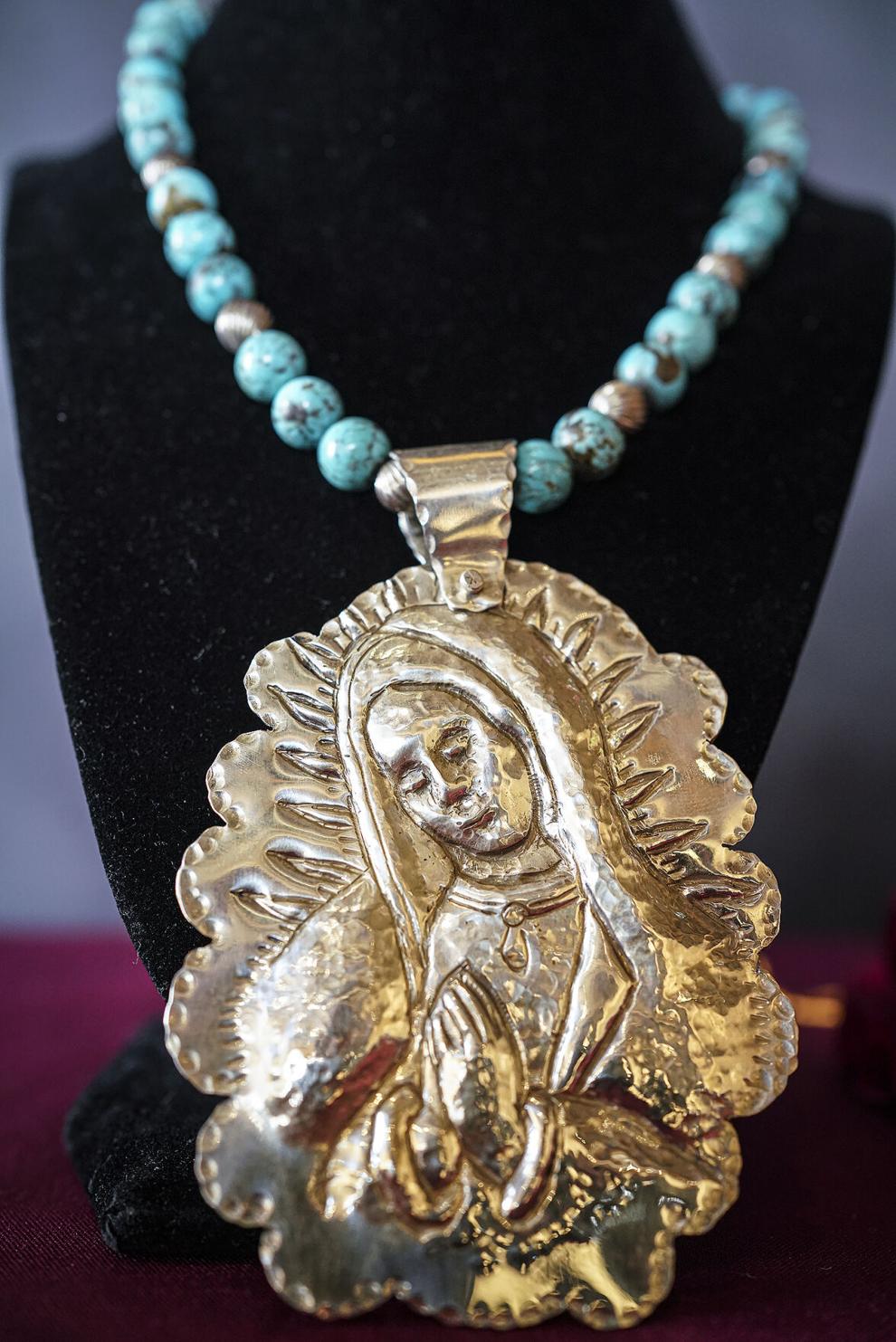 Durán, who took the Grand Prize for his age category this year at market for one of his jeweled belts, said the restrictions brought about by the pandemic — school closures, social distancing, stay-at-home orders — led him to focus more on his art this past year. 
"It was actually easier to create because I was always home," he said. 
But he noted he's heard "a lot of artists aren't coming back this year."
Jimmy Trujillo of Albuquerque is one who won't be in Santa Fe this weekend. But Trujillo, who had taken part in every market from 1986 through 2019, said he's not staying home because of the pandemic.
Rather, he said he didn't have enough time to prepare enough works. His straw pieces can take weeks to finish, he said. 
"I didn't find out the market was going to happen until way too late," Trujillo said. "Straw work made in the traditional way takes too long to cure so there was no way I could do enough work to get my money's worth."
He said his decision has not made him sad, but "I do feel sad for some of my fellow artists who weren't able to do it this year. For the ones who end up relying on the market for their money, that can be tough."
Whether the event will draw the crowds it did at its peak — Randall put the figure at about 50,000 people most years — is another question. Gillespie and several other artists said they believe people are anxious to get back out again and experience some of the city's popular events, like Traditional Spanish Market.
Though some participating artists said sales and visitors were down in the years leading up to the pandemic, Gillespie and Randall both said 2019 was a good year for the market. Gillespie said it's "probably true" that attendance and sales were down a few years before then.
For Lorrie Garcia, monetary matters mean less than the chance to get back out in the world in a normal fashion. 
"It may be less crowded," she said. "But it's a time and place for immediate and extended families to get together. They love coming to our state and visiting the market and then going to visit their relatives who live in New Mexico. For them, it's like having a real family reunion with blood relatives."