CHIMAYÓ — On the outskirts of the village of Chimayó, a couple of dozen members of Santa Fe's Church of the Holy Faith gathered Wednesday around the 11th Station of the Cross — depicting Jesus nailed to the cross — and sang hymns.
They were on their annual Holy Week pilgrimage, making an eight-mile trek from Nambé to El Santuario de Chimayó, along dusty roads through a desert landscape in the foothills of the Sangre de Cristo Mountains.
The Stations of the Cross, erected near the santuario, were stops along the scenic path.
Like most religious pilgrims who make the journey — some traveling from across the state and around the world to the 19th-century Roman Catholic shrine in pursuit of soil that many believe has healing power — the Holy Faith members said it is a time to reflect on personal blessings, seek forgiveness for sins and remember the sacrifices Jesus made.
The tradition culminates each year on Good Friday, with tens of thousands of people visiting the shrine, a National Historic Landmark built at the site where a wooden crucifix known as Nuestro Señor de Esquipulas was thought to have been discovered over 200 years ago. The crucifix hangs on an altar in a chapel in the shrine. In an adjoining room is a pit containing the "holy dirt."
"I do it because I think it's important to be a witness for Christ," said Holy Faith member Kathy Gronquist, who has participated in the pilgrimage each year for about a decade.
"It's one way to mark Holy Week. And it's a way to follow in the steps of our savior along the Via Dolorosa," said the Rev. Robin Dodge of Holy Faith, speaking of Jesus' path through Jerusalem to the site of his crucifixion — the "Way of Suffering."
Dodge wore a full-length black robe, a rosary and a three-peaked clerical cap known as a biretta as he walked.
"It's a reminder of why I'm a priest," Dodge said. "… It's a way to contemplate all the things [Jesus] has done for us to help save the world."
But for other church members, the pilgrimage offers an opportunity for more than just time to think.
"This walk is part of the healing," said pilgrim Austin Canon.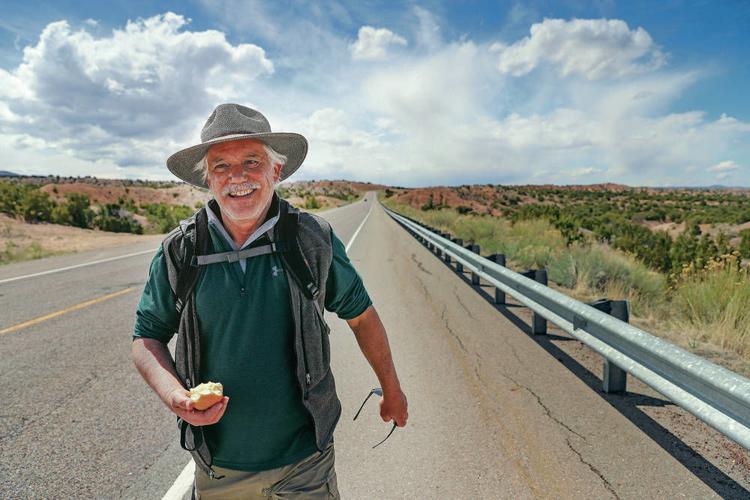 Four months ago, Canon had a stroke and was airlifted to a hospital in Albuquerque for treatment of hemorrhaging in his brain. At the time, Canon said, he was "readying myself to die."
Fighting back tears Wednesday, he said that because he is alive today, he feels compelled to thank the Lord for his life's many blessings.
"It's a miracle I'm here walking this today," he said.
Canon's friend Laura Post, walking with him, said the walk is "a testimony of faith."
"I've seen so many miracles come of this," she added.
Canon's strained relationship with his sister has been healed, Post said, and she's witnessed Canon — a former skier and avid hiker — challenge himself to regain his physical strength more quickly than expected.
"It's always amazing to sit back and watch life unfold — to not be in control and to just pray," Post said.
While many of the pilgrims on the road to Chimayó use biblical prayer books and hymnals to guide their worship as they walk, others said they worship in less literal ways.
For Christine Armijo of Denver and her two nephews, 10-year-old Brady and 7-year-old Miles, each step symbolized prayer.
Armijo said she's taken part in the Holy Week pilgrimage at least 20 times, typically walking about 11 miles from a church in Nambé. This year, she said, her reason for walking is to "pray for our military — all of them."
Her 29-year-old son, Capt. Lorenzo Armijo, soon will be deployed somewhere in the Pacific region with his fellow Marines.
"We have this country because of them," she said.
Brady, who walked about nine miles with his aunt, and Miles, who walked two miles — the boys' mother drove alongside them, carrying snacks and water — said they were walking to honor their parents, especially their father, a U.S. military serviceman based in Chicago.
Meanwhile, miles away, at the top of a sloping hill along Interstate 25 south of Santa Fe, Joseph and Christy Benavidez were about six hours into their 60-mile walk to the santuario from Santo Domingo Pueblo.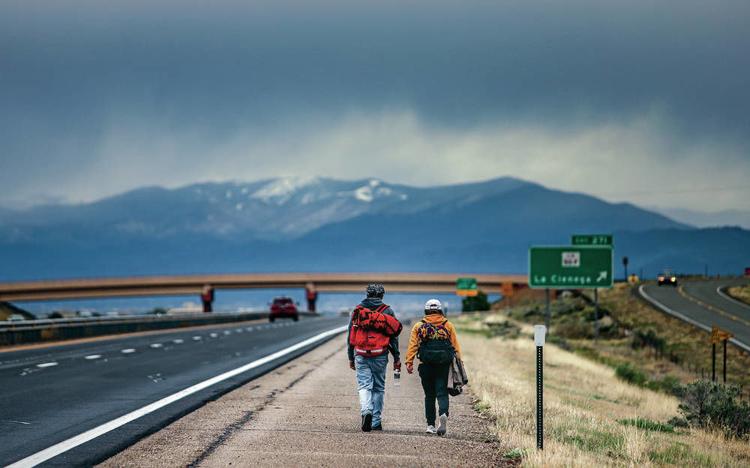 Storm clouds over the Sandia Mountains had begun to clear.
The uncle and niece reflected on what the journey meant to them.
Joseph Benavidez, 32, said he kept thinking about his family, his tribe and the world.
He and his 19-year-old niece declined to offer details about the family issue that served as the driving force for their pilgrimage.
They were walking "for wisdom for them, and for ourselves, too," said Benavidez, who has made the Holy Week journey for at least nine consecutive times. The trek, he said, was also about his faith.
"I understand God's there for me," Benavidez said. "That's why I do this journey still. It's not just a three-day journey, what I'm doing now. It's a bigger journey, too."