ALBUQUERQUE — On any given day, Lee Ann Llamas battles pain.
The 46-year-old Albuquerque resident lives with lupus, a chronic autoimmune disease that leaves her joints inflamed and her body aching.
But on Monday morning, as she marched north along Second Street NW past aging adobe homes, repurposed farms and small businesses, the Sandia Mountains looming behind a veil of haze in the east, Llamas said she felt good.
Pilgrimage, she said, tends to ease the hurt.
"I think, when you're serving others, the pain kind of goes away," Llamas said. "You're there to uplift people."
Llamas is one of about 210 pilgrims who embarked Monday morning on a six-day, 100-mile trek, their compasses trained on the famed Santuario de Chimayó.
Nestled in the foothills of the Sangre de Cristo mountains, the historic church is well known for its Holy Week pilgrimage, an epic spiritual convergence that each spring attracts an estimated 30,000 people. Lesser known are the smaller — but often just as spiritually charged — pilgrimages undertaken by the faithful each year.
"It's like a calling," said the Rev. Edmund Savilla, who oversees planning for this week's Pilgrimage for Vocations held in June each year. "A lot of (the pilgrims), they're second or third generations of people who have been walking, and now they have their children walking and their grandchildren."
Llamas and 59 other women began their journey at Our Lady of the Most Holy Rosary Catholic Church in west Albuquerque's . If all goes as planned, they should reach Chimayó Saturday morning after wending their way through Native American Pueblos and tiny towns dotting the Jemez Mountains. At the Santuario, they'll meet up with about 150 other pilgrims — two groups of men and another group of women — who started their journeys in Chama, Estancia and Costilla.
The Archdiocese of Santa Fe organizes the Pilgrimage for Vocations. Another, shorter vocations pilgrimage, which honors mothers, takes place in May. The Santuario also hosts a youth pilgrimage from Ohkay Owingeh Pueblo in the spring and the Our Lady of Guadalupe Parish Pilgrimage the first Saturday of Lent.
The June pilgrimage began in 1973 with a goal of praying for men and women in priestly and other religious professions. It started with one route and a handful of faithful male trekkers and since has grown to include five rotating routes (four are active each year) and a vast flock of men, women and children. The youngest are 13.
The pilgrims' days are filled with prayer and song. They log 20 miles a day, starting well before dawn and wrapping up around 1 p.m., just as the sun starts to peak.
This year's theme is "Not my will, but yours be done," a reference to the Gospel of Luke and a calling to pilgrims to "let go and let God," said Gabrielle Rael, a 21-year-old student at the University of New Mexico who has walked the pilgrimage every year since she was 13.
"Every year you have a different intention or you're going through a different struggle," said Rael, who is leading the Albuquerque clan this year. "This walk really helps you see light to things that you normally wouldn't see. It's very humbling."
But for some participants, the pilgrimage's original intent still rings true.
Adelina Romero, a 69-year-old Albuquerque nurse originally from Peñasco, first walked the vocations pilgrimage in 1990. She's logged 15 treks since then, but these days, she can't swing it anymore. So instead, Romero drives a follow car and tends to the pilgrims' medical needs.
She said she prays especially for the nation's dwindling supply of priests. "We want more priests for our religion, for the Catholic Church," she said. "I don't want to someday not have priests to bury me."
Over the past 43 years, as the Catholic population in the United States has grown, the number of Catholic priests has fallen off by 36 percent, from 58,909 in 1975 to 37,181 in 2017, according to statistics from Georgetown University's Center for Applied Research in the Apostolate.
The trend has resulted in understaffing and parish consolidation nationwide.
For others, the journey often takes on a more personal significance.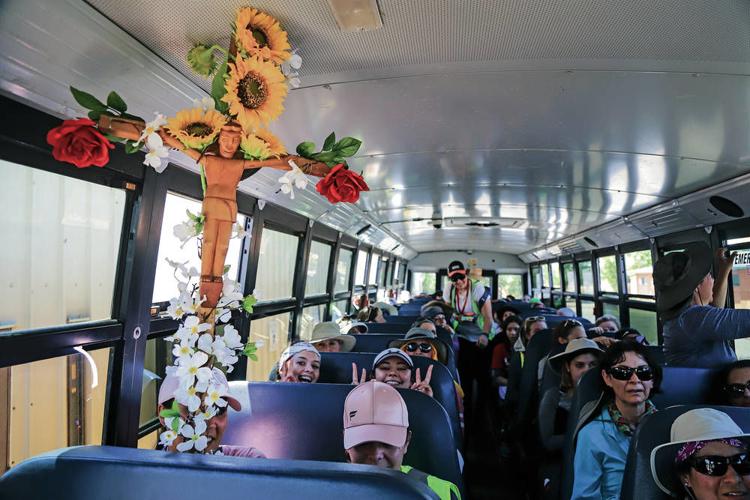 On Monday morning, after a rest stop and prayer session at Nativity of the Blessed Virgin Mary Catholic Church in the North Valley, the Albuquerque pilgrims lined up behind a wooden crucifix adorned with artificial sunflowers and roses.
They turned north along Second Street NW. Ancient cottonwood trees lined a dry acequia on the left-hand side of the road. Dogs barked. A rooster crowed.
Llamas walked her first vocations pilgrimage 15 years ago. Her father started the tradition. But this year, her 12th trek, holds special significance. Llamas's mother-in-law, Romy Llamas, a mother of 11 grown children, died in February. Her death has left an emotional wound that Lee Ann Llamas said her family is trying to heal this week.
"It's been rough, and this is the time we can take to be able to honor her and pray for her," she said. "We're so busy in our daily lives."
And for Llamas, the journey also serves as a kind of reset — a chance to fill her spiritual cup in preparation of the year to come.
In Chimayó, Llamas will meet up with her husband and 19-year-old son, pilgrims traveling from Chama. The journey is often a family experience. The reunion, she said, is always moving.
Travelers enter the Santuario and start singing. Many are in tears. It's a loud, joyful display that 20-year-old pilgrim Maya MacDonald said she looks forward to every year.
"Everything is full," said MacDonald, a Questa resident who has walked every year since she was 13. "The church is full, and the noise is full, and you are full."