In a meeting of the Santa Fe City Council's Finance Committee last year, some councilors asked staff to come up with a plan to open the Southside Branch Library on Sundays.
They didn't say how the city should pay for it.
"It is just as important as anything else, like the police department or anything else, and so staff is directed to do whatever it is they need to do," said Councilor Carmichael Dominguez, who represents the area and championed the idea.
Dominguez's just-get-it-done attitude toward instituting four hours of operation on Sundays at the Southside Branch Library, which the city built eight years ago with no money to pay for staffing, is indicative of the governing body's actions — or inaction — over the last several years that have put the city on a path toward a financial reckoning.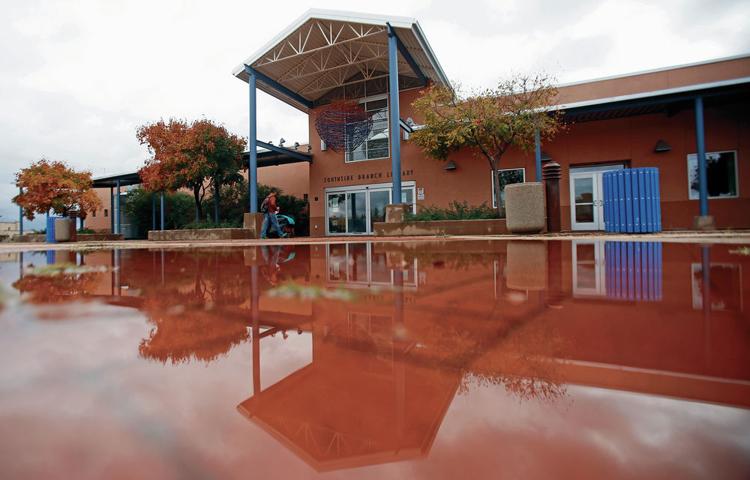 At the same meeting in May 2014, another councilor, Joseph Maestas, even suggested revising certain revenue projections from $1.5 million to $2 million to help pay for new police officers. The former finance director balked but said he would do it if instructed by the City Council, which later voted on a budget that relied on cash reserves to make ends meet.
"We've hit the end," Mayor Javier Gonzales told councilors last year when they adopted the budget.
Since the recession of 2008, the city of Santa Fe has been living beyond its means, spending millions more annually than it generates in revenue, and pushing tough decisions to the future in the hopes that gross receipts tax revenues lost in the downturn would rebound. To pay for day-to-day operations and cover salaries, the city used a series of bridging strategies that included taking cash from bond proceeds meant for improving parks and Water Division revenues meant for maintaining the water system. But the tax revenues never recovered, and now those bridging options are running out.
A common refrain at City Hall is that the city government has to stop "kicking the can down the road," yet that's exactly what continued to happen.
Gonzales has said the city faces an estimated budget deficit of $15 million next year. But in an interview last week with The New Mexican, Gonzales said the budget gap is "actually closer to $20 million" when the city considers the fact that half of the gross receipts tax revenue that should be used to pay for capital improvement projects is being used to fund ongoing operations, such as salaries.
"Here's what we're facing today: In real revenues, the city generates — between GRT and property tax — $62 million to $65 million a year. Our spending is about $80 million, so we have been funding that through cash," Gonzales said.
"We have the ability to make some growth happen in our economy a little bit better than other cities. But there's no doubt that we have way overspent beyond what our means are, and we have a strong need to be honest, not only with ourselves but the public, that sound policy says that you can only spend what you bring in," he said.
Gonzales, who took office in March 2014, said the budget is structurally deficient and can no longer support past practices.
"We think that there is about three years left of cash that's available before we start moving into these waters of having less available on hand to cover basic bills," Gonzales said.
"It comes now where we have to begin to make a series of decisions on how we begin to reduce costs of government, find ways to create more efficiency and do so in what's going to have to be a multiyear process," he said.
With salaries and benefits accounting for the biggest share of the general fund, the number of workers employed by the city and the service levels they're meeting is among the areas the Gonzales administration is eyeing.
Among six cities identified by Santa Fe as peer cities, an analysis by The New Mexican shows, Santa Fe spends more money per resident and has the largest workforce per capita — by a large margin. The city has a population of 83,000 and an annual budget of about $340 million. That works out to about $4,096 per resident. The average spending per resident for the other six cities was $2,643. The cities examined were Las Cruces; Rio Rancho; Loveland, Colo.; Midland, Texas; San Angelo, Texas; and Flagstaff, Ariz. Loveland, with a population of 71,334, was closest to Santa Fe at $3,852 spent per resident. Rio Rancho, population 87,521, was the lowest at $1,358.53.
The disparities in staffing were even starker. Santa Fe has a workforce of 1,357 full-time-equivalent employees. On a per-capita basis, that amounts to 1,635 workers per 100,000 residents. That was 365 more workers per 100,000 residents than the next closest city, Las Cruces — which had 1,270 workers per 100,000 residents — and over 600 workers more than any of the other cities. Midland and Rio Rancho had only 860 and 800 workers per 100,000 residents, respectively.
Yet in some of the more critical functions, such as police and fire, the analysis found that employee headcounts were comparable on a per-capita basis. It was difficult to do a comparison for other city departments because department classifications varied by city.
Gonzales said his administration will conduct a workforce assessment before next spring and review all departments, including police.
"We can't assume that just because the police is set up to protect us that there are not opportunities inside the police department to reduce costs on programs that were kind of built over the course of time," he said. "That has to happen as part of this area to identify both waste and find efficiency before we get ready to go into the next budget cycle."
Gonzales said the city must develop at least a three-year plan to reduce costs and ferret out inefficiencies before "we we can even start talking about tax increases." The main reason, Gonzales acknowledges, is the trust deficit in City Hall.
"There is an issue of credibility at City Hall when it comes to the expenditure of financial resources," which was highlighted by the shoddy accounting of a $30.3 million voter-approved bond issue for park and trail improvements, he said.
Gonzales' administration also plans to make the city's budget more transparent. The city, for example, has more than 600 funds, about 200 of which are no longer active. By comparison, Springfield, Ill., a city of more than 100,000 residents, has fewer than 40 active funds.
"Part of the bridging strategies, apart from using cash and apart from shifting your costs to the other funds and things like that, an important part of the bridging strategy was sort of obfuscation — maybe not intentional — but a complication of the city's finances to where any reasonable person would look at them and not truly be able to see what the true situation was," city Finance Director Oscar Rodriguez said.
"A big part of what we're trying to change from that is to get out of that so the full picture is in view, in easy view, of the council and everybody else," he said.
The city's financial problems are tied not just to the decisions at City Hall but multiple other factors, including changes to the local economy and shifting demographics.
From the 1980s and into the early 2000s, Santa Fe's economy was on fire.
"We saw real takeoff of the construction industry during that time," Gonzales said.
As gross receipts tax revenues grew, the city expanded the services it provided. The city relies heavily on gross receipts taxes, which are volatile, to pay for day-to-day operations. As property values went up, city officials made a conscious effort to keep property tax rates low and to fund government operations through gross receipts tax revenue, Gonzales said.
When the Great Recession hit, the first thing that retracted was construction activity, he said.
"When those construction jobs got lost, the turn of the economy started going downward," Gonzales said, adding that tourism also was "highly impacted."
"As revenues that we counted on to fund government were going down, the council made a policy decision to keep levels of service and people employed," he said. "The one place that they had to go to was a cash pool."
In 2011, for example, then Mayor David Coss and several council members, including Dominguez, proposed a property tax hike to close looming budget gaps. But by the time the council approved the budget, the hikes were off the table and the city once again turned to cash reserves.
Surplus revenue from the city Water Division has been the "largest component" of the bridging strategies over the years, Gonzalez said.
In an interview Saturday, Councilor Dominguez acknowledged that the council has implemented bridging strategies in the past to balance the budget. He said the council made millions of dollars in cuts after the recession hit in 2008, and "a number of us" hoped that the economy would rebound enough to change things around.
"That hasn't happened," he said. "It is clear to me more now than ever."
After the council made "pretty steep cuts," he said, the thinking was that "things can't get any worse." While they didn't get worse, he said, they didn't get any better.
"When the economy first went bad," Dominguez said, "we were just really holding on, and we didn't have a strategy for how to deal with it long term."
Gonzales said the city must get off what he called the "little fixes," such as a hiring freeze proposed by Councilor Maestas — "It doesn't even pump the brakes on this ship," he said — and prioritize what services it will deliver. He said he plans to keep the issue "front and center" before the council.
"They cannot, long term, continue to use cash to fund these operations that they just don't want to make the hard choice on," he said. "That's where we're going to go now."
Maestas said the council needs a long-term financial forecast of up to five years and what he called "credible, timely information" as a sound basis for its decisions.
He said the administration's budget for the current fiscal year was a status quo "kick the can down the road" budget that introduced an "all our eggs in one basket" strategy.
"I don't intend to be painted into a corner again as I felt in adopting the fiscal year 2016 budget," he said.
"Even with cost savings realized from government efficiencies, strategically raising certain fees and particular excise taxes that impact the general fund, I don't believe we can completely fill this funding gap without considering raising taxes — as a last resort," Maestas added. "Now is the time for leaders to step forward and make difficult decisions without delay."