Nearly everyone who was alive on Sept. 11, 2001, remembers where they were when they learned of the 9/11 attacks. Here are a few of their personal accounts, some submitted by the authors, others pulled from interviews with The New Mexican. They have been edited for length and clarity.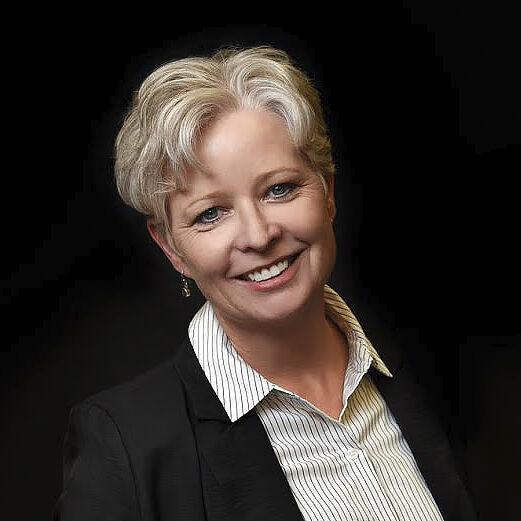 Jessie McKeon, Albuquerque
My little sister went into labor that weekend.
To pass the time during early labor, we all went to the State Fair, trying to keep her walking around and [keep] labor progressing.
Eventually we ended up at University of New Mexico Hospital, where she gave birth to her first born, a son.
Born Sept. 10, 2001, they named him Justice.
I planned to be at the hospital the next morning when my sister and Justice were discharged, to bring them home. I was hosting an exchange student from Italy and we had decided she didn't have to go to school that day so she could go with me to bring Justice home. The Today show was on in the background as we got ready.
Then the plane hit the first tower. I didn't understand what was happening. Then the second one.
We got to the hospital, everything was in lockdown. Would there be an attack closer to home? The Air Force base? Los Alamos? We waited hours to get discharged, watching the news in disbelief.
My exchange student was getting worried messages from her parents in Italy. They saw "America under attack," not realizing the distance between New York City and Albuquerque. She had toured the twin towers just weeks before coming to live with us.
Finally, we were discharged and reality set in.
President George W. Bush gave a speech calling for justice days after our Justice was born. We were asked if that was why he was named Justice. It was not. He will be 20 this year. Feels like yesterday.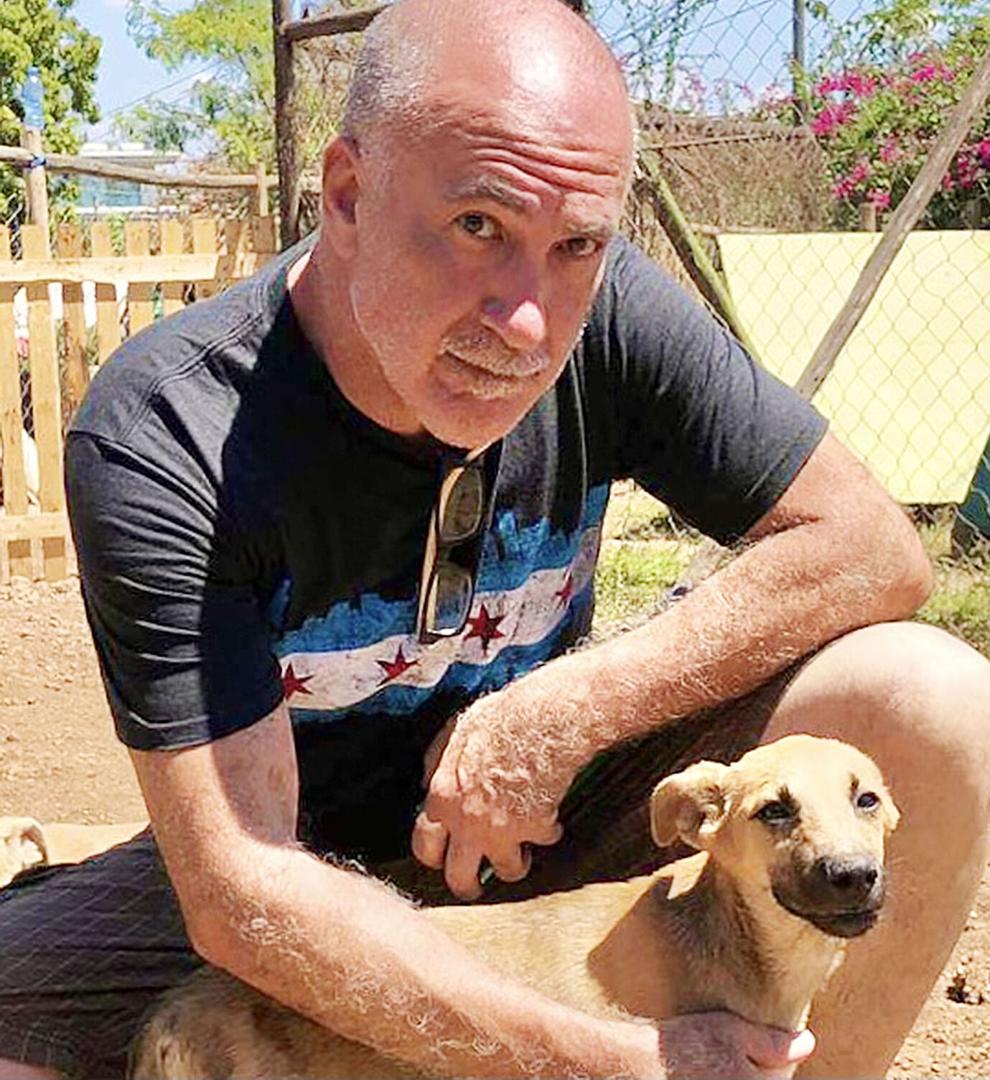 Peter Locascio, Torrance County
"My practice was in a loft building on the Brooklyn side of the Brooklyn Bridge, with huge windows overlooking downtown. I usually put my kid on the bus and took the subway to work. I was right by the Brooklyn Queens Expressway, so loud thuds were not unusual.
I got my usual cup of coffee and I had my feet up on my desk reading the [New York] Times.
An employee walked in and her face was pale and she just pointed to the windows. We stood there and watched firefighters streaming across the Brooklyn Bridge, realizing several hours later they were all going to their deaths.
We had the radio on, and there were reports that a commuter plane may have lost its bearings.
We were watching when the second plane hit. It was just like a fireball erupted from the building.
It was almost if you stood and threw confetti. It burst out horizontally and feathered down, if you will. I just thought it was debris.
(Later, Locascio said a neighbor who had been closer to the building told him some of what he'd seen dropping out of the buildings were the bodies of people who jumped to their deaths in hopes of escaping the raging inferno.)
She was like, "They were people, and I saw them falling all around me."
After the second one, it was clear it was intentional. We had no idea what was going on. As it continued to rage, being an architect I was thinking, 'These buildings are going to have to come down. The steel is melting.'
Anytime I have a fire in my kiva and it's roaring and I'm stirring the fire and the intense searing heat just hits me, I think, 'How could that be the best option?' And I get these glimpses of the confetti that was actually people.
Noranik Zadeyan, Santa Fe
It was Tuesday, Sept. 11, 2001, my mom's birthday and she was traveling with my dad in China. I had a dental appointment at 9:30 a.m at New York University where I was studying for my master's in public health. That day, I decided to wear my Cameroonian dress and walk my usual route from my graduate housing apartment downtown about five blocks away from the twin towers.
As soon as I stepped out, I felt panic all around me — people running, screaming, frantic. I looked around and thought there was a shooter or something, but then I saw people's gazes were lifted to the sky. I followed the direction and saw the first tower was on fire. Then I heard a plane and saw it go straight into the second tower, and I felt in my being that what just happened was not an accident. I stood there in shock for few moments, thinking about all the people in the towers, in the planes and down below. I saw all the papers flying from the office windows and I saw the poor, desperate man who jumped out of the building.
I knew I had to get out of there because I felt like things were going to get worse.
Like in a trance, I had to get to my dental appointment. As I came upon one of the busiest streets of New York City, I saw herds of people walking north on Broadway, devoid of running cars. It was as if time stood still, apocalyptical, surreal. I had so many thoughts going through my mind; what is happening, were we attacked, is there more to come, is this happening somewhere else, how and where are all my people? A man stopped me and complimented me on my African dress and said "Would you like to get some café?"
"Now? What? The twin towers just went down and we don't know what's happening and you are asking me out?" I finally made it to my appointment; they checked me in, sat me in the chair and put on a bib and I finally snapped out of my trance and realized, what am I thinking, I can't get my teeth cleaned right now. I picked up my phone and called Lara [Rabkin], one of my closest friends from Santa Fe … who was living in Brooklyn. Hearing her familiar and scared voice tell me, "Come to my house," made the fear, the feeling of being alone and all the uncertainty very real, and the protectiveness and solace of those words and her friendship meant everything to me.
I finally found a working subway after hours of walking south, trying to avoid downtown as the towers had collapsed and there was soot and sirens and chaos filling all of my senses. I will forever remember the smell of burning steel and thinking it was probably mixed with human flesh and so much fear and agony.
I am so grateful for Lara, for the sanctuary of her home and the safe retreat away from all the devastation. We spent the rest of the week glued to the TV of the traumatic looping images of how it all went down, trying to understand, process and gain crucial information while also trying to contact everyone we cared about to reassure them we were alive.
We survived but so many did not. And as I reflect 20 years later on these ingrained memories and watch images of Afghanistan today, my heart is tormented by all the lives lost and lives damaged since then, and I fear for those who could not reach refuge outside of their home country and for the uncertainty of future attacks around the world.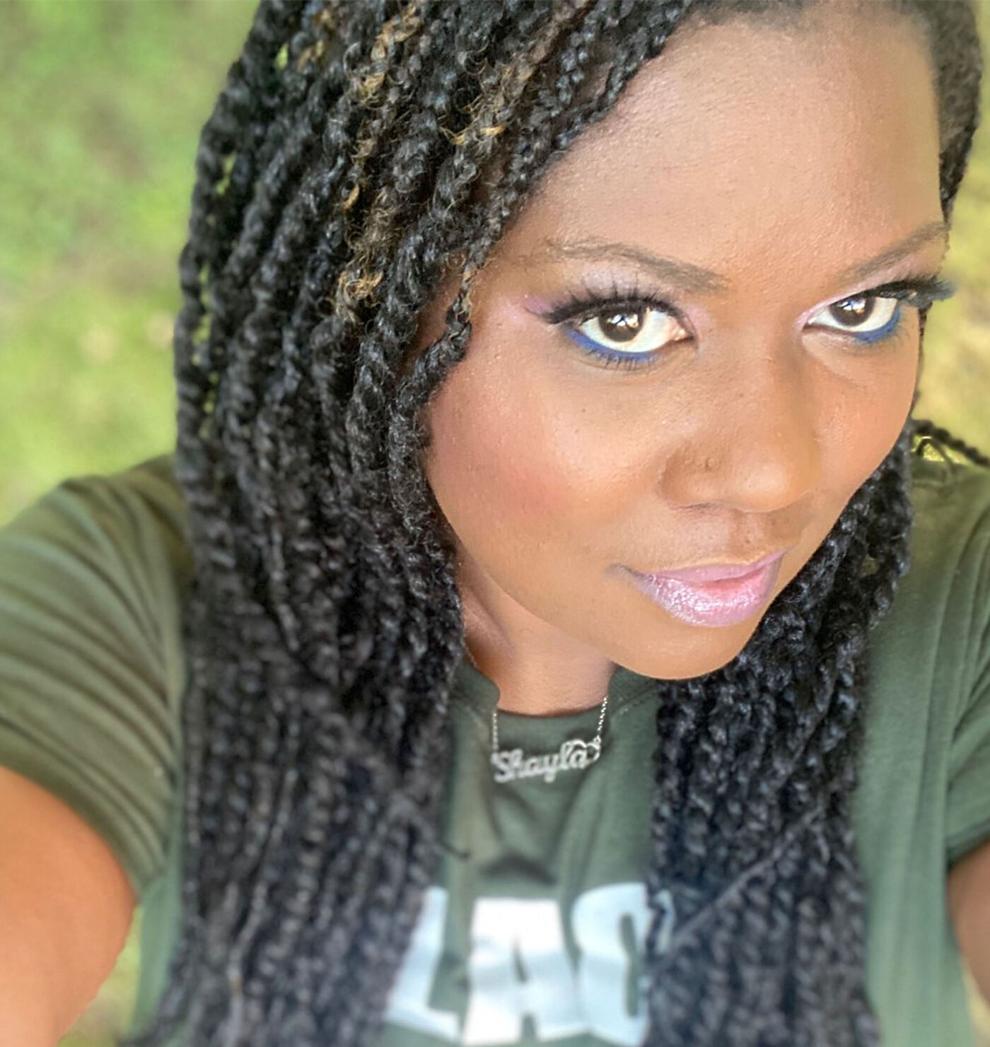 Shams Mheri, Albuquerque
I was 12 years old. We were in Pakistan attending high school. I remember, as soon as we came home we saw on TV the towers were falling down and we [had to] isolate from the outside world for a month or a month and a half [because] everyone was pointing fingers at us — "These are the people that take down the World Trade towers."
We were on our way home from school. People were talking about the twin towers falling down because of the Afghan people. We had to run and get inside the house. We were not allowed to go outside. As soon as we would step outside the house, people would start trying to start fights with us, throw stuff on us and just scream at us to get our of their country.
[The] Hazara minority [Mheri's ethnic group] is always against violence. We promote education, life, unity among family members as well as among other people. But certain people living in Afghanistan, especially in the villages, who were into Wahhabism [an Islamic reform movement] wanted to put Sharia law [an Islamic legal system based on the Quran, Islam's holy book] in Afghanistan during that time.
We were supposed to leave that same week [Mheri's family eventually emigrated to Canada and then the United States] but it was delayed for 4½ months, and we left at the end of 2001. We couldn't even say good by to family members because we wanted to keep a low profile and leave that country.
You do feel nervous even in the United States during this time [the anniversary of 9/11] if a person knows you are from Afghanistan. They racially profile you, not knowing it was a small group of people that did this.
It's very emotional knowing what our people and our country went through, first with the Taliban and then the United States. Our people are suffering and we are here in America and we still have to through this. It brings emotion and sad feelings during [this] time.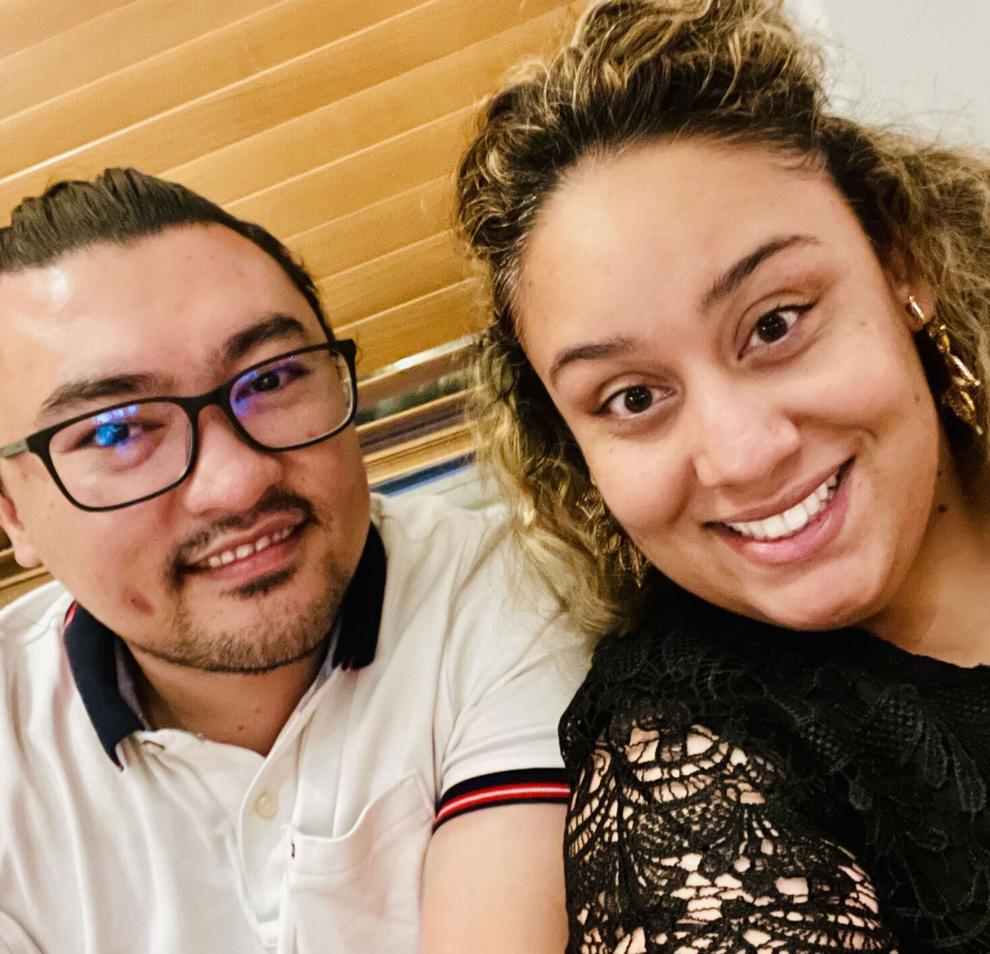 Sharmin Dharas, Albuquerque
I was 13. I had just turned. It was my freshman year of high school. … I went to school in the morning. I was in second-period class, Algebra II. The teacher turns on the TV. We were doing calculus and he just starts looking. We were like, what is going on?
And all of a sudden we see the second plane going into the World Trade Center building. I thought it was a movie he was showing or something.
It just didn't make sense. Then you could hear the news reporter saying, "Oh, my God, Oh, my God, that plane just went into the building!" We were just like, what the hell is going on?
And you look at everyone's face dropping and hear, "There is terrorism in America today."
Back then, terrorist wasn't equal to Muslim. But that day a woman said to me, "We are getting word the Arab al-Qaeda were part of it."
I had a Motorola flip phone at the time and my dad kept calling me. I answered … and he said, "Get ready. I'm coming to pick you up."
He said, "The school counselor advised us to get all our Ismaili Muslims out of class.'
Then the bell rang and the announcement came from the principal, saying they would be canceling class. They sent everyone home that day. School ended early.
I had been accepted to [Massachusetts Institute of Technology] and that was going to be my weekend orientation and I couldn't go because it was in Massachusetts and they had closed [the school].
That night my dad — who was a priest in a mosque — not an Imam, but like a bishop — said, "You don't tell anyone you are a Muslim. You no longer say 'mosque,' you say 'church.' " And to this day, we say that.
Shayla Patton, Santa Fe
I had an early flight home to New York from Detroit. My mom walked me to the gate waiting for me to board. I didn't know then it would be the last time for such pleasantries. They said the flight was delayed. So I waited, checked in at the counter as did many of the other passengers. Delayed, delayed, no reasons, delayed, then canceled. By then, the news was on in the airport, you could feel the fear, the confusion.
I remember being in line waiting for my flight voucher and watching on TV as the plane hit the World Trade Center.
My flight was supposed to have arrived in New York at 9 a.m. I could have been among the rerouted or the dead.
There was so much confusion and panic in the airport. People crying, angry, afraid, lost. All I could think of is how I was going to get back home.
Everyone I knew called me, those who knew I was heading back [to New York] that day, and those who knew I lived there. My family begged me to stay, but all I wanted to do was get back, to my apartment, my friends, my job, my city.
A long trip home on a Greyhound bus filled with people afraid to fly made me never want to take the bus again, but I did for the next year until I felt like I could fly again.
I made it home to Brooklyn. It smelled like smoke and ash. There were still pieces of debris flying in the air when the wind shifted, pages with burned edges.
Armed National Guard troops stood at subway entrances checking bags, watching, but it wasn't protection that I felt.
I had friends that left the city after that, not me. I walked through the ash and the smoke, the new grit of the city.
Fear wasn't allowed to rule me and my life in the city wasn't over. I still have many unanswered questions about that day, but mostly I am grateful my flight was cancelled, that I wasn't there in a meeting or walking nearby. The impact of lives lost was strong and so many I knew lost people. I still remember the smell of the smoke.
Katy Yanda, Santa Fe
As many will remember, 9/11 was a stunningly beautiful day. The sky was blue-blue and had a hint of fall. I was walking from our apartment in Inwood [a neighborhood in Manhattan] to the north campus of Columbia through the Cloisters, and recall thinking, "It just doesn't get prettier than this." When I stepped out of the elevator to the office of the School of Public Health, it was eerily quiet. Everyone was sitting around a radio and crying and holding each other. We could see the plumes of smoke from the 168th Street window if we leaned out.
My partner, another Santa Fean, and I spent the evening in an Irish bar in Inwood, watching and rewatching the towers fall with everyone else on the TV high above the crowd. Everyone was incredibly kind to each other. For days, in addition to the lack of airplane noise, there was no honking, no yelling, none of the New York City clang and clatter.
We spent hours at Union Square and walking the streets looking at the memorials and talking to others. There were missing people signs posted everywhere, beloved faces staring out from flyers, flowers, candles, flags and photos at the bottom of every post. The air smelled of smoke.
For months, I'd been wanting to leave New York City, even though I had just started a graduate program. When 9/11 happened, despite recurring nightmares, I wanted to stay. It didn't make much sense, and I completely understood why people wanted to move away, but for me it had the opposite effect — I was more deeply committed to the city than before.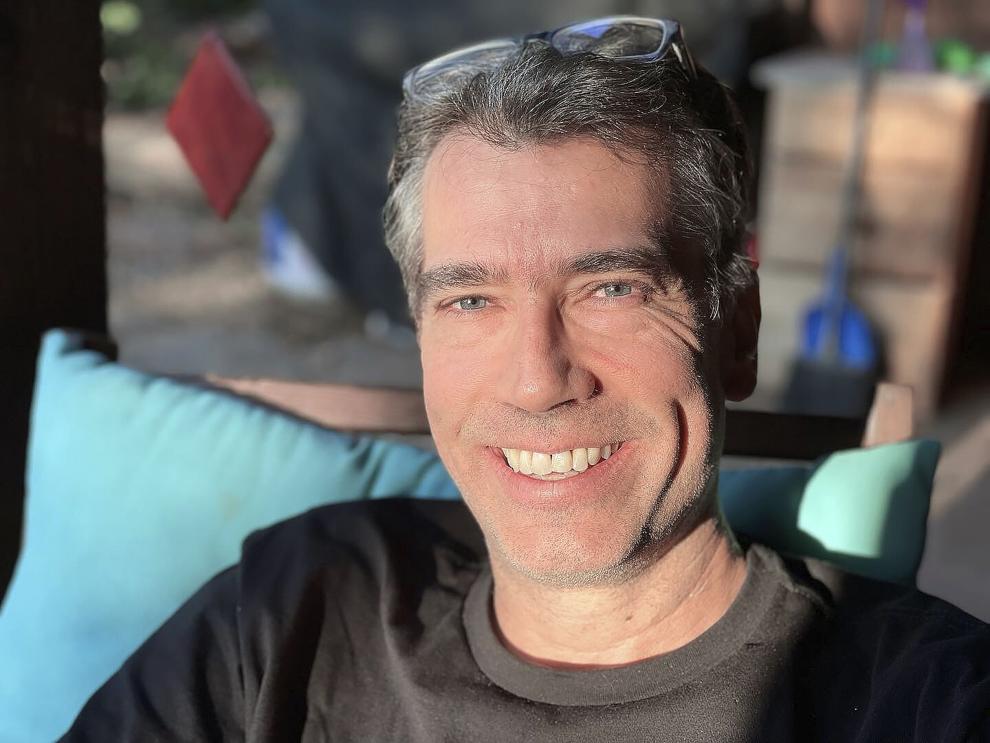 Chris Norris, New York City
We were shooting a commercial at 57th Street and 4th Avenue, and all of our radios went out. It was unclear what was happening, and people began guessing and talking. We went outside and thousands of people were walking north to Inwood on 4th Avenue. Many were covered with ash. There were emergency vehicles everywhere.
I joined the crowds to start walking north because no one knew what to do. Every so often, a panic would move through the crowd and people would start to run, and then stop again, looking around, not knowing what to do.
People started frantically flagging down rides. A cab stopped right in front of me to let people out. Three people piled in, me and two others. The cabbie said, "Where you guys going? I'm heading home to the Bronx."
I had my camera stuff on my lap. There was a bunch of misinformation on the radio, including that the White House had been hit. We talked about what we had heard and speculation about what had happened. It one of the craziest rides of my life. The cabbie let me off at 176th and I walked the rest of the way to 212th."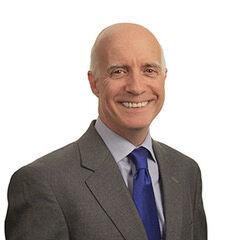 Jim Falk, Santa Fe
I was president of the World Affairs Council of Dallas-Forth Worth and was asked to give a rah-rah speech to about 200 high school students who were visiting that day. It was a field trip to the Federal Reserve Bank of Dallas, and I was supposed to talk with them about the importance of opening your eyes and being engaged with the world, the World Affairs Council's youth education programs and why you should study abroad and make friends with foreigners.
What made it really even more odd was that day the Federal Reserve Bank was planning to have a United Way rally for its employees, so the big auditorium was decorated with red, white and blue balloons and streamers.
It was an early morning breakfast, so I was there when the first plane hit and we heard that, but they didn't put that up on the TV. The TV was dark.
And then the second plane hit and we realized this was a different situation. A lot of the employees from the Federal Reserve came into that large room. We put the students in another room and I'll never forget, I had a speech in my hands and I held it up and said, "This is the speech I was gonna give." And I ripped it up and I said, "We don't know for sure who did this, but more likely or not it was probably al-Qaeda and I want you to remember that when you go to your neighborhood dry cleaner or you go to a restaurant, there may be a Muslim or an Arab there. Please remember that they're not responsible and that they are feeling the same pain that you are."
I said, "This, too, shall pass and shows why you really need to engage with the world and have empathy towards different cultures."
Scott Harrison, Santa Fe
My friends Brian Crigler, Chris Storey, and I had tickets to the Yankees game that night. We chose that date because Roger Clemens was pitching. It had rained hard the night before and the air that morning was crisp, clear. I fixed coffee for my wife Lisa and me, then went for my morning walk to the brook at Prospect Park.
At 8:45, I stepped onto the subway at Fort Hamilton reading my New York Daily News. Michael Jordan was returning to the NBA.
At West 4th Street, I transferred to the C train, which would take me to Spring Street, my final stop. After two stops, I realized we were going the wrong direction. Irritated, I changed trains. Riding back to West 4th, I overheard two ladies talking, something about a twin-engine plane crash.
They were very matter-of-fact. Stepping out at West 4th, I learned that the trains were no longer running south. I sensed something was wrong and headed toward the exit. An older Black gentleman I'd often see playing guitar was telling people the World Trade Center had been hit by two planes.
I walked up the steps to the street and looked toward the towers. They were always part of my view to the south at this stop. Smoke poured out of gashes on the upper floors. There were flames.
People were standing still, silent, looking into the sky. I stood there for several minutes. Then I started walking toward my office. I didn't know what else to do. I passed a fire station where trucks were racing out into the street. The sound of sirens was everywhere.
At my office building, people were looking down Hudson Street at the towers. When I got to my floor, the first people I saw were Chris and Brian.
Barbara Gerber, Santa Fe
As Robert Sliwak was perishing in his office at Cantor Fitzgerald, in the north tower of the World Trade Center, I was emptying my dishwasher. It was a Tuesday. I was supposed to be writing a story on factory farming.
Today, when I was asked to write this reflection, I was preparing discussion questions for an English class at Santa Fe High School, which was to begin in 30 minutes.
I missed that deadline, too.
Perhaps it's the fall of Afghanistan. Perhaps it's watching images of Hurricane Ida tear through New York. Perhaps it's the way September feels brittle and expectant. Whatever it is, 9/11 memories have a life of their own.
Robert's family and mine grew up in Seaford, a small town on Long Island's south shore.
Our backyards abutted, and despite the chain-link fence, all of us kids — 12 combined — played together and hit our milestones side by side. Our moms were friends for 60 years.
Somehow that boisterous and loving family weathered the loss of Robert and continued finding joy in life. Like all the 9/11 families. And the gold star families. And the families of terror victims all over the world. It seems that even when the ending of a story is stolen by monsters, the narrative arc continues.
I compulsively search for Robert's name in every list of 9/11 victims, and whenever I'm in New York, I visit Mrs. Sliwak. Her lawn is festooned with American flags. In her mid-90s now, she still hugs me and cracks jokes.
A candlelight vigil is planned at Seaford High School, where four other local victims will also be honored. The rest of the country will observe the date in its own way.
Twenty years on, we're all still writing our new endings.
Becky Christmas, Wagon Mound
Recent events in our nation have brought back many sad and tragic memories for gold star families. There are now 13 more gold star families in America. We who have lost a loved one in military service are forever gold star families.
Now we look at the calendar and see the date of Sept. 11 approaching. Twenty years ago my son, like so many other sons and daughters, felt the compelling burst of service for our country. Many of my fellow gold star parents tell me that their child signed up for military service right after 9/11.
On that day, the morning news was on in our home like most mornings. I remember the first plane hitting the first tower and the commentator questioning whether there was some terrible issue with the plane or the pilot. It wasn't long until we all knew this was no accident, and we saw more tragedy as the morning evolved. That morning my son, Todd Christmas, was in college at Texas A&M where he had already made plans to join the Texas National Guard and commission at A&M.
As his mother, I knew he would be even more determined to follow in the footsteps of his father, grandfathers, great-grandfather and every male member of his family from every generation since the Revolutionary War. I felt that "punch" to my midsection and recently I felt that "punch" again when I heard about the deaths in Afghanistan of children, wives, fathers, mothers, brothers, sisters and all the other words for special people.
Our nation grieves with the new gold star families. I pray we won't forget them and their loved ones' service. I pray we won't forget any of those who have served and died in service to our country. Remember them as some of the finest Americans. Say their names: Army Capt. Todd Christmas, 3/8/78-11/29/04.