For an hour, two dozen seniors, most with Parkinson's disease, forgot about their tremors and limitations as they danced to memories of easier days.
Their moves came from other times and places — catching a baseball; waving hands around in water; lifting feet from the mud. And yet, as Shannon Elliott led the Santa Fe Parkinson's Disease Action Group, taking her class through this choreography, it seemed to make sense.
"The imagery that I use, I mean some of it is pretty silly," Elliott said. "It's bypassing the issue in the brain. It's a memory as opposed to a therapeutic exercise."
Elliott, 41, has been a professional dancer, choreographer and dance administrator for the past 20 years. Now, she is venturing into something new as she seeks to bring the healing power of dance to those who have Parkinson's in Santa Fe.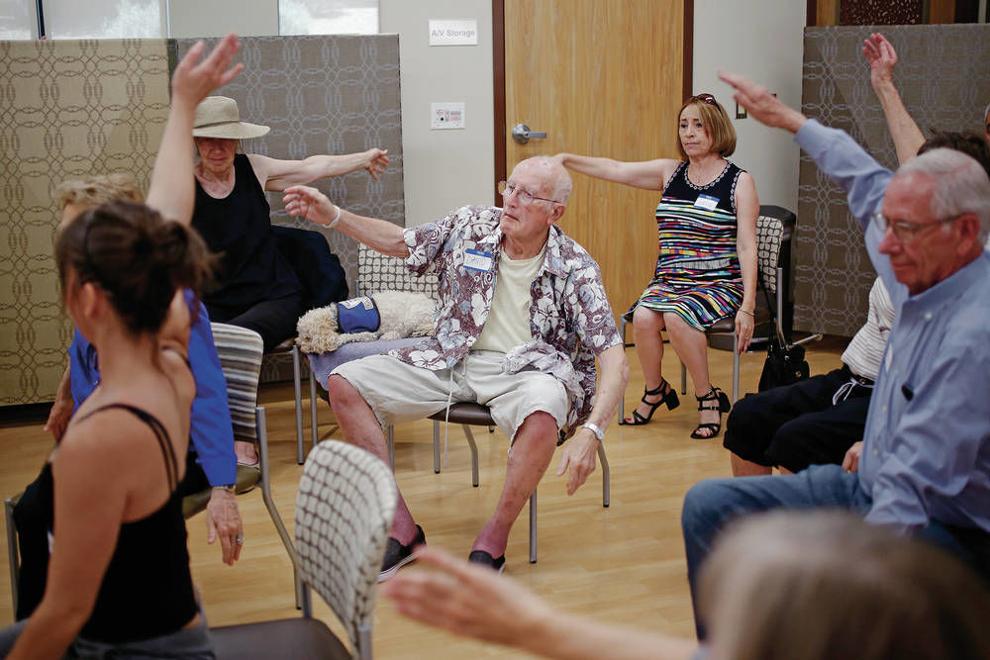 "It's not about technique," Elliott said. "It's about the joy of movement and all the benefits that come with that."
Elliott trained with the international nonprofit Dance for PD, which organizes dance classes and programs for people with Parkinson's around the world. She recently finished hosting a six-week class at Montecito Santa Fe Senior Living and is looking to expand into more classes for those battling Parkinson's and possibly other groups in need.
"I'm now interested in using my dance background to help people in all ways," Elliott said. "I would love to approach health and wellness from a more artistic place."
Dance for PD cites a variety of research from universities around the world showing the ability of dance to help mobility in Parkinson's patients.
In the class, Elliott called out and demonstrated movements in a chair as everyone mimicked her in their own ways, often laughing and always applauding at the end of each song. Ken Hendricks, community service representative for Home Instead Senior Care, volunteers with Elliott — strumming his guitar and singing tunes for her class.
"[Elliott's] passion for it was just contagious," he said. "It's just inspiring."
Rob Barteletti, 69, attended the Santa Fe Parkinson's Disease Action Group meeting recently as Elliott showcased her class for the first time to them. He danced in his chair with a smile and a sway that, for once, wasn't about his disease. "There was no pressure on you to perform it perfectly, just to get into the mobility and have fun with it," Barteletti said.
Part of the problem, he said, is that struggling with Parkinson's makes you not want to be active or do something like this.
"[Parkinson's] is always there with you," he said. "Out in public, it can be embarrassing and so you get the tendency to want to stay inside and that's the worst thing you could do."
Ryder Finnegan, 62, said she feels nervous entering a large crowd like the support group, in part because of her disease. But Elliott's instruction made her feel comfortable. Now, she said she is excited and looks forward to learning tap and other dance genres through Elliott.
"This is a very isolating disease," Finnegan said. "Having a class like this is important because it gives us back a little bit of integrity."
Elliott said she approaches her classes not just as a way to get people moving, but to help them make connections. "To me, it's a different way to move your body, stay in shape, feel present and enjoy yourself," she said. "Hopefully, they can forget Parkinson's for a minute."