Growing up in Chimayó, a small village in Northern New Mexico known as much for its natural beauty as its pervasive culture of heroin use, Carlos Trujillo saw firsthand how a community and its people can be ravaged by drugs.
He never imagined himself falling into the same trap.
At an early age, Trujillo was bright, ambitious and, according to a former mayor of Española, "destined for greatness."
He came from a good family. His parents, who have been married nearly 40 years, warned him about the dangers of drugs. After graduating from Pojoaque Valley High School in 2000, he went to The University of New Mexico in Albuquerque to pursue a political science degree. As a teenager, he ran a successful political campaign for a slate of Española City Council candidates. He later worked as campaign manager for U.S. Rep. Ben Ray Luján, D-N.M, from 2007 to 2008, and was the Western states political director for the presidential campaign of Bill Richardson.
People considered Trujillo an up-and-comer in the political world, not just in New Mexico but beyond.
"I felt this guy is going to be a congressman someday or a U.S. senator someday," said former Española Mayor Joseph Maestas, who is now a Santa Fe city councilor. "I was convinced that this guy had the potential and the drive to be anything that he wanted to."
But heroin got in the way.
On Oct. 1, a Santa Fe County sheriff's deputy found Trujillo, 33, in a silver Mercedes parked behind a double-wide trailer in Arroyo Seco. He was drifting in and out of consciousness and had "fresh injection marks on his arms," according a police report. He was arrested on suspicion of driving under the influence of drugs.
For many who know Trujillo, his self-acknowledged descent into drug addiction illustrates the destructive toll heroin has taken on the picturesque mountain villages and towns that dot Rio Arriba County, impacting even those who seemed destined for a completely different path.
The county of 40,000 people has for years led the nation in the rate of heroin overdoses, with an overdose death rate 10 times the national average.
"I would never wish the disease of addiction upon anyone because I understand it and have dealt with it and am dealing with it," Trujillo said in a candid and emotional interview with The New Mexican. "I would never wish the consequences or the actions of them upon anyone."
Trujillo resigned his post as government spokesman for Rio Arriba County on Monday following his arrest.
Mona Blaber, who had worked with Trujillo on the Luján campaign, as well as Howard Dean's presidential campaign in 2004, called Trujillo "one of the smartest and best guys" she knows.
"He is so knowledgeable and passionate about making the world a better place for everyone," said Blaber, a former employee of The New Mexican. "He's been volunteering since he was in high school because he truly cares about people and about improving the system."
Rio Arriba County Manager Tomas Campos said the county sought Trujillo for the job based on his reputation. Trujillo passed a pre-employment drug test, Campos said. He confirmed that Trujillo is related to County Commissioner Barney Trujillo, but he said Carlos Trujillo was hired based on his skills and abilities.
"I liked Carlos," Campos said. "He was a very good person, and it's sad that something like this happened."
Campos said he received "a bunch of calls" after Trujillo's arrest from people who said he had been using drugs.
"We never had a problem with Carlos in his attendance or [being] inebriated at work," he said.
Last week's arrest wasn't Trujillo's first run-in with the law. In August 2010, he was arrested for drunken driving on U.S. 84/285. In 2012, court documents show, he checked into rehab.
Trujillo said he had been clean and sober until around July, when, in a moment of weakness and despair, he turned to the drug he thought he had left behind.
Trujillo spiraled into heroin addiction after first becoming addicted to OxyContin, a narcotic prescription painkiller.
He had knee surgery at age 28, Trujillo said, and was prescribed the pain medication. By the time his doctor took the prescription away, he was hooked.
"I was highly addicted to them," Trujillo said. "I started buying them illegally off the street, and then it turned into a heroin addiction, unfortunately — something that I never thought would be my reality."
Trujillo said he started using heroin in a desperate attempt to ease the pain that came with no longer having prescription pills.
"Prescription medication, when they take it away from you and you're addicted to an opiate, your body becomes physically ill, and you'll do anything and everything in your mind to keep that illness away," he said. "Unless you've ever dealt with an opiate addiction, it's not just a mental thing; it has physical implications as well."
Trujillo said he felt he "had no other option" when someone offered him heroin to smoke.
"In my mind, I thought, 'I need to feel OK,' " he said.
Scoring it was easy, he said, just a phone call or text message away.
"It's prevalent," he said. "For every person that law enforcement puts away, five more will pop up. That's just the reality of the situation. There's a demand. Therefore, there's a supply."
Trujillo said he realized he was going down a dangerous path. So did his family, who staged an intervention.
"I recognized it, but everyone around you becomes a victim to your addiction. Your family. Your friends. Your loved ones," he said. "Everyone becomes a part of this ongoing train wreck."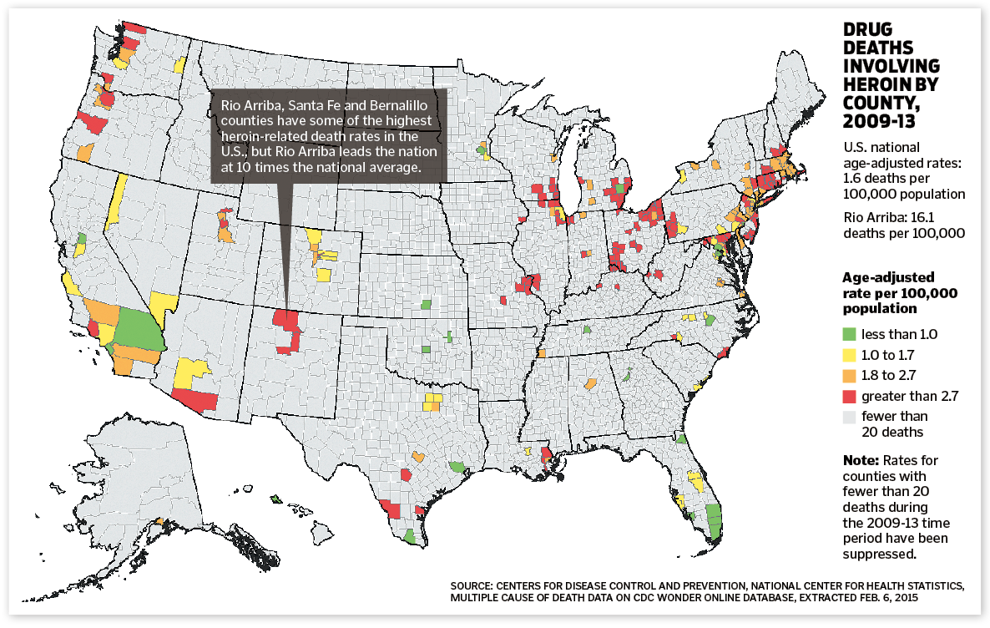 Trujillo went to rehab in California for about a year, including "a couple of months of outpatient and getting everything back together."
After returning to New Mexico, Trujillo landed the part-time public information officer job with the county last August, earning $19.75 an hour.
"I was fine," he said. "Things were good."
But over the past year, he said, eight family members died, including his grandmother, an aunt, an uncle and a cousin who was like a brother.
"With all these deaths, I really didn't deal with it psychologically. I just turned to what I knew," he said, adding that he didn't mention the deaths to gain sympathy but to offer an explanation about why he had turned to drugs again.
"I had a serious relapse," he said.
Trujillo said it "became evidently clear that it was out of control." Oct. 1, the same day he was arrested, he asked his boss if he could take a week off.
"I was going to do whatever I needed to do to get back in check," he said.
Asked why he decided to speak out publicly about his arrest and drug addiction, Trujillo choked up and cried.
"I know that there's probably somebody out there who is probably going through the same thing," he said after gaining his composure.
"That's the bottom line," he added. "They're not alone, and there's nothing to be ashamed of. Yeah, your actions may not be the right choices, but you have a serious disease, and you need to just get the help necessary to get it in check."
Trujillo said he is working to check into a detox center in New Mexico and is waiting to hear back from the same rehabilitation facility where he had been in California for long-term treatment.
Trujillo said he is "so thankful to God" that he didn't hurt anybody on the road before his arrest.
"I am so thankful it didn't happen because the last week before [Oct. 1] had been particularly dark because I realized I had lost control and in a serious way," he said. "It could've ended differently."
In his resignation letter, Trujillo said he was honored to work with such a great team at the county.
"I sincerely apologize for letting you down," he wrote. "Though I am not the first person to have this issue, I wish I could be the last."
Richard Ellenberg, who until recently served as chairman of the Democratic Party of Santa Fe County, said he met Trujillo when Trujillo worked on Luján's campaign.
Ellenberg said he was aware of Trujillo's "drug issues" and that he had sought treatment.
"When I last worked with him, which was probably a few months ago, he seemed totally clean," Ellenberg said. "If he's had a relapse, I'm real sorry to hear that."
Ellenberg said people in political circles had been monitoring Trujillo's progress.
"He certainly has been an up-and-comer," Ellenberg said. "He certainly has been extremely effective in his campaigns and working with people and putting things together. But right now, frankly, I think people were looking to make sure he re-proved himself. Obviously, this won't help. … People know there's been an issue and really hoped he would get past that because he is a very effective guy."
Trujillo's story is all too familiar to Rio Arriba County Health and Human Services Director Lauren Reichelt, who said she first started noticing a link between prescription painkillers and heroin use more than 15 years ago, when she parked herself in the state Office of the Medical Investigator for two weeks and read 10 years worth of overdose death reports. In nearly every case, she said, people who died from a heroin overdose had also used other substances. In many instances, they were prescription pain pills, she said.
Once addicted to the pain pills, Reichelt said, "people turn to heroin because it's cheaper for them and easier to get."
"It's basically the same addiction," she said. "Your body doesn't give a hoot if it's a legal drug or an illegal drug. They are the same chemical. What differs is how you get it and how you use it."
Reichelt said she was inspired to do her own research on the topic because, at the time, in 2000, media reports kept referring to the "heroin problem," but she felt the issue was more complex.
In the mid-2000s, state Department of Health records show, painkillers began to outpace all other drugs as the cause of overdose deaths across the country. But a 2013 report showed that when pharmaceutical companies reformulated some of the most abused drugs, such as OxyContin, to make them harder and less enjoyable to abuse, addicts veered back toward heroin.
According to the U.S. Centers for Disease Control and Prevention, heroin use has increased across the country in both genders, most age groups and across all income levels. Heroin overdose deaths increased by 286 percent between 2002 and 2013.
A recent study by the center showed 45 percent of people who reported using heroin in the past 12 months also were addicted to opioid painkillers.
And while black urban males used to be the most at-risk group, the center's new research suggests current heroin users include more whites, more suburb dwellers and more residents of rural America.
Reichelt said Rio Arriba County shares many similarities with other rural counties across the U.S. — such as remote villages in the Appalachian Mountains — that have been heavily impacted by prescription drug and heroin abuse.
"It's rural, remote, mountainous and poor," she said. "Heroin has become a rural issue, not an urban issue. I don't think the general public realizes that."
Rio Arriba County's heroin overdose death rate — 16.1 deaths per 100,000 people per year between 2009 and 2013 — was the highest in the country and 10 times the 2012 national average of 1.6, according to the Centers for Disease Control and Prevention, which considers communities with rates higher than 2.6 "highly impacted" by the epidemic. The national rate has since climbed to nearly 3 deaths per 100,000 people, according to the most recent National Survey on Drug Use and Health.
In 2014, the county's health office reported that the number of babies born addicted to opiates had jumped from 19 out of an average of 300 deliveries in 2011 to 87 out of 300 in 2013.
In September, the New Mexico Department of Health was one of 16 state agencies to receive an $850,000, four-year Prescription Drug Overdose Prevention grant from the Centers for Disease Control and Prevention. One focus of the grant will be to develop a better understanding of the link between prescription opioid abuse and heroin use.
Reichelt, who has worked in public health in Rio Arriba County for 22 years, said Friday that heroin use in the region has "remained steadily high" over the past two decades, but she also has seen an increased demand for treatment.
"I'm not sure if people are more aware of our services or Medicaid expansion has created more demand for our services, but it's only in the last year that we've developed a wait list, and my biggest priority is to eliminate it," she said.
Reichelt said she's known Trujillo since he was a teenager.
"I just love that guy, and I'm so sorry this happened because he is a very talented guy with a good heart," she said.
"This is a chronic disease and a lifelong disease, and it needs to be managed, just like if you've gone to radiation treatment for cancer and the cancer comes back. You don't just throw up your hands. You treat it. It's the same issue for addiction. You treat it. You don't write people off."