Victoria Murphy is so nervous about the outcome of Tuesday's high-stakes presidential election she can't stop throwing up.
Over the last few days, Murphy said, the only food she's been able to hold down are mashed potatoes and chicken enchiladas delivered by a friend.
"My husband keeps saying, 'Why do you keep throwing up?' " Murphy, former chairwoman of the Democratic Party of Santa Fe County, said Monday. "I'm like, 'I don't know.' I mean, I have gone through half a bottle of Tums. It just seems like my stomach is just so nervous."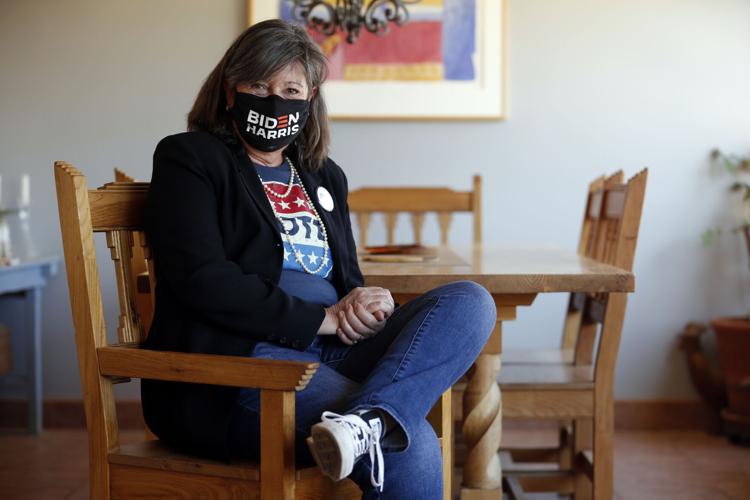 Like other voters and election officials around the country, Murphy is bracing for more heartburn amid predictions of a protracted vote count stemming from high turnout and a record number of mail-in ballots as Americans try to limit their exposure to COVID-19. It could leave some results in limbo for days — not to mention a possible legal challenge by Republican President Donald Trump that could draw out the drama even longer if he loses the race.
Voters in Santa Fe County say they're anxious and also eager for the election to be over but recognize there could be delays.
"What I'm hoping is that the numbers will be so overwhelming that one side isn't going to really have anything to [expletive] about," Matthew Fiorina said last week after voting at the Santa Fe County Fairgrounds for Democrat Joe Biden.
"I know for me, if it's flip-flopped and Donald Trump wins by a lot, I'll take my medicine and move on," he said.
Cameron Gonzales said in Monday she's feeling mixed emotions heading into Election Day, from apprehension to excitement. This year marks the first time the 21-year-old has voted in a presidential race.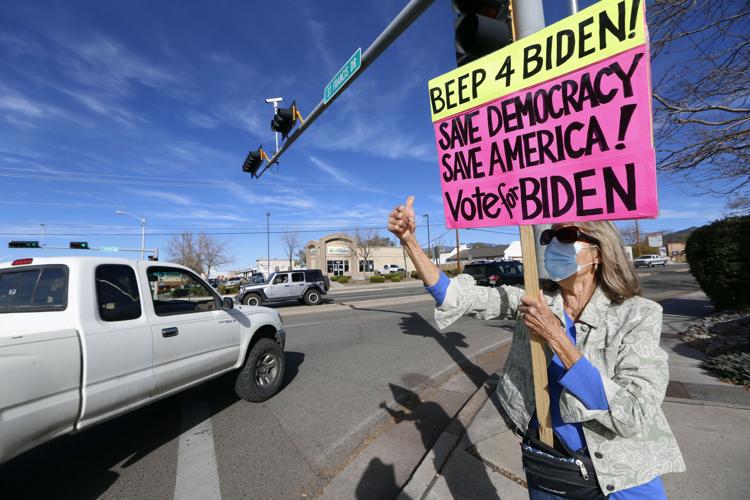 "Part of me wants to really have a lot of hope, just believing that this will go well and there won't be much civil unrest and everything will be fine," said Gonzales, the daughter of former Santa Fe Mayor Javier Gonzales. "But I think another part of me finds it really difficult to internalize that hope."
Cameron Gonzales said she's "definitely a little bit anxious" for two main reasons.
"First, civil unrest," she said. "I think there's there's a lot of fear as to what's going to happen tomorrow, the days leading up to the actual inauguration, so that's definitely concerning."
The other reason for her anxiety comes from a generational perspective, Gonzales said.
"I'm a senior in college now, so I'm about to graduate into just this horrible economy with no jobs," she said, adding climate change and women's reproductive rights are issues of concern she shares with friends her age. "There's definitely a lot of generational fear as to what happens with another Trump presidency."
Leo Salazar, who voted at the Santa Fe Community Convention Center last week, said he's tired of the divisiveness in the country. Salazar, who called the 2020 election season "very tense," said he's eager for political posturing to end.
"I'd like it to be over by Tuesday evening," he said about the race for president. "It would help with the nervousness of the coronavirus and the compound problems with voting and everybody — how would you say it? — being mean with each other. Let's get back to being normal."
Unlike Gonzales and Fiorina, though, Salazar said he believes Trump is the better candidate to lead the nation; he voted for Trump in 2016 and again this year.
"Ever in the history of the United States, nobody has ever given me one penny from the government. Mr. Trump tried to help, and he gave me and he gave my wife money, so we were able to continue on," Salazar said, referring to pandemic-related stimulus checks the couple received from the federal government.
Fiorina didn't vote in the last presidential election because he wasn't sure which candidate — Trump or former Secretary of State Hillary Clinton — "was the lesser of two evils."
"This one, it's very apparent," he said. "I think whoever votes for Donald Trump is either misinformed or has different values. And that's OK, but to me, it's very apparent."
Another voter, Aurore Loranger, said she, too, sat out the last presidential election, as well as the one in 2012. She said she wasn't "emotionally invested" in the outcome.
Loranger voted early last week, also at the Santa Fe Community Convention Center.
Instead of sitting out another election, Loranger said she will be sitting in front of her television with her cat, Hakonnen, anxiously awaiting the results Tuesday night. But she's prepared to go to bed not knowing which candidate won.
"I'm not going to be glued to my TV set, either, because what's going to be will be," she said.
Murphy, the former chairwoman of the county's Democratic Party, said she doesn't expect the outcome of the race to be known for at least several days.
She pointed to the June primary, when it took the office of Santa Fe County Clerk Geraldine Salazar 3½ days after the polls closed to finish counting ballots, leaving a few races hanging in the balance and forcing Salazar to petition a court to extend her deadline for results. Though polls show Biden ahead of Trump, Murphy said a lot of uncertainty hung over the country on the eve of Election Day.
"I know we're close in Pennsylvania. I know we're getting close in Texas. I know we're getting close in Arizona and all these other swing states, but it's still that Midwest that scares me," she said. "People don't understand. Yes, you can win the popular vote, but if you don't have that Electoral College, you're lost."
Outgoing District Attorney Marco Serna said he's excited about the election, and hopeful Biden will win, but also uneasy about how Trump might react if he loses.
"I'm scared because you don't know what Trump will do," he said in a phone interview Monday. It's also frightening to consider another thing, Serna added: "what he will encourage his followers to do."
Steve Pearce, chairman of the Republican Party of New Mexico, said he's sure voters are ready to move past the election.
"But there is a kind of excitement, and the future of the nation hangs in the balance," he said. "Yeah, there is some nervous energy about it, but I'm enjoying the process myself."
Staff writer Phaedra Haywood contributed to this report.