Youth advocates and parents know the mall is a popular haunt for kids in Santa Fe.
But now, a new teen center opened by the Boys & Girls Clubs of Santa Fe/Del Norte at Santa Fe Place mall will provide a safe refuge and not just a place to kill time.
Hundreds of teens have already scoped out the amenities at the new space, dubbed The Club, said Roman "Tiger" Abeyta, the chief professional officer for the Boys & Girls Clubs and a Santa Fe city councilor.
"Now, they have a place where they can loiter," Abeyta said with a laugh in a recent interview.
The Club and its amenities are getting positive reviews in its early days.
"I like the vibe it gives off," said Monte del Sol Charter School eighth grader Sam Walling, 13, between bites of instant ramen with his friend Gabriel Martinez in the center's cafe area.
The cafe space, with its sleek blue, white and black interior, is replete with string lights and barstools.
On a Monday after school, one student reclined alone at a high table, soda in hand as music drifted through.
Snacks and drinks, including pizza rolls and tea are available to the teens, who must fill out an application to be able to check in to The Club.
Walling said he's already visited 10 times since it opened three weeks ago. He's come to be with friends and has even visited by himself, sometimes taking a public bus from Ortiz Middle School.
"I really like the times," he said of the center, open from 10 a.m. to 8 p.m. Monday through Saturday, and noon to 6 p.m. Sundays.
Martinez, also an eighth grader at Monte del Sol, said the relaxed setting was a welcome change from his experience at the city-run teen center on Agua Fría Street, which he said felt too crowded.
"This place is much better than my old center," he said.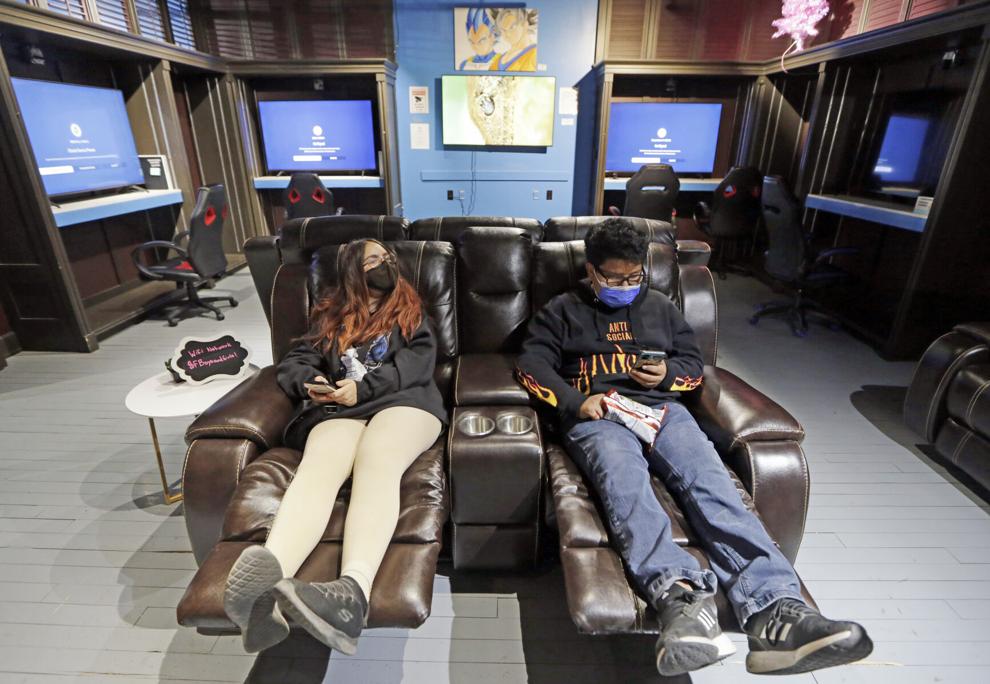 Martinez and Walling said they are happy for a "cozy" place to relax around others following school years altered by the coronavirus pandemic.
The Club, which occupies a former Hollister Co. storefront across from Foot Locker, has walls lined with pen and ink art of prominent cartoon characters like Batman — for sale by a local adult artist.
Boys & Girls Clubs Assistant Director Sarah Gettler said officials are hoping to use the wall space for other students to sell their own works in the future.
The organization secured the spot at Santa Fe Place using federal pandemic relief funds, which will provide nearly $60,000 a year for the next three years toward programming. Now, the club is working to find other grants to maintain rental costs.
The new teen center currently employs a handful of teenagers to distribute snacks and man the check-in desk.
To maintain their membership, participants must agree to take part in some of the activities the Boys & Girls Clubs provides on-site.
Abeyta said the center plans to host free classes on topics from driver's education to financial literacy using a classroom space in the back.
The center also includes an open room with a stage for open mic events and music, a gaming center, a pool room, a row of computers with free printing and a small recording space for budding musicians.
Abeyta and Gettler said in a recent interview the 2020 fatal shooting of teenager Ivan Perez, 17, who was killed across the street from their Zona del Sol club location highlighted a need for more safe spaces for teens.
Abeyta and Gettler extended hours at the center on Jaguar Drive following Perez's death but said they were limited by what more they could offer to young teenagers as that club space also serves elementary schoolers.
A while later, they were at the mall when they noticed teens seemed to be using the shopping center as a hangout spot.
"It really brought to attention that teens need a safe place to go and hours that work for them as well," Gettler said.
Gettler said she and Abeyta are working to get The Club onto the list of drop-off points for some of the bus routes at different schools around town.
Boys & Girls Clubs teen coordinator Jacob Abeyta, son of Roman Abeyta, said he's noticed lots of middle schoolers coming through to check out The Club, which he said fills a niche on the south side of town. The city plans to open its Southside Teen Center in May 2023.
A case study from the Santa Fe Metropolitan Planning Organization noted that a quarter of all youths under 18 live in the south section of town adjacent to the mall, west of Rufina Street and north of Airport Road. But the study said recreational opportunities for kids in the area are few and far between.
"They don't really have anywhere to hang out," Jacob Abeyta said of area teens who are too young to drive. "The mall is kind of their natural spot to meet up with each other. After just two weeks, we have regulars."