Citing a steep rise in COVID-19 cases, Superintendent Hilario "Larry" Chavez on Tuesday announced Santa Fe Public Schools will shift to remote learning next week.
Students will continue learning in person through Friday and will begin logging in to classes online Tuesday, following the closure Monday in observance of Martin Luther King Jr. Day. They are scheduled to return to campuses Jan. 24 "if conditions improve," Chavez said in a news release.
The announcement came after the district reported an all-time high of 361 total COVID-19 cases last week among students and staff, as Santa Fe County and New Mexico also saw numbers rise to levels unseen previously during the pandemic.
"Cases could rise to 600 this week and we have seen increased spread in classrooms," Chavez said in the release.
Concerns about the district having too few teachers, bus drivers, custodial staff and nutrition workers to "ensure the safe operations of schools" drove the decision to go remote as many employees remain quarantined after being diagnosed with the virus, Chavez added.
The decision also came a day after the local teachers union urged district officials to shift to a four-day week on campus, with Fridays reserved for "asynchronous" online learning, without real-time instruction.
Grace Mayer, president of the National Education Association of Santa Fe, said the change to remote learning will help alleviate some of the conditions that prompted the union to make the request Monday, such as high teacher vacancies and low substitute teacher availability to fill gaps in teacher absences.
Chavez said in an interview Tuesday the district's ability to return to campuses after a temporary period of remote learning will heavily depend on the availability of COVID-19 tests.
"I think that first and foremost, is providing that safety and that security of knowing that we have the testing supplies needed to provide a safe testing environment for staff and students," he said.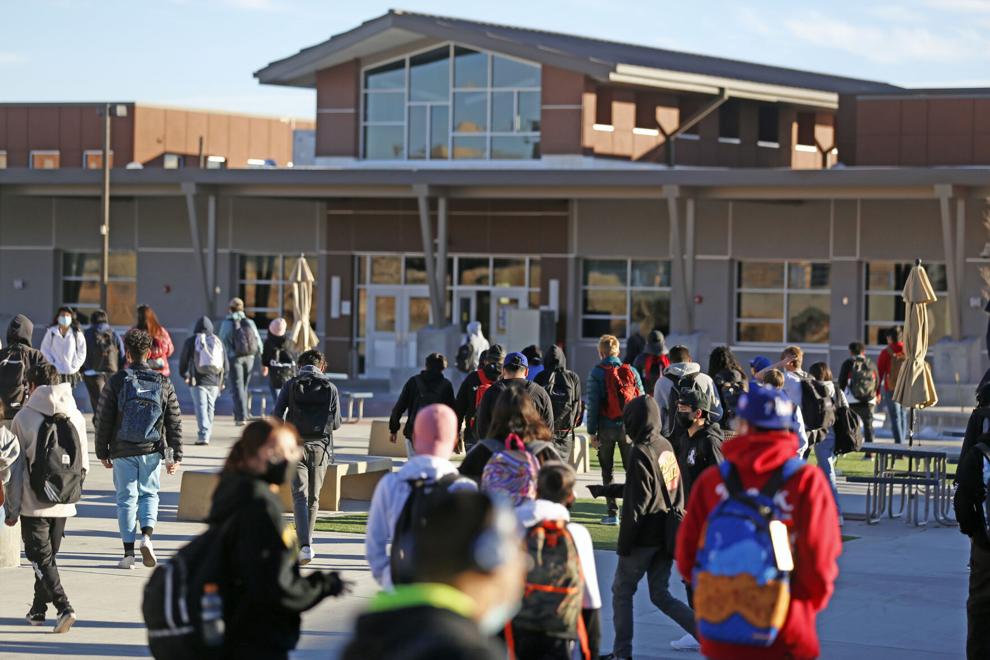 The district's Test to Stay program, which allows unvaccinated students and staff to remain on campus after coming in close contact with an infected person by getting tested regularly, relies on rapid PCR tests supplied by Premier Medical Group. Chavez did not provide the number of participants in the program but said the number fluctuates based on virus exposures.
The district's testing levels likely will start increasing Monday, when staff members who have not yet received a COVID-19 booster shot will have to undergo regular testing as well.
In a memo the New Mexico Public Education Department sent Tuesday night to district superintendents and charter school directors, the agency acknowledged testing supplies are limited — including for the free Vault Health home tests, which are being rationed amid the rise in cases brought on by the more highly contagious omicron variant.
The state will provide rapid antigen tests to districts to keep testing programs operating, the Public Education Department said, adding the state has a "sufficient" supply of those.
But the antigen tests tend to be less reliable than the PCR, or polymerase chain reaction, tests.
The memo said Premier Medical Group hired 27 additional workers to help keep up with school districts' testing demands in the last two weeks as case numbers have soared to record levels.
"Despite the additional staff, absences due to COVID-19 infections are causing interruptions in testing schedules," the memo said. "To address this, PMG is moving staff from other company operations to support current testing."
Chavez said testing for Santa Fe Public Schools will remain available this week outside Aspen Community Magnet School on La Madera Street. More testing will be available next week for school staff, students and their families at the State Auditor's Office, 2540 Camino Edward Ortiz, from 10 a.m. to 3 p.m. Monday, Wednesday and Friday.
District administrators also will be reaching out to families who might need Wi-Fi hot spots to participate in remote learning, Chavez said.
The district announced Tuesday it will soon begin publicly reporting total numbers of COVID-19 cases among students and staff, including those that were not infectious while on campus, though it did not provide a timeline for when it will start publishing the additional data.
Currently, the district's online database for COVID-19 cases only reports infections that were contagious while a student or staff member was on school grounds. On Tuesday evening, it listed 96 cases since classes resumed after the winter break: 27 staff members, 67 students and two contractors.
Because most students and staff are familiar with the district's online education platforms, the transition to remote learning should be easier next week than when the district first launched the model in 2020, Mayer said.
"Hopefully those new educators are confident they can manage it," she said. "There's a learning curve for everybody. … But I'm sure we're up for it and can figure it out."
Chavez said some schooling next week may be asynchronous, allowing more flexibility for students and staff. Mayer agreed, noting even in a remote setting some teachers won't be able to work because they're ill.
"There's going to be schools that have a flexible schedule where there will be some asynchronous work going on, because it's inevitable," Mayer said. "We've talked about educators maybe taking on additional online students and maybe being compensated appropriately for that work."
Several area schools are shifting to online learning as COVID-19 cases surge.
Pecos Independent Schools informed parents Monday about a shift to remote learning through Jan. 24, a district employee confirmed Tuesday. Superintendent Debra Sena-Holton did not respond to request for comment on the decision.
Other small schools in Santa Fe, including Santa Fe Indian School and Monte del Sol Charter School, are holding virtual classes this week.