In an era of rigid assessment-based learning and high teacher turnover, a small east-side Montessori school is saying goodbye to the usual top-down model of school governance. Instead, teachers are stepping up and splitting administrative duties.
Next school year, Desert Montessori will be "teacher-led" in hopes of boosting educator retention, reducing burnout and creating a stable community base after educational uncertainty brought on by the coronavirus pandemic motivated the teachers to take charge.
"I think how it happened was mainly out of necessity," Liza Frolkis, new administrative director and former teacher, said of the change.
Frolkis, along with new Primary Director Frances Serrano and Elementary Director Abbie Foley, will assume the responsibilities that the school's singular director used to have — from discipline and curriculum to operations that "keep the doors open," as Frolkis put it.
On a sunny June morning, as staff calmly buzzed in and out of the building, it was hard to imagine just how challenging the last 15 months were due to the pandemic.
But the day Desert Montessori's director left to have a baby was the same day Gov. Michelle Lujan Grisham paused in-person learning. It was March 2020, the coronavirus had erupted with cases breaching the hundreds, and little did anyone know how long it would last.
The school lost roughly half of its 70 students, likely to public schools or schools opting for in-person learning as Desert Montessori volleyed between outdoor, classroom and online education. The pandemic halted a new director's plan to move from Massachusetts to New Mexico to lead the school.
With no one on the ground to guide them, teachers found themselves making difficult decisions about in-person learning.
There were hours of videoconferences and even some crying. In the end, the new director didn't arrive.
But the decision-making process stuck, and the board of directors was open to becoming a teacher-led school. The staff devised the three-person leadership model and with the board's approval, Serrano, Frolkis and Foley took charge.
"Because we were already doing everything ourselves, we thought, 'We can do it,' " Serrano said.
Serrano, who has more than 30 years of experience in education and previously directed a nonprofit school for pregnant and parenting teens, helped lead the way initially. In addition to their leadership positions, Serrano and Foley will remain in the classroom.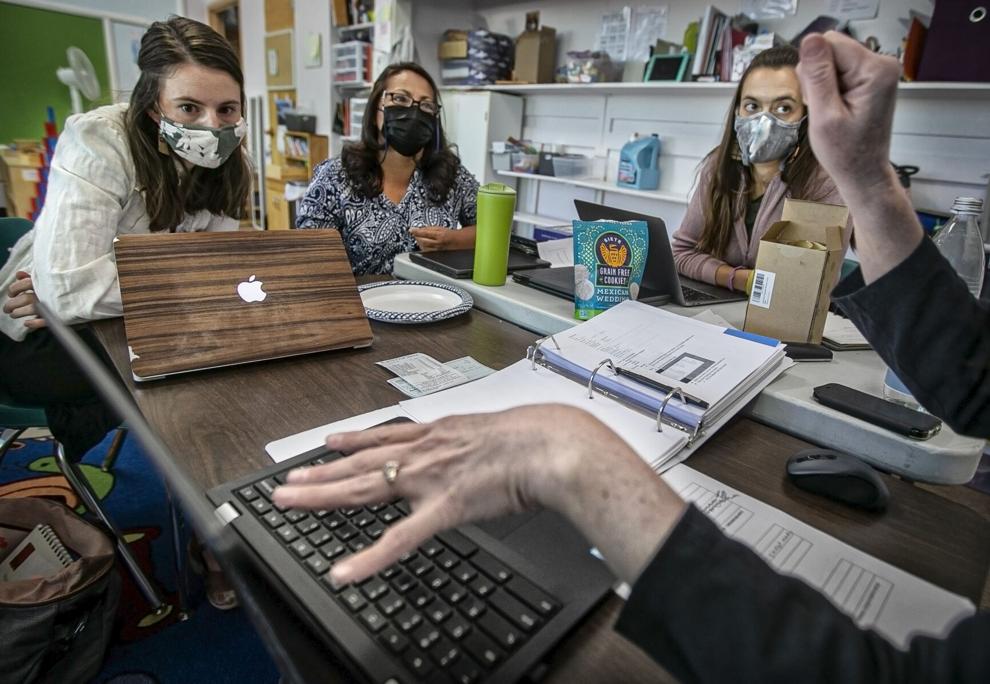 So how exactly does a group of teachers lead a school without a singular authority figure to call the toughest shots?
Foley said the new governance model is largely centered on consensus-building. Leaders will facilitate teacher meetings to make decisions on curriculum, scheduling and other issues. If someone doesn't like a proposed change, it's back to the drawing board until all parties are comfortable.
The board of directors will remain in charge of the school's finances, and Frolkis will attend to administrative matters like admissions. Parent and staff committees will oversee other aspects, such as tending to the school garden.
It might sound like a lot of work, but the three feel strongly that with the newly shared responsibilities, teacher satisfaction at the school is on the rise.
Focused on individual learning and free of standardized tests, Desert Montessori doesn't represent the majority of schools in New Mexico.
Attending the school costs between $10,600 and $13,000 a year, depending on a student's age, and 11 percent of students rely on financial aid to attend. The school, which serves students in prekindergarten through sixth grade, has a little more than a dozen nonunion teachers and boasts a student-to-teacher ratio of 8 to 1.
And while The New Mexican couldn't find another school in the state calling itself "teacher-led," Alex Vitrella, program director at Minneapolis-based nonprofit Education Evolving, said it's a model that is proliferating across the country.
Education Evolving oversees the Teacher-Powered Schools Initiative, which conducts research on the model of governance and provides resources to public schools that are undertaking the task of changing the way they operate.
Which schools take on the model is often a matter of geography.
In Minnesota, for instance, because of state policies, most of the schools are charters. Meanwhile, in urban hubs like New York City and Los Angeles, it's often public district schools overhauling their form of governance and having teachers lead the way.
"It really is kind of changing how we think of what school looks like," Vitrella said.
The Teacher-Powered Schools Initiative is aware of some schools in the United States that have been operating under educator leadership since the early 1990s, while the National Education Association traces the model of governance back to the 1970s in New York City.
Vitrella described traditionally governed school structures as a triangle: Students make up the wide base, then teachers, then administrators and then the school leader or principal at the top.
The "teacher-powered" model flips that on its head, placing students and teachers at the top. Often, schools that operate this way will have a principal or school director, but the role will be supportive rather than authoritative.
It's going to look vastly different from school to school, Vitrella said.
Some academics say lack of autonomy over how teachers teach and low pay contribute to teacher attrition.
Turnover at schools can cost thousands per teacher and, according to the Learning Policy Institute, it negatively impacts student success.
"What we've seen over the years since No Child Left Behind was this kind of idea that we're going to hold teachers accountable. We're going to push them when they're not getting the results, but we're not going to give them the autonomy to make any changes," Vitrella said.
A recent report from the initiative, which examined charter and alternative schools, showed high retention rates among schools adopting the model.
Avalon Charter in St. Paul, Minn., for instance, had just one of its 27 teachers leave during the 2018-19 school year, with an average attrition rate of 5 percent.
"I think a big part of this model is also self-care," Foley said.
At the center of Montessori teaching, which often focuses on hands-on and individualized learning, is "cosmic education." Frolkis describes it as a recognition that the world is bigger and more interconnected than one student might imagine. Today, staff members at Desert Montessori feel they are truly practicing what they teach.
"And now we can really walk the walk," Frolkis said. "We're working as a community together while respecting our individual needs and our voices."