ALBUQUERQUE — The "decadent deep-fried beignets, filled with langostino and corn," that Los Alamos High School sophomore Seneca Tsoodle and her classmates plated with a spicy remoulade sauce Monday in no way resembled the snickerdoodles and scrambled eggs from home economics classes of yore.
The elaborate recipe was just the appetizer portion of a three-course meal students whipped up in an hour's time during the 19th annual New Mexico ProStart Invitational at the Albuquerque Uptown Sheraton.
The goal: impressing an expanse of hovering restaurant industry professionals and making it to the National ProStart Invitational competition in Washington, D.C.
"Keep in mind, these are high schoolers," said New Mexico Restaurant Association CEO Carol Wight as a slew of teenagers chopped and stirred in chef's hats Monday morning. "The things they are doing are things you would do in a restaurant anywhere."
While only seven schools competed in this year's competition and just three of those participated in the management portion of the event, Wight estimates about 2,500 New Mexico students across the state participate in the ProStart curriculum, a two-year career pathway sponsored by the National Restaurant Association Educational Foundation.
Wight and New Mexico ProStart coordinator Tom Schuch said the program leaves graduating high school seniors ready with required food handler certifications to jump straight into careers in restaurant management and culinary arts.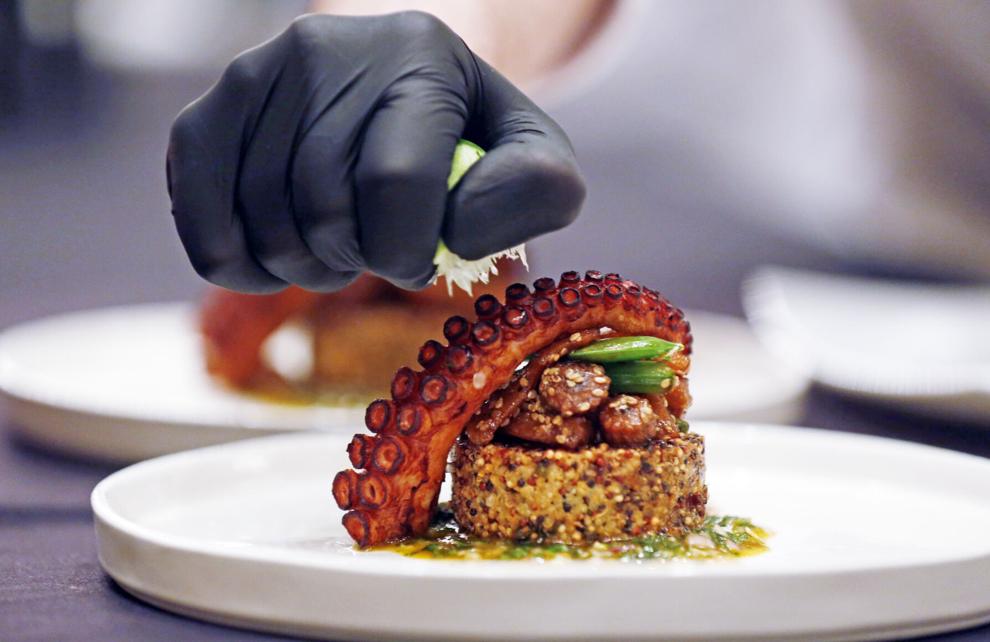 Each year, students are judged on knife skills, recipe design, teamwork and even sanitation by local restauranteurs, chefs and hospitality professionals.
After Taos High School placed first in the March 2020 invitational, the team's success was cut short due to pandemic related shutdowns. The Taos students never made it to D.C. to compete in 2020, and in 2021, the New Mexico Invitational was cancelled altogether.
For first timers and pandemic-era students like Tsoodle, many of the chopping, portioning and frying skills brought to the pop-up tables and hot-plate burners were honed during online cooking classes last year, conducted via Zoom.
"It was a little intimidating first," Tsoodle said of measuring out ingredients and cooking alone at home during the pandemic.
But she stuck with it, and now is considering pursuing a career in baking after high school.
Still, learning how to cook in a pandemic was a challenge.
"There's things that just don't translate online," said Tsoodle's ProStart instructor Becca Jones, who teaches family and consumer sciences at Los Alamos High. "Even just availability of product."
Jones, a family consumer sciences teacher who estimates about half of her ProStart students end up pursuing restaurant industry careers, said her team usually prepares for the invitational months in advance.
This year, due to uncertainty around the pandemic, they didn't hear about the competition until about a month ago.
The group spent hours practicing the three cajun-inspired courses students designed themselves: the savory beignets, shrimp étouffée and a bananas Foster-inspired ice cream dessert.
"They kept it simple because these are all first-timers," Jones said. "We had kids that had never been into the school's kitchen until this year."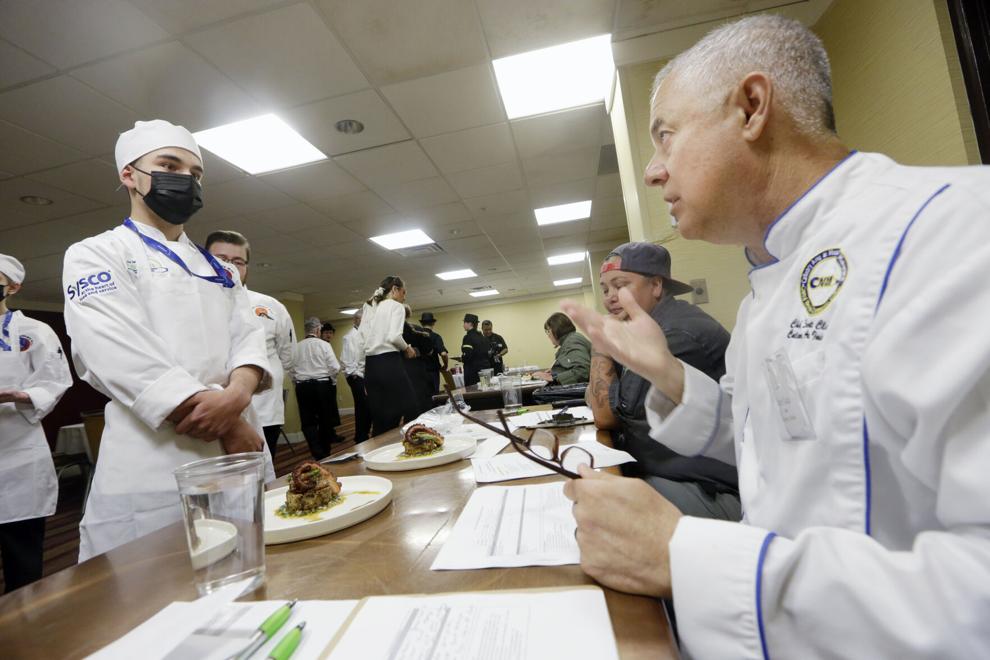 There was drama: with fewer than eight minutes to go, the Los Alamos group of five was unable to locate the salt. The flame torch needed to brûlée the bananas was suddenly rendered unusable. The team had to dump out a sanitizer bucket and bring it up to code after a last-minute change to the health rules.
Those scene-stealing moments quickly became minor details after Tsoodle and her classmates shuffled to the private tasting room to get feedback from judges.
Judges deemed the white rice accompanying the shrimp étouffée a little dry, Tsoodle said.
"I've never made rice before," she said. "In the span of four weeks, I think it is better than when I started out."
Tsoodle's mother, Maria Saunders, waited patiently on the sidelines Monday. It was her second visit to a ProStart competition. Her older daughter, Kira Tsoodle, completed the ProStart curriculum and is now studying culinary arts and baking at Culinary Institute of America New York.
"My daughter wouldn't be who she is without this," Saunders said of ProStart. "This is something that boosted her self-esteem, that she could relate to."
Ultimately, judges deemed Carlsbad High School the overall winner Monday afternoon. The team will head to Washington, D.C., for the national competition next month.
The Carlsbad team's menu included a Japanese fish dish, corvina nitsuke, with mushrooms, snow peas, sweet potatoes, thin somen noodles and a leafy green similar to bok choy called tatsoi. It finished with a mandarin orange cream dessert sprinkled with sparkling crystalized ginger brûlée dust in a martini glass.
Chaparral High School students took first place in management for their brightly-colored food truck proposal, with a marketing plan that estimated a 4-to-1 return on investment selling jerk-seasoned tacos and Caribbean ceviche.
Taos High School, with an asian fusion menu, came in second place. Its main course dish featured an unforgettably towering shallow-fried octopus tentacle arching across a quinoa cake, paired with sesame-soy glazed veggies.
Junior Santiago Tafoya, 17, who lead the Taos team, was happy to be back after two years away from competing.
Tafoya said he's still considering whether he'll make a career out of cooking. His team's menu was dubbed "Meraki" — a Greek word describing the act of doing something with creativity and soul.
He's been taking culinary classes for years.