Española Public Schools, like many districts across the state, faced the start of the school year with numerous teacher vacancies and a shortfall on its substitute teacher roster.
Administrators feared, in particular, they would have no teacher on staff with an endorsement to provided legally required services for gifted students.
They made an unusual move to fill the gap — putting out a request for proposals from local professionals with the right certifications to provide a few days of teaching each week through a school board-approved contract rather than traditional full-time employment.
"We thought, well, let's try to go this route," Deputy Superintendent Martina Tapia said in a recent interview, "because we really don't need a full-time gifted teacher."
It worked — and the district signed a one-year contract with a part-time gifted teacher who responded to the request.
The one-time success prompted Española Public Schools to try another request for proposals this month in an effort to fill other teaching vacancies for the upcoming school year with contracts for part-time work. As of last week, there were still seven administrative openings, 13 unfilled teaching positions, five vacant counselor positions, a librarian opening and a call for nurses and social workers.
So far, the novel recruiting initiative doesn't appear promising.
The request seeking teachers to fill a range of jobs — gifted programs, special education, bilingual education, preschool and general education — closes Friday, Tapia said, and by Tuesday it had not drawn a single proposal.
But Tapia remained optimistic.
She said she hopes the effort, which offers more flexibility than a typical teaching job, will lure recent retirees who aren't interested in working full time but could create more consistency in classes without full-time teachers or long-term substitutes. The district also is advertising a host of full-time positions, which offer benefits, Tapia said.
"We also don't have any substitutes," she added. "Our substitute pool and the number of applicants we're getting with substitutes is not optimal."
The district has a pool of about 30 active substitutes helping to fill in for more than 200 teachers.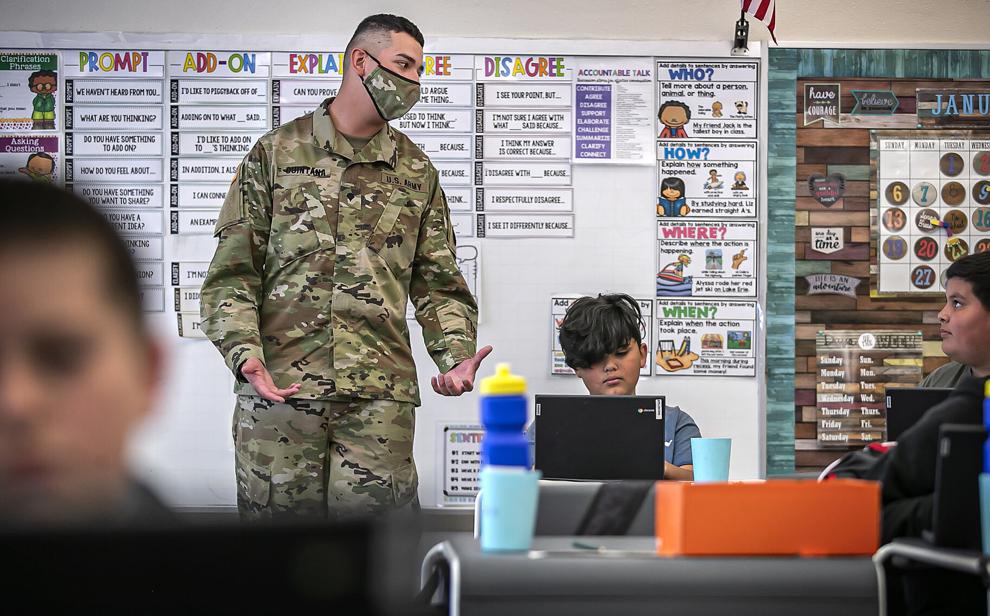 One of them is 18-year-old James Quintana, 18, a New Mexico National Guardsman studying criminal justice. He decided to answer Gov. Michelle Lujan Grisham's call earlier this year for guard members and state employees to step into classrooms statewide amid a massive teacher and substitute teacher shortfall.
Quintana led a class of fifth graders Tuesday at Tony E. Quintana Elementary School. He said he's been in Española elementary school classrooms most weekdays since February.
"Some classes don't have a set teacher, so I had to create my own lesson plans for the kids," he said.
The state program, which offered fee waivers for all people seeking substitute teaching licenses, also spurred other people in the community to apply for a license and help out in schools.
"I do believe we got some applicants we wouldn't have gotten," Tapia said. "But we could always use more."
"There's a teacher shortage everywhere," she said. "[We're] really just trying to think out of the box."