The first enrollment count of the school year shows the student population at Santa Fe Public Schools is continuing to shrink.
According to data from the district, 12,308 students showed up for classes on the 40th day of the year — 205 fewer than on the same day the previous year.
While the district's overall student numbers have dropped 10 percent in four years, however, Santa Fe High School is bucking the trend, growing from an official enrollment of 1,308 students in 2016-17 to a count of 1,621 on the 40th day of this school year.
Santa Fe High Principal Carl Marano attributed the increase to the school's wide range of class offerings, including 22 Advanced Placement courses and career pathways that range from culinary arts to engineering.
Several transfer students confirmed the variety of options at Santa Fe High drew them from other high schools in the city.
"There isn't another student who has the exact same schedule as me, and I like that," said junior Isabella Melton, who transferred to Santa Fe High after attending St. Michael's High School for seventh, eighth and ninth grades.
"I think people think that at private schools, the education is harder — and, yeah, it can be easier here, but it can be way harder if you choose that path," Melton said. "There are students taking all AP classes. It doesn't get more challenging than that."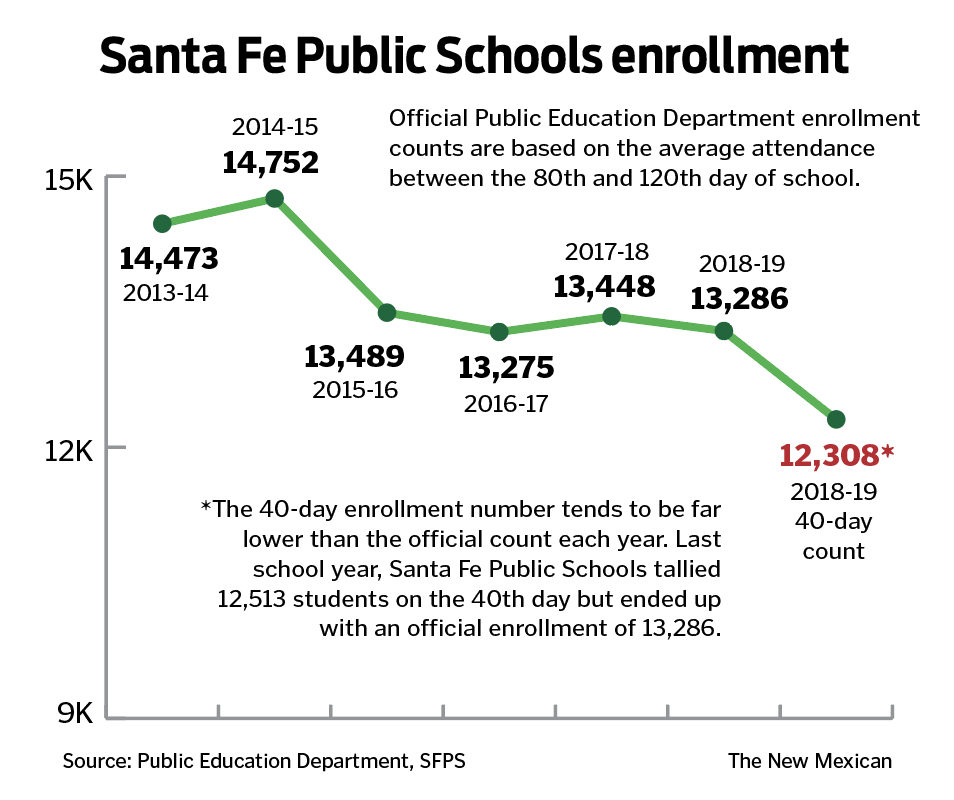 Santa Fe High began the school year with a functional capacity of 1,701 students — meaning it is currently set up to serve that many but has space to convert for other purposes if it needs to increase capacity. Capital High School, in comparison, had a 40-day count of 1,424, 70 more than its functional capacity.
Enrollment numbers are significant for public school districts in New Mexico because the state Public Education Department divvies funding for the following year based on student counts on the 80th and 120th days of school. A drop of 205 students at Santa Fe Public Schools this year would mean a loss of about $1.2 million for 2020-21.
"We're thinking about enrollment all the time," said Superintendent Veronica García. "This is why we have career pathways and Mandela International Magnet School and dual-language curriculums and other programs that home school, privates and charters don't offer."
The 40-day enrollment number tends to be far lower than the official count each year. Last school year, for instance, Santa Fe Public Schools tallied 12,513 students on the 40th day but ended up with an official enrollment of 13,286.
Still, the district's numbers have been steadily declining for years.
According to the Public Education Department, Santa Fe Public Schools had 14,752 students in 2014-15 and saw a decrease of about 1,500 students in four years.
In the fall, then-school board member Maureen Cashmon, who did not run for reelection, and board member Lorraine Price pushed for closure of three elementary schools in response to declining enrollment and aging facilities. Instead of closing schools, however, the board directed García to study various options for addressing the problem.
During a school board meeting Tuesday night, García said she would present her plan for studying school equity at the board's Feb. 18 meeting.
One issue that affects the student population and creates difficulties in recruiting teachers is a citywide housing shortage, García said, adding that district officials have been holding discussions with the city to find solutions.
"That impacts younger families moving to Santa Fe and exacerbates the statewide teacher shortage in Santa Fe," García said.
Board President Kate Noble agreed.
While school enrollment is tied to birth rates and other social factors, Noble said, "Obviously, we need more housing. If the city gets aggressive about housing, and I think there's a will to do that, then I could see the city and the district enter a period of growth.
"I won't accept a slow strangulation," Noble added. "We won't throw our hands up and say, 'We're in declining enrollment, our budget is shrinking and that's the norm.' Instead, we're attempting to make a new system tailored to the 21st century."
Meanwhile, school officials like Marano, the Santa Fe High principal, are trying to stem the loss of students from low birth rates and high rent costs by giving kids in the district reasons to enroll — and stay.
"I think we're getting more kids from private schools," Marano said. "… We feel like we've changed the culture here to be a place students are excited about, and I guess the numbers are starting to show that."