The Larry Chavez Introduction Tour hit the ground running Monday.
It was only two days after the Santa Fe Board of Education unanimously hired Chavez as its next superintendent starting July 1, but he already was hitting district schools to introduce himself to administrators, teachers and students.
Monday began with a visit to sixth graders and kindergartners at Carlos Gilbert Elementary School. On Wednesday, he was off to Acequia Madre Elementary School and Aspen Community School, where he was invited to a future bike parade by Aspen students.
Chavez, 44, showed up Friday at Nina Otero Community School and Capital High School, a place he is quite familiar with because of his roles as district athletic director and now the associate superintendent of athletics, activities and school support.
"It's been great. I couldn't have asked a better way to start and end the week," Chavez said. "It was just about popping in and saying hi. It's nothing more than saying, 'Thank you for all the work that you do and all you do for our kids,' and showing that I'm approachable and I respect what they do."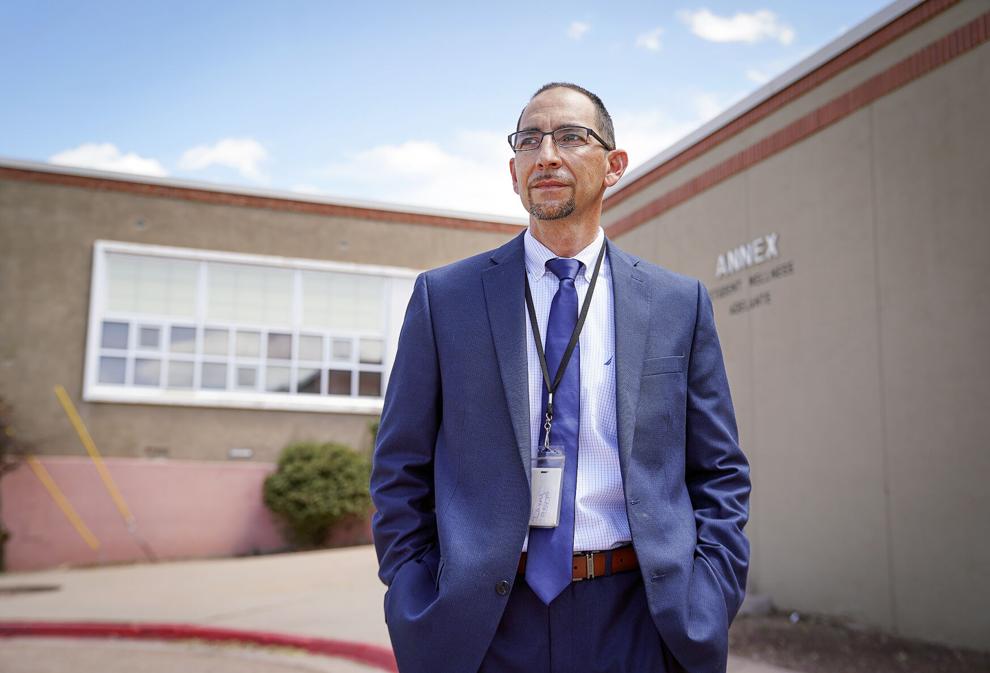 Chavez is banking on his affable nature and work ethic as strengths to lead the district as it transitions from the tenure of Veronica García, who announced in March she will retire, after five years, at the end of the school year.
He has a tough act to follow.
During García's tenure, graduation rates rose from a low of 67 percent for the class of 2015, the year before she arrived, to 86.3 percent for the 2019-20 school year. A former Cabinet secretary of the Public Education Department, she testified in the landmark Yazzie/Martinez education lawsuit, which determined the state was failing to provide an adequate education for many of its at-risk students.
García also guided the district through the coronavirus pandemic, as the district's students, teachers, staff and parents adjusted to remote, hybrid and in-person learning over the past 13 months.
Chavez was part of the team that helped García with those achievements. And he said he already has adopted one mantra that has been prevalent during her tenure.
"We are going to lead with the head and the heart," Chavez said, referring to an oft-uttered phrase used to describe García's leadership style.
Chavez was hired, in part, because of his association with the current administration, but he will inherit the challenge of transitioning the school district into a post-pandemic world in which education will look different. He also will have to navigate the looming financial struggles the district will face in the coming years as overall enrollment continues to decline and federal stimulus funding eventually evaporates.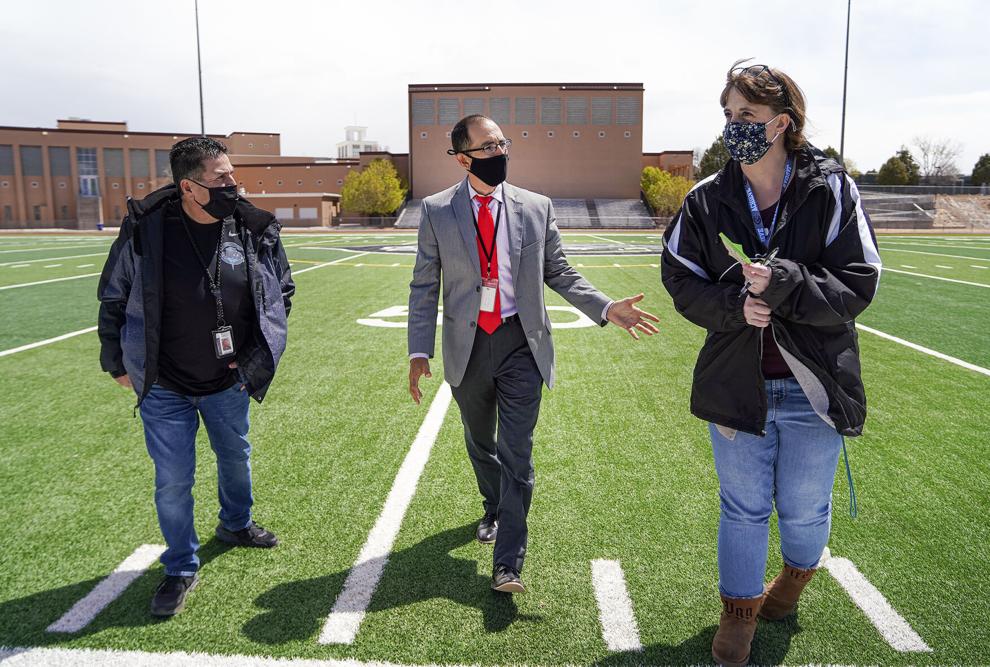 He is tasked with recruiting students back into the district after more than 600 of them fell off the rolls in 2020-21.
García, though, said Chavez is the right person to chart the district's course. From the time she hired Chavez as the district's athletic director in 2017, she said she noted how Chavez accomplished whatever task was placed in front of him. She said she told Chavez to focus on helping students earn athletic scholarships, promoting sportsmanship and creating a more professional culture among the coaching ranks.
"He made that happen without a whole lot of angst and flak," García said. "Somehow, he finessed that and met that expectation."
Chavez said he had his eye on working with the district because of his ties to Northern New Mexico. Though he is a 1996 Santa Rosa High School graduate, Chavez was born in Las Vegas, N.M., and he attended New Mexico Highlands University on a cross-country scholarship. He earned a bachelor's degree in elementary education and a master's in special education at the school.
Chavez, who is married with two children, lives in Rio Rancho but said he will explore the possibility of moving to Santa Fe once he is settled into his new job.
"I feel part of the North," Chavez said. "Not saying anything negative about any of the other places I've had along my career path, but it felt like this is where I belong. This is where I felt the most welcomed, and I wouldn't change anything in the world for it."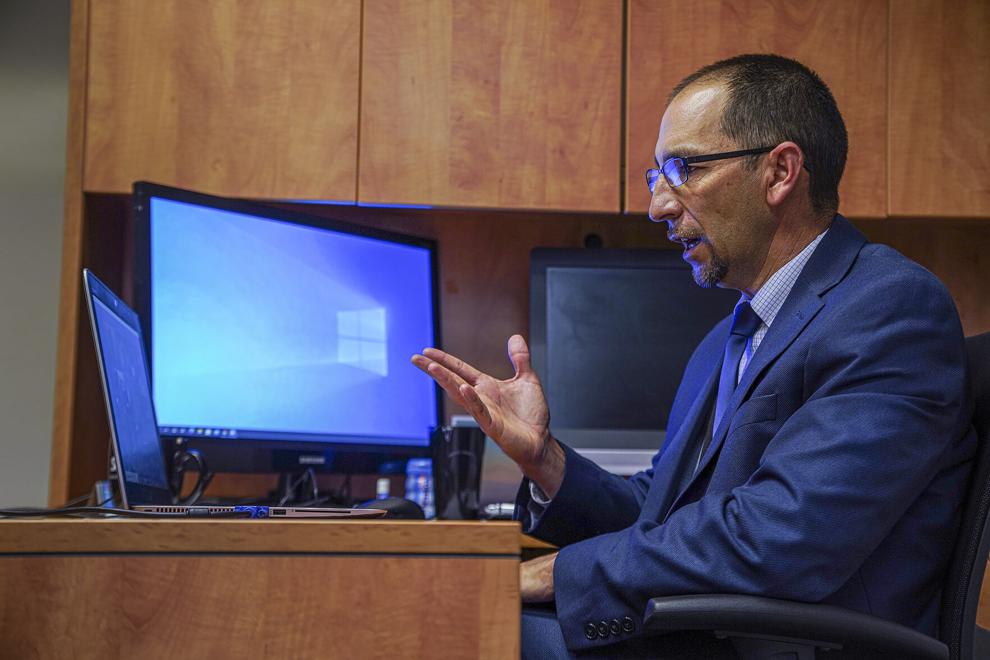 Chavez also had the opportunity to learn under García through the national School Superintendents Association's Aspiring Superintendents Academy.
García said Chavez helped her tremendously with developing the district's reentry plans and going over federal and state guidelines to make that happen, noting he is meticulous in poring over those documents.
"He is just an all-around consummate professional and educational leader," García said.
Board President Kate Noble said some people in the community suggested Chavez wasn't the ideal hire because of his background in athletics, but his time as associate superintendent showed he has more to offer.
As an example of Chavez's versatility, Noble pointed to his collaboration with principals and other district administrators in adjusting teaching and grading practices after more than 38 percent of district students in third grade and above failed at least one class or subject during the first nine weeks of the school year.
Noble said his experience as the director of education and principal at Sequoyah Adolescent High School in Albuquerque, which is run through the state Department of Health, helped him understand budget issues, adding he has grown in that area in his time in Santa Fe.
"That's a big part of a superintendent's job — a very big part," Noble said. "It's a very complex picture, and he has a breadth of experience. It was a lot of fun to hear him talk about his experience."
Santa Fe High School Principal Carl Marano said Chavez is always available to talk about a variety of topics and made a point of showing up at schools or coming to after-school events prior to the pandemic.
"Another thing is he never wavers, even when things get contentious or stressful," Marano said. "He has a real good demeanor no matter what the situation. He doesn't get too high or get too low. It's something I've learned from him."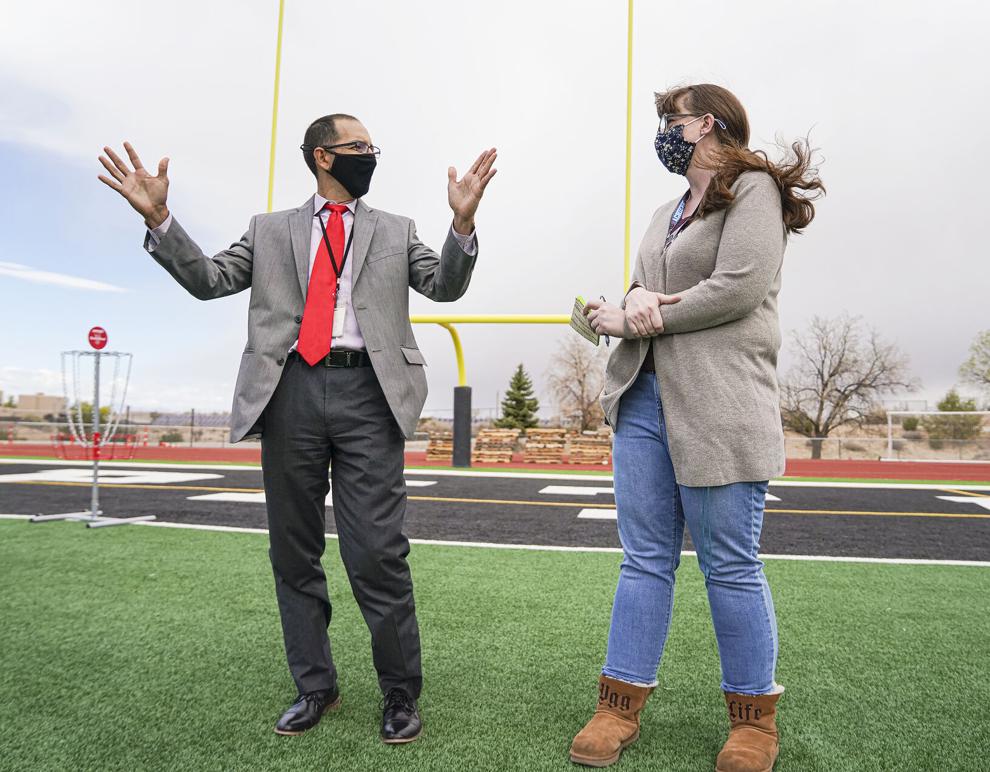 Chavez said his time as a special-education teacher at Rio Rancho High School from 2003-08 and a special-education coordinator with the U.S. Department of Defense Virtual High School in Wiesbaden, Germany, and Quantico, Va., was instrumental in developing his communication skills. He said teachers have to learn how to individualize their instruction to each student, as well as picking up time management skills.
"It helps you build relationships because you have to relate to each student and they have their individual likes and dislikes," Chavez said. "My background in special education really started to mold how I am. You develop and sharpen these skills that you take not just through your professional career, but in life."
Chavez already navigated what can be a touchy subject with a school board — salary. The board initially offered Chavez a one-year, $150,000 contract for the upcoming school year, but he negotiated a $25,000 raise during a finance subcommittee meeting Thursday.
"It was a joint, collaborative effort in trying to negotiate a contract," Chavez said. "I am very thankful and grateful to have this opportunity to have a job offer to be superintendent of Santa Fe Public Schools. But you can make as little or as much money as you want. In the end, it's how you do the job."
For Chavez, the new job started Monday — and he intends to make it hard for the district to have regrets.