A local teachers union leader and an outgoing board member are pushing a discussion about school closures onto the agenda for the Santa Fe Public Schools Board of Education.
National Education Association-Santa Fe President Grace Mayer and board member Maureen Cashmon, who is not running for reelection in November, raised the issue at a meeting Tuesday about aging facilities and declining enrollment. Those problems, they said, may result in the need to reshape the district.
"There has been some involuntary transfers of some teachers because of low enrollment at some schools," Mayer said. "One of the main reasons why this is happening is not just enrollment, but that we have too many schools."
Cashmon said the cost to upgrade E.J. Martinez and Nava elementary schools for modern learning would be around 65 percent of the cost to build a new school building — the threshold the New Mexico Public Schools Facilities Authority uses to recommend new construction instead of renovation. Cashmon said the district would not need to construct new school buildings to replace E.J. Martinez or Nava, as other schools could absorb those students.
"We're stretching ourselves so thin as a district, and as we find it's harder and harder to hire staff and we spread those staff thinner and thinner; the board has to make a difficult decision," Cashmon said in a phone interview. "This board has discussed this before, and the only new information is, the facilities have gotten older, and the number of elementary-aged kids in Santa Fe has declined."
K-6 schools Tesuque Elementary, which had 104 students in 2018-19, and Acequia Madre Elementary, which had 155, have the district's smallest student bodies. Cashmon and Mayer both suggested converting aging or under-enrolled elementary schools into classrooms for pre-kindergarten classes.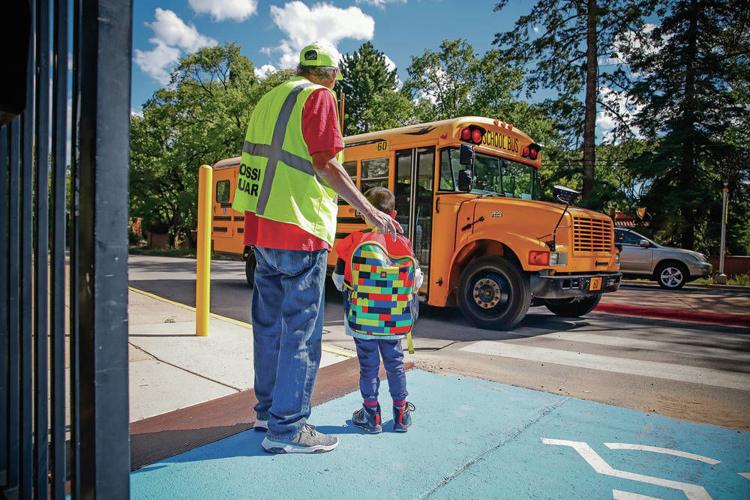 Mayer also suggested converting some of the district's K-8 schools into K-5s to free up middle school staff to work at Ortiz Middle School, which began the school year with seven full-time teacher vacancies. She also questioned the proximity of Aspen and Gonzales community schools, which are less than a mile away from each other on opposite sides of West Alameda Street near its intersection with St. Francis Drive.
The board last closed a school in April 2016 when it voted to consolidate De Vargas and Capshaw middle schools into what is now Milagro Middle School, which moved in August to a new, $30.3 million campus on Llano Street. Cashmon said that when the board discussed closing schools as a response to aging facilities and declining enrollment during the last school year, it decided to postpone action until a new governor was elected and there was a ruling in the Yazzie-Martinez lawsuit, in which a judge ruled the state must do more to meet its constitutional duty to provide a sufficient education to some of its most vulnerable students.
Superintendent Veronica García noted closing a school is a multi-year process, and she is open to engaging district staff and families about reshaping the district.
"We have highly enrolled schools in some areas and lower enrolled schools in others, and we're not in a financial crisis at the moment," García said. "So how can we take this issue of facilities and declining enrollment and turn it into positive discussion about how to rebalance our district?"
Cashmon asked board President Kate Noble to put declining enrollment and aging facilities on the agenda for the Oct. 1 or Oct. 15 board meetings.
"We need to discuss this. It is a crisis for this district," Cashmon said. "The board room is going to be packed. It's a very contentious issue."