Each new episode of The Hypothesis begins on a Thursday. Chris Eide, interim head administrator of Turquoise Trail Charter School, starts brainstorming subject matter, writing the script and recording the podcast.
He said he uses "the last microphone I found at Best Buy."
He continues in a piecemeal process through the weekend and then has a couple of staff members listen to the finished product — part storytelling, part emotional sharing and packed with information about plans for the school's upcoming reopening — prior to its Tuesday release.
His fans have been eager to tune in.
Eide had been leading the state-chartered school for only a couple of months when its elementary and middle school students began learning remotely in August. He already had become known among teachers, parents and governance council members for his communication skills. He'd made it a priority to get to know the school community over the summer, despite challenges posed by the COVID-19 pandemic.
But he faced a dilemma: How could he provide up-to-date information for teachers and parents on plans to bring kids back into classrooms? He couldn't hold in-person meetings, given the pandemic, and online meetings with a large group of people seemed daunting.
Eide also was concerned that quickly evolving reopening guidelines from the state Public Education Department would lead to changing plans for Turquoise Trail. Rolling out a framework for reopening and then providing a series of altered details later would create confusion and frustration, he said.
"It was sort of a big game of 'Telephone,' " Eide said. "While communication is so important to get [the information] right, the risk seemed too high."
Then came an epiphany: The Hypothesis.
Eide decided to develop a podcast that gave listeners insight into what he and other Turquoise Trail staff members were thinking and feeling as they moved closer to opening the campus on a hybrid learning model — which incorporates both in-person learning in the classroom and remote learning from home — by Oct. 20.
The broadcasts would do more than offer information, he said. They also would allow employees to share private thoughts as they struggled with the idea of in-person education amid a pandemic.
Eide has so far released three episodes and the feedback has been overwhelmingly positive.
"He makes it appealing, because of the narrative they use," said Andrea Dominguez, whose daughter attends the school. "It gets you more engaged than if someone is talking at you. It's like they are telling a story, but it's a story with facts."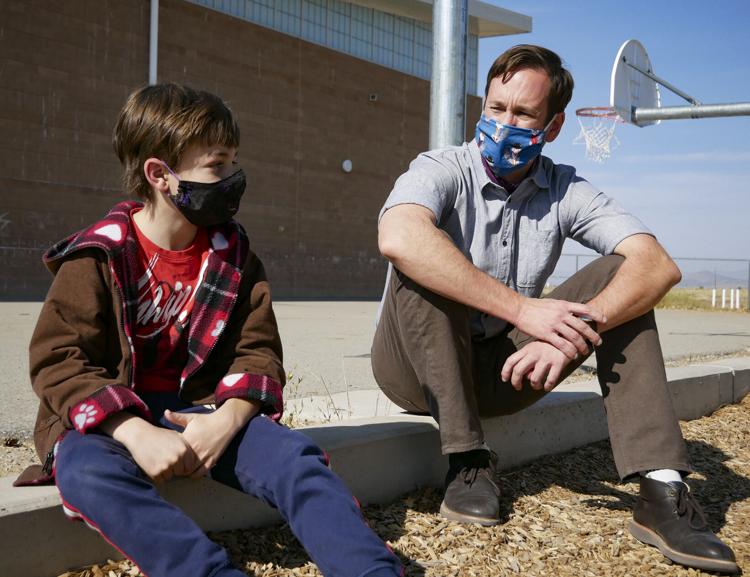 Storytelling is at the heart of Eide's podcast.
His most recent episode, released Tuesday, started with the tale of the chamisa plant and how its late summer, early fall bloom often leads parents to blame it for their children's runny noses, sneezes and cough. This year, however, parents can't easily dismiss such symptoms as the result of chamisa allergies.
Eide said 16 of the 30 children who attend the school's child care center were absent at the start of last week.
"What's really happening with those 16 kids?" Eide said in the episode.
That led to a discussion about the perceptions and realities of the novel coronavirus, and what the school was doing to assure everyone's safety. Eide brought in Turquoise Trail Director of Operations Danielle Garcia to talk about her efforts to help create the school's reopening plan as well as her own fears about COVID-19.
In an interview with The New Mexican, Garcia said she was nervous about speaking on the podcast and opening up about her feelings regarding the virus, which she said has heightened her "germophobe" tendencies.
The hardest part was actually listening to herself speak, she said.
"I was like, 'Oh man, I sound OK, but I am really scared,' " Garcia said.
Part of his reason for starting the podcast was to capture some of that emotion, Eide said.
"It's so easy to dehumanize one another when the priorities in our daily lives have shifted so much, and we need to give them context," he said. "The idea is that we are here in this building every day working really hard to make these complex decisions. I think it was the depth that we really needed. I think we are going to get more and more real, and more personal to get the real human element behind this."
When he took over the school's top job following former head administrator Ray Griffin's resignation in June, Eide made communication a top priority. He began to call parents and employees. He also held half-hour online Zoom meetings with groups of parents that he called "coffee breaks," in which they could ask questions and get to know him better, and he instituted Monday morning phone calls and Tuesday emails updating parents on the latest news at the school.
Victoria Schweizer, the secretary of Turquoise Trail's governance council and a parent of a student at the school, said Eide's communication skills and leadership style have been exemplary.
"He has been a phenomenal fit," Schweizer said. "We're trying to make this a permanent fit. Chris is a very strong leader and has some insight and experience that he is bringing to the table to do things differently and to communicate with our families."
Part of that stems from his background.
Eide was a middle school math teacher at traditional and charter schools in Houston, New York City and his hometown of Seattle. He also was the executive director of Teachers United in Seattle, an advocacy group that sought to include educators in policymaking at the district and state levels.
That led to a position as national director of Teach Plus, a nonprofit focused on giving teachers a larger voice within local and state governments, and a move to New Mexico in 2017. He was named the state Public Education Deparment's director of educator quality in 2018 before becoming an administrator at the Mission Achievement and Success Charter School in Albuquerque in 2019-20.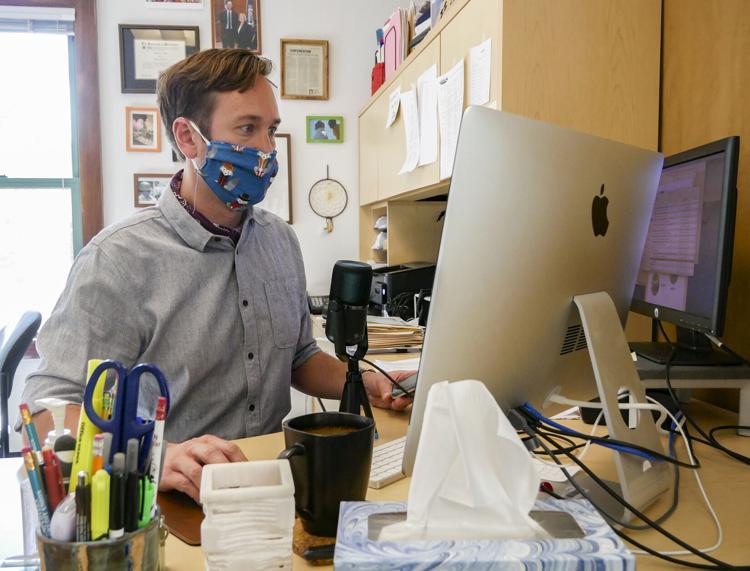 In his next episode of The Hypothesis, Eide tackles "the math of a classroom," in which he talks about designing a classroom that accommodates social-distancing measures while maximizing the number of students in the room.
Eide said he doesn't envision a long life for the podcast, as long as the campus reopens to students and the school has a smooth transition to the hybrid model.
However, he did not discount the possibility that some enterprising teacher, staff member or even a group of students might want to take it over.
In its current form, he said, "I would like for it to end, hopefully sooner than later, because it's a story about how a school is trying to open amid COVID, and I hope that it's over soon."
Garcia said she and fellow staff members have found Eide's process fascinating. When they hear the episodes, they marvel at the quality while gaining a better understanding of how he has developed the school's reopening guidelines.
"I think it's just the 'wow' factor that they didn't know that's what he was doing all that time," Garcia said. "People are like, 'I had no idea you were working that hard.' "