Never has sweat equity smelled so sweet.
Or been so important.
As COVID-19 alters American life, a once-anonymous collection of workers — cashiers and scientists, first responders and food preparers, delivery drivers and volunteers — have kept Santa Fe and Northern New Mexico in operation.
Their lives, like all our lives, aren't what they were two weeks or a month ago. And the future is by no means certain.
But their determination to head to work, and the commitment of thousands like them, are a reminder that the line between ordinary and extraordinary has blurred in the past month.
Here are a few of their stories:
Jacob Calles
Santa Fe County Senior Services delivery and transport driver Jacob Calles, 28, is aiding dozens of elders each day in rural communities outside the city.
He wouldn't have it any other way, Calles said.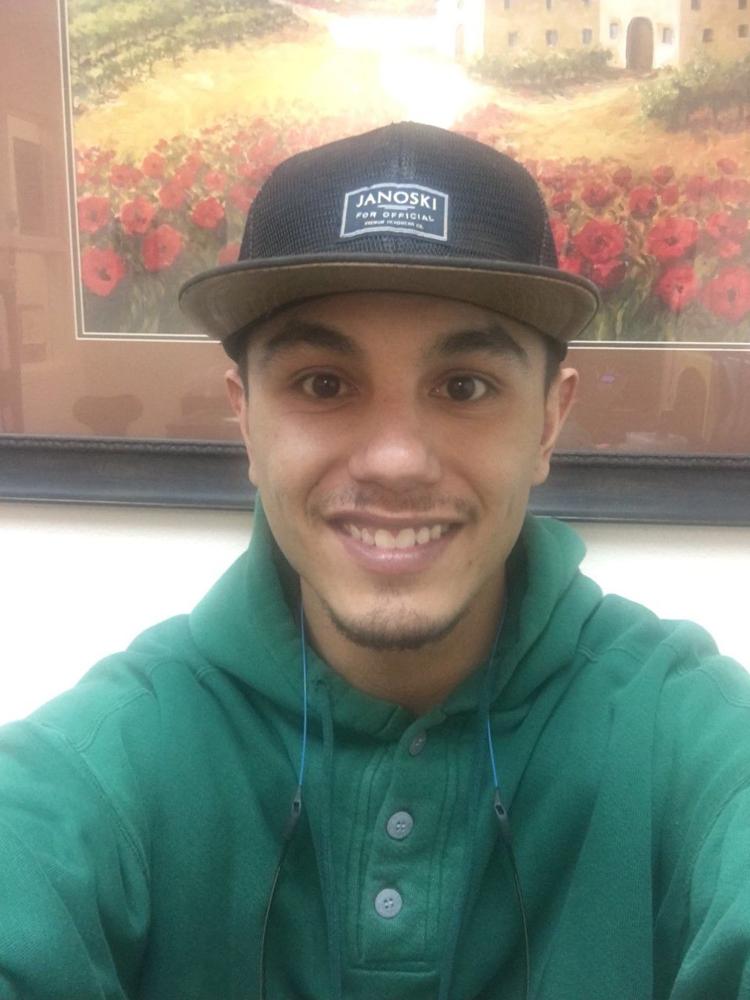 "It doesn't even feel like a job," he said. "It just feels like I'm just going out and doing my routine, taking care of my community."
Whether he's delivering food to homebound seniors or taking patients to essential medical appointments, Calles said, the people on his route always bring him joy.
"They make me so happy," he said. "You can't go to work grumpy at all. Even if you tried, the first person would make you smile."
His work has changed a little in the face of the public health threat, Calles said: "They like to give us hugs and stuff like that, but right now that's out."
He's taking extra precautions to avoid contracting or spreading the new coronavirus, which causes COVID-19. In addition to wearing gloves and sanitizing his vehicle after each interaction, he said, he's "eating a lot of green chile and staying hydrated."
Calles said his elderly clients don't talk about their fears.
"It's a little hard to crack their stone face," he said with a laugh.
But he knows many of them feel vulnerable.
"Most of them have their own hand sanitizer, and while you are talking to them, they are trying to give you some in your hand," Calles said.
Which he appreciates.
"If we don't work as a team, we might not make it through this."
— Phaedra Haywood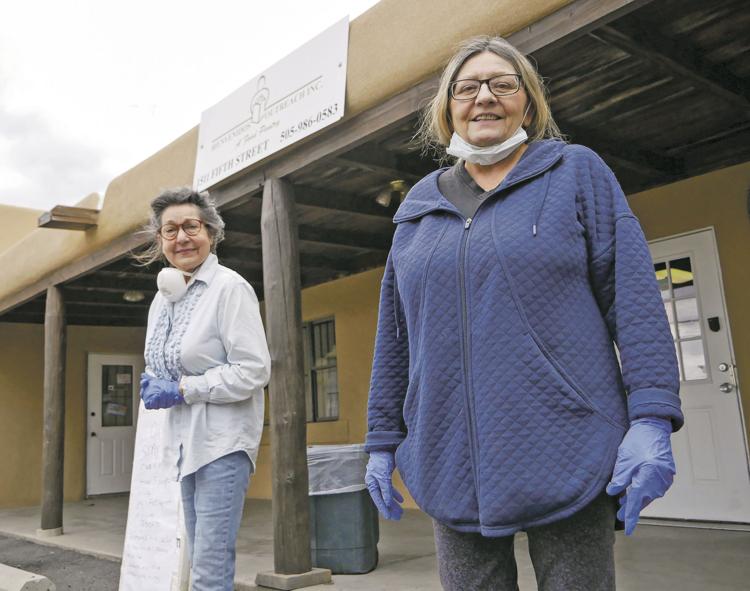 Susan Tarver
Since the coronavirus outbreak reached New Mexico more than two weeks ago, Susan Tarver has worked tirelessly to ensure the stress induced by the pandemic for some of the community's poorest people does not include fears about whether they will have enough food.
Tarver, executive director of Bienvenidos Outreach Inc., said despite a recent shortage of nonperishable goods and volunteers to distribute them, she is determined to continue serving daily lunches to those experiencing homelessness and providing biweekly food boxes to low-income families. To do so, however, has required Tarver to work 16-hour days, dip into an account intended for busier summer months and restructure the nonprofit's day-to-day operations.
In recent weeks, the nonprofit has opened its doors at 8 a.m. rather than 11 a.m. Monday through Thursday to help spread out crowds of people who come to pick up their food boxes.
Additionally, Tarver and her team of staff and volunteers — all outfitted in gloves and masks — have brought food boxes and items out to the cars of elderly clients, rather than having them come indoors. They have asked those who come inside to stand at least 6 feet apart or even leave the building while the team prepares their boxes. The goal, Tarver said, is "to get folks in and out in three minutes."
The pantry even delivers meals to one client who cannot leave home.
Tarver said she wakes up before 5 a.m. and gets to the pantry "no later than 7." In the evenings, she wraps up paperwork from home — she's focused on writing grants for financial support — and by the time she's done, it's 11 p.m.
"It's long days," she said. "There's just so much happening. Things constantly change."
Tarver lauded the volunteers who make her efforts worthwhile.
"There isn't an executive director out there who's a hero without their volunteers," she said. "I really, truly am one of the luckiest people in the world that I have such dedicated people here to help."
— Olivia Harlow
Karin Thron
Karin Thron, the medical director at Ambercare, a local hospice center, is working with a team of nurses, social workers and home care aides to ensure people facing the end of their lives continue receiving care.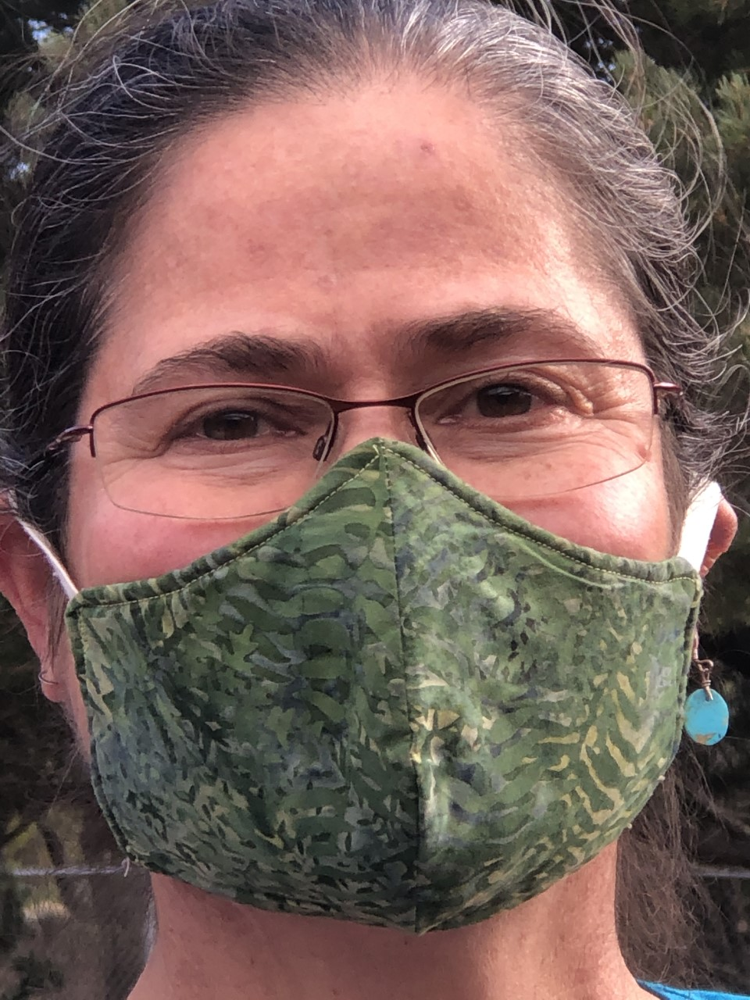 She also has directed the staff at Ambercare to make more calls to older adults in the community to check on their well-being and helps coordinate telehealth appointments.
There's a "learning curve" in expanding virtual visits, Thron said.
But at a time when visits to most nursing homes are prohibited and people are isolating themselves in their homes to slow the spread of the virus, many older adults in Santa Fe are lonelier than ever, and such efforts make a difference.
— Michael Gerstein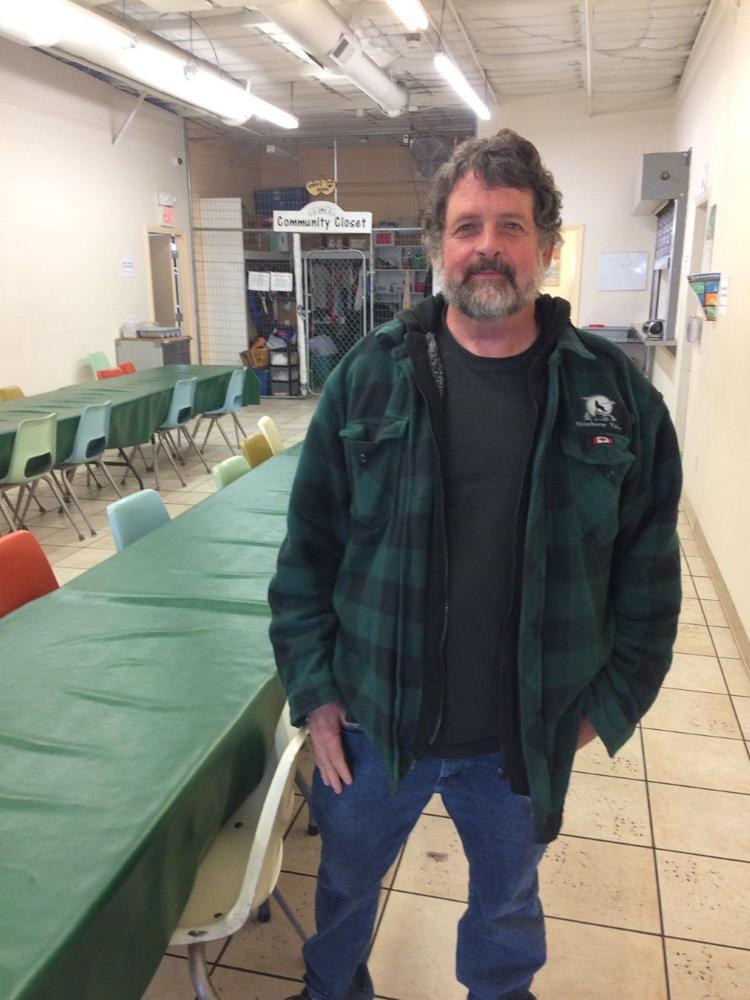 Joe Dudziak
Folks 60 and over with a compromised immune system are at highest risk of death if they contract the novel coronavirus. But that won't stop Joe Dudziak.
Dudziak, 61, who has advanced cancer, has volunteered at the Interfaith Community Shelter at Pete's Place for the last eight years, and he said now is not the time to abandon the homeless community.
"These folks need help no matter what the circumstances are. Not all of them can help themselves, so at any time — not just now — they really need help from others," he said.
As a core team leader at the shelter four days a week, Dudziak oversees regular volunteers and guests to help ensure operations run smoothly.
Joe Jordan-Berenis, the shelter's executive director, calls Dudziak "our go-to guy" — not just for the work he does, but also his positive attitude.
"He always comes in bright-eyed and cheery," Jordan-Berenis said.
Dudziak said this upbeat approach to life stemmed from a difficult diagnosis. When he was diagnosed with cancer 5½ years ago, doctors told him most people with his condition don't live longer than three to five years. So, he said, "it's a good thing I'm not most people."
Though there are new risks involved with serving people at the shelter, "it needs to be done," he said.
Plus, he believes that remaining an active volunteer is what keeps him going.
"I try to live to the fullest," he added. "When you've looked death in the face like I have, it gives life more meaning."
— Olivia Harlow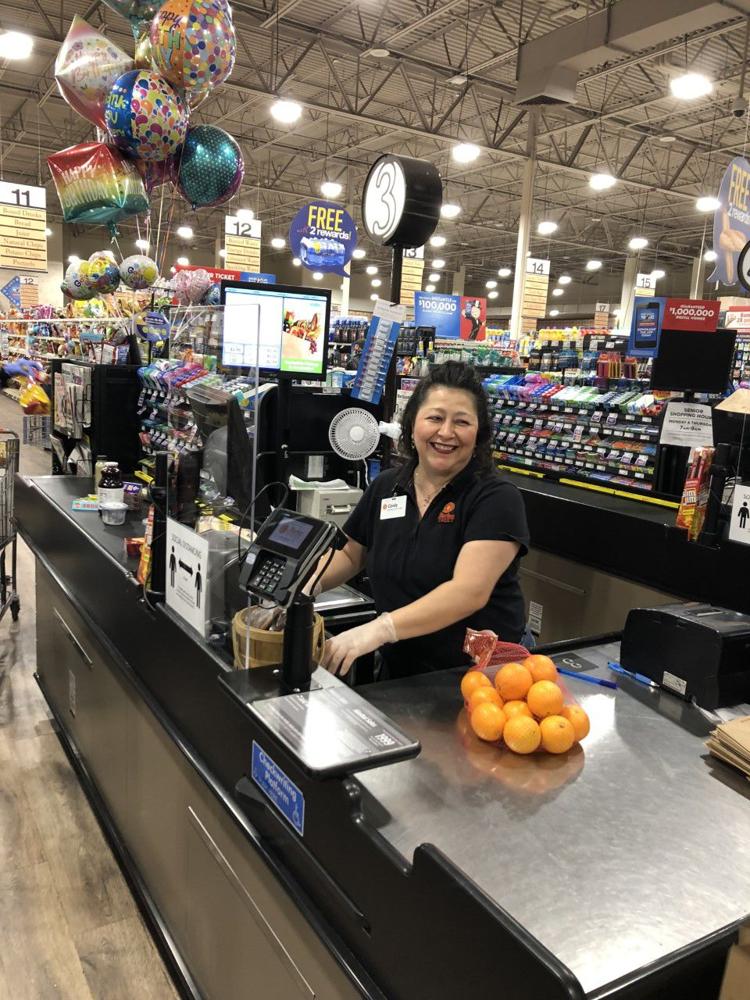 Cindy Ferrero
There's one thing customers will always find if they walk through cashier Cindy Ferrero's checkout line at Market Street: a smile.
She had to smile on a recent morning when a man wearing an old-fashioned military gas mask got in line to purchase some items — a sign of the COVID-19 times.
"I thought, 'Wow, he's taking this seriously,' " she said.
The Santa Fe native has worked for Market Street and its parent company, Albertsons, for 34 years. It's a good gig with good pay, she said, and she enjoys both her co-workers and customers.
"They love us like we love them," she said of the store's patrons. "They appreciate us putting our lives on the line for them."
Grocery stores remain among the few businesses allowed to stay open to ensure people have a regular supply of food, beverages and dry goods — including toilet paper, which has become a highly hoarded commodity these days.
"I don't know why," Ferrero said.
People come to the store "knowing we can take care of them the best that we can" in this time of distress, she said.
"And we're going to do that."
— Robert Nott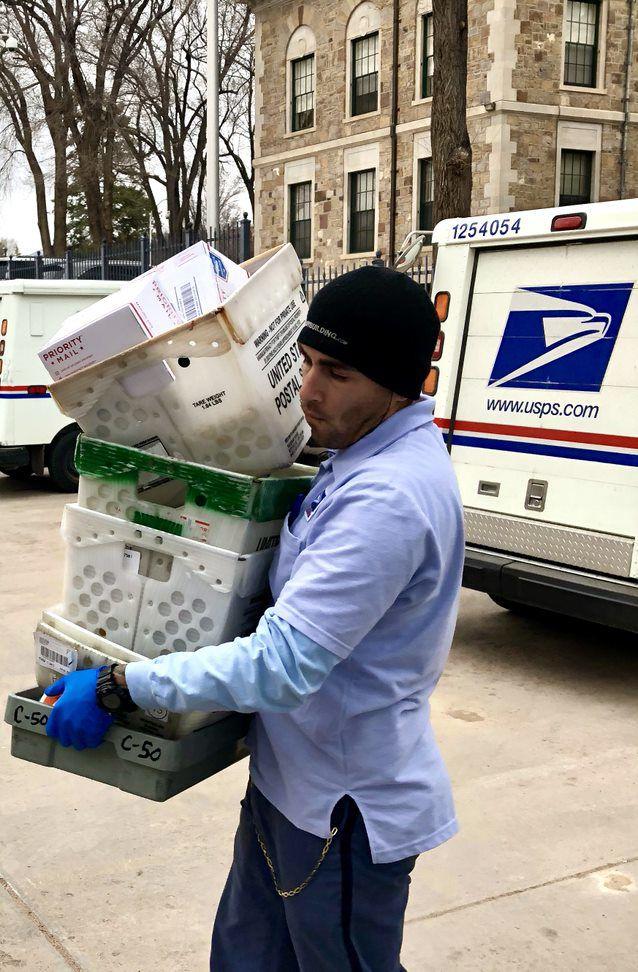 Don Cordova
Neither snow nor rain nor heat nor gloom of night stays these couriers from the swift completion of their appointed rounds.
You now can add the coronavirus to the age-old slogan for postal carriers like Don Cordova.
Cordova, 33, who has worked for the U.S. Postal Service for seven years, ensures Santa Feans still get their mail and parcels delivered without a hitch, even as the COVID-19 outbreak is disrupting other parts of their lives.
Although people increasingly rely on digital correspondence, snail mail is playing an important role during the pandemic as more people work from home.
"Amazon and at-home deliveries of hand sanitizer and that kind of stuff has increased for sure," Cordova said.
He still hands some parcels to people if they are home rather than dropping them on the porch.
"I started wearing gloves," he said, "just to be safe for me and everyone else."
— Scott Wyland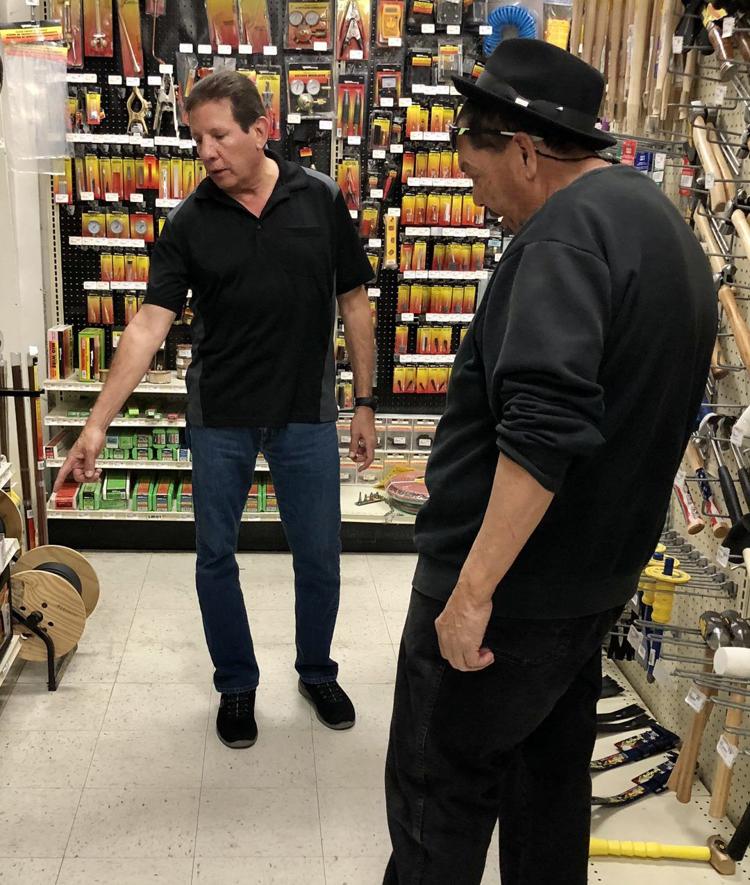 Rick and Ron Cdebaca
The Cdebaca brothers have offered delivery service since buying Big Jo True Value Hardware in the early 1980s, but they are doing more home deliveries as patrons self-islolate amid the coronavirus outbreak.
"It is necessary," said Rick Cdebaca, who co-owns the business with his brother, Ron. "People don't need to be out."
The store now does about nine deliveries a day, compared to five or six a few weeks ago, he estimated.
The store employs three delivery drivers who are instructed to keep 6 feet away from customers in their homes, he said. At the customers' request, they'll also leave materials on the porch.
Not surprisingly, more people are looking to improve their homes while they are spending more time there, he said, noting sales on paint, plumbing and cabinetry supplies are up 10 percent to 20 percent.
All the more reason they should have the option of having the materials brought to their homes during this challenging time, Cdebaca said.
— Scott Wyland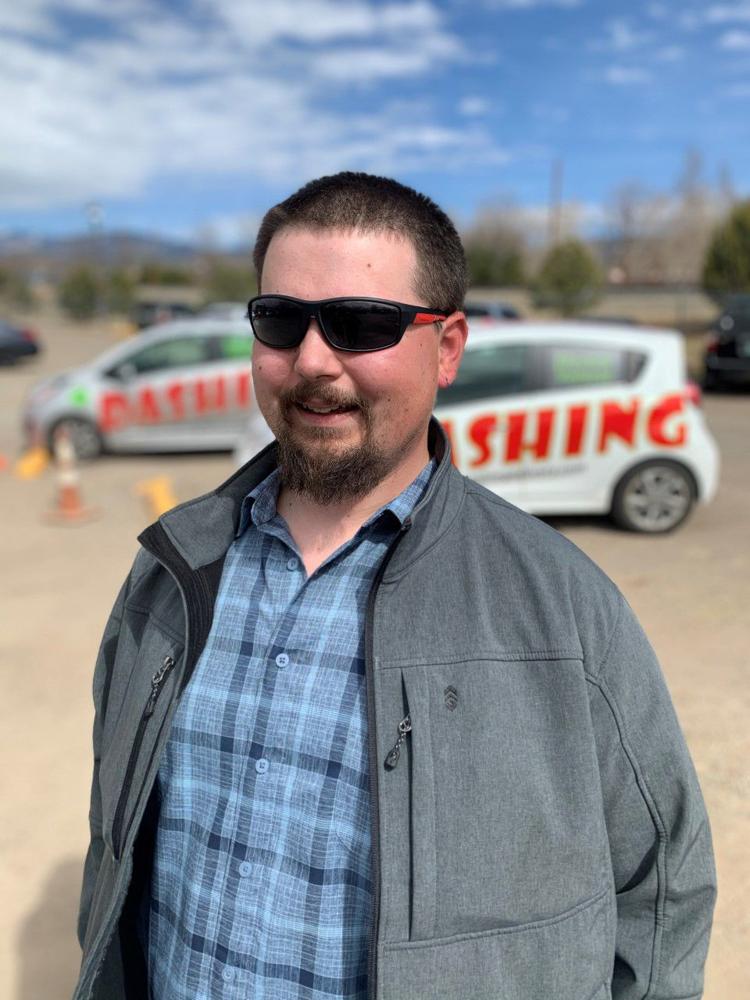 Tyler Huss
All of a sudden, restaurants are only in the takeout and delivery business. For Dashing Delivery driver supervisor Tyler Huss, that can mean he's delivering as many as 14 meals a day.
In his additional role as technology director, setting up the Dashing Delivery technology that enables restaurants to fill customers' orders, Huss has seen a flood of new restaurant clients tapping in.
"He's doing all these extra things we weren't doing two weeks ago," Dashing Delivery owner Justin Greene said. "Tyler is always great at keeping his cool."
In this period of self-isolation, when many people are working from home, Huss, 28, is crisscrossing town all day, interacting with people at both ends of a delivery.
"There are people out there who are older and can't get out," Huss said. "They rely on our deliveries."
Huss is also Dashing Delivery's on-call mechanic. On a recent day, a Dashing Delivery driver got a flat tire. Huss rushed over to fix it and "no orders were delayed because backup drivers stepped in," Greene said.
— Teya Vitu
Saraswati Khalsa
Saraswati Khalsa doesn't sew, but that hasn't stopped her from becoming one of the main organizers of Rosie the Respirators — a group of more than 40 volunteers with a goal of making 10,000 face masks for front-line workers in Northern New Mexico.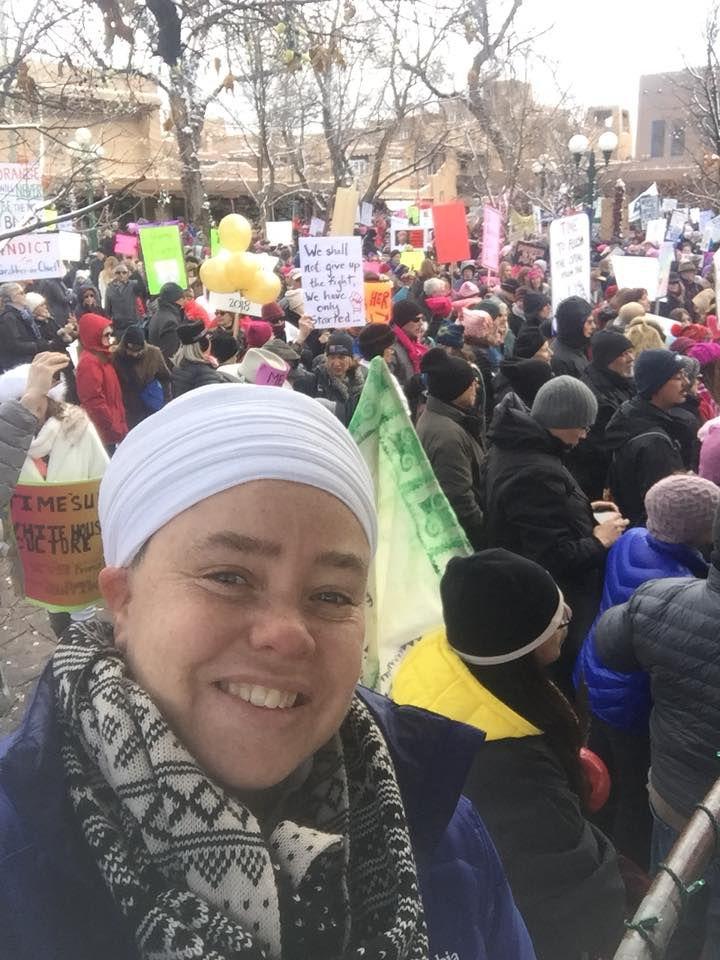 Khalsa, who lives in La Mesilla, is an assistant principal at an international school in India. She's accustomed to working remotely as an administrator, doing fundraising and marketing. She is now using those organizational skills to help at home.
Rosie the Respirators was founded by Lauren Reichelt, Rio Arriba County's health and human services director. The goal is to provide masks to everyone on the front lines of the COVID-19 fight, including those working at rural health clinics, delivering meals to seniors, and checking out and bagging groceries.
Khalsa manages the group's Facebook page, created a Google sign-up form for volunteers and coordinates donations of materials so they get to those who do the sewing.
"It's a hard time to figure out ways to contribute because we can't do the things we would normally do, like go to the food kitchen and serve or something. So this is a way to be helpful without exposing anyone," Khalsa said.
— Amanda Martinez
Melissa Love
Melissa Love is working to keep this period of isolation from overwhelming many who already are in a lonely place — that of grief.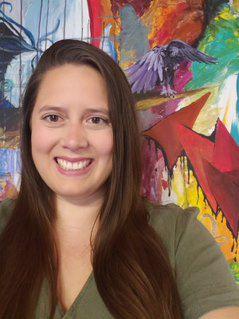 Love, 29, is studying to earn her master's degree in art therapy at Southwestern College in Santa Fe. She also interns at Gerard's House, a center to support kids and families going through loss.
Love leads art therapy groups at the center. While in-person group work is no longer an option, she's adapting to Zoom videoconferencing and telephone calls to continue offering comfort and therapy.
Jeanne Du Rivage, the grief connections program director at Gerard's House, lauded Love for stepping up and helping beyond her regular duties.
For instance, Du Rivage said, Love has stayed late at the office to make sure a young moms group had a chance to pick up diapers — a product that can be difficult to find in stores these days.
Love said she asks people to reach out to neighbors and friends by phone, social media and letters.
"There's a lot of people in our community who are going through loss, and now a loss of social support as well," she said. "We can keep the community alive by reminding each other we're not alone."
— Danielle Prokop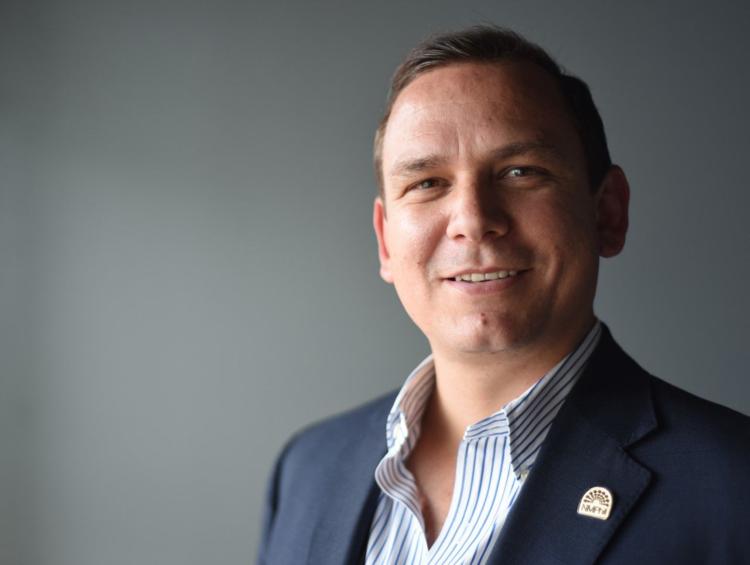 Chris Schroeder
Sixteen hours a day for 17 days running?
Chris Schroeder, a contractor who has been building, rebuilding and maintaining key websites for the state of New Mexico, says he's been "honored and humbled" to help do the work.
"All I'm trying to do is be a support for this team," said Schroeder, the CEO of Real Time Solutions, an Albuquerque-based web software firm.
One senior state official this week called Schroeder "Mr. 24/7," lauding his work on newmexico.gov and other state government sites that deal with the COVID-19 crisis — pages that have been updated and retooled almost hourly.
Schroeder said he has a team of four on the pages. At the outset of the crisis, his firm was asked to create a microsite to provide information. But in days, as the virus went from a micro issue to a macro disaster, the playbook completely changed.
Schroeder, 36, doesn't deny it's been a challenge. But for someone who's not getting much sleep, he seems fairly upbeat.
"It's just an account I'm really proud to be working on," he said.
— Phill Casaus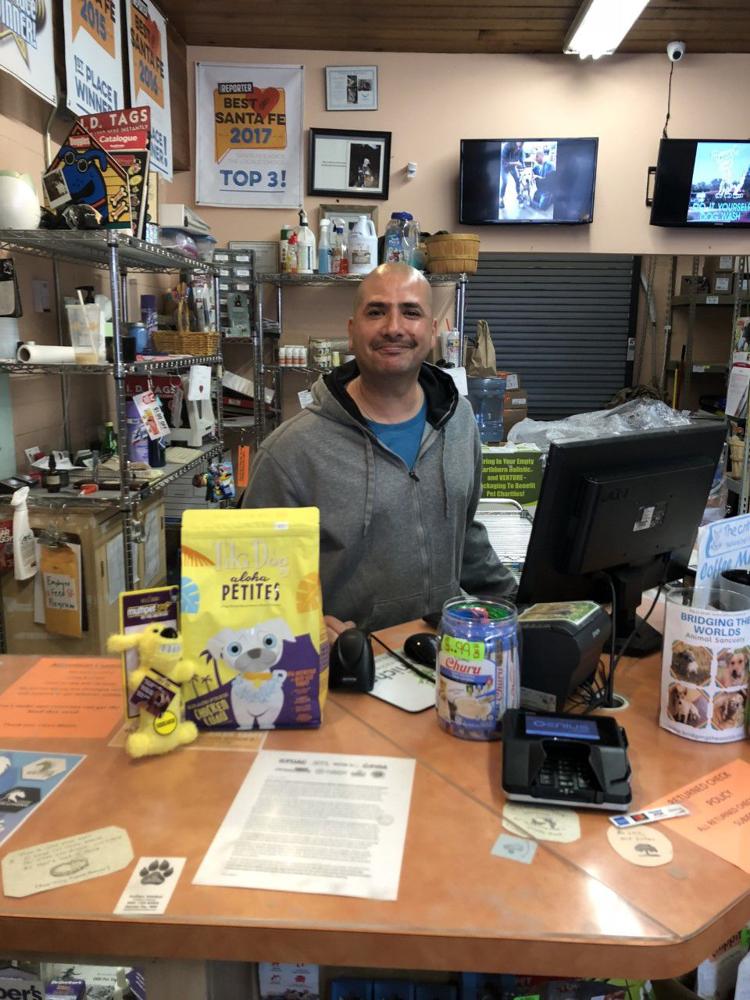 Orlando Hurtado
Orlando Hurtado had a vacation planned for last week. But given the COVID-19 health crisis, he decided to stay in a place he loves and also feels needed: the Critters & Me pet shop on Agua Fría Street.
"He knows our customers' names, he knows their dogs and he knows what they eat — the dogs, I mean," owner Laura Moore said of Hurtado, who has worked at the business for some 13 years.
Hurtado, 37, said ever since childhood, he has loved animals, and they, too, need love and reassurance during the public health crisis.
The store has initiated curbside pickup service and delivery to ensure customers can keep their pets fed.
Surprisingly, perhaps, he and Moore have seen some patron behavior similar to that witnessed in grocery stories: pet food hoarding. The store has initiated a limit of two bags per customer.
Hurtado said he's never been happier than when he's serving animals and their people.
"There's a sense of family here," he said of Critters & Me.
— Robert Nott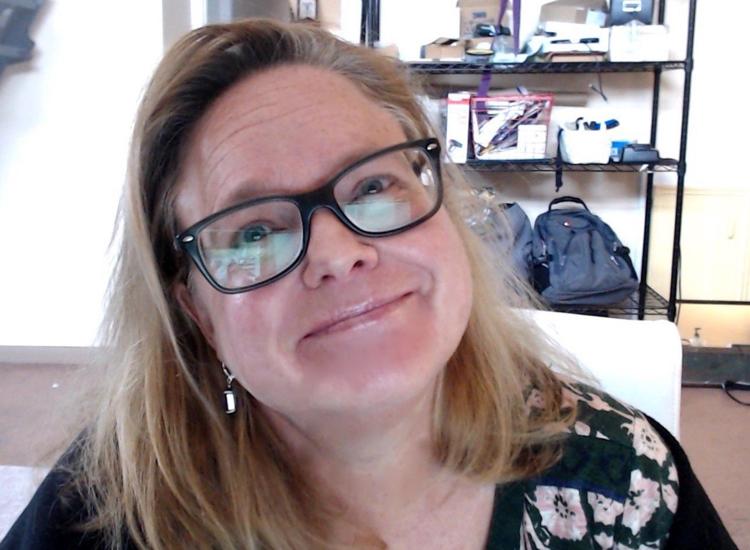 Julie Soucek
When it came time for Esperanza Shelter to move many of its support services online, a tech hero stepped in to save the day: Julie Soucek.
The shelter's information technology director, who volunteers four hours a week in addition to working eight paid hours on a contract, said her goal is to use her expertise in a way that helps others.
Offering online support to those who have experienced domestic violence — and are already in crisis at a time when the entire globe is panicked — is critical "to help them continue to move their lives forward and not have it at a standstill," she said.
In the last couple of weeks, Soucek has implemented online platforms so Esperanza therapists and counselors can continue working with their clients, and domestic violence victims "don't feel so isolated," Soucek said.
Denise Vermeulen, the shelter's communications director, said Soucek's skills certainly fill a void.
"I think there's a lot of people around Esperanza who have different talents and expertise, and technology would not be one of them," Vermeulen said. "It's especially notable that [Soucek] donates four hours a week to us every week throughout the year."
The tech guru, who serves some 110 clients through her personal business, said community service is a responsibility, not an option.
"I think it's really important to realize [our privilege] and give some of that back," she said.
— Olivia Harlow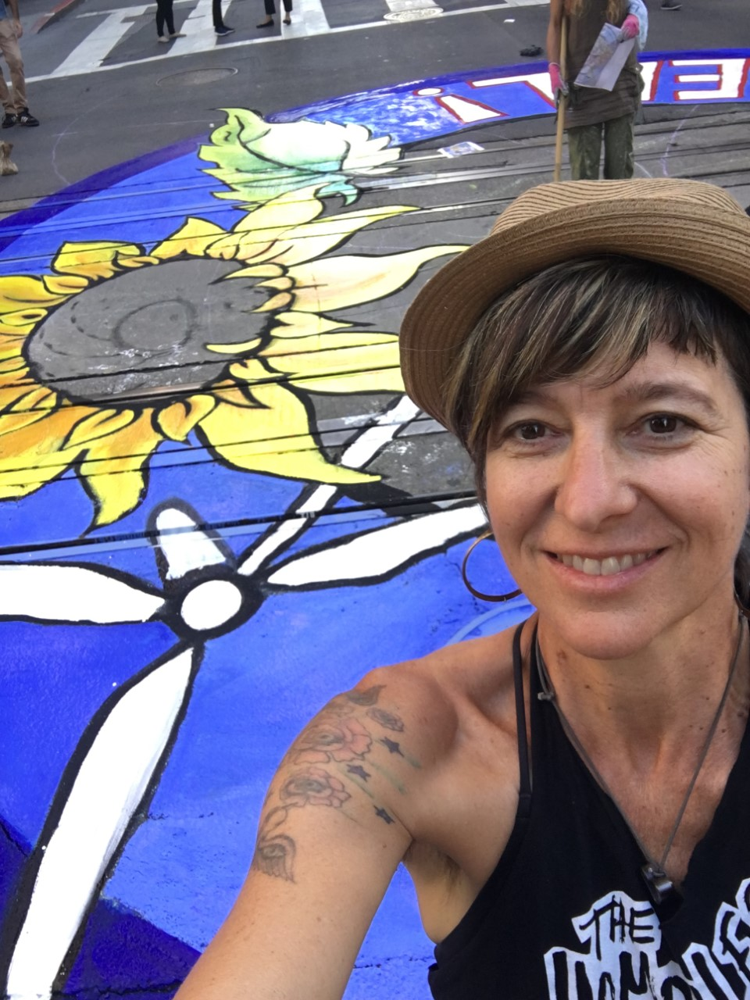 Amy Christian
Until recently, Amy Christian, 54, was working with a local circus art and puppet theater group called Wise Fool New Mexico.
As a founding member of Wise Fool, Christian spent a lot of time around others. Now, out of work and isolated in her home, she decided to get involved with a network of activists working to sew protective face masks for people who need them.
The network has donated supplies to La Familia Medical Center and a local homeless shelter. They're working to stockpile more in case hospitals in the area run out.
Christian said she even learned to insert air filters in the cloth masks. The filters, meant for heating units, strip out bacteria and viruses. She figures such a mask is better than a bandana, and pitching in gives meaning to her life in a time of fear.
"We're all floating in this world of the stress and anxiety of the virus itself and the fears of ourselves getting sick or our loved ones," she said.
"As much as it's a hard time," she added, "it's also an incredible time for us to recognize each other and our common humanity."
— Michael Gerstein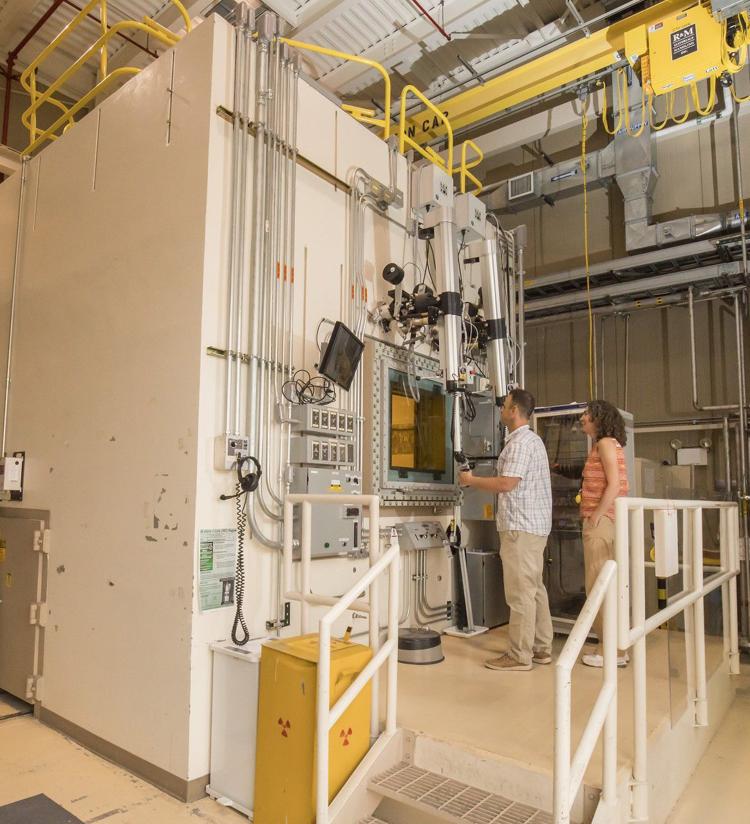 Eva Birnbaum
Emergency surgeries haven't stopped in the time of COVID-19. Neither have Eva Birnbaum and her team at Los Alamos National Laboratory, which is ensuring medical isotopes, critical forpositron emission tomography scans and other medical imaging, remain available.
Every year, more than a million patients benefit from medical isotopes like strontium-82, used for heart scans, and germanium-68, for cancer diagnostics. The chemicals have short half-lives, meaning they're impossible to stockpile — half of any strontium-82 produced is gone within 25 days.
For the next two months, the Isotopes Program at Los Alamos is going to be producing both isotopes to fill an anticipated gap in the supply chain, said Birnbaum, the program's manager.
That requires dozens of people — engineers, technicians, drivers, radiochemists and others.
"Everybody from the janitors up to the nuclear physicists are critical for this, because if we lost anyone, this would be impossible," Birnbaum said.
— Danielle Prokop