Vanessa Perez, Forma Salon
Vanessa Perez says she thought the plug was pulled on her future the Thursday before Memorial Day.
She'd worked as a hair stylist for 10 years, but when state health orders forced her employer to shut down, Perez's world was altered in almost every way.
The only thing to survive, she says, was her determination to persevere.
"I was devastated when they let me go," she recalls.
Later in the year, with restrictions eased a bit, Perez made a huge wager on herself. She opened Forma Salon on Second Street on Aug. 18. The reasons — and the effect — had everything to do with the pandemic, and in some ways, nothing to do with the pandemic.
"The reason I did it: I wanted to create something that was different, that wasn't so segregated," she says. "This town has really become east side versus south side. I wanted to create an environment where both of those sides collide. I wanted to bring my retired ladies to the old barrio."
On the Forma Salon website, Perez proclaims: "proud queer Latina owned luxury full-service salon."
"I want to be my authentic self," Perez says. "I didn't want to have a coming-out story with every client. I want the LGBTQ community to feel comfortable here."
Perez has 1,300 square feet that could fit four or five stations, but she chose to have only two stations and do appointments only, which allows her to easily comply with the four-person maximum under the state's 25 percent occupancy regulations. Plus, it allows her to cater to her customers.
How has her new business survived the turbulent times?
"I don't have a fancy answer," Perez said. "I just work my ass off. I work so much, it's insane. For the first couple months, I worked six, seven days a week."
Perez sees about half as many customers as she would during normal times, but she is determined to make it through.
"I'm really going off of faith and belief in myself and emotional support from my family," she says.
Kate Wheeler, Savory Spice Shop
Curbside service was nothing new for Kate Wheeler when the pandemic steamrolled into the retail world.
Since opening Savory Spice Shop in 2013, she has brought merchandise to customers stopped in the loading zone at the Galisteo Street store that specializes in specialty spices and other ingredients.
"Parking downtown sucks," she says.
Curbside made up maybe 5 percent of her business before March. But now, it's at least 60 percent. Wheeler also has a table at the front of the store with carryout orders.
"It has certainly taken some creativity to stay open," Wheeler says.
To make it through, Wheeler acknowledges, there have been many sacrifices. She laid off all her employees for three months and worked 70-hour weeks to run the store by herself. The federal Paycheck Protection Program allowed her to bring three workers back.
"I did go down about 50 percent income for at least four months," Wheeler said. "I took a pay cut and gave [my employees] raises."
Wheeler also closed Savory Spice for July and August while she devised a strategy to keep the store safe for customers and employees. The tastings and smellings are gone. Hand sanitizer is available at the front door.
For the year, revenue is down 42 percent — and that includes 30 percent gains for January and February.
"My inventory is tight," Wheeler says. "I would say we have a third of the inventory we normally have for the holiday season."
Still, a loyal following has enabled Savory Spice to keep going.
"If I made it through this year, I can persevere," Wheeler says, though she has asked herself many times if it's worth it to continue.
"I think about all the bosses I've had," she says, describing the answer. "I don't want to have a boss again."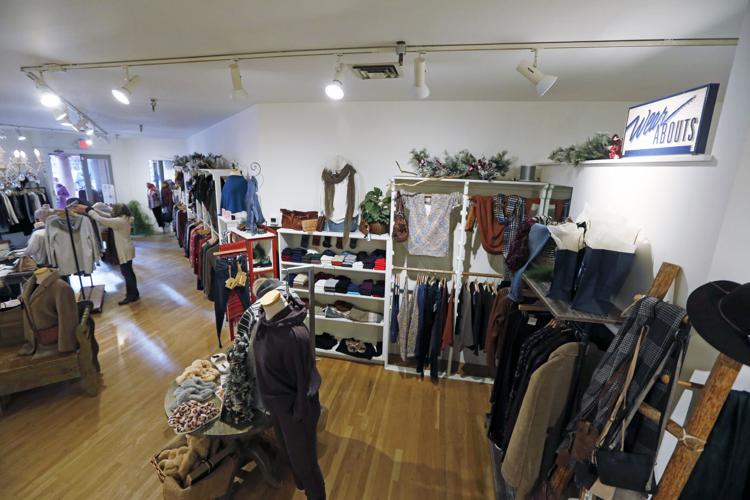 Megan Hawkins, WearAbouts
Things were good for Megan "Gem" Hawkins, who in May 2019 had moved her women's clothing store, WearAbouts, across the street from the location she'd had for 22 years.
"When I moved, my sales just skyrocketed," Hawkins says.
But when the pandemic arrived, so did trouble. Sales, she says, are down at least 50 percent from a year ago.
Necessity mothered invention: Hawkins stopped putting off plans to launch an online store. It's up and running now, she says, though it has yet to produce large sales.
Fortunately, she had built up some savings, which allowed her to stay viable.
"I was able to put some of that into the business," she says. "I am an incorporated business so I am an employee and could use my unemployment. That helped a lot. It allowed me to keep my manager on."
Over Thanksgiving weekend, the store was shuttered due to the state's "reset" of the public health order. Restrictions were loosened a few days later, allowing WearAbouts to reopen.
But the loss of Thanksgiving is a hard thing to overcome.
"Those are busy two weeks where we had zero income," Hawkins says. "Over Thanksgiving weekend, we would have been packed with families coming in with six to eight people."
Hawkins, 68, had put off collecting Social Security, but the pandemic spurred her to start. She had four employees. Now she works with just one.
"I cut my expenses and overhead as much as I could," she says.
Raquel Underwood, Art Club Gallery
Art Club Gallery opened March 1 in a hive of outlets on Canyon Road. It's a shop that focuses on fine arts and crafts exclusively made in New Mexico by locals who typically haven't been able to break into the traditional Santa Fe gallery scene.
Two weeks later, owner Raquel Underwood faced the worst-case scenario.
"I opened the door officially on March 1, and the lockdown officially started March 15 and I had to close down for two months," Underwood says. "There was assistance from the federal government, but you had to be in business before Jan. 31. I had to pay two months' rent.
"How did I do it? Family help," she says. "I had no choice but to ask for a family loan. It's going to take years [to pay back.]"
Underwood hasn't been able to do a grand opening, but some relief arrived in the summer when businesses began reopening. And Santa Fe's draw — particularly from neighboring states at a time when their caseloads were rising — proved powerful.
"A lot of the traffic was people so sick of being at home they were going on the road," Underwood says. "They were from Texas, Oklahoma, lots of California, lots of Colorado, tons of Arizona, too. There was nothing for people to do than walk down Canyon Road. None of the museums were open."
She was able to meet her minimum sales goals from July into October.
"It was OK to great, averaging out to not bad," Underwood says. "[But] if you average in the two closed months, it's not great."
Underwood can last at least a couple of months longer under current conditions.
"There was never any question of actually quitting," she says. "The way it has evolved, it has been, 'In a couple months, it will be over.' It's keeping that hopeful mentality that it will be over soon. There will be a massive upswing after this massive downswing."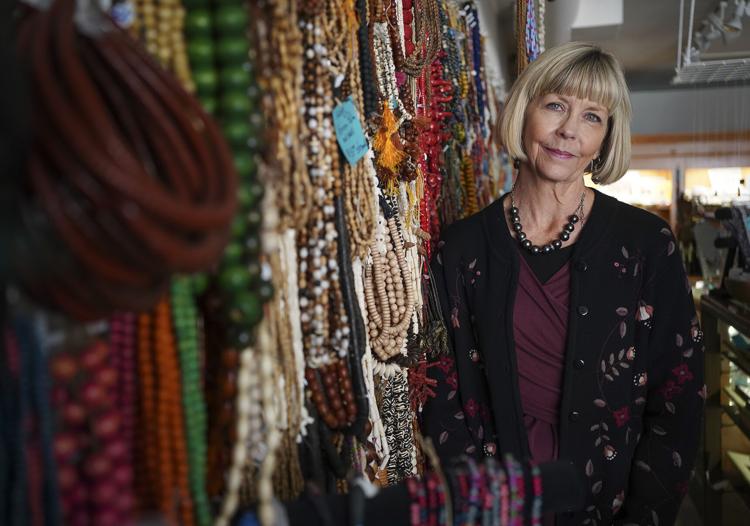 Starr Nowak, Glorianna's Beads
The first lockdown from mid-March to May came with perfect timing for Starr Nowak, who had to move her shop, Glorianna's Beads, a short distance just as downtown Santa Fe was becoming a ghost town.
Though she finally reopened in mid-May, Nowak says she has yet to catch up.
"Business is way, way down, probably not even doing a quarter of previously," she says. "Luckily, I have some savings. If I didn't have a cushion, there would be no way. I would like to thank my landlord [Shobhan Porter] for helping me. She was extremely understanding and generous during the first shutdown."
Glorianna's Beads sells beads and "findings" — the accoutrements to make beads into jewelry. Nowak's mother, Glorianna Lazane, started the shop in 1972 in the Cortez Building, where it remained until Nowak moved to the new space in March and April.
She was able to relocate within sight of the first store.
"That is the absolute best reason I like it here," Nowak says. "It seems a little more active on this end of the block. The store is cleaner and more updated. All my regulars that live here, they are so excited to see how wonderful it looks."
Though the future is uncertain, Nowak says she is not quite ready to retire.
"I have a lot of inventory I'd like to sell," she says. "I'm just hopeful every day that business will pick up."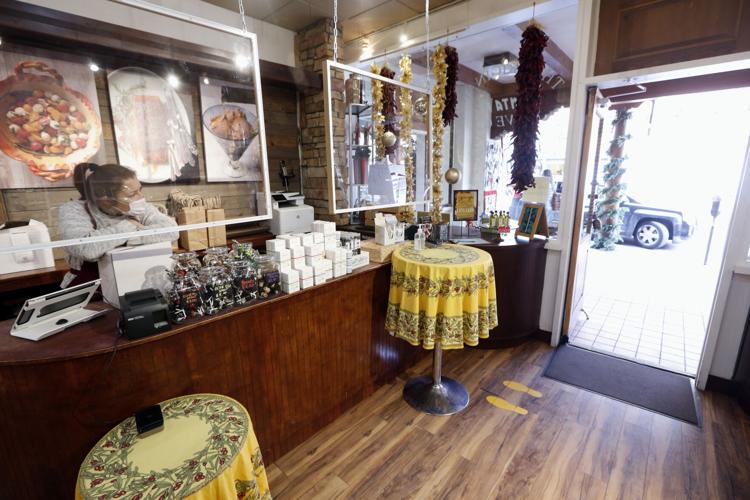 Michael Aranda, Santa Fe Olive Oil & Balsamic Co.Locals and visitors have made pilgrimages to Santa Fe Oil & Balsamic Co. since Michael Aranda opened the store in 2010.
But this year, those trips have been by computer mouse.
"Online sales improved 200 percent, something like that," Aranda says. "Before all this happened, we had most of our money coming from retail in the store. Once all this hit, it's being able to adapt to whatever is thrown at us."
Before, Aranda says, online made up 30 percent of sales. Now, it's more like 80 percent. In fact, the center of the store space now is dedicated to shipping and handling.
"The curbside was a godsend," Aranda says. "We were able to figure out how to order online and pick up at the store. We had to download an app. Before that, I was driving local orders to homes. I was like a milkman delivering olive oil."
Aranda declines to offer specifics on sales, but indicates the future is bright — or at the least, attainable.
"What I'm trying to do is just hit my numbers from last year," he says. "We're doing OK. We're getting close to that."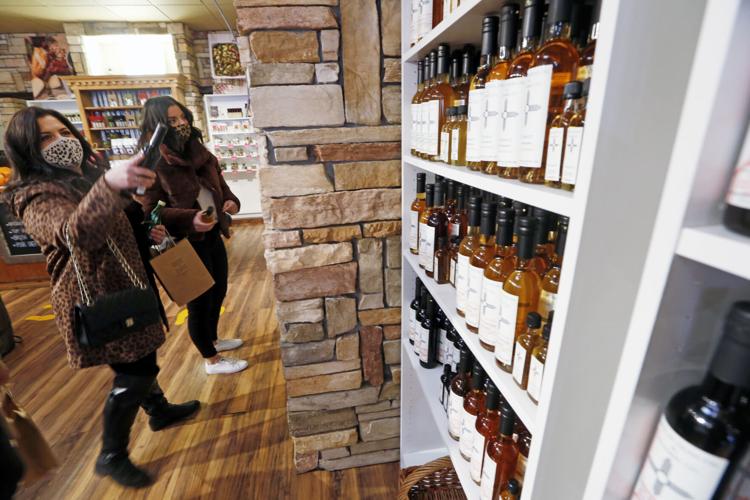 Aranda says local shoppers have come through for Santa Fe Olive Oil & Balsamic, especially early on in the pandemic, when grocery stores were running out of olive oil.
So far, he's been ready for anything.
"It was hard before to run a business, but now it is more challenging," Aranda says. "Everything is always changing so quickly. You always have to adapt to what is happening this week."