Lucky. Blessed. Fortunate.
Those were words used by medical staff at Christus St. Vincent Regional Medical Center on Monday after they were the first people in New Mexico to receive Pfizer's long-awaited COVID-19 vaccine.
The five staff members were greeted with a round of applause from fellow health care professionals following inoculations in a conference room at the hospital.
A total of 112 Christus St. Vincent staff members received the first shot of the two-part vaccine by the end of the day as the state launched what is expected to be a months-long campaign to provide vaccines to residents across New Mexico.
"I'm really hopeful that there is a light at the end of the tunnel," said Dominick Armijo, a nurse manager for Frost 19, the hospital's COVID-19 unit. He was one of the five employees to receive the first shots.
"It could not come fast enough," said Yvonne Bieg-Cordova, the hospital's radiology director, who also was one of the five.
Rafael Garabis, a hospitalist at Christus St. Vincent, said he hopes to lead by example for anyone concerned about taking the vaccine.
"I think this is an important example for people," Garabis said. "We all work here; we work with our COVID patients on the wards for what feels like forever. For us, we're really hopeful and want to lead by example to show everyone how important this is going to be moving forward."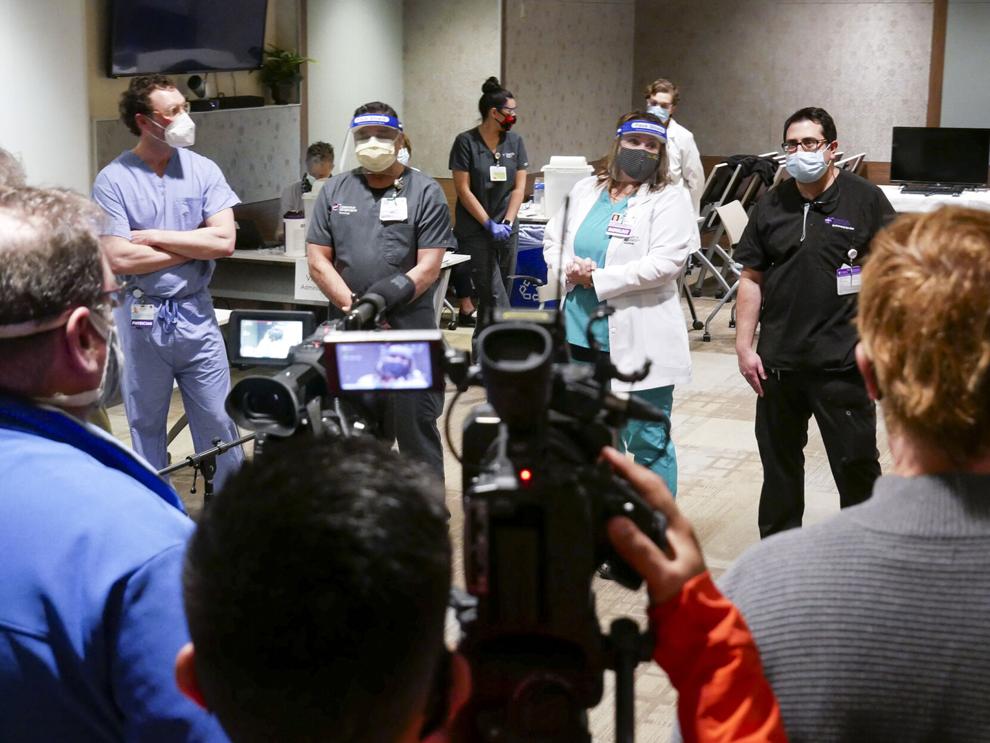 Each of the staffers interviewed said the vaccine was no more painful than any other shot.
Lillian Montoya, president and CEO of Christus St. Vincent, said the five staff members were selected to show the wide variety of workers involved in combating the virus. Among them were a respiratory care professional and a member of the environmental services team.
"I really wanted to make sure that you could see the diversity of the people who have been caring for COVID-positive patients," Montoya said. "It's really been a team effort."
It might take the next couple of weeks to get all 975 hospital workers inoculated, Montoya said, adding the facility plans to start with the 100 to 150 employees on the Frost 19 team, as well as those in the emergency department.
The hospital has received 975 doses, she added.
The U.S. started its mass vaccination campaign Monday following the Food and Drug Administration's emergency approval Friday of the Pfizer-BioNTech vaccine.
The approval came as the nation's COVID-19 death toll closed in on a grim milestone: 300,000 reported deaths.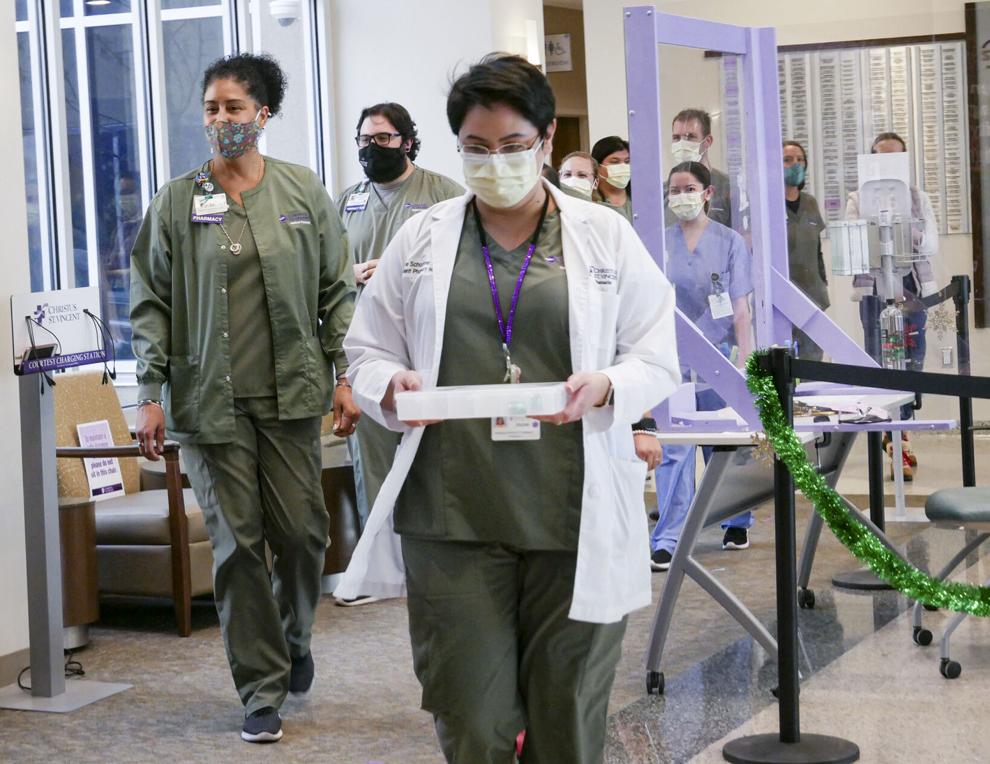 Front-line medical staff were positioned to receive the first doses of the vaccine, with staff and residents at skilled nursing facilities expected to be in the second round.
A nurse at Long Island Jewish Medical Center in Queens, N.Y,. was reportedly the first American to receive the vaccine outside of clinical trials.
Gen. Gustave F. Perna, the chief operating officer in charge of rolling out the vaccine at the federal level, said in a news conference Friday he expected 145 sites to receive the vaccine Monday, with 425 and 66 sites receiving doses Tuesday and Wednesday.
"You have heard me refer to this day as D-Day," Perna said during the news conference. "Some people assumed I meant day of distribution; in fact, D-Day in military designates the day the mission begins. D-Day was a pivotal turning point in World War II — it was the beginning of the end. … We are not taking a victory lap."
Montoya said Christus St. Vincent will begin preparing for public vaccinations when supplies are ready.
She doesn't intend to take the vaccine until all front-line workers receive their shots, she added.
The hospital is having conversations with Santa Fe city officials about prioritizing front-line employees such as emergency medical technicians, she said. "They have some preliminary numbers, so we're going to start scheduling them later on in the week."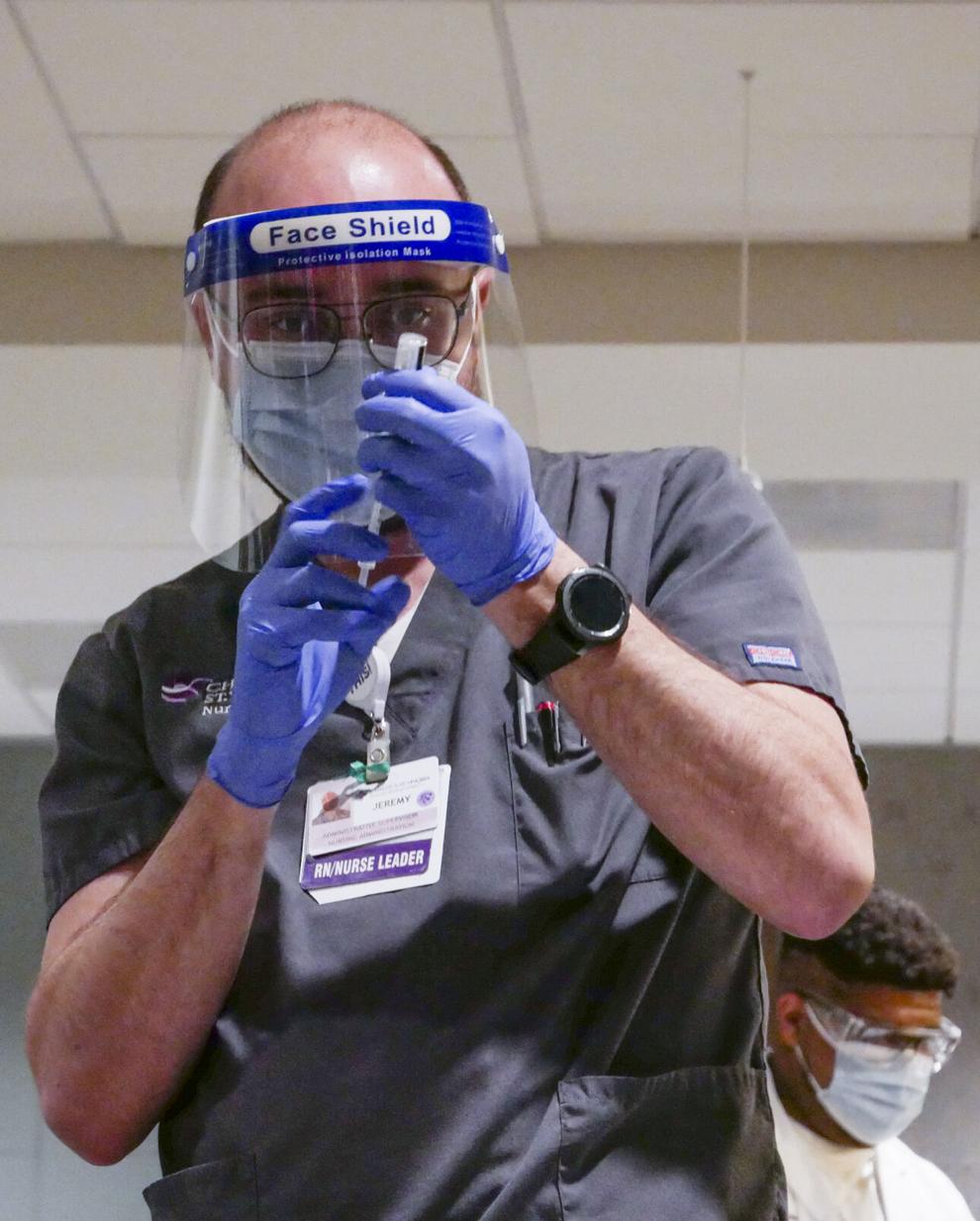 Meanwhile, health care officials at three other hospitals in the state said they were preparing for delivery of the vaccine sometime this week for workers tending to COVID-19 patients.
Dr. Irene Agostini, chief medical officer for University of New Mexico Hospital, said in a virtual news conference Monday she believes everyone at the facility "who will come into contact with a patient by any means will get vaccinated."
She and other health officials who spoke at the news conference cautioned that under the FDA's emergency authorization of the vaccine, they cannot force employees to be vaccinated.
A spokeswoman for Lovelace said she expected 144 staff members at Lovelace Medical Center and Heart Hospital of New Mexico to receive the vaccine Wednesday.
Lovelace Chief Medical Officer Vesta Sandoval said officials were "interviewing and educating our staff to encourage them to understand the importance of vaccination, so people feel comfortable receiving the vaccine. That's a big part of what all have to do moving forward."
Dr. Jeff Salvon-Harman, medical director of infection control for Presbyterian Healthcare Services, said this week's initial dose for workers would be followed by a booster three weeks later.
The three officials said hospital employees will continue to wear personal protective equipment, including masks and gloves, when treating COVID-19 patients.
They emphasized the vaccine does not mean COVID-19 will go away.
"We potentially still could be in situations where we have this surge at times, depending upon events that could lead to large amounts of spread that could lead to vulnerable populations being infected," Agostini said.
Nora Meyers Sackett, a spokeswoman for Gov. Michelle Lujan Grisham, said in an email some details about the inoculation program still remain uncertain as the state awaits federal approval of additional vaccines.
"The existence of the vaccine is not an invitation to let our guard down," Sackett said. "the vaccine is a tool, just like physical distancing and mask-wearing are tools, and we must continue using the tools we have to limit the spread of the virus and protect one another."