A life spent on stage is, at least for the time being, getting streamed to the small screen.
Accomplished flamenco dancer Emmy Grimm — more commonly known by her stage name, La Emi — has begun to forge a new path while waiting out the pandemic. Forced inside like so many others around the world, she has temporarily suspended her stage life to offer dancing lessons online.
What she's doing is a chance for everyone — or more precisely the sequestered, hip-swiveling, beat-loving artist inside of everyone — to have a little fun learning from one of the country's top artists in flamenco. A lifelong resident of Northern New Mexico, Grimm has begun streaming interactive tutorials to anyone and everyone willing to give it a shot.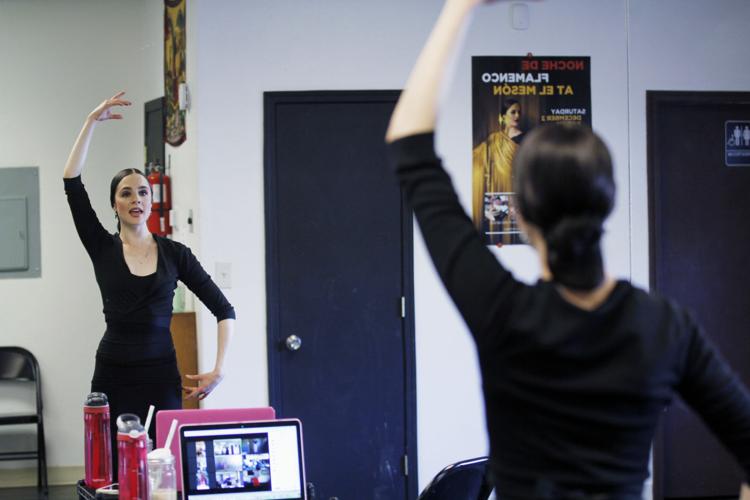 It doesn't matter if you're young or old, experienced or not. No one gets turned away.
"My first memory was 2 years old trying to get up and dance," Grimm said. "At 4 years old, I was enrolled in classes. I knew I loved it, and I've found that so many others feel the same way the first time they try it."
Lessons are $75 a month for children and $100 for teens and adults. If the cost is too steep, Grimm said she's using a sliding scale to get people involved.
"I'm not worried about the payments," she said. "Flamenco has been my life and now that we're all inside and not able to be with people doing the things we love, we have to find ways to keep going."
Grimm typically performs five nights a week for Heritage Hotels and Resorts, frequently traveling around the country and to Europe for shows. She also runs a nonprofit dance studio in Santa Fe, the EmiArteFlamenco Academy.
She had just gotten back from Spain and performed for a week for the Santa Fe Public Schools at the Lensic before flying to Miami the week the country reacted en masse to the coronavirus outbreak. In rehearsal for eight hours a day, she monitored the situation as best she could before deciding to fly home March 13.
She immediately self-quarantined, even spending her 29th birthday in isolation.
"I'll never forget it," she said. "I had a lot of loved ones drop off gifts at my door and I thought, man, what a blessing because I've been on tour the last few years on my birthday, which is interesting. It's not the same as being home and waking up to a bunch of your favorite people dropping off things to make your day special."
Grimm figured she'd finish the quarantine and resume some of her teaching duties at EmiArteFlamenco by April 1.
It soon became apparent the crisis would stretch on indefinitely.
That's when one of her students gave her a call to see if she'd consider doing an online class.
"I was like, 'Huh, that's a really good idea. Let's do this,' " Grimm said.
There are three other teachers who work with her at the nonprofit, but she decided she'd do the lessons herself.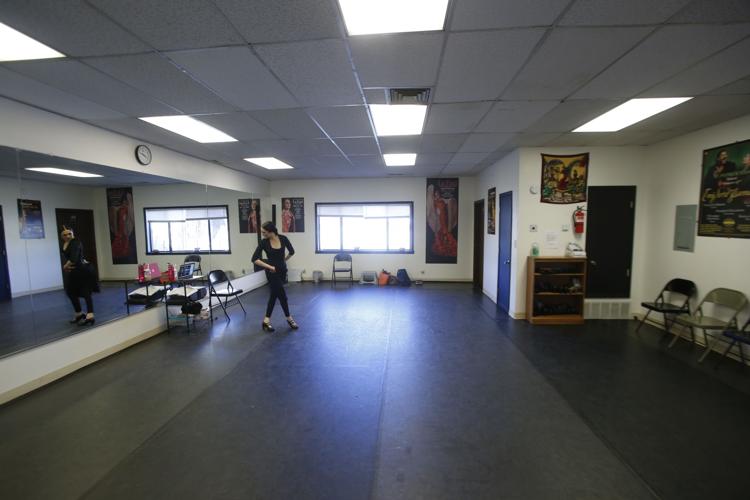 She researched the best path forward and settled on Zoom, the social meetings platform, as a means to put up to nine students in an online class together.
It would be an understatement to say she's learned a little something about herself through all of this.
Her responsibilities of performing full time have taken her to some exotic locales but had never really given her much of a chance to teach.
"In the kids' classes I saw the parents' reaction, and in the adult classes I saw the way they responded, which was so positive," Grimm said. "I've always loved to teach, but to do it in a way like this makes me feel connected. The adults were saying this is their bright light right now, this is what's going to keep us going and this is what the kids are looking forward to all week. I'm hearing that they've fallen in love with flamenco again."
Most of her students are from New Mexico, but recently she's gotten additions from as far away as North Carolina and Texas. Word is getting out, thanks to the influence of the internet.
"It's an entirely different way of doing things and, yeah, it's interesting," Grimm said. "This is starting to go on a bigger scale."
Looking back to her formative years in Truchas, she said there was a point where she had dreams of becoming a competitive snowboarder. As a teenager she had a coach and spent hours training and doing tricks. At the end of one particularly draining session, she attempted a 360-degree spin off a 15-foot drop.
It ended with a nasty fall and a broken wrist.
She called her flamenco instructor, the famed Maria Benitez, who employed her as a youth teacher.
In essence, Benitez said to either dance with a cast or maybe go all-in on snowboarding. Fourteen years later, Grimm is regarded as one of the best in the flamenco business, and her mindset is about giving as much back as she can.
She admits she gets a feel for the impact she's making with her newfound role when she interacts with her students online.
While she'd much rather perform and teach in a face-to-face setting, this is the best and safest option right now.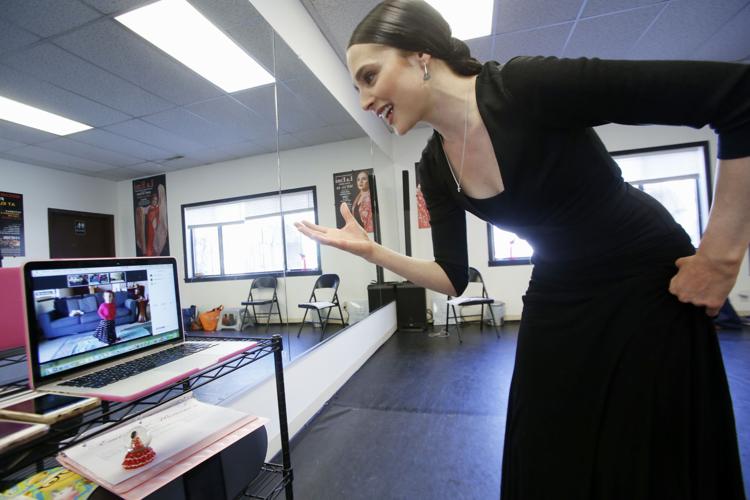 "It gives the little ones a sense of accomplishment, it gives them a sense of responsibility and it gives them a sense that, yeah, they did it," Grimm said. "In the younger classes, we do show and tell because it's a way to give them the social activity that they had when schools were still open. These kids need that interaction even if it's on a computer screen. Adults, I have found, need that, too."
In addition to the dance lessons, she is teaming with the Facebook initiative MaskCoversDriveNM2020 to give masks and food to locals in need. She is inviting those seeking a charitable donation of food or surgical masks to contact the organization through Facebook to set up a delivery each Friday.
"If it wasn't for the community, I would never be where I've gotten," Grimm said. "They've helped all of my dreams come true, so I always want to pay it back."