Eliaquim Paz signs out of his first class of the day and yawns. Morning sun reaches the kitchen table, warming a dim room his mother can't always afford to heat and light.
The 12-year-old complains he was up late last night helping his little sister with her homework. Now he has to try to focus for another five periods of remote learning.
Before starting sixth grade at Nina Otero Community School from this apartment in mid-September, Eliaquim called two trailers and a pair of rented rooms home over the past two school years.
In between, he spent nights in a shelter, his mother's car and a storage unit.
"I didn't like living in storage because there was no electricity," Eliaquim said. "We couldn't charge our phones."
As the COVID-19 pandemic forces many New Mexico students to continue to learn from home, thousands like Eliaquim have trouble defining that place.
Local, state and federal authorities have taken unprecedented measures to ease the pandemic's heavy economic toll on both renters and homeowners — from offering housing aid to cover rent and mortgages to placing moratoriums on evictions. Last week, the New Mexico Mortgage Finance Authority announced a new $12.3 million fund to help New Mexicans pay back as much as $4,500 in unpaid rent.
Advocates and policymakers see such interventions as an opportunity to rethink the long-insufficient supply of affordable housing in Santa Fe and reshape local and state governments' roles in the housing market.
Moratoriums on evictions are keeping tens of thousands of New Mexicans from being ousted from their homes amid the pandemic, but past-due rent payments are mounting.
According to the National Council of State Housing Agencies, between 60,000 and 80,000 renters across the state will owe between $105 million and $150 million in unpaid rent by the end of the year. It's unclear when they might have to pay up or move out. A federal moratorium on evictions issued by the Centers for Disease Control and Prevention expires Dec. 31, but the New Mexico Supreme Court has issued an indefinite ban "until the COVID-19 emergency is over."
"The moratoriums are really important. However, they don't forgive rent, so lots of people are falling further and further behind," said Rebecca Velarde, director of policy and planning for the Mortgage Finance Authority. "And a lot of landlords have mortgages on these properties and are delinquent as well, which is another health and safety issue where people can't pay their water and electric bill and upkeep the property."
Eliaquim's mother, 39-year-old Lluvia Ramírez, pays $1,300 in rent — nearly three weeks worth of income — on the first day of the month for the south-side apartment where she and her two children — Eliaquim and third grader Dayana — now live.
Since arriving in Santa Fe in 2006 from Torreon, Mexico, Ramírez has cleaned casinos, washed dishes and stocked shelves. She started a job this fall at Albertsons on Zafarano Drive, earning up to $500 per week.
The family has been evicted numerous times in the last few years, including in May, when the state Supreme Court's moratorium was no help because Ramírez had an informal agreement with the property owner instead of a lease.
"Ever since COVID started, it feels like a stampede," she said in Spanish. "The rent, water, electricity, food. Here in Santa Fe, it's all so expensive.
"We've had many different homes," she added.
Evicted amid a pandemic
Court records show landlords petitioned to terminate Ramírez's tenancy in 2015 over $756 in unpaid rent and utilities and again in 2018 for overdue payments of $808. Both times, the cases were dismissed after Ramírez said she paid what she owed and left to rent something cheaper.
Ramírez said the family was "run out" of informal agreements for rented rooms in trailers in Santa Fe in October 2019 and in May, forcing the family to move to rented rooms in Rio Rancho and Bernalillo.
"For me, it was hard to say to them, 'We have to leave for a room in Bernalillo,' " she said in Spanish. "I know a lot of people in the same situation. They're all trying to save and trying to protect what they have, but you lose everything and there's no help."
The temporary ban on evictions has not stopped landlords in Santa Fe County from attempting to remove renters from their properties.
Magistrate Court records show landlords filed 16 eviction claims during the first 26 days of October. Hearings are pending in the coming weeks for 10 that were filed over unpaid rent, two over the end of lease agreements and another over an estate sale.
Two evictions were processed — one over the end of a month-to-month lease and another over unpaid rent and damages.
The Supreme Court's moratorium halted another eviction claim over $975 in unpaid rent.
Its moratorium on evictions requires tenants to explain in virtual court hearings any payment delays and their inability to make payments.
"The majority of unpaid rents that have been coming to magistrate are stayed by the Supreme Court order, especially if they don't have a job," Judge Donita Sena said.
"Some evictions have fallen through the cracks, certainly not with ill intention," she added. "Something judges always tell landlords and tenants is go out and seek assistance and education. Judges can't really educate them. We can't aid either party."
In search of a long-term solution
While the moratoriums have been a successful stopgap solution to most people in their homes during the public health crisis, housing advocates say the city and state need policy changes to fix a long-term housing crisis.
"When the moratoriums get lifted, we're really going to need to work together, or there is going to be a tsunami of evictions that is going to wreck our city," said Tomás Rivera, executive director of the Chainbreaker Collective, a Santa Fe nonprofit focused on housing policies.
"The moratoriums are a good and necessary first step, but now we have to try to intervene further," he added. "As a society, we have decided that housing is a commodity and we should let the market deal with it."
State law prohibits local governments from enacting rent control and starts the eviction process after three days of a late rent payment. There is no requirement for rental agreements to be in Spanish.
"The eviction process is so fast. There's not time to figure out what's going on," said state Rep. Andrea Romero, D-Santa Fe.
In June, she sponsored unsuccessful legislation that would have repealed the ban on rent control and empowered the governor to issue an executive moratorium on evictions during a public health emergency.
"We've let this go on for too long, watching rents rise and not building affordable housing," said Romero, whose district includes both the Interfaith Community Shelter at Pete's Place and St. Elizabeth Shelters and Supportive Housing. "Now we're asking people to shelter at home to stay safe, and plenty of New Mexicans don't have reliable shelter."
The city does not regulate landlords, compounding the problem in Santa Fe, said Alexandra Ladd, the city's director of affordable housing.
"We don't even have landlord licensing. If you want to run a consulting business out of your spare bedroom, you need a city business license and a taxpayer ID with the state," Ladd said. "But if you want to rent out your garage, you don't have to do that. You can be renting out a terrible, awful place as long as you can find someone who wants to live there."
In the city's stretched housing market, where prices have been soaring and hundreds of units have been converted to vacation rentals rather than homes, such dwellings are sometimes the only option for a low-income renter.
The affordable housing dilemma
The Santa Fe area has long struggled with a severe housing shortage.
According to city data, 77 of 1,128 units now under construction will qualify as affordable, meaning they will be offered at below-market rates. A city ordinance allows developers to pay fees into an Affordable Housing Trust Fund in lieu of offering lower-cost units. Records show developers have paid $777,068 into the fund in 2020.
The New Mexico Coalition to End Homelessness estimates the city is short of affordable housing by 5,000 units.
But even market-rate rentals have been hard to find.
Joseph Montoya, Santa Fe County's executive director of housing operations, estimates the county's housing is at 99 percent of capacity.
"We're at the point now that middle-class folks are having [a] really hard time finding anything," Montoya said. "You could be making $85,000 a year and either pay way too much or not find anything at all."
According to census data, 86 percent of Santa Fe renters who earn up to $50,000 a year are cost-burdened — paying more than 30 percent of their income for rent. The data also shows the median monthly rent price in Santa Fe County increased by about $100 over the last decade, from around $950 from 2009-13 to $1,043 from 2014-18.
Homeownership is also increasingly out of reach for Santa Feans. This summer, the median home price surpassed $500,000 for the first time.
Ed Romero, executive director of the Santa Fe Civic Housing Authority — a largely federally funded agency that offers public housing in Santa Fe, Española, Los Alamos and Mora County — understands the dilemma developers face when it comes to trying to build housing at lower costs.
His organization has spent $110 million to refurbish 720 units over the past 10 years.
"If you don't want 50-year-old units falling apart to be your only affordable stock, it's virtually impossible to build at a market rate and have affordable units," Romero said. "A typical 60-unit affordable housing complex would require millions of dollars of grants or subsidies."
He cited another problem in the city: a not-in-my-backyard attitude. "Everybody believes in affordable housing until it's in their neighborhood."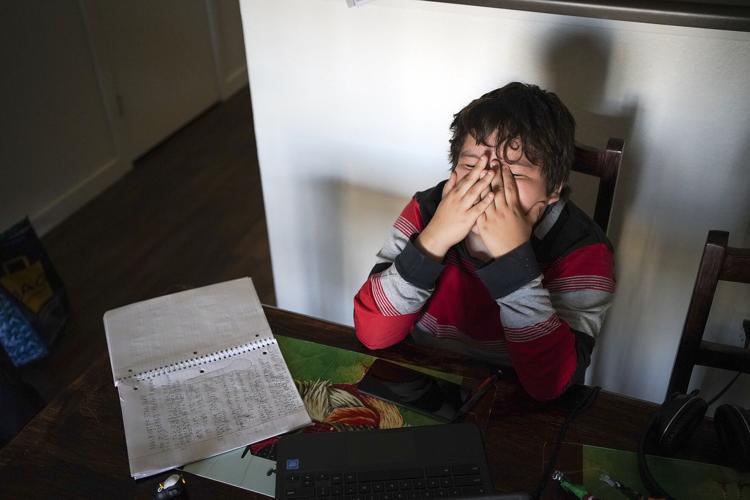 Living and learning on the edge
Eliaquim missed the first month of school this year. A registration error as he transferred from Sweeney Elementary to Nina Otero was eventually solved by a 15-minute call, but it took a few weeks to complete because the family couldn't charge their phones.
Attiana Virella-Fuentes, director of Adelante, Santa Fe Public Schools' support program for homeless students, spent the last few weeks posting flyers at grocery stores, mobile home parks and laundromats, trying to spread the word about services available through her office.
"We know there are students who have fallen through the cracks, especially students living on the edge," Virella-Fuentes said. "That's what keeps us up at night."
Adelante is working with 445 families this school year, 142 fewer than last year due to barriers to outreach such as unconnected phones.
Santa Fe Public Schools estimates over 10 percent of its students, or more than 1,200, experience homelessness each school year.
"At the basic level, if students don't have stability in housing, it's difficult to get them to think about academics at all," said Angelina Moore, Eliaquim's principal at Nina Otero. "We have so many families that work really hard and can't afford the basics. It's not just Nina. It's all over Santa Fe."
Jennifer Buffaloe, a case manager for St. Elizabeth Shelters who helps get families off the streets and into temporary housing, said she works with five families that include school-age children who are learning remotely from motel rooms.
Communities in Schools of New Mexico, a nonprofit that serves low-income children in Santa Fe Public Schools, also has seen a rise in local families doubling and tripling up in homes during the pandemic. In March, the organization surveyed 397 families and found 35 percent were unable to pay rent and 45 percent had more than five people in their household.
"We think the number of families subletting and moving into shared apartments or trailers has increased," said Ivan Cornejo, a field operations supervisor with the nonprofit.
"If we do not target the housing problem in our city, our society, we can't target academics," he added.
Ramírez, Eliaquim's mother, said she tries to limit food spending to $70 each week — mostly canned soup, beans and ham sandwiches.
Eliaquim wants to pursue a career in cooking and maybe open a restaurant one day to serve "quadruple cheeseburgers" and tamales, like the kind they make in his mother's hometown of Torreon.
Right now, he wants a place to call home.
"Home is somewhere I can be safe, where my family and I don't have to worry about constantly getting kicked out," he said. "Having somewhere to cook, and having each other."