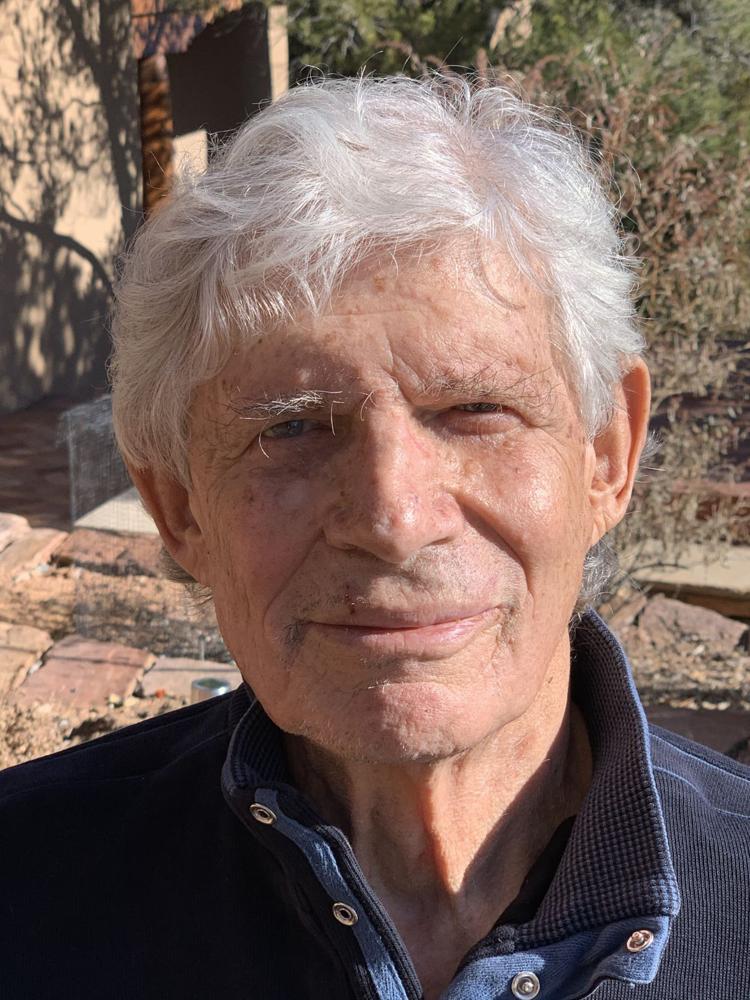 As states across the nation turn their attention to reopening their economies, a key fact seems to get lost: None of them has actually stopped the spread of the novel coronavirus.
A new COVID-19 dashboard launched Sunday by The New Mexican shows all 50 states have a positive rolling growth rate in the number of new cases, meaning the disease is still spreading everywhere. And as the nation moves closer to reopening its economy, the rate of spread will become even more vital to track, says a respected local scholar.
The newspaper has created the graphic in collaboration with Stuart Kauffman, an emeritus professor of biochemistry and biophysics at the University of Pennsylvania who was a MacArthur Fellow and lives in Santa Fe. The data can be viewed for any state in the U.S. and is divided by county.
"We have not stopped the virus in any state after four to six weeks of shutdown," said Kauffman, who was the first senior professor at the Santa Fe Institute and worked as a consultant for Los Alamos National Laboratory.
As the U.S. moves into a new phase of the pandemic — lifting public health orders while trying to temper a potential corresponding spike in COVID-19 cases — the dashboard can indicate whether the virus is being kept at bay or accelerating as the economy reopens, Kauffman said. 
More than half the states across the nation already have taken a patchwork of measures to start opening up their respective economies. New Mexico Gov. Michelle Lujan Grisham has instituted very limited steps so far, but the state could enter into a new phase as soon as this week that would allow the partial reopening of "nonessential" businesses, such as restaurants.
Since the novel coronavirus outbreak began, policymakers all over the world have publicized a graph encouraging people to "flatten the curve," so health care systems can handle an influx of patients caused by the disease. The graph, a version of which first appeared in a U.S. Centers for Disease Control and Prevention study, has circulated widely on social media and become emblematic of the world's response to the pandemic. 
But that graph and many of the daily COVID-19 case tallies reported by governments and the media focus on the total number of new cases per day. According to Kauffman and fellow scientists, it's the change in the rate of growth of the disease that is a more appropriate indicator of whether the economy can be reopened safely.
The growth rate graph can be read in the following way: If the percentage increase for COVID-19 cases for a given jurisdiction remains at the same or higher positive number over time — say, 20 percent per day — that means that area is experiencing "exponential growth" of 20 percent a day. That's akin to money in the bank that accumulates with compound interest. As it applies to COVID-19, it's something policymakers want to minimize as they reopen their economies. 
If the percentage decreases over time — 20 percent, then 15 percent, then 10, etc. — the rate of growth is slowing. That's known as a "logistic curve." To stop the spread of the disease, the rate must fall to zero.
Dashboard developed by Santa Fe New Mexican and Stuart Kauffman.
Currently, all 50 states have rates above zero.
In the coming weeks, the dashboard could potentially show spikes in the growth rates for states that have recently announced plans to reopen, suggesting the lessened social-distancing measures are leading to more disease, Kauffman said.
"Try your experiment. You'll see the effects about a week later," said Kauffman, who has published some 400 scientific articles and has been cited over 50,000 times. "If it's getting worse, go back to clamping down. If it hasn't changed much, open up a bit more." 
Lujan Grisham's office, the state Department of Health and the Department of Human Services did not respond to an interview request for this article. 
The data from the dashboard shows states' growth rates have slowed dramatically from their initial growth rate of about 20 percent a day since the start of social distancing in mid- to late March, a convincing indication that social distancing has worked, Kauffman said. 
New Mexico's growth rate was 23.5 percent on March 24, the day Lujan Grisham first put the state's stay-at-home order into effect, and it had slowed to 4.2 percent by Friday.
"You see in front of you, it really works," Kauffman said of social distancing. "We've got proof."
But countries and states are in danger of reigniting the quick spread of the virus if social-distancing practices are weakened as economies open up, Kauffman said.

A March study by researchers at the University of Sydney, including complex systems professor Mikhail Prokopenko, found the novel coronavirus could be brought under control within four months if all of the population followed social-distancing guidelines 80 percent of the time. 
Below that threshold, he said, social distancing does not work.

Video by Stuart Kuffman, Richard Startzman and Lynn Startzman
There also are wide variations in the state-by-state growth rates. For instance, Minnesota's growth rate has been accelerating and was at 8.4 percent a day as of Friday. That's a big contrast to Hawaii, where the growth rate has slowed to just 0.2 percent, according to the data. But Kauffman said that in both states, the disease can be considered to be growing exponentially.
New Mexico's rate was the 12th-highest in the nation as of Friday — greater than neighboring Arizona (4.1 percent), Texas (3.3 percent), Oklahoma (2.4 percent) and Colorado (2.6 percent).
One reason is likely the rampant spread in San Juan and McKinley counties, which include parts of the Navajo Nation and had rates of 6.5 percent and 4.6 percent on Friday, respectively. The statewide rate drops to 3 percent when excluding those counties. Santa Fe County's growth rate was just 1.4 percent. 
However, it's important to note that the growth rate data in the dashboard does not factor in the total number of COVID-19 tests performed per day in each state and county — data that is not readily available.
Not including that information can skew state-to-state or county-to-county comparisons because jurisdictions have varying testing capacities, said Dr. Jason Mitchell, the chief medical officer for Presbyterian Healthcare Services who is involved in New Mexico's epidemiological modeling efforts.
For instance, if a jurisdiction has 20 positive cases, that's a 20 percent positive rate if it tested 100 people. But it's only a 2 percent positive rate if the jurisdiction tested 1,000 people. 
Yet Mitchell said Presbyterian and the state do use rolling growth rates as part of the epidemiological modeling efforts that make projections about future case numbers and help officials make decisions about reopening the economy.
They also estimate the effective rate of transmission of COVID-19, a number known as "Rt" and similar to "R0," or "R-naught." If that number is above one, the disease continues to spread, while it is considered to be receding if the number drops below that level.
According to the modeling numbers released by the state last week, that transmission rate is highest in the northwestern part of the state, at 1.31, and lowest in the northeast, at 1.12.
The percentage of people who are testing positive also is much higher in the northwest part of the state — 15 percent of people who get a coronavirus test in McKinley County end up having the virus, while that number is between 1.5 percent and 4 percent in almost every other part of the state, Mitchell said.
Mitchell echoed the data showing the disease continues to spread across the U.S. and said he was "concerned" that states were opening up.
"It's a fallacy that we're over the hump," Mitchell said. "It's almost impossible to completely stop the spread."
The strategy in New Mexico, then, is to reduce the transmission rate to the lowest number possible and carry out widespread testing and contact tracing to stop the spread as much as possible, he said. 
Kathryn Hanley, a biology professor at New Mexico State University who specializes in virus evolutionary ecology, said using the total number of cases is still useful, for example, when determining how many hospital beds health care providers may need.
But using a rolling average of the percentage change in new cases is effective because it can smooth out spikes in cases that can occur in one day because of clusters in reporting, she said.
The growth rate also helps officials determine whether certain policies cause greater spread. And that's almost certainly going to happen once public health restrictions are significantly lifted, she said.
"Nobody tries to hide the fact that you're trading off the economy and public health here," Hanley said. "The more people move around, the more new cases there will be."