PEÑASCO — People just keep coming and going through the front door of Garcia's Store.
Peter Garcia, who runs the place with the help of his wife, Janet, in the village of Peñasco, greets each and every visitor by name as they come in.
He knows most of them, and those he doesn't know, he gets to know.
It's a store with values right out of the mid-1960s, when it was built. Garcia extends credit to those with no cash. He'll drive groceries to the elderly and impoverished who can't get into town. He says with pride that he's open 362 days of the year — excluding Easter, Thanksgiving and Christmas.
"We take care of each other here," he said.
It's that long-held sense of a tightknit community that keeps Garcia and others in this village of 600 confident that when the coronavirus knocks on the door, they will bond together and gut it out.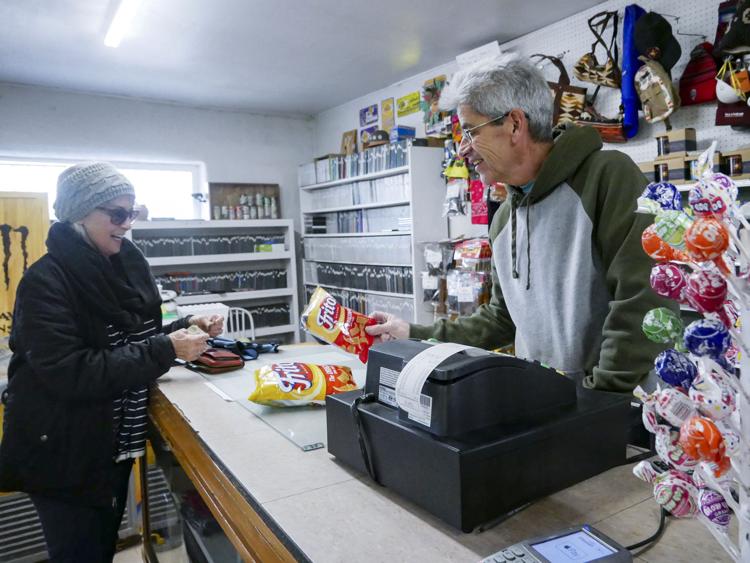 Their story, they say, is one as old as the West — the tale of a resilient community that sticks together in time of trouble, never letting anyone within its borders fall without trying to help them.
Then again, as the events of recent weeks have proven, this is a new world — even in a small town that seems a million miles away from Wuhan, China, or New York City or Seattle or Albuquerque.
"I don't think anyone is removed from it," Garcia's sister-in-law, Lorrie Garcia, said of COVID-19 as she looked toward the front door. "You could have people walk in here from somewhere else who bring it.
"But we're used to day-to-day living here. We do more cooking, more growing, than people in urban centers. We're used to taking care of ourselves. This community grew up together."
Randy Sahd, who runs a plumbing business and small hardware store and serves on the local volunteer fire department, agrees.
At 73, he has seen the community slowly grow and survive since the postwar days when the roads were gravel, dirt and mud. You were just as likely to see a wagon led by horses as a car or truck moving through the streets of Peñasco.
He and his dad used to haul 100-pound bags of grain, potatoes and livestock feed for customers.
"There was no such thing as a 10-pound bag in those days," he said with a laugh.
"We've survived a lot of other challenges here. We've faced a lot," said Sahd, whose mother lived to 98 before she was struck and killed by a truck in 2012.
He said the community doesn't have to rush out to big grocery stores to hoard groceries or dry goods because most of them have been trained by nature and their parents to stick out a rough, long winter without having to leave their homes.
He figures he has enough food on hand — beef in the freezer, vegetables he has grown and canned — to last at "least a month without hurting."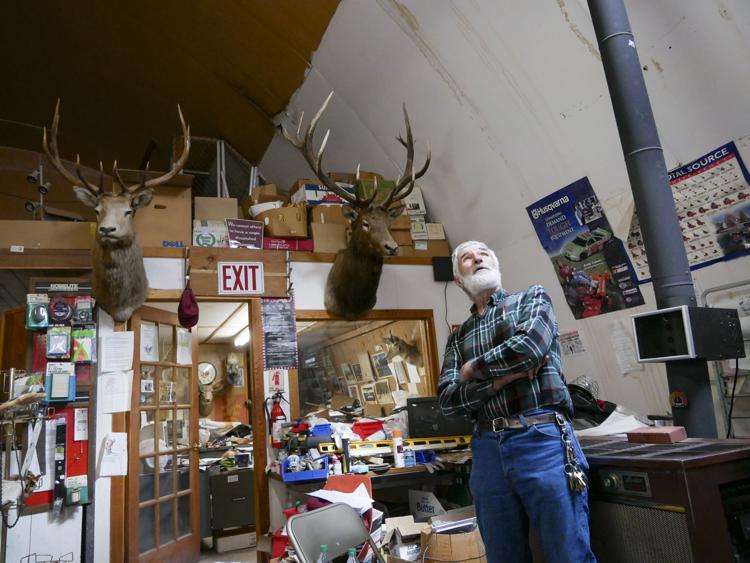 A hunter since his youth, he also has guns for shooting game and doesn't understand why anyone would suddenly buy such weapons to defend their homes from imaginary looters.
And yet that sense, he said, makes him think the COVID-19 scare eventually will affect his community.
"There's a paranoia that shouldn't be there," he said.
It is creeping into the mountain area, even in the way residents call Sahd, one of the area's first responders, to tell him they think they are experiencing symptoms of the virus — a fever, a dry cough, shortness of breath. He and other volunteer firefighters don personal protective equipment when dealing with such cases, most of which turn out to be less serious than the patients thought.
"It's like they're reading the symptoms off of a computer screen as they list them off to me on the phone," he said.
Peñasco, about 50 miles northeast of Santa Fe, has a lot of people who possess long memories. But maybe that shouldn't be surprising; history matters in a place that's been around since the 1700s.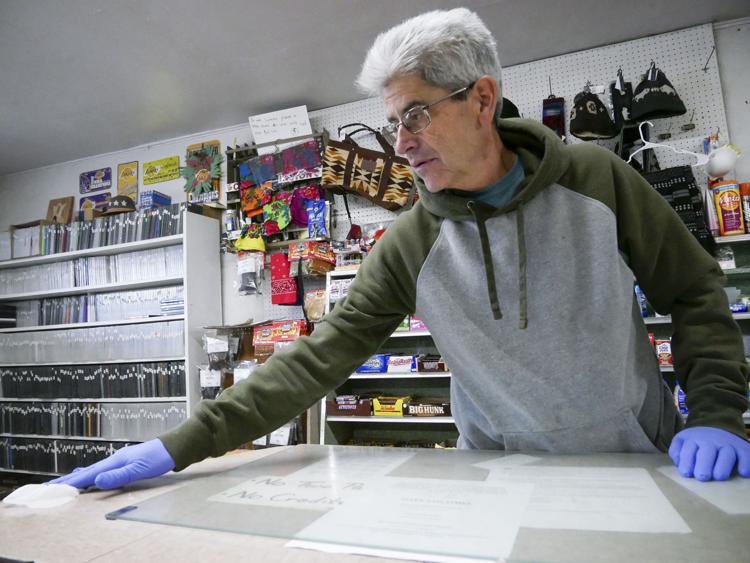 It's particularly key at Garcia's Store. Peter Garcia said his dad, Daniel, and mom, Delia, built the store in 1964 as a way to help serve the isolated community. Daniel died decades ago. Delia, in her mid-90s, still wants to hang out at the store and check the stock, but her children told her to stay away now — because of the coronavirus threat.
"She's not happy about that," Peter Garcia said.
And yet, in a place where many people pride themselves on living off the land, staying out of the way of other people and settling in by themselves — all benefits, one would think, when it comes to dealing with a health crisis like COVID-19 — such elements can actually inflame emotions, Sahd's daughter Nicole said.
"Isolation can work against you if you are walled in with it [the news] all day," she said. "There's so much news about it, so many updates, that people don't have time to process what it means yet."
Plus, the financial impact of the state's decision to first reduce the number of customers restaurants could serve and then, ultimately, close those eateries in an effort to stem the spread of the virus is already hurting, some say.
As of Wednesday — the day before Gov. Michelle Lujan Grisham announced the closures as well as other health and safety measures — the Sugar Nymphs Bistro, a mainstay of the village for 20 years, had let go two of its eight employees, said Yesca Sullivan, a server there.
"We were raised to practice survival," she said. "But I don't see us coming out of this the same. The economic impact in just one week is huge."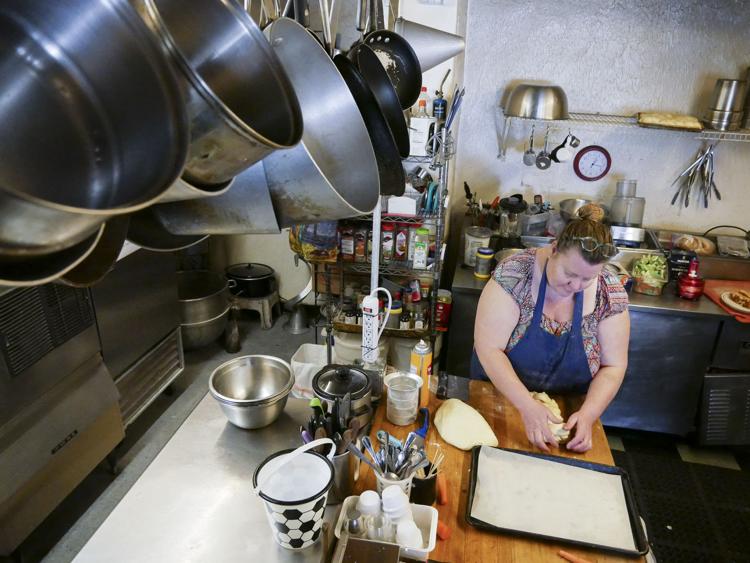 Still, most of Peñasco's citizens haven't felt the financial hit yet. Many work at jobs in Taos or Santa Fe or at Peñasco Independent School District or Carson National Forest. The school district is closed for a longer-than-usual spring break, but its employees remain on payroll. The Forest Service is still in operation, a spokeswoman said.
Still, the signs of change are there: At midweek, Garcia's Store and the nearby Family Dollar were out of toilet paper. Peter Garcia said it was the only item in the store that he ran out of fairly quickly following reports of people hoarding toilet tissue around the nation.
Some Peñasco residents who visit larger stores in nearby Taos, Española and Santa Fe said they see behavior they don't like from people desperate to get that last roll of toilet paper or fill their shopping carts with canned goods and frozen foods. Witnessing such acts in one of Santa Fe's chain supermarkets, Cecilia Corres, a retired educator who frequents Garcia's, said: "When I see that, I think there's panic. But when I focus on Peñasco, I don't worry."
She and others in the village see the virus as something they will endure if they are prepared and help one another. Sahd said he believes that, as with influenza, humans will adapt.
"Once you build up an immunity in a community, you can overcome it," he said.
Corres sees it as a "test to help us be more patient, a test to help us reflect on what is important, a test to learn how to unify our families," she said.
Peñasco has a small medical center in the form of El Centro Family Health clinic, which offers primary and dental care to locals. It can test for flu and other problems, though not the coronavirus.
The town's Catholic church, Iglesia de San Antonio, like others in the Archdiocese of Santa Fe during the crisis, is closed. In a place like this, that's a hard gap to fill, particularly during Lent.
And yet, even with the walls closing in around the world, tiny Peñasco seems to have its jaw squared and its boots planted firmly in the soil. It has been here for many, many years, residents say. It will be here years from now.
For her part, Lorrie Garcia isn't too worried. Her community, she said, will go on.
"We'll weather it fine," she said. "Life has its ups and downs, and we take each thing one at a time. If people stay positive, we're gonna come out of it all right."