ALBUQUERQUE — If it weren't for football, Donald Jones would be back home in Baton Rouge, La.
If not for the music program, Riley Florence would be hanging out with his friends in the Four Corners region.
Instead, they are living out a COVID-19 life in the dormitories, apartments and student residence centers at the University of New Mexico, and it's not what they bargained for. Since the fall semester began Aug. 19, they have yet to witness a bustling campus filled with fellow students, activities and events that make up the American college experience.
Their world? It is a trickle of classmates, the glare of a computer screen in a room that operates as both living space and classroom and the virtual elimination of large, in-person events.
University administrators say they strategically limited the amount of on-campus traffic to lessen the odds of a COVID-19 outbreak occurring. Only 4 percent of classes in the fall semester at UNM will be completely in person, and another 18 percent fall into the hybrid category in which students are in the classroom just once or twice a week.
But that also makes UNM's main campus feel more like a ghost town than the state's largest public university.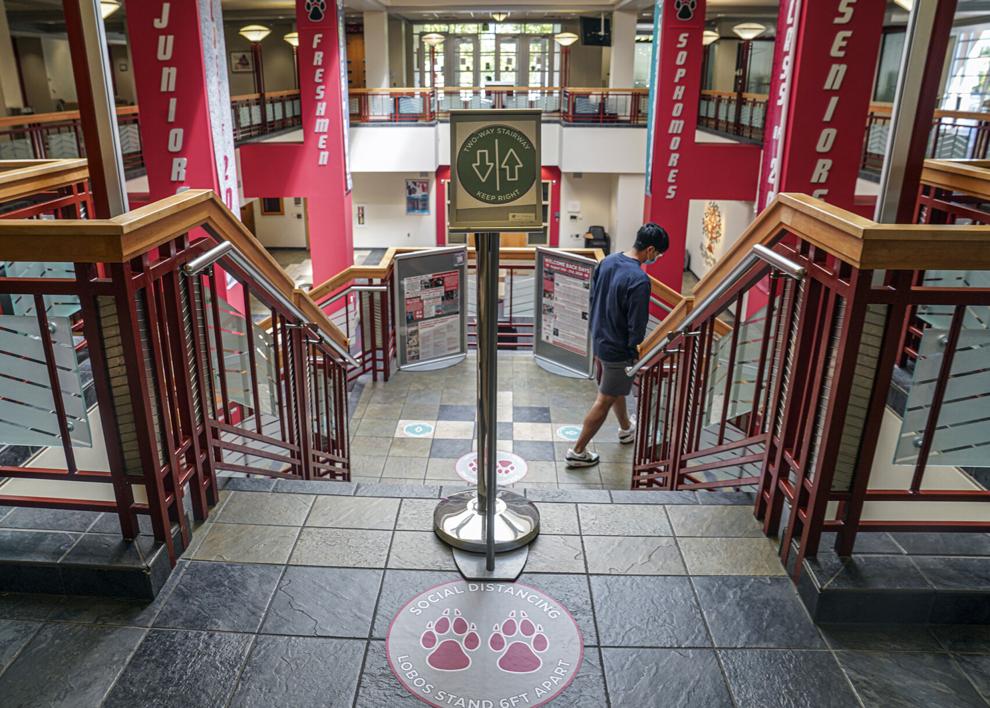 Jones said playing on the Lobos football team, which saw its season postponed to the spring because of the pandemic, is the only reason he is even in Albuquerque. Now, without games to look forward to and campus life that borders on antiseptic, he struggles to find a collegiate rhythm.
"It's boring," said Jones, a freshman. "I got football practice. All the freshmen football players stay in this one building. We all just game with each other. Sometimes, we'll go riding around, walk, watch the soccer games on Johnson Field [on the weekends]. But that's it."
Florence, a freshman from Farmington, said he chose to live on campus because he had to take an in-person choir class. Several friends were supposed to join him in the dorms, but they opted to stay home since their classes are online. So, Florence has found a new group of friends to socialize with and is trying to make the best of a difficult situation.
"It's very different, but considering what is going on in the world, it could be a lot worse," Florence said. "I could be sick. I could be in a hospital. So, it's nice that I know the university is taking precautions and make us safe as possible."
Safety has been a focus for university administrators throughout the country, including UNM, which in normal times would have about 22,000 students attending class. Fears of massive outbreaks on college campuses prompted most schools to go online last spring, and the opening of modified, in-person learning during the 2020-21 school year has been a mixed bag.
The New York Times reported earlier this month that college campuses have seen more than 88,000 coronavirus cases. The University of Georgia has 3,045 cases, the most of any school in the nation. Arizona State University reported 1,330; Texas Tech University 1,020.
New Mexico State University has reported 52 cases on campus.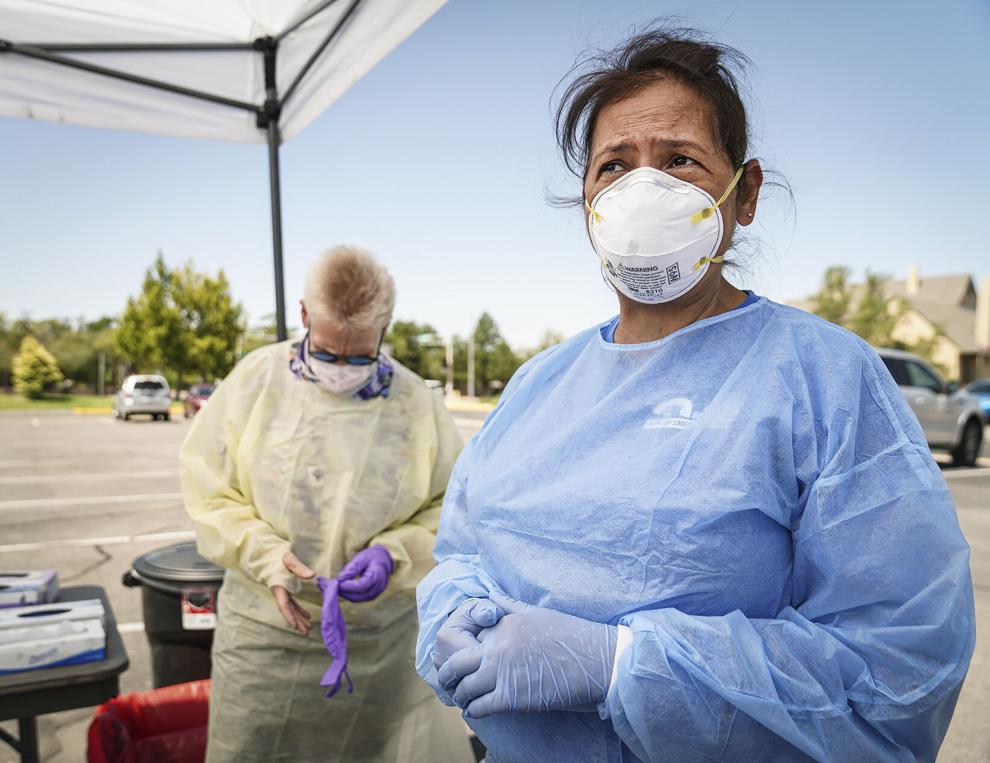 For now, UNM has been more fortunate. On Sept. 2, the school unveiled its COVID-19 dashboard to inform the public about the number of cases on its main and branch campuses. As of late last week, UNM had reported 39 cases overall, with 33 coming prior to Aug. 23. Since then, the main campus has reported one case, while its branches in Gallup, Los Alamos, Taos and Valencia County combined have five.
Perhaps helping UNM's low coronavirus figures is that most students live off campus. UNM spokeswoman Cinnamon Blair said the school is housing 1,012 students in its dorms and student residence centers, only about half its normal 2,000-student capacity. She added Casas del Rio, which is on campus but operated by American Campus Communities, has 566 students in its buildings.
Carla Domenici, UNM's director of finance and administration for strategic initiatives, was named the school's COVID-19 coordinator in the spring, and she formed a variety of task forces that involved every department for both main and branch campuses to help formulate a comprehensive plan. They helped create the guidelines and protocols that were used in the phased reopening plan.
"The success we have today is due to the leadership coming together and drawing on campus resources and developing a real collaborative network of people," Domenici said.
One reason UNM's count may be so low is that few students are ever on campus at the same time. At a Legislative Education Study Committee meeting late last month, President Garnett Stokes told lawmakers peak on-campus traffic would be no more than 1,100 students at any one period — noon on Tuesdays.
But even at midday on a Tuesday, the campus had a mostly deserted feel to it. Some areas had no more than a few dozen people milling about, and those often were classes being conducted outdoors.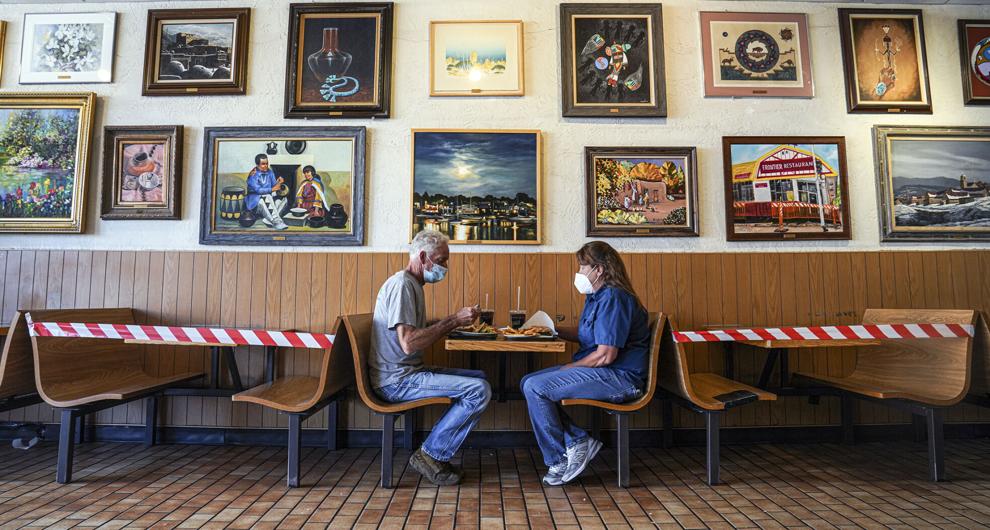 Peter Lisignoli, who was teaching a video production class outside, said instructors had to learn to be flexible in teaching both online and in-person classes because they can't be taught the same way. He said students' attention span is shorter in the virtual classroom, so he adjusted by breaking them into small groups for discussion and shortening his lectures.
Lisignoli said he took some of his in-person classes outdoors because that seemed safer than teaching in a building after reading and watching news stories.
"Frankly, I really like it," Lisignoli said. "I'll be teaching more outdoors when it's nice, even when the pandemic is over."
Still, there is a Stepford campus feel to it all.
Tables were spaced apart at the Student Union Building and had no more than two or three people at them. Buildings that house classrooms for the limited in-person instruction are open, but most others are locked to prevent visitors, especially toward the late afternoon.
Solidad Dominguez, a freshman from Moriarty, said she only saw about 50 people while walking to her first in-person class.
"For the times we're living in, it's normal," Dominguez said. "Anywhere else you go, it's like that. I don't think it's a good thing necessarily, but it's what's happening right now."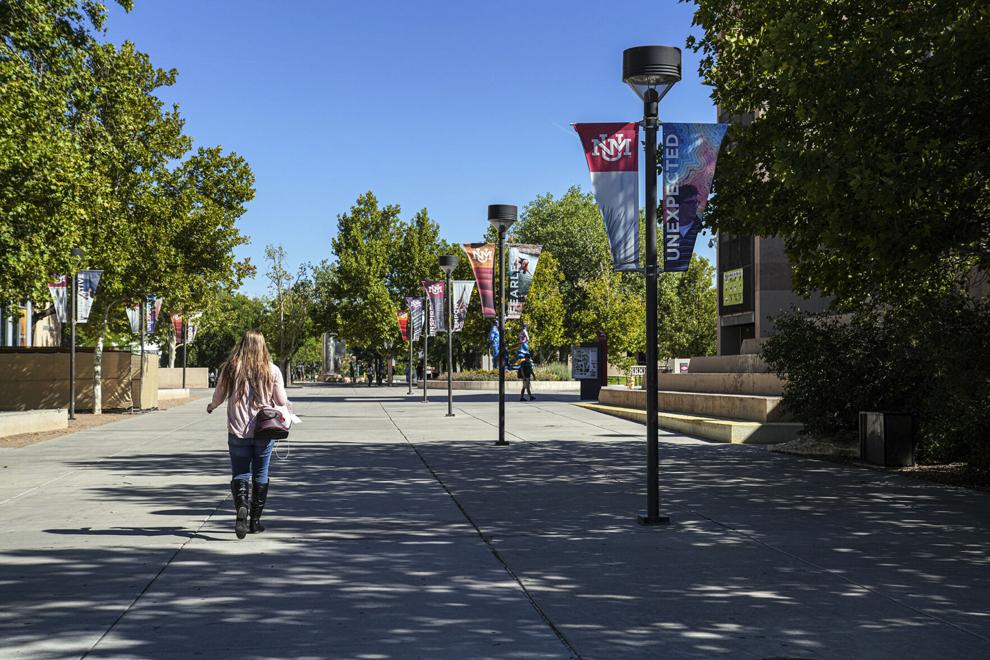 Stokes last month told legislators students receive daily self-screening surveys and are required to wear masks on campus. There is also a tent in the center of the main campus where students can receive coronavirus tests, as well as a COVID-19 hotline that can be accessed through the Student Health and Counseling Department. The dormitories, on-campus apartments and student residence centers are limited to single occupancy, and the school has isolation rooms in case a student tests positive.
Tiffany Martinez-Durant, the health and counseling department's health promotion and nutrition director, said students are bombarded with health information on social media — from COVID-19 protocols to mental health to healthy eating. There's even advice on dating during the pandemic.
James Wilterding, the interim executive co-director for the health and counseling department, said counseling and psychiatry sessions have increased in the fall, to the point that "we don't have a waitlist, but we're full."
Many of those sessions are done online, but the department also has in-person visits that comply with safety guidelines.
"It's been challenging for students," Wilterding said, referring to the pandemic and its effects. "We are seeing an uptick in those who are struggling with anxiety and depression that goes with the isolation and the unknowns the pandemic has thrown their way."
Despite those challenges, Florence said students are doing their part. Many students wear masks outdoors as well as indoors, and they usually congregate in groups of no more than three or four.
Jones, the Lobo football player, said the downside to all of the social-distancing measures is that it's harder to make friends outside his normal peer group of athletes. His solace has been UNM coaches' creation of online social functions, especially gaming competitions, that allow for players to get to know each other away from practice.
He said the best way to make friends during online courses is when instructors develop discussion groups for the students.
"In Zoom, they'll break us up into groups, but we'll just be texting each other," Jones said.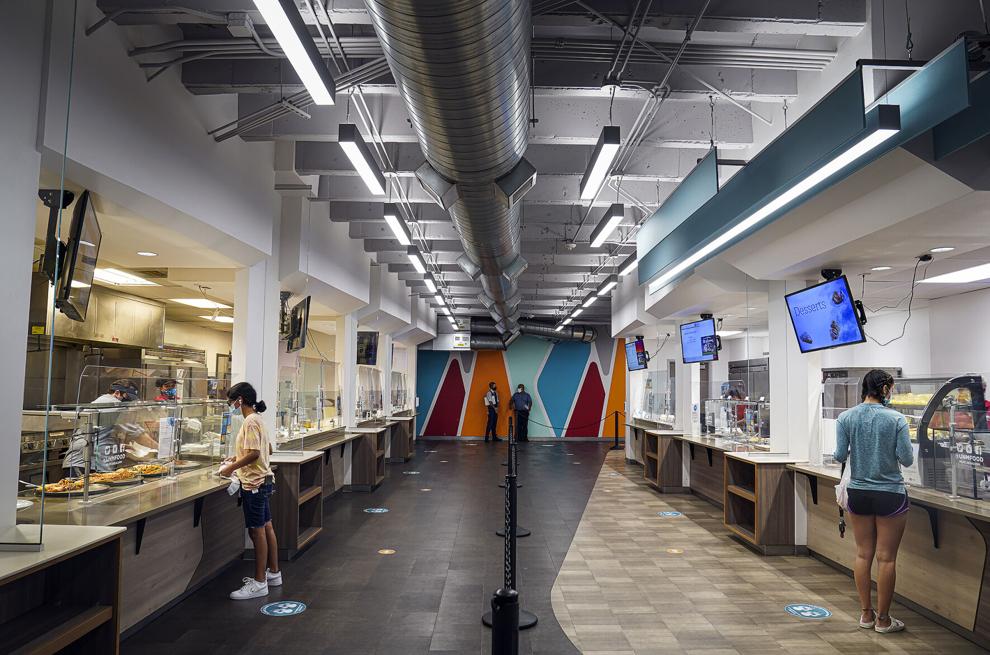 The busiest place on campus is the university's residence area. Students often gather at tables surrounding the housing office or make their way to La Posada Dining Hall. But even that's different.
Normally a busy hub where students eat, hang out and make friends, La Posada now serves as a conveyer belt for students to order their food and leave. Tables and chairs are blocked off by yellow tape and stacked near the walls.
Businesses near the university say they have seen a significant uptick in business since the start of the fall semester, but some owners admit it is nowhere close to how things were before the virus.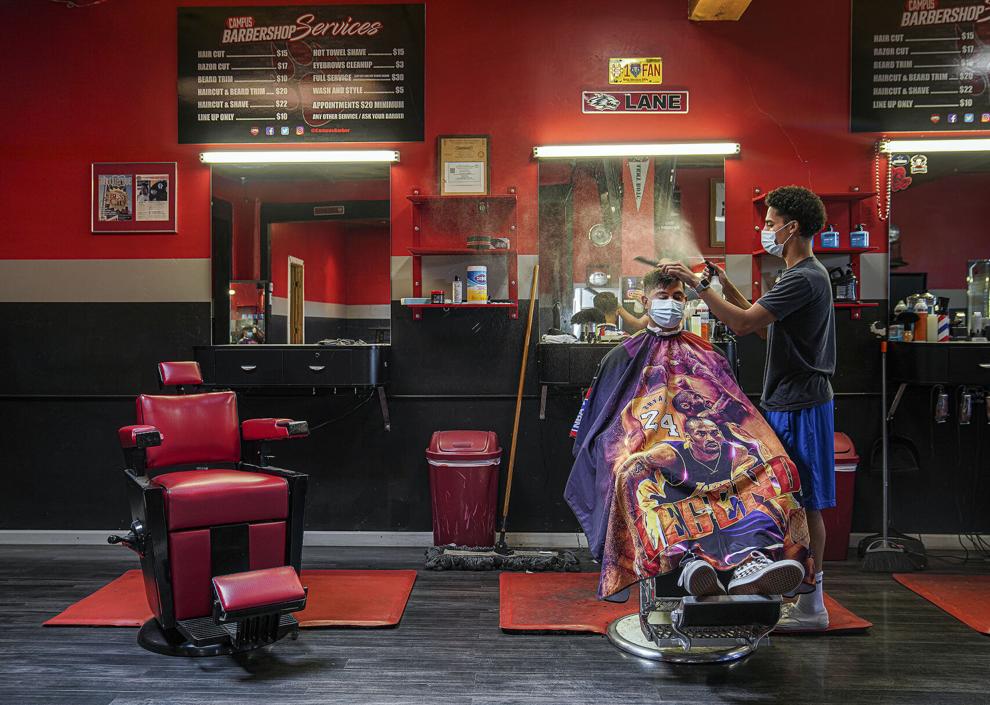 Domonic Orozco, who owns the Campus Barber Shop on Albuquerque's Central Avenue, said he usually had five barbers busy from opening to close. Now, it's just three. Customers sign up mainly by appointment, which cuts down on the amount of walk-in business so it doesn't violate the state's health order.
Volume has been hit and miss, Orozco said, and he's had former employees leave for greener pastures, often out of state. It has him wondering if he'll have to close the shop after 16 years.
"As a business owner, if we continue down this path, I'm going to have to make a tough decision in the next year," Orozco said.
Gian Casale, co-owner of Saggios, a popular pizza joint a short stroll from campus, said the restaurant survived a shutdown for a month and a half. But even a rise in takeout orders and the recent relaxation of the health order to allow for 25 percent indoor dining cannot make up for the lost revenue. He's hoping his place's popularity will bring people back and ease the pain — at least a little.
"It feels a little bit more like normal, but we're still getting just a fraction of what we used to," Casale said. "It has been different, but we are optimistic for the future. I think there is a hope that we will be back to normal, or as close to normal as we can get."
Florence, the choir member, said he doesn't venture out much, only leaving campus when he needs food. But from his dorm room window, he sees encouraging signs that fellow students are making the adjustment to COVID-19 life.
"At night is when there's a decent group of people out here," Florence said. "You can tell people are chilling out by the trees or sitting at the bench, laughing and having a good time."
Just not the time they expected.