Todos Santos Chocolates and Confections — a go-to downtown stop for loyalists of the cocoa bean — is closing shop and melting away Oct. 10.
The coronavirus economy has hammered owner Hayward Simoneaux since the first business lockdown.
"Business has been down 80 percent three months in a row," Simoneaux said.
His lease at Sena Plaza is ending, and Simoneaux said he sees no reason to renew.
"I can't invest in Christmas to have another coronavirus wave hit us and shut us down again," Simoneaux said. "It seems like the right thing to do."
Simoneaux has been evaluating the fate of Todos Santos since COVID-19 swept into New Mexico in mid-March. He has had the chocolate-and-other-stuff shop at the back of Sena Plaza since 1999.
"It has been kind of a process of shutting down for a couple months," he said. "When we reopened at the end of May, it was pretty grim. 'Give it through the summer,' I said. It would be the telltale thing. Summer was awful. My lease is coming up right about now."
Easter was perhaps the worst time for Simoneaux, falling on April 12, in the very depths of a lockdown.
"I lost all of my Easter chocolate," he said, adding that involved "hundreds of boxes" from France, Belgium, Italy and local artisans.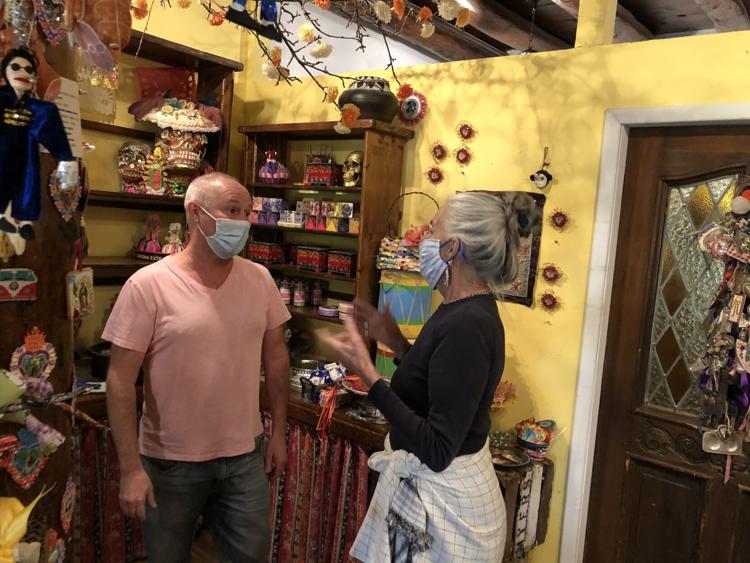 As Simoneaux talked about Todos Santos, actress Ali MacGraw wandered in, as she has for all 21 years Simoneaux has been in business.
"I like especially the incredible eye and imagination of Hayward," MacGraw said. "Almost on any given day I love almost anything here."
Simoneaux's dusted cocoa almonds especially made MacGraw swoon.
"Certainly coming in here is an addiction crisis," she said.
Before the pandemic, Todos Santos' business was 75 percent chocolate and 25 percent other items. Nearly all the chocolate has been gone for two weeks. The store is instead filled with an eclectic assortment of curios, ornaments, tchotchkes and some candies. Simoneaux's been retrieving much of it from storage.
Simoneaux does not have a post-Todos Santos life mapped out.
"My loose plan is to piece it together for a year, make a living somehow," he said. "In a year, maybe, reopen something different somewhere else."