Are timeshares a thing of the past with the proliferation of short-term rental services such as Airbnb and Vacasa?
Four timeshare communities sit in downtown Santa Fe, but they largely fly below the radar, with attention going to the name hotels and 1,561 short-term rentals, as calculated by Tourism Santa Fe.
"Clearly they have never established themselves to any significant amount in Santa Fe as they do in resort destinations in Mexico, Florida and Southern California," said Randy Randall, executive director of Tourism Santa Fe, the city's convention and visitors bureau. "I don't hear about them much anymore."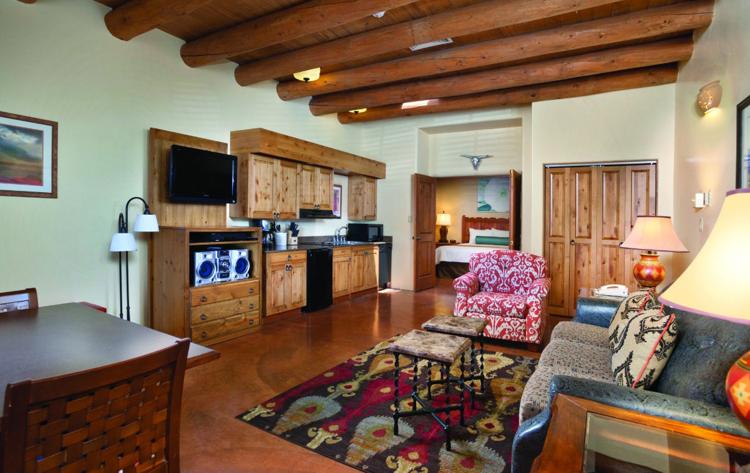 But chain-operated Villas de Santa Fe and WorldMark Santa Fe and independently operated Las Brisas de Santa Fe and Otra Vez en Santa Fe all say they have niche customers in the shadow of the hotels and short-term rentals.
"It has not affected us down here," said Suzanne Alba, general manager at Otra Vez, which is located above Collected Works Bookstore & Coffeehouse. "Our owners are not likely to go to Airbnb."
Timeshares have been around since the 1970s, mostly known as places where you owned a vacation unit for one-week stints per year for the long term. The industry has become much more flexible in the 21st century.
Timeshares now come in several flavors, and these variations are in play in Santa Fe.
Otra Vez offers old-school, one-week intervals, Saturday to Saturday. It has 18 units with 900 weekly intervals and 650 active owners. The other intervals are available for shorter-term rentals, Alba said.
Las Brisas is a blend of old and new. The 10-unit, 510-interval property with 350 owners on Galisteo Street largely still follows the one-week model. But since September, it has offered memberships to existing owners and new clients not seeking one-week ownership but rather to stay for shorter periods at Las Brisas or other members of Interval International, a membership services provider to the vacation ownership industry, said Jerry Rogers, who has been the managing agent at Las Brisas for 25 years.
Villas de Santa Fe is a Diamond Resorts property with 105 units and no time intervals. It sells points that can be used at any Diamond Resorts property, a concept the Las Vegas, Nev.-based company has had in place since 2007. A publicist said Santa Fe occupancy is up significantly .
WorldMark Santa Fe is a Wyndham Destinations property with 32 units. It also sells points that can be used at about 100 WorldMark resorts in the U.S., Mexico and Canada for as few as two nights. The Santa Fe location has nearly 90 percent annual occupancy and was rated in the top 10 by WorldMark point holders last years, Wyndham spokesman Steven Goldsmith said.

In a May 2019 report, the American Resort Development Association determined timeshares are a $10.2 billion industry, nearing its $11 billion peak prior to the 2008 recession. The are about 1,580 timeshare resorts in the U.S., with an average 129 units per resort, considerably larger than the mostly "boutique" timeshares in Santa Fe.
"Timeshares have so much more flexibility than they did 20 years ago," association CEO Jason Gamel said. "In general, one of the things people seem to enjoy about timeshares is the sense of community, being part of an entire system. They are professionally managed. Travel has become much more experiential. Timeshares offer experiences. It's like having a home away from home."
The association determined the national average age for timeshare owners across the country is 44, with 64 percent married and 11 percent earning more than $100,000 a year. The average price to own a one-week interval at timeshares across the country is $21,455.
"We're talking about vacations that go on year after year," Rogers at Las Brisas said. "I don't think you are going to buy a timeshare if you weren't doing a vacation there every year. Airbnb is for someone who doesn't want to be tied down."
Santa Fe skews older with its timeshare audience.
"I'm not sure 30-year-olds are thinking of a week in Santa Fe," Rogers said. "We have to find 30-year-olds that can make [the changing timeshare concept] work. What we're going through is the old traditional timeshare is evolving. What is changing is the ability to use a timeshare for two or three days."
"Timeshare owners tend to be older in age," Alba said. "You do have to be organized enough to plan two years in advance. That's what older people can do."
The timeshares from Diamond Resorts and Wyndham Destinations, however, are attracting younger generations.
Villas de Santa Fe has seen a 5 percent increase over the past three years and anticipates continued growth this year.
"We've seen a ton of growth lately, particularly among the younger, millennial generation," Diamond Resorts CEO Mike Flaskey. "Our members value their vacation ownership with us because we're able to provide amazing exclusive experiences that they simply can't find on typical vacations, along with quality resorts, customer service and flexibility."
Wyndham Destinations also is tapping into a younger generation.
"What might surprise you is that 60 percent of our newest owners are millennials and Gen Xers," Goldsmith said. "They obviously think that timeshares are a great vacation option."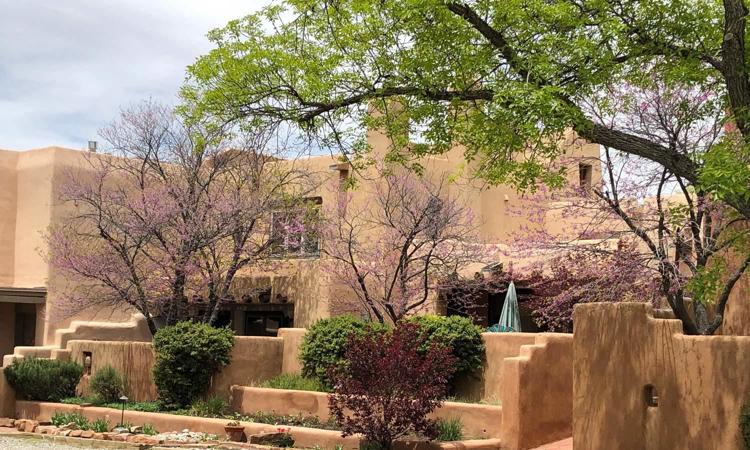 But Goldsmith acknowledges WorldMark Santa Fe stands out from the rest.
"WorldMark Santa Fe is not your typical WorldMark resort," he said. "We are a charming, boutique-style property set among rustic architecture in the surrounding neighborhood. This is a smaller resort than most."
Alba said numerous Otra Vez timeshare owners have made annual visits for 35 years. She said Otra Vez remains "very busy" with its timeshares and shorter-term rentals but acknowledges timeshares do fly under the radar in Santa Fe.
"A lot of people aren't aware of us," Alba said. "We are a little secret."