Spinoso Real Estate Group is bullish on the Santa Fe Place mall it acquired in 2014 and slowly filled up with new-to-the-market retailers like H&M, Forever 21, Francesca's and more than 20 other tenants.
A mall that was 70 percent vacant in 2014 is now 90 percent occupied, minus the anchor stores.
So far, Santa Fe Place has surfed the crest of the so-called national "retail apocalypse," which has rendered many malls to ghost towns.
Next in line at Santa Fe Place is a small food hall to join the national food hall craze, a ropes course and Rad Retrocade, a combined arcade games, restaurant and bar in the same location as the long-gone Jets Arcade.
"We're definitely looking back with people remembering Jets Arcade — 'I was 15 and loved this arcade,' " said Jim Schertzing, who became Santa Fe Place's general manager Jan. 1 after three years as the mall's security director and operations manager.
Alex Macias opened the first Rad Retrocade in Las Cruces in July and by December set his sights on Santa Fe. The 9,000-square-foot space will have arcade games for any generation from the 1970s, '80s, '90s up to now, general manager Scott Johnson said.
"There will be music videos from the '70s, '80s and '90s," he said. "There will be unique artwork to take you back to your childhood."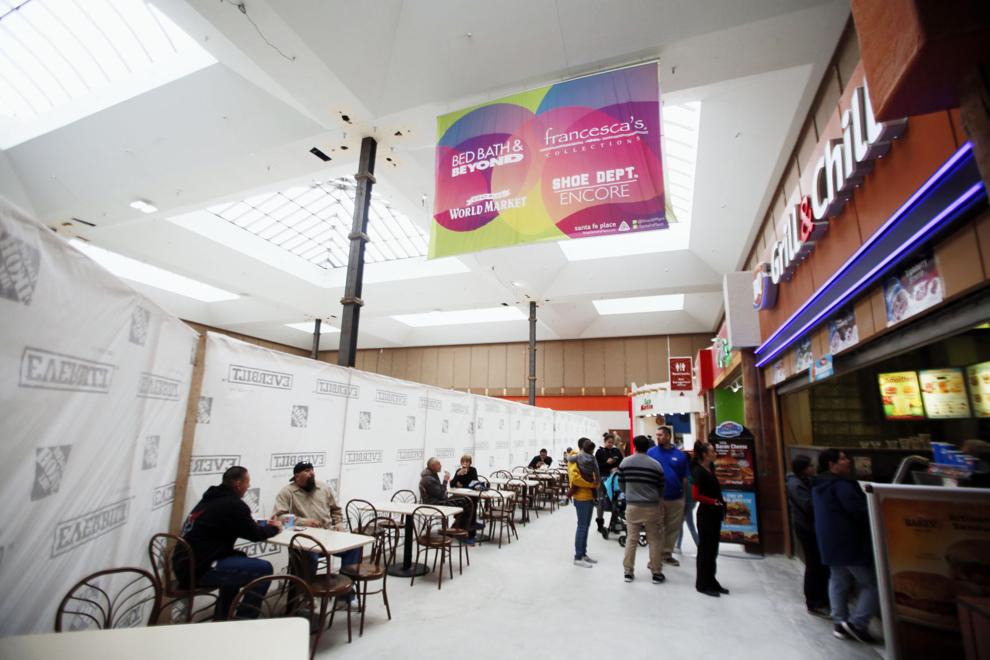 Rad Retrocade will have a full restaurant and bar so groups can split up. The menu will be American with some Southwestern, Johnson said.
The arcade design is still being configured, but Johnson anticipates 10 pinball machines and 50 arcade games and perhaps some pool tables.
"We think Santa Fe is a beautiful town and needs more entertainment," Johnson said.
The 35-foot-high ropes course will occupy 3,500 square feet of food court space where the carousel used to be, and the food hall vendors likely will be located between the paired pillars at the mall-side edge of the food court.
The mall will create a modern industrial feel with polished concrete and will supply utility hookups for potential food hall vendors. No operators are signed up yet.
"There are negotiations occurring," Schertzing said. "They all want it to be done before they come."
When these new features open toward the end of the year, it will bring to a close the first six-year chapter of turning Santa Fe Place into "a community space" — a term Schertzing and new marketing director Aimee Awonohopay Whitebear like to use repeatedly.
"Our five-year plan was ensuring we are future-proof and finding what the community wants," Schertzing said. "We don't want something in 2020 that will be dead in 2025."
Santa Fe Place is playing into the national script of mall evolution from largely clothing retailers and legacy department stores to a more anything-goes philosophy, anchored in entertainment, experiences and services.
In the 20th century, one mall was almost indistinguishable from another. Now, they are taking on individual identities, with operators deciding how to chart a course in a swiftly changing retail landscape as national retailers disappear.
Santa Fe Place's iteration is sticking with the traditional, largely clothing-oriented retailers while at the same time having eye exam outlets, hair and nail salons, a barber, military recruiters, a post office and a business offering lip enhancement surgery.
Santa Fe Place scored big wins by filling its Sears vacancy with Hobby Lobby in 2019 and reinventing the former Regal Cinema real estate as exterior-facing Bed Bath & Beyond and Cost Plus World Market.
Santa Fe Place is firmly rooted in its community space philosophy. The mall is where Zozobra is built before its annual public burning. The mall since 2017 also has staged the Fourth of July festivities and fireworks.
Some malls have filled vast vacancies with call centers or other office settings, and even schools that block off public access to large swaths of square footage. Spinoso so far has stopped short of that route.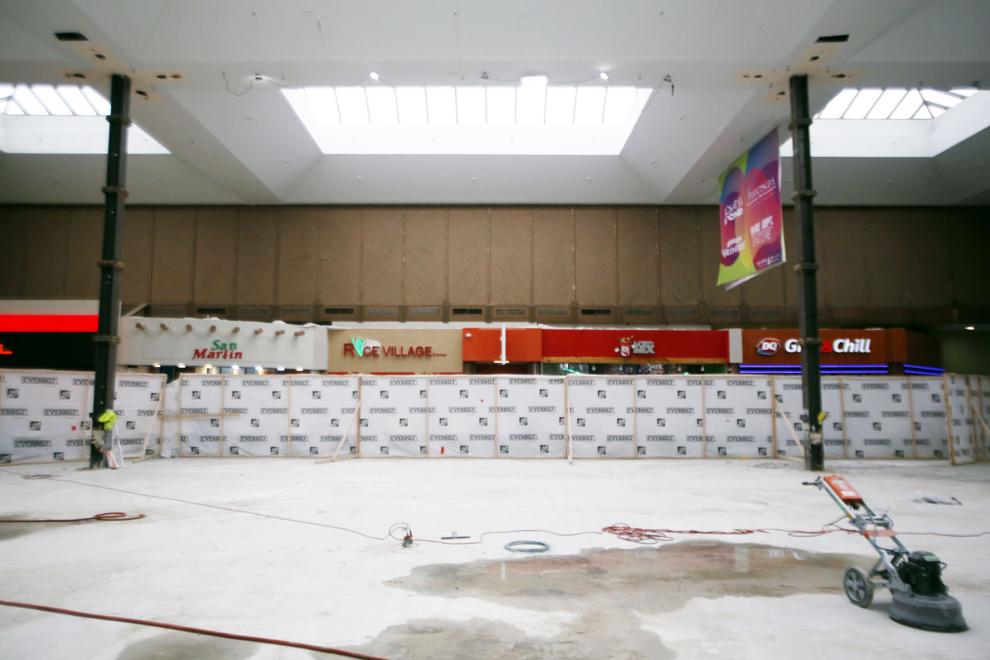 "It's a lot about having a place for people to come and go," Schertzing said. "A call center has no return. Spinoso wants to have people come to enjoy the mall. Spinoso's commitment is to being a community gathering space and bring events to the mall."
Santa Fe Place has remained fairly quiet about its improvements and plans in the past couple of years, and Whitebear acknowledges there's still a public perception that the mall is empty and dated. But Spinoso has spent more than $6 million in interior and exterior improvements to modernize its look.
"Now comes the marketing part of it," said Whitebear, who joined Santa Fe Place three months ago. "A lot of people don't know there have been a lot of changes at the mall."
Still unresolved is the 40,000-square-foot vacancy after Sports Authority closed in 2016 in what originally was a Mervyn's. The space has temporary uses six months of the year, including the construction of Zozobra, Schertzing said. A potential nonretail tenant is in the works for the space.
"There are things happening there but we can't talk about that," Schertzing said. "We should be talking about that soon."
He also was mum on the discussions going on with a potential tenant for the 4,000 square feet that adjoining Boot Barn relinquished as it reduced its store size.
It all circles back to the future of U.S. malls. Credit Suisse in 2017, in a widely repeated prediction, called for 20 percent to 25 percent of malls to close by 2022.
The International Council of Shopping Centers presently counts 1,170 malls in the U.S.
"Malls remain in a healthy state and we have not seen the closures predicted by Credit Suisse," ICSC spokeswoman Stephanie Cegielski said in an email. "We track the net number of malls back to 1970 and the figure has increased every year. Also, mall occupancy rates remain high at about 90 percent, which means the industry is in a healthy state."
Coresight Research CEO Deborah Weinswig predicted 1 in 5 department stores will close, online sales will double and shoppers will be more inclined to buy services than goods, but that doesn't mean malls are a relic.
"The U.S. mall is certainly not doomed, but it may look quite different in 2023," Weinswig wrote in Forbes in May 2018. "We expect to see malls focusing on quality experiences, a range of nonretail services and a greater mix of categories."