Sigma Labs is in the overnight-sensation stage of its 11-year existence.
Until the last years of the 2010s, the company's technology was "ahead of its time." But starting in 2019, the company's PrintRite3D technology has gained traction with major companies and investors.
Sigma Labs' revenue doubled from $402,500 in 2019 to $807,500 in 2020, and CEO Mark Ruport believes the company will "more than double revenue year after year" in the next three years.
As one of the few publicly traded companies based in New Mexico since 2017, Sigma Labs has raised $17.9 million in four stock offerings in 2020 and 2021 and more in previous years.
The company's PrintRite3D technology detects defects and irregularities in real time during the metal 3D printing process. Airbus, Mitsubishi and, as of March, Lockheed Martin each purchased one PrintRite3D unit to test the viability of the Sigma Labs product.
Each PrintRite3D unit sells for $100,000 to $250,000, depending on the size of the metal 3D printer. Ruport said Airbus could potentially buy 10, 20 or 30 units if testing is successful, and Mitsubishi could get "tens of units but I don't think it will be a hundred."
"All three have the capability to buy multiple systems as they go into production of parts with metal 3D printers," Ruport said.
Lockheed Martin's Space Additive Design & Manufacturing Center in Sunnyvale, Calif., is testing PrintRide3D to work alongside its metal 3D printing of satellite components, Ruport said.
He noted the Sigma Labs product could assure the quality of parts made for rockets, automobiles and human bodies.
About 30 to 40 PrintRite3D units have been sold to other companies in the past few years.
Sigma Labs increased from 19 to 30 employees since December, with the growth in Santa Fe from nine to 18. The company also has sales staff and engineers in Germany and the United Kingdom.
Company growth has reached a point that Sigma Labs may move out of the Santa Fe Business Incubator, where the company has been located since its founding in 2010.
"We are beginning to put together the requirements of a space," Ruport said. "We are going through the process of finding a new location. COVID is changing the way people work. We envision a new location for collaboration, demonstration and community work space, where people come in one day a week or once every two weeks. But it's not going to be a place where people come in every day."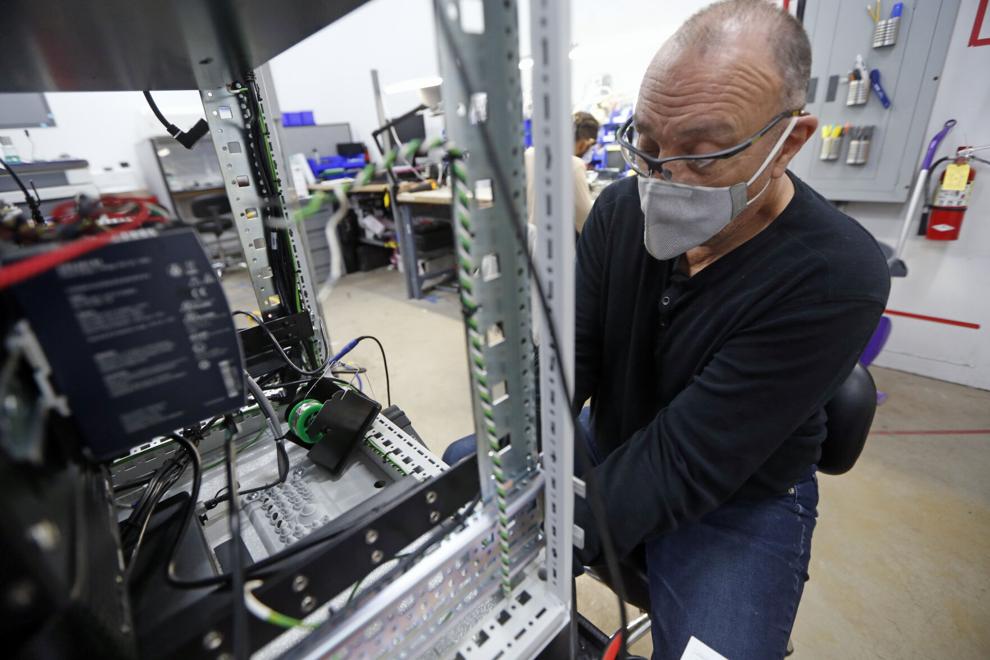 Ruport, who joined Sigma Labs in December 2019, said metal 3D printing was just starting in 2010 as Sigma Labs launched.
"The way I look at it is, we were ahead of our time," Ruport said. "We had a technology looking for a problem to solve. Those early years we learned a lot about the science and physics of solving the problem. If we would have developed this three years ago instead of eight years ago, we'd be in the same spot now."
Sigma Labs develops the PrintRite3D software and assembles it with third-party hardware.
"There are so many variables when you print a part with a metal printer that have to be measured," Ruport said. "How do you assure that they meet the requirements to make parts stronger, lighter and durable? We can predict if a printer will create a part with a defect."
Sigma Labs was already listed on the Nasdaq stock exchange in 2017, but Ruport said 2019 was the real year that a PrintRite3D prototype was produced and "we took it to market in 2020 during COVID."
"In 2021, we are reaping the benefits of being at the right place at the right time with the right product," Ruport said.
Investors are flocking to Sigma Labs, which had a $1.6 million stock offering in January 2020. That was followed by $1.5 million, $5.1 million and $9.7 million offerings in April 2020, January and March, respectively.
The new cash flow supports company expansion.
"It's one, to hire people to sell our software," Ruport said. "Two, support our end users. Three, expand our presence in Europe. We have the opportunity to change the face of manufacturing around the world."