Before you cry heresy, listen to what Miguel Villalpando, Fernando Ruiz and Arthur Martinson have to say about their chile importing business.
Yes, they import chile peppers from Mexico. To Santa Fe. And they just started distributing them to the first handful of Santa Fe restaurants.
One sure bet will be the Palace Prime Steakhouse when it opens in April, as Ruiz is the executive chef there after prior stints at Santacafé and The Lodge and Ranch at Chama.
"We want to bring in chiles that are not found in the U.S.," said Villalpando, owner and CEO of Nomada Goods, a company on Trades West Road that is just now starting chile distribution.
Nomada is focusing on individual small farms in the Mexican states of Jalisco, Oaxaca, Puebla, Zacatecas and Aguascalientes that Villalpando and Martinson visited to establish trade relations.
The chile varieties Villalpando, Martinson and Ruiz are focusing on are chile de árbol Yahualica from Manalisco, Jalisco, the only chile Nomada currently has in stock. Expected to arrive later in February: the guajillo from Zacatecas that could make up half of Nomada's business, plus pasilla mixe from Oaxaca and mulato from Puebla.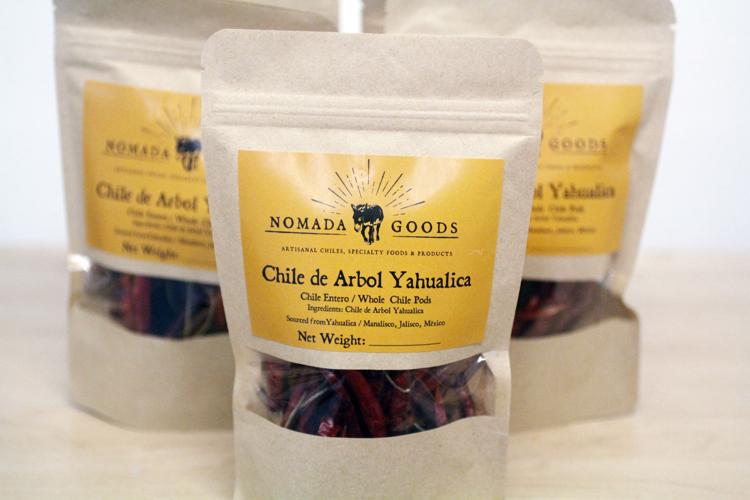 After the next harvest in August and September, Nomada plans to add pasilla seco from Aguascalientes, ancho from Puebla and Socorro green from New Mexico.
"It doesn't just have to be red and green," said Ruiz, a partner and brand ambassador at Nomada. "I have a passion for these chiles [from Mexico]. Right off the top is the flavor profile. They are so versatile."
Meow Wolf co-founder Vince Kadlubek believes in Nomada Goods. He and Santa Fe philanthropist Dan Perry invested $120,000 into the startup to help build inventory.
"I like the idea of bringing higher-quality chiles to finer restaurants in the U.S.," Kadlubek said. "Hatch green and red chiles will never be replaced. They have a certain flavor for New Mexico. For Spanish and finer Mexican restaurants who want to make a certain flavor profile, these chiles [Nomada is importing] are the best chiles in the world. We can always use a more dynamic flavor profile in our foods than the red or green we are used to."
Martinson lined up Kadlubek and Perry, recalling how Kadlubek "got me off the street when I was 18. He had a spare room." Martinson served Perry at Santacafé and got to talking about this startup chile importing business.
"First thing he asked me was we need to make sure it was all legit," said Martinson, Nomada's operating partner. "We already got it [legit]. We pitched it to him. It took about 10 minutes."
Villalpando said the first Santa Fe restaurants on board with Nomada Goods are Paloma, Coyote Café, La Boca and El Nido. He hopes to have Nomada chiles in 50 to 70 restaurants in Santa Fe and Albuquerque by the end of the year.
Paloma chef and partner Nathan Mayes said the Nomada imports add "a whole other layer to what we can do."
Typically, Mayes can only get limited quantities of small-farm chiles from Mexico, he said.
"As much as we love the Hatch chiles, I think diners and chefs are enjoying playing with more complexities," Mayes said.
Nomada Goods will make its
retail debut at the PMI store in Española. A product launch is scheduled for Feb. 21 with Ruiz in attendance preparing salsas and a dish. PMI will add the chiles to its product distribution runs across Northern New Mexico, likely starting in March, PMI CEO Eric Quintana said.
"Our goal is going to be 200 locations in Northern New Mexico," Quintana said. "We're going to be selling it retail [at stores] and bulk wholesale to restaurants."
It makes sense to Quintana to add the chile peppers to his loads of PMI's cleaning products and restaurant supplies. The PMI store also carries Pig Boy Willy Famous Carne Adovada Mix, Tsimayo Hot Sauce and Liddie Martinez's The Chile Line cookbook.
"My capitalist answer would be to enrich our sales because I think it's going to be a hit," Quintana said. "Chef Ruiz is quite hot right now. He has quite a following. The other reason is to help our Northern New Mexico neighbors."
Villalpando wants to pitch Nomada Goods to Whole Foods to test in Santa Fe and, ultimately, accept for national distribution. He also plans to approach co-ops in the region, Kaune's Neighborhood Market and possibly get a retail space at the Chomp food hall opening in Santa Fe around the end of February.
The chile import idea for Nomada began in 2015. While Villalpando was in Oaxaca that year, his chef buddies — James Campbell Caruso at La Boca and Kiko Rodriguez, formerly of La Boca and now at Izanami — asked him to bring back chile peppers from Oaxaca.
He quickly realized "this would be a pretty cool business." He researched chile peppers and discovered a large amount of the red and green used in New Mexico comes from other states, Mexico, South America even China and India. Ruiz and Mayes confirm much of the chile used in New Mexico restaurants is imported.
"I decided to work with specialty chile," Villalpando said.
He returned to Mexico in 2016 and 2017 and forged a relationship with the chile farmers' association in Manalisco, Jalisco, which ultimately led to the current release of the chile de árbol Yahualica.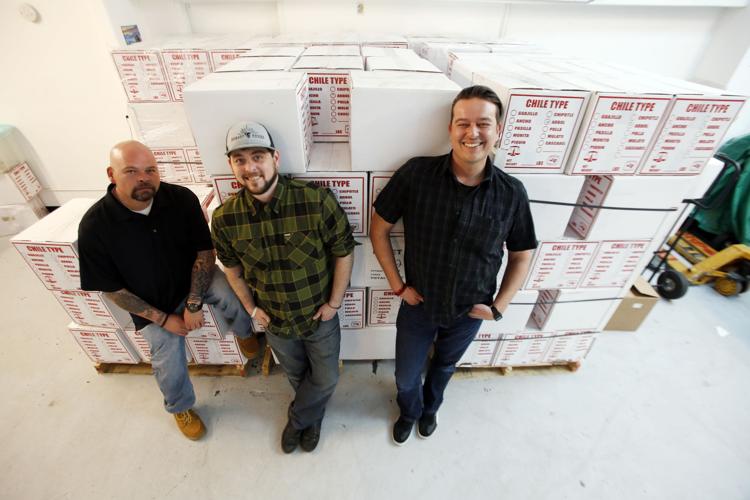 He quit his day job in December 2017 as La Boca's general manager to devote himself full time to Nomada Goods.
"It's a new frontier for me,"
Villalpando said. "I had this job for 10 years. I was comfortable. I wanted to get a little uncomfortable. It was time for me to embark on my own journey."
For his part, Ruiz is itching for Palace Prime Steakhouse to open, allowing him to continue the adventure with imported chile.
"I can use my kitchen as a laboratory," Ruiz said. "I have worked with these chiles all my life, but not straight from the farm because they are so hard to get."