LAS VEGAS, Nev. — Santa Fe, meet Las Vegas.
Or perhaps more accurately: Las Vegas, meet Santa Fe.
The much-anticipated opening of Meow Wolf's next permanent installation came to fruition in Nevada on Thursday as Omega Mart took center stage within the bright lights of a big city that offers plenty of competition for the entertainment dollar.
But if day one was any indication, the new kid in town will be all right.
Omega Mart, the anchor tenant at Area15, a collection of other experiential entertainment venues, sold out for at least the first five days, even as the fabled Las Vegas Strip seems like a ghost town in the COVID-19 era.
"It's our proof that Santa Fe is not just a fluke," said Corvas Brinkerhoff, one of Meow Wolf's original founders and executive creative director of Meow Wolf Las Vegas.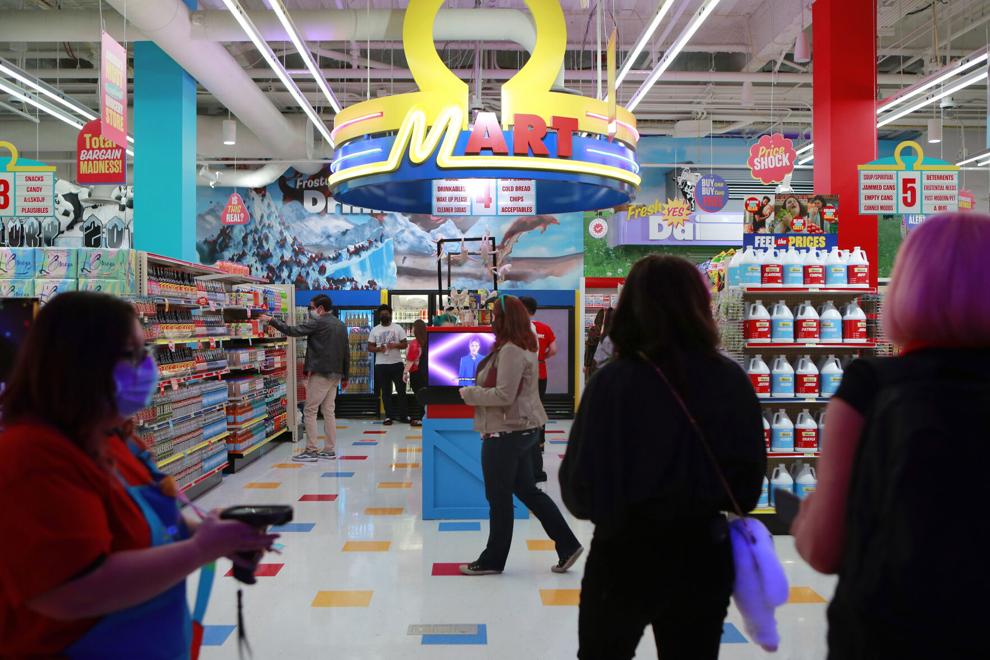 As became commonplace in Santa Fe, when Meow Wolf began drawing seemingly endless lines of visitors to a onetime bowling alley on Rufina Street, the art collective's new offerings perplexed and fascinated its first visitors.
"It's incredible, but it's weird," said Kathy Ikeman, who was finishing up a visit to Las Vegas from Minneapolis. "There's so much to see and take in."
Omega Mart fills one-third of the 135,000 square feet of immersive entertainment experiences within Area15's 200,000-square-foot structure.
Walk into Omega Mart and you might think you are in a supermarket of a bygone age. Multicolored floor tiles speak vaguely of the 1950s, as does the packaging for products with names like Lil Meow and Health Wolf pet food.
But walk around for a moment, and a futuristic twist on a grocery store memory becomes sensory overload as the back of the store offers eight portals to an alternate reality. That includes entering a glass-door beverage cooler (reminiscent of walking through the refrigerator at Meow Wolf's House of Eternal Return in Santa Fe) and coming out the other side in another dimension.
The Omega Mart concept dates to Meow Wolf's beginnings in 2008, when the group staged its first offerings in less than 1,000 square feet of a warehouse on Hopewell Street. This time, the artists had 52,000 square feet to play with, nearly triple the square footage and seven times the cubic footage of Santa Fe's Meow Wolf.
What makes a grocery store the perfect fit for Las Vegas and Meow Wolf's first expansion?
"Everyone has had the experience of walking into a grocery store," said Emily Montoya, senior vice president of brand, creative director of Omega Mart and one of the group's founders. "Everybody has a notion of what to expect. We turn it on its head and show the weirdness of it."
Though she's the creative director, Omega Mart was no less a discovery for Montoya this time around.
"There are rooms I only saw last week," she said. "I didn't know what was happening in them."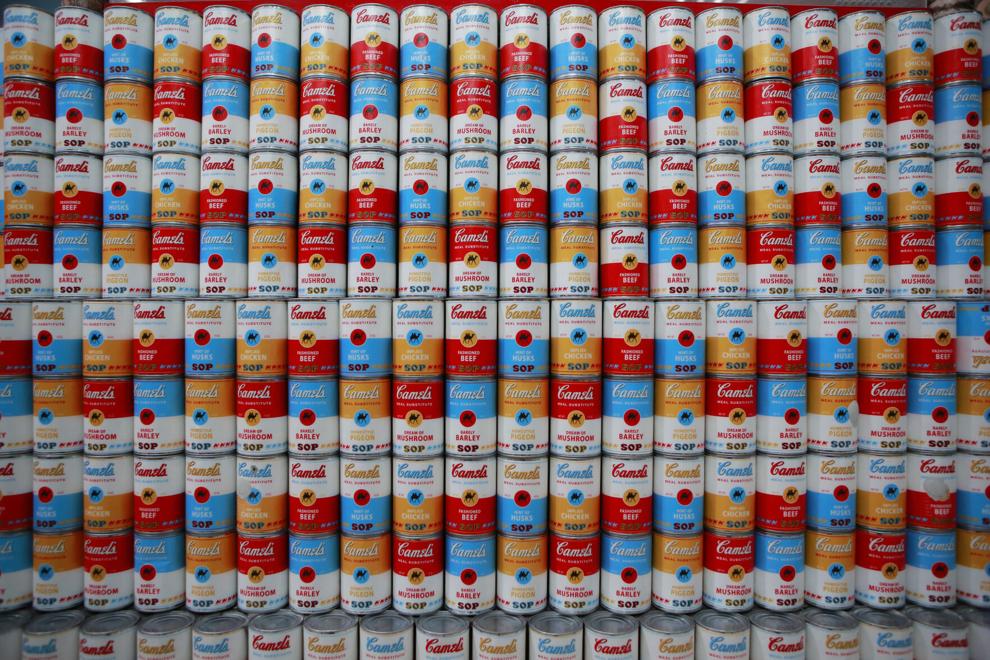 Everything at Omega Mart is part of a bigger story that visitors can unravel as little or as much as they want. But it's clear that in the five years since the House of Eternal Return's opening, the company has progressed leaps and bounds with technology.
Each Omega Mart visitor is issued a radio frequency identification, or RFID, card that can be used to access story clues throughout the exhibit.
"We certainly don't want to hold people's hands in the experience, but people do appreciate a few clues," said Joanna Garner, Meow Wolf's senior story creative director. "In this space, we have done a better job in pointing where the story is going."
Las Vegas resident Karl Knaul, who was using his RFID card to get clues Thursday, took a moment to compare the Vegas expansion with the House of Eternal Return, which he has visited.
"They're both beautiful in their own way," Knaul said. "They both get you lost. In today's world, you need to get lost."
Beyond the grocery store, the Omega Mart experience takes visitors to the corporate offices and factory of the fictional Dramcorp — a "cyber-spiritual corporation that creates technology to open the possibility to move groceries to other worlds," in Montoya's telling. In all, there are four vast, themed areas and 60 unique environments created by more than 325 artists in Santa Fe, across the country and around the world.
"It didn't feel right to have a typical factory," said Spencer Olsen, creative director of Omega Mart's factory. "Ours is the mining of metaphysical energy infused into more terrestrial items."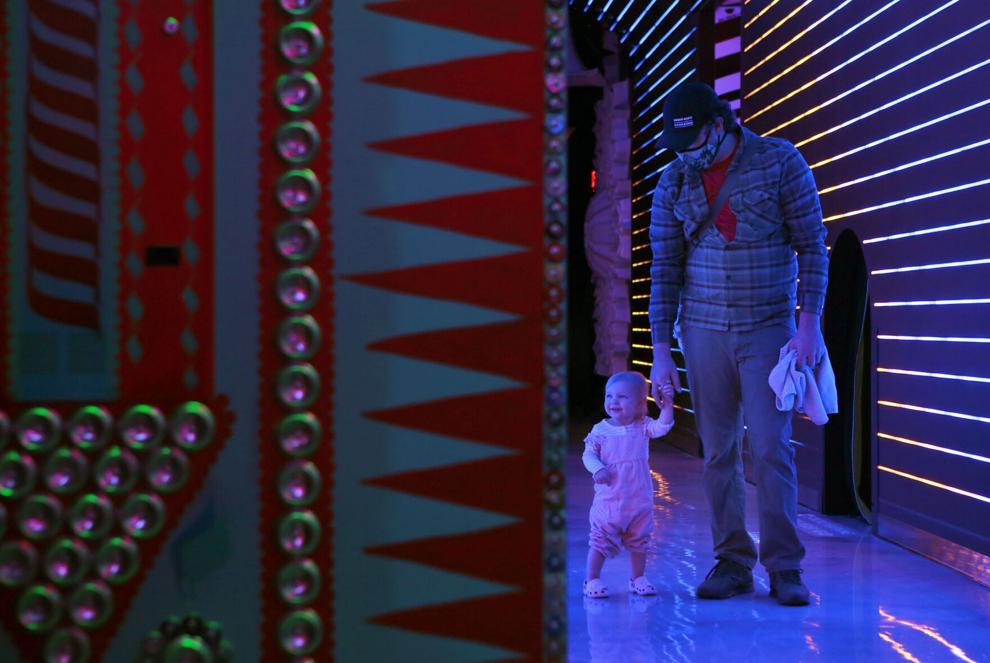 The glass-door cooler portal at Omega Mart leads visitors into a parallel dimension with a projected desert. Meow Wolf created a box canyon reminiscent of the Jemez Mountains, and artists crafted a 20-minute video loop that projects onto the canyon walls.
Musician Brian Eno, whose former band, Roxy Music, was inducted into the Rock and Roll Hall of Fame, composed the music for the projected desert. The soundtrack throughout Dramcorp is reminiscent of Blade Runner and Blade Runner 2049.
Meow Wolf House of Eternal Return became an immediate international phenomenon upon opening in March 2016. By summer 2017, Area15 CEO Winston Fisher and Chief Creative Officer Michael Beneville were traveling to Santa Fe to take a look.
They had a vision to create an immersive entertainment experience on expanses of land the Fisher family had owned for decades. Ground already had been broken, but no tenants were signed.
Basic commitments were made in November 2017, and Area15 and Meow Wolf announced plans for Omega Mart in January 2018.
"Meow Wolf became our first tenant," said Dan Pelson, Area15's chief operating officer.
Meow Wolf takes up nearly all of one long side of the rectangular building. Area15 has since added other immersive and virtual reality attractions with names such as Wink World: Portals into the Infinite, Oz Experience and Haley's Comet, among others.
"You can certainly tell people are seeking distraction and diversion," Pelson said. "When people walk through the door, you can see their faces and body language change."
He also added: "Meow Wolf is clearly the anchor."
Las Vegas has created nouveau entertainment for more than 70 years. But Area15 and Meow Wolf are adding a new dynamic to the mix.
"The Strip is about experiences, but they are all replicas of other experiences," Pelson said. "What we are about is authenticity."
Correction: This story has been amended to reflect the following correction. A previous version of this story incorrectly referred to Dan Pelson as the CEO of Area15. He is the chief operating officer.