You've heard it before — first, when Bishop's Lodge Ranch Resort & Spa closed in 2015 for renovations.
The work would take 1½ years and the revamped 1920s getaway a few miles north of Santa Fe would reopen in 2017. Then there essentially was only radio silence — and no construction.
Owner Richard Holland now is emerging to say Bishop's Lodge will reopen in August 2020.
What's different this time?
Construction finally started in early July after being stalled for three years.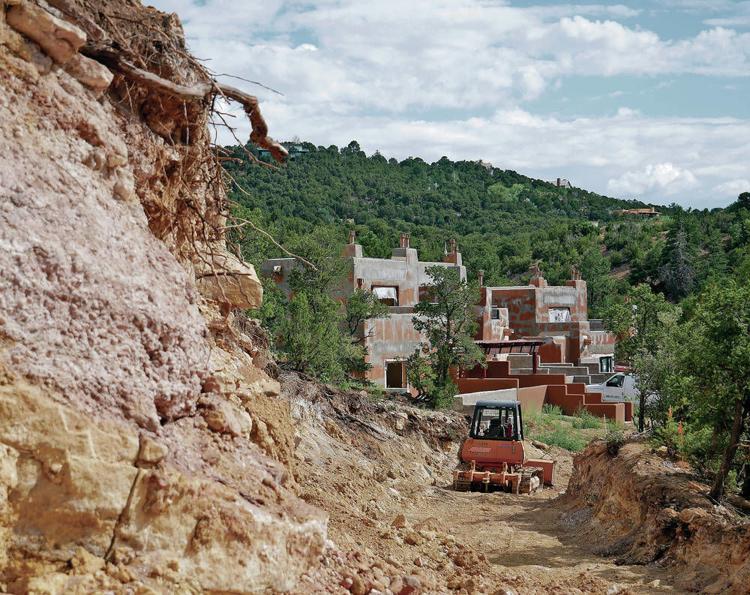 Holland sums it up year by year for what he now is just calling Bishop's Lodge:
• Year one (2015): Design.
• Year two: Finalizing governmental entitlements and approvals.
• Year three: Seeking financing and construction crews.
• Year five: Finally, construction begins.
Banks would not touch the project in the much-tighter post-2008 lending market. Holland finally found private equity lender Fortress Credit, a section of Fortress Investment Group, to finance the project, estimated at $70 million.
Lining up a construction crew also took three years in an era when more than 70 percent of the industry since 2013 has reported challenges in hiring qualified workers, according to the Associated General Contractors of America.
"It look longer (lining up financing and construction crews) than it's going to take to build it," Holland said.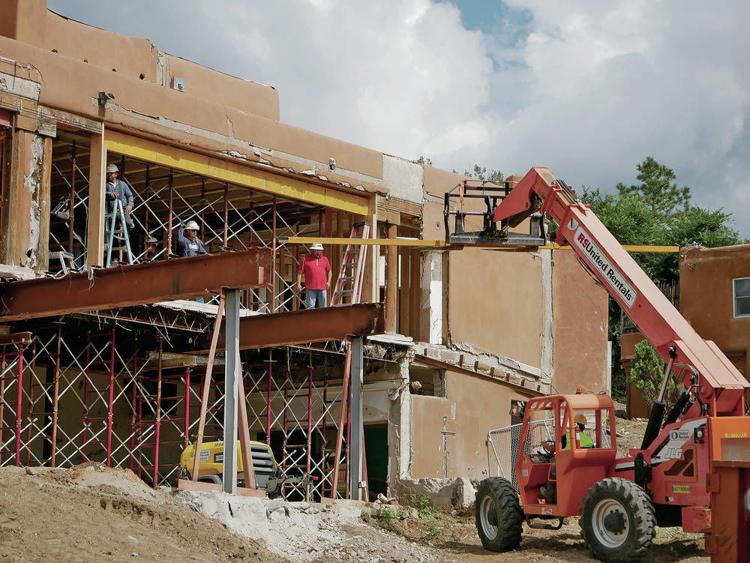 Every structure at Bishop's Lodge is getting heavy-handed attention.
Six guest room buildings were demolished.
Thirteen buildings are getting extensive renovations — including the Main Lodge, which started as a home for members of the Pulitzer family in 1915, and the Archbishop Jean Baptiste Lamy Chapel built in the 1860s.
Twenty-two new structures will be built, including 12 three- and four-bedroom vacation homes.
Holland, president of Atlanta-based HRV Hotel Partners, bought Bishop's Lodge for "10-ish" million dollars in August 2014 from Ares Management, a Los Angeles-based asset manager.
The room count will increase from 88 to 120 with the increase in guest room buildings and the new vacation-rental homes.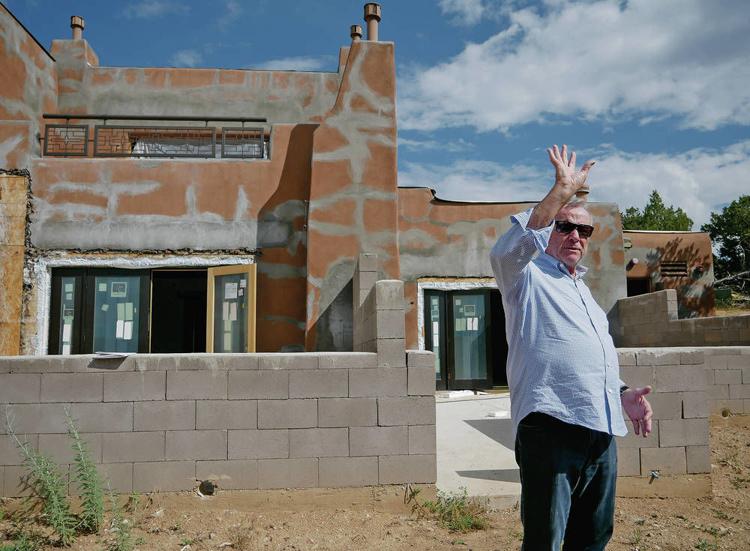 New Mexico has no AAA Five Diamond hotels — the highest rating by the auto club. The new owner of the Rosewood Inn of the Anasazi in downtown Santa Fe has declared he will seek Five Diamonds.
But Holland is coy about his Five Diamond ambitions.
"I wouldn't be surprised if we achieved it," he said. "We are just trying to achieve a place people would like to go."
Holland brought on Auberge Resorts to operate Bishop's Lodge. That company operated the Encantado, the only AAA Five Diamond hotel New Mexico has had from 2009-11. It is now the Four Seasons Resort Rancho Encantado Santa Fe.
Holland said he is reimagining Bishop's Lodge. People familiar with the old place will still recognize it — but at the same time will have to get used to something very different.
"We want to preserve the soul and character of what was here and update it to be relevant to the contemporary travel market," he said. "It had gotten out of date. We are providing the quality and amenities and experiences that the high-end leisure travel market demands without detracting from the soul and character of Bishop's Lodge."
Among other things, that will mean:
Car entry: The road will go straight from the gate to a circular approach to a new reception building. No more circuitous road to the north side of the lodge.
Electric carts: There will be more than 100 electric carts to transport passengers everywhere. Cars will be left at the western perimeter.
Reception building: Guest check-in will be in a new 1,000-square-foot reception building. "A mini-Santa Fe Plaza" will sit between the reception building and the Main Lodge.
Main Lodge front facade: A cafe, boutique and studio gallery will be added to the front of the Main Lodge.
Inside the Main Lodge: The dining rooms and lounge will have indoor and terrace options. A wine tasting room will be added.
Two of the bigger new buildings: Construction is starting in August on a 12-room bunkhouse that looks like a barn and the 14-room Sun Meadows building.
The event green: a flat lawn will be added outside the event center for outdoor events.
The wedding green: A flat lawn will be added outside the Lamy Chapel for outdoor weddings.
Trout stream: A cascading trout stream will be added, alongside the 12 new three- and four-bedroom vacation homes.
Porches: Porches with half walls for some privacy are being added to ground floor units in existing guest room buildings.
"Everything should be about indoor-outdoor living," Holland said.
The Main Lodge will be both different and similar. The check-in desk will be gone and there will no longer be guest rooms in the building, as that upstairs space will be converted to offices. The lounge will extend into where the gift shop used to be.
The Lamy Chapel will still be the Lamy Chapel.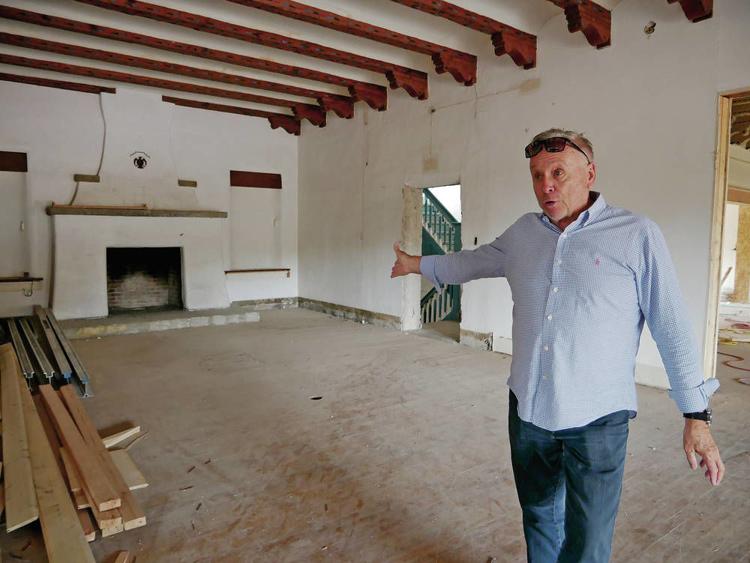 Holland grew up in west Texas and his mom often brought him to Santa Fe for holidays and vacations. He has since moved on to Atlanta and developed 35 to 40 hotels, including building the first 10 Hilton Garden Inns.
Holland does not own or operate hotels — except Bishop's Lodge, of which he intends to retain ownership, with Auberge Resorts operating it.
Holland most recently completed construction of The Cape and The Resort at Pedregal, both in Cabo San Lucas, Mexico. He is in the design and planning phase for hotels on the University of Colorado campus in Boulder and in Jackson Hole, Wyo., Napa Valley in California and Todos Santos in Mexico.
Bishop's Lodge stands out from all his projects over the years, he said.
"This is a personal love hotel," Holland said. "This is the one closest to our heart."