The Bishop's Lodge is nearing a July 1 reopening of what is now a luxury resort operated by the Auberge Resorts Collection with nightly room rates north of $1,000.
Owner Richard Holland had talked of opening in 2017 and August 2020, and travel media around the new year reported a planned spring opening, but now the resort is set to open July 1. Bishop's Lodge started taking reservations in mid-February.
"I'm not good at predicting the future," Holland said. "You have to build with what you can get."
For Holland, that was getting cash and construction crews. And, more recently, timing an opening when enough confidence in travel is restored to bring visitors willing to pay top dollar for accommodations.
The nationwide construction worker shortage plagued the project for three years. Work finally started in July 2019, and then the coronavirus pandemic slowed progress even more.
Holland acquired the property in 2014. Since then, he has been working in design, permitting, spent a couple of years assembling financing and construction crews, and now a couple of years on construction.
"It couldn't have been worse," Holland said of the property's condition when he acquired it as it was still operating. He shut it down in 2015. "The piping for the water and sewer had to be replaced. It takes a special level of insanity to put yourself in that level of difficulty."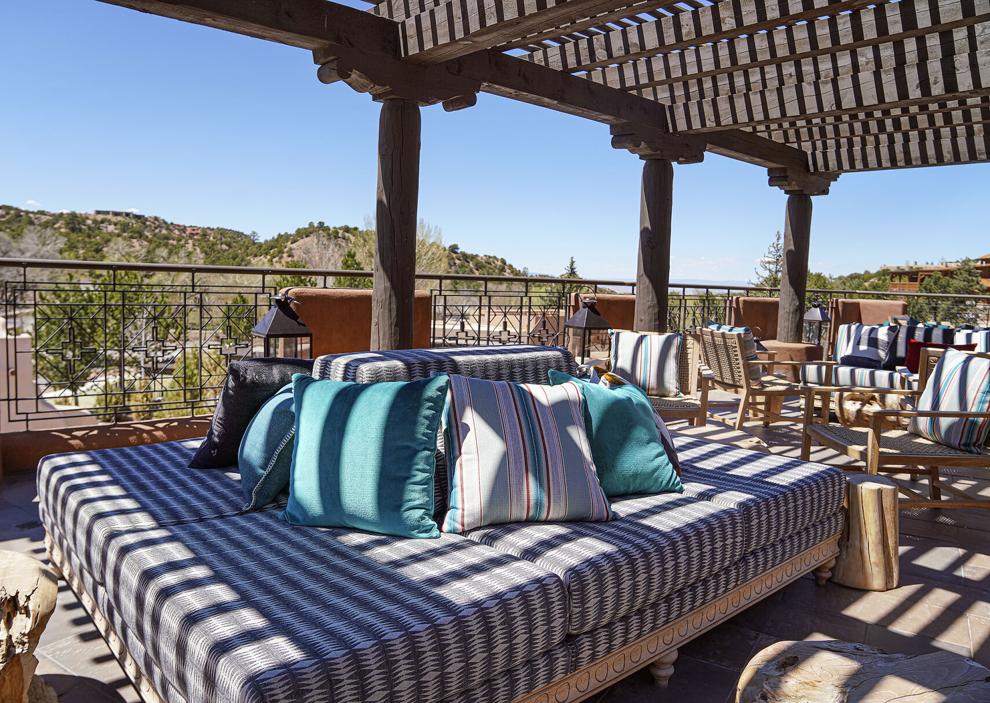 Bishop's Lodge has 100 rooms for high rollers — or families, even multiple families traveling together to split the cost.
The lowest rate on some weeknights is $949 per night; the lowest weekend rate is $1,139, occasionally $1,029. The Kiva Suites sleep two and can range from $2,389 to $3,299 per night. The Lodge House two-bedroom suite sleeps four for $2,959. The 12-bedroom bunkhouse costs about $11,000 a night.
The 9,945-square-foot bunkhouse has a 30-foot-tall great room flanked by two levels of rooms.
"What people are booking most are large suites for families — the casita suites and the bunkhouse," Bishop's Lodge General Manager John Volponi said. "Families are really reconnecting this summer. I'm about 25 percent full for my opening month [as of April 23]. August is a little more. I've very pleased with the early booking."
The nightly rates are similar and even higher than Santa Fe monthly housing rents that are considered astronomical.
"You have luxury travelers all around the world," Volponi said. "Santa Fe is the No. 1-2 art market in the world. That attracts that kind of customers. They also go to the opera. Auberge has customers that travel from one resort to another."
Santa Fe as a whole and Bishop's Lodge in particular speaks to the unique setting world travelers seek.
"It's history, it's environment, it's also the architecture — the Pueblo-style, the Santa Fe-style architecture," Holland said.
People are not "staying" at a hotel at Bishop's Lodge but buying an "experience," Volponi said.
"Part of coming to Santa Fe is experiencing what is around you," Volponi said.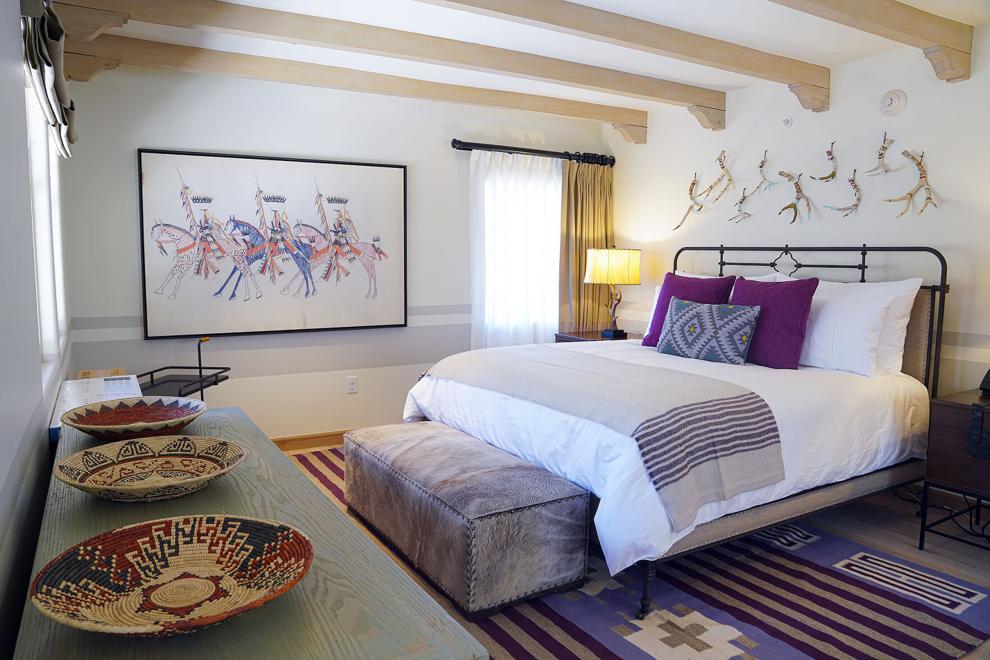 Bishop's Lodge will have a five-person adventure staff with scheduled activities on the property and farther afield. The Bishop's Lodge Stables has 15 horses, but more will be added for trail riding. The extensive renovations and new construction also added a trout stream.
Santa Fe art titan and prominent downtown property owner Gerald Peters will oversee artists who will work at Bishop's Lodge, with some interacting with guests. The resort also has a performance lawn with stage.
Bishop's Lodge offers the Turquesa Healing Arts Studio that "goes beyond massages and facials," Volponi said.
"We will help create personal itineraries to accomplish their goals," Volponi sad.
The 100 rooms are spread out in 18 buildings across roughly 100 developed acres of the property's 317 acres. The most rooms in one building — 14 — are in the newly built Sunset Building. Other buildings have 12, eight, six, four, three and one room each.
The three Kiva Suites crown the property at the highest point with westward views toward the Jemez Mountains.
The 750-square-foot Kiva Suites have no right angles. A dual fireplace warms the bedroom and the room with a free-standing bathtub and a view. A separate dual shower room has its own window, and the shower really is a room. The bedroom has large, glass, floor-to-ceiling doors that can be opened to bring the outdoors indoors at the choosing of guests. The flooring is irregularly shaped flagstone. Outdoors there is a hot tub.
Holland uses one word to describe the targeted clients for the Kiva Suites: romance.
The 1874 chapel built by Archbishop Jean-Baptiste Lamy is the focal point, its steeple visible from nearly all points on the property, Holland said. The chapel had no foundation, so Holland installed one.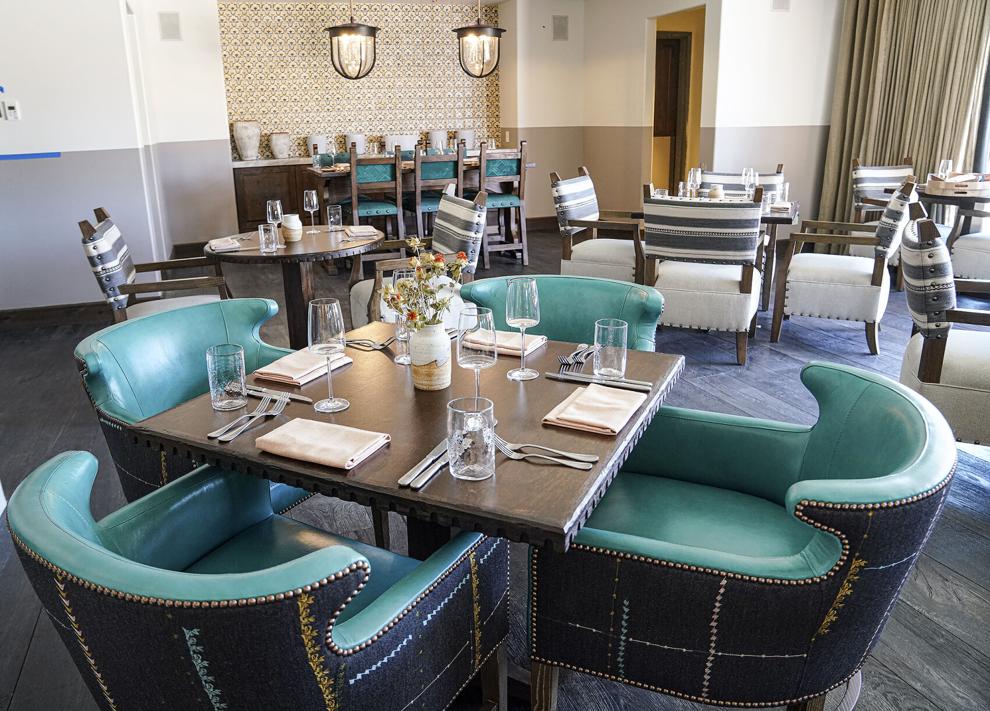 The 1915 residential lodge is now the SkyFire restaurant upstairs outfitted with custom-made furniture from Mexico, and Two Dogs Café is downstairs along with a Nathalie Kent art gallery.
After investing more than $70 million to create the new Bishop's Lodge, Holland and Volponi seek the top AAA Five Diamond rating. New Mexico currently has no Five Diamond hotels.
Auberge Resorts Collection has 19 resorts with eight more in the works, including Bishop's Lodge. Auberge manages all the properties and is part owner of some of them, but not Bishop's Lodge.
Auberge Resorts Collection was established in 1998 after the Harmon family launched the Auberge du Soleil flagship resort in 1985 in Napa Valley, Calif. The Auberge brand expanded to nine resorts by the time the Friedkin Group acquired it in December 2013.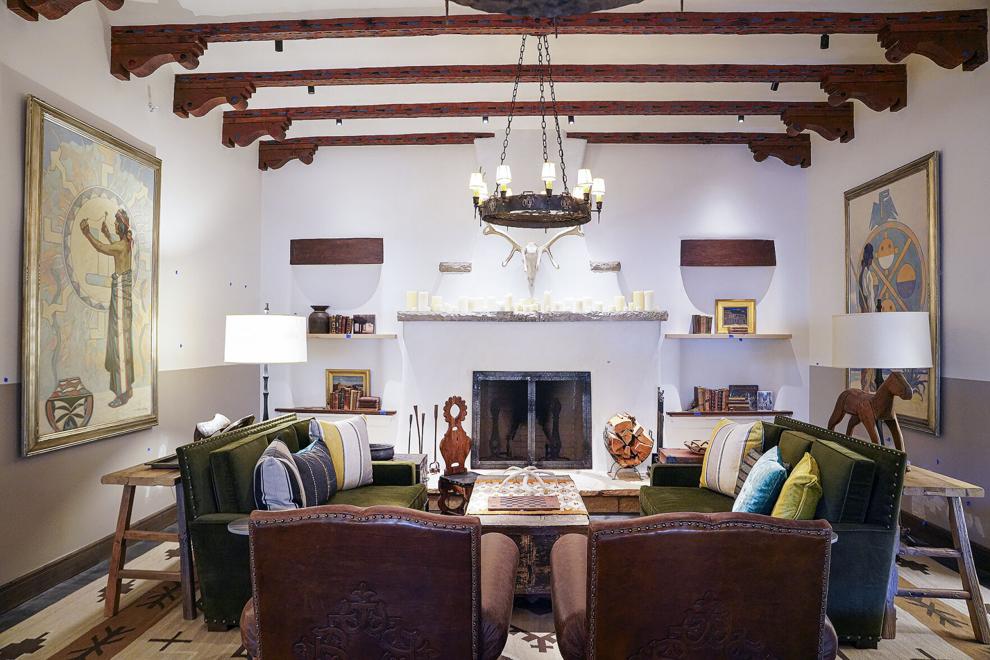 Since then, Auberge has dropped management of a few resorts. But Auberge has added 13 properties in Colorado, Utah, Texas, Connecticut, Rhode Island, Florida, Maine, Hawaii, Mexico, Costa Rica, Greece and Fiji.
"We are trying to create hotels that speak to a location and reflect the location," Volponi said.
Auberge Resorts Collection is an ultraluxury hotel brand that focuses on one-of-a-kind experiences driven by the location. Each resort retains its individual identity and offers locally relevant restaurants and bars with the resort offering "gracious and intuitive service," said Callie Stanton, communications director at Auberge Resorts Collection.
Holland's ambition when he bought the Bishop's Lodge property in 2014 was to create "one of the top resorts in the nation."
"We approached Auberge," Holland said. "This resort is a perfect match for what Auberge does well: marketing the brand and providing the service that the customer base demands. This had to have soul and had to have something special and magic. It had to be something other than a commercial hotel [market]."
Holland and Volponi got to know each other in Cabo San Lucas, where Holland previously developed the Capella Pedregal, now the Waldorf Astoria Los Cabos Pedregal. Volponi was general manager at Capella Pedregal at a later date before being pulled into Auberge to open VieVage Los Cabos. Three-and-a-half years ago, Auberge asked Volponi to be general manager of Holland's Bishop's Lodge.
Even with delays and a pandemic and a seven-year journey from purchase to opening, Holland's ambition with Bishop's Lodge did not waver.
"It's exactly what I had in mind," Holland said. "It's an ideal location for a contemporary version of a Santa Fe resort."