The promise of wilderness lies fully manifest yet largely unknown in a remote pocket of San Miguel County, where a desolate shortgrass prairie abruptly collapses into a sprawling system of piñon- and juniper-covered canyons that hold countless secrets waiting to be discovered.
For several years, the Sabinoso Wilderness held the dubious distinction of being the only designated wilderness in America that was inaccessible to the public due to being entirely surrounded by private land. That finally changed in November 2017 when the Interior Department accepted a 3,600-acre donation that created a point of entry and unlocked the wilderness for visitors to explore.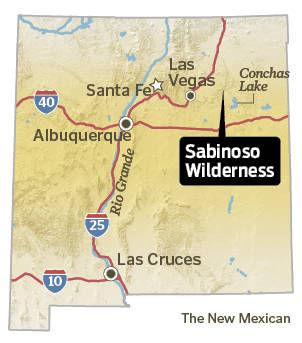 Despite the news coverage the Sabinoso garnered during the process to gain public access, the isolated region — whose Spanish name references the gnarled junipers that dot the rugged landscape — has remained obscure to most of Northern New Mexico's outdoor enthusiasts.
In the two years and four months since becoming accessible, the wilderness has received just a single review on Google Maps. The popular mapping service does, however, provide accurate directions, guiding drivers 33 miles east of Las Vegas along lonely N.M. 104 before they leave the pavement and travel the next seven miles on San Miguel County Road 51A. The final three miles cover a lightly maintained dirt road that is impassible when wet and requires a high-clearance vehicle for those who would rather not risk damage to their undercarriage.
Upon reaching what is frequently an empty parking area located near the edge of a cliff, visitors are drawn out of their vehicle by an expansive, breathtaking view down the length of Cañon Largo. This primary canyon's towering walls rise more than 500 feet and cradle a creek bottom that sustains seasonally green meadows, large cottonwoods and a surprisingly diverse array of wildlife.
As a reward for the journey, 19,625 acres of this spectacular landscape are oftentimes available to roam in total solitude.
"You have to work to find it, but once you do find it, it's so magical," said Garrett VeneKlasen, who advocated for the opening of the Sabinoso as executive director of the New Mexico Wildlife Federation and now works for the New Mexico Wilderness Alliance. "That's the intrigue of it. It's this wild and untamed wilderness in a secret corner of New Mexico that not a lot of people go to. It's kind of a place you have to earn."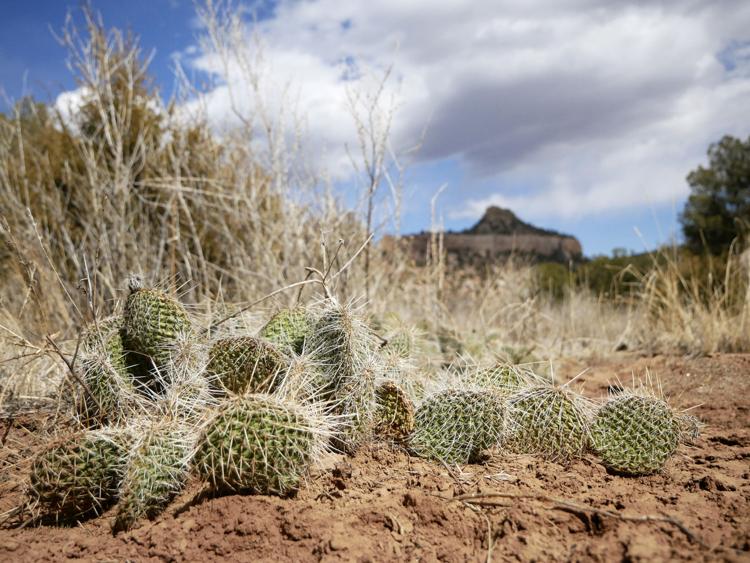 U.S. Sen. Martin Heinrich, a Democrat from New Mexico, has spent years working to earn access to the Sabinoso for the public.
The region first gained Heinrich's attention in the mid- to late-1990s when he read about what was then the Sabinoso Wilderness Study Area in a guidebook produced by the New Mexico Wilderness Study Committee. In the book, he learned the Bureau of Land Management had deemed the canyon country a poor candidate to earn federal wilderness protection due to its isolated location and the fact that it was landlocked by private property.
Those factors were more of a motivator than a deterrent for Heinrich, then serving as a volunteer "access chair" for a wilderness advocacy group.
"It became a long-term project for myself and some friends to try to get this place opened up," he said.
It took about two decades for Heinrich to see that goal come to fruition.
The Sabinoso gained federal wilderness protection in 2009 as part of an omnibus bill passed by Congress, but was still out of reach for visitors unless they gained permission from private landowners to pass through their property.
The purchase of the 4,000-acre Rimrock Rose Ranch by the Wilderness Land Trust in 2016 offered a proposed pathway to the Sabinoso. But incoming Interior Secretary Ryan Zinke, working for a Trump administration that would later opt to drastically reduce the size of two national monuments in Utah in 2017, expressed initial reluctance to expand the wilderness.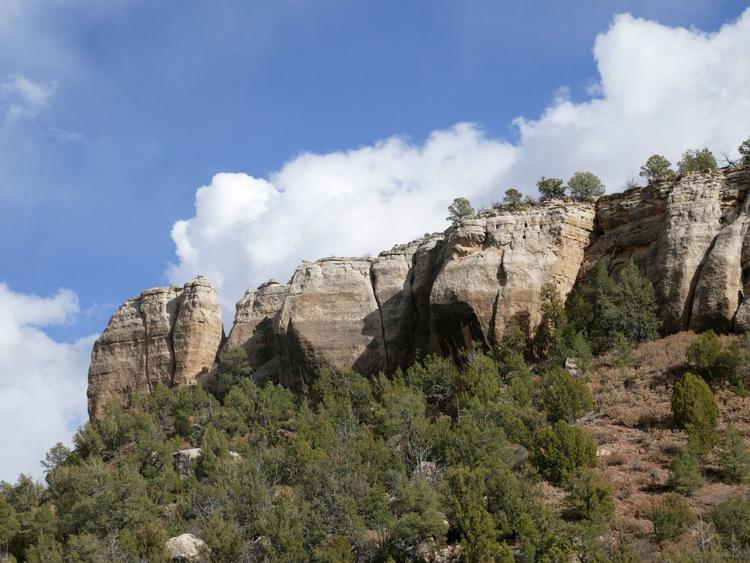 During a Senate Energy and Natural Resources hearing in June 2017, Heinrich invited Zinke to New Mexico for a horseback ride so the secretary could see the wilderness for himself. A few months after that tour, during which Zinke got a photo of himself giving Heinrich and U.S. Sen. Tom Udall a headlock, Heinrich got what he had long desired when Zinke finally accepted the donation to the BLM in November 2017. "It was worth everything we had to do and more to make it happen," Heinrich said.
And there's still more on the way.
In the fall of 2019, the Trust for Public Land acquired nearly 9,000 additional acres of canyonlands that border the northwest portion of the current wilderness area. Once this new parcel is handed over to the BLM, the Sabinoso will increase in size by nearly 50 percent and have the potential for improved access from a different region of the wilderness.
"For a place you couldn't even set foot in a few years ago, the number of acres and the amount of different landscapes we've been able to stitch together is really meaningful," Heinrich said of the expected addition.
But first David Bernhardt, who replaced Zinke as Interior secretary in 2019, will have to sign off on the land transfer to the BLM.
Greg Hiner, the Colorado and Southwest director of Land Protection for the Trust for Public Land, said there's no set timetable for when the transfer may occur, but the signs have been positive.
"It will happen, it's just a matter of when," Hiner said. "I think everybody is on board with the idea."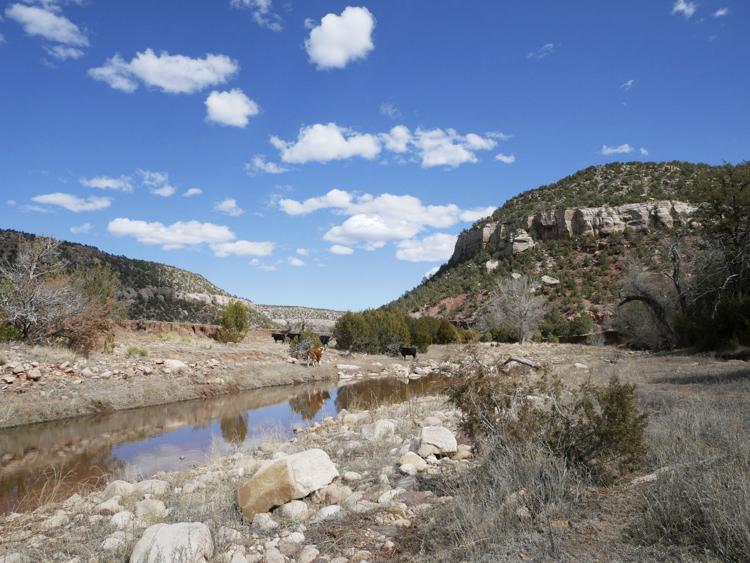 In the meantime, the current wilderness area holds more wonders than most of its visitors will ever have time to explore.
The distance from the Sabinoso's only current access point in the southwest corner of the wilderness to the far northeast tip spans roughly 14 miles, the furthest reaches of which have seldom been traversed. Elk, mule deer, mountain lions and wild turkeys inhabit the main canyons and their many side canyons, as do cattle that graze on BLM allotments.
Jesse Deubel, who helped found the United Bowhunters of New Mexico in 2010, has visited the wilderness several times and believes it to hold untapped potential for hunters. While representing the UBNM during Zinke's 2017 tour of the Sabinoso, he said was blown away by the evidence of wildlife.
Hiking the creek bottom not far from where a steep and rocky path leads hundreds of feet down the canyon wall from the parking area, Deubel's party was surprised to find fish in a large pond. In the sand next to the watering hole, they spotted a perfectly preserved black bear paw print, and just two feet from there, a fresh set of turkey tracks.
Deubel called it an "aha!" moment for everyone in the group.
"The Sabinoso is so special partly because it holds perennial water; it's kind of an oasis in this arid landscape," Deubel said. "From a wildlife perspective, it's an incredible gathering space for a variety of species. We've even seen a trail cam photo of a ringtail cat. The biodiversity of the area is really remarkable."
Now serving as executive director of the New Mexico Wildlife Federation, Deubel sees the Sabinoso not just as a gathering place for wildlife, but also for people who wish to use the wilderness in different ways. From hunters and bird-watchers to hikers and horse riders, Deubel said the landscape offers opportunities for all who visit.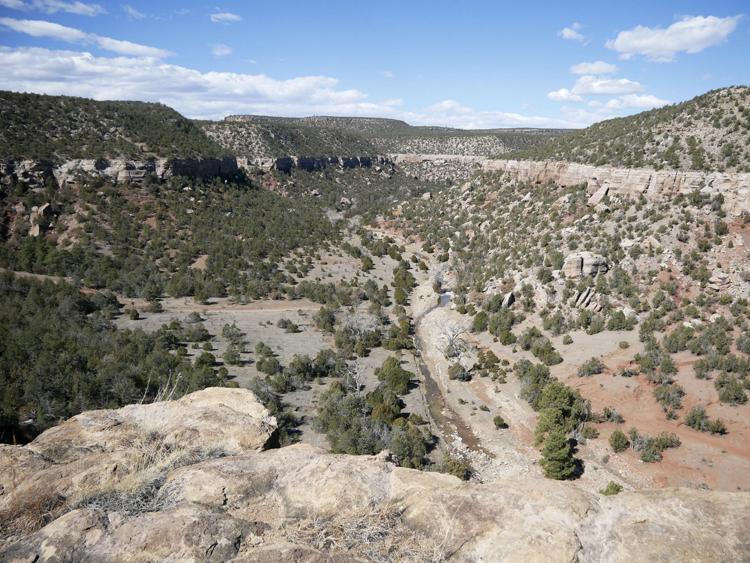 San Miguel County resident and outdoorsman Max Trujillo said he has made a handful of trips to the Sabinoso since it opened to the public. His first visit left him immediately enraptured.
"It felt like I had gone back millions of years in time while walking that canyon bottom. It was total solitude," Trujillo said. "It's pretty rugged country, and I just got the biggest kick out of that. It felt like I had gone back to the time of the dinosaurs walking past giant boulders that had fallen off the rimrock cliffs. It really took me by surprise."
The Sabinoso's canyons have been used as a trade route to the Plains and as a wagon route for the U.S. Army in the 19th century. Prior to that, they were traversed by ancestral Puebloans.
From old livestock trails to eroding sandstone spines rising hundreds of feet into the air, evidence of the passage of time is all around. The farther one treks into this wilderness, the easier it is to lose oneself in its allure.
"It's one of those places you visit and you can't believe it's there," VeneKlasen said. "It's kind of the land that time forgot. It's so different and so unique — truly a singular place.
"And there's so much to explore. You find something new and beautiful every time you go."