Reviewing footage on his computer at his home in Albuquerque, Mike Adams edits highlight videos of himself ripping down the slopes of Ski Santa Fe on a regular basis during the winter months.
Sometimes shot in first person, other times by a skier who tracks Adams on the trail, the footage gives the viewer the perspective of tearing down the mountain right along with him. Adams shares the videos on YouTube and various social media platforms for friends and family to watch, but they're also for himself, allowing the 19-year-old to relive moments of bliss from a day spent at his favorite place.
"Nothing beats being on the mountain," Adams says.
Cerebral palsy prevents Adams from walking, and he struggles with fine motor skills like controlling the movements of his fingers. But when he's carving turns while seated in his bi-ski on the sun-soaked slopes with powder flying in his wake, Adams experiences a sense of freedom as he pushes the bounds of his physical limits.
"There's nothing like it," Adams said. "I've had people compare it to anything else that has speed, but there's a unique element of getting those turns. When I tip the ski, it feels so unique because you're just riding on the edge. It's a great feeling."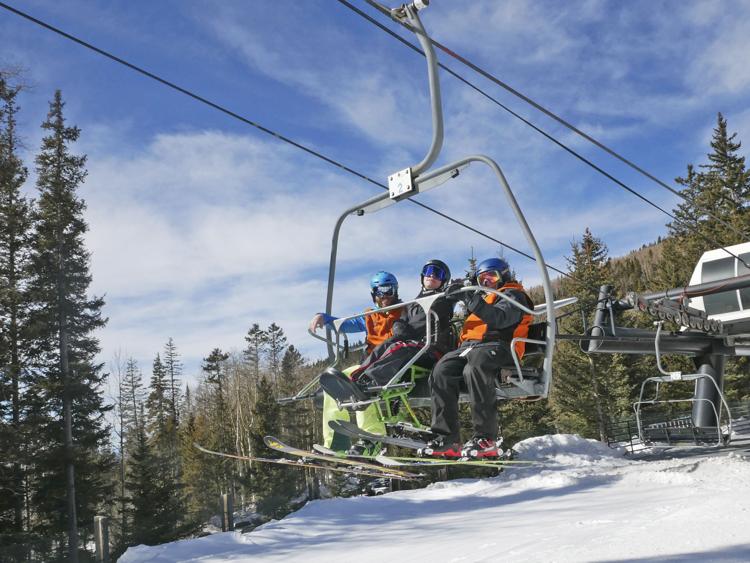 Those who know Adams describe him as an optimist, and below a shock of bushy blond hair, an ever-present smile seems to confirm that assessment.
After their son was diagnosed with cerebral palsy a few months after a premature birth, Michelle Griffith and David Adams had concerns about how active he would be. Thanks to the help of early intervention programs that educated the family on the local resources available, and their son's willingness to dive into anything he was introduced to, it became apparent Mike Adams' motivation was a force of its own.
"My son has great self-esteem. He's always looking for a way to get it done," Griffith said.
Technology and the outdoors have long been Adams' main interests.
He studied the inner workings of computers as a young child and was a straight-A student at Early College Academy in high school. Now a freshman at the University of New Mexico, Adams is majoring in computer science and has an internship at Sandia National Laboratories.
When he's off his computer, Adams is involved in myriad outdoor activities ranging from kayaking to camping to rock climbing. He's achieved the rank of Eagle Scout and even completed a 50-mile bike ride on an adaptive trike to earn a merit badge.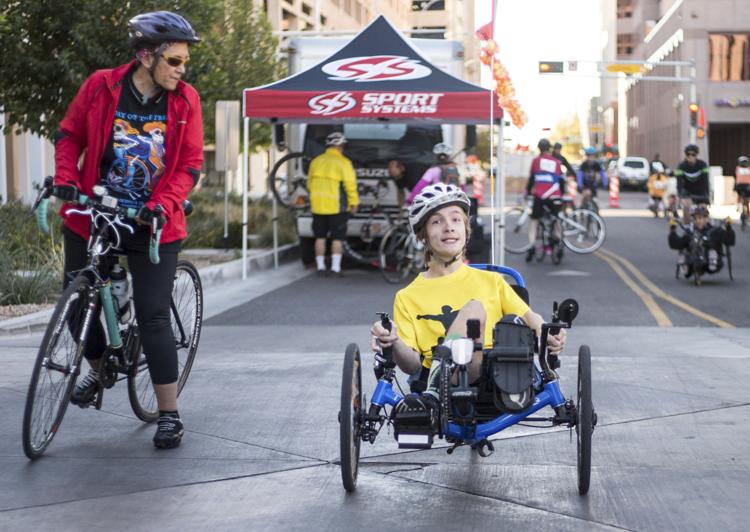 But it's skiing that gives Adams the biggest thrill. "He has a need for speed. He likes sports that are fast," Griffith said.
Brett Maul gave Adams his first lesson at Sandia Peak in 2012 through Adaptive Sports Program, a Santa Fe-based nonprofit that helps children and adults with disabilities participate in outdoor activities. When he watched a video of the lesson that night, he said he was worried the ride had been too rough.
"There's a lot of G-force involved when skiing, and Mike's head was bobbing all over," said Maul, a former ASP director of operations. "I talked to his parents to apologize, but they said he loved it."
Now in his eighth year taking part in ASP's six-week winter ski program, Adams has become a marvel to those who assist him on the slopes.
Using an unorthodox way of skiing pioneered by Maul, Adams sits on a frame situated over a pair of skis that are positioned side by side. Nearly everyone who uses a sit-ski utilizes either handheld or fixed outriggers to help prevent the apparatus from tipping over. Adams has no outriggers. Instead, he relies on his core strength to maintain balance along with an ASP ski instructor tethered behind his bi-ski who is able to help regulate his speed and turns when needed.
Maul has been involved in adaptive ski programs since 1995, and out of the hundreds of people he has assisted, he said only six or seven have used this method of skiing with no outriggers. Three are current skiers in ASP's program.
This unconventional style of skiing depends on the teamwork between a skier and instructor. Over the years, Adams has developed close relationships with a select handful of ASP instructors who ski with him regularly.
"The instructors are so precise on how they tether that I usually don't even feel that they are there," Adams said. "That, I think, increases my independence."
Adams likes to experiment and test what's possible on his bi-ski. He's even landed jumps, something rare for sit-skiers and especially challenging with no outriggers.
Bruce Hopper, a longtime ASP volunteer who has worked with Adams for at least four years, said when he's in sync with Adams, it's a rush for both skiers.
"Skiing with him is truly unbelievable," Hopper said. "It's his fearlessness, his balance, his willingness to do anything. It's pretty breathtaking.
"It's not just him that gets psyched over this stuff. It gives a lot of us a gigantic thrill."
It's more than the adrenaline that keeps Adams coming back to the mountain. He and his family have formed close friendships within ASP's community of athletes and 200-some volunteers.
Hopper attended Adams' Eagle Scout ceremony in 2018, and Maul collaborated with Adams to co-found a new nonprofit based in Steamboat Springs, Colo., that will offer adaptive recreation opportunities at no cost to participants.
Impressed by what he's been able to accomplish and influenced by his positive attitude, the instructors who have worked with Adams call him an inspiration.
While Adams acknowledges his limitations, he said he doesn't dwell on them. Instead, he focuses on the abilities he has, and the ones he continues to develop.
"I look at it this way," Adams said. "Well, I can't walk, but I can shred down a black diamond. So, I mean, it kind of makes up for that."