Taking in the world from above fills Chris Dahl-Bredine's heart with hope and opens his mind to think big.
He loves to impart what it's like to experience the breathtaking beauty of the Four Corners region from the open cockpit of his ultralight aircraft, but words alone aren't enough to properly convey the feelings of freedom and awe.
It's through his incredible images that the 52-year-old, Taos-based aerial photographer shares the rarefied air he inhabits in the early mornings and late afternoons, when the skies are their calmest and the landscapes adorned in the most brilliant light.
He lifts off from the ground not to escape the Earth, but to strengthen his connection to it. And each flight brings with it a new sense of wonder.
"You get to see the bigger picture of the way the landscapes and waterways, the Earth and the sky all interact and work together to sustain life here," Dahl-Bredine said. "It's a moving realization. I'm just blown away by the vastness and complexity of it all."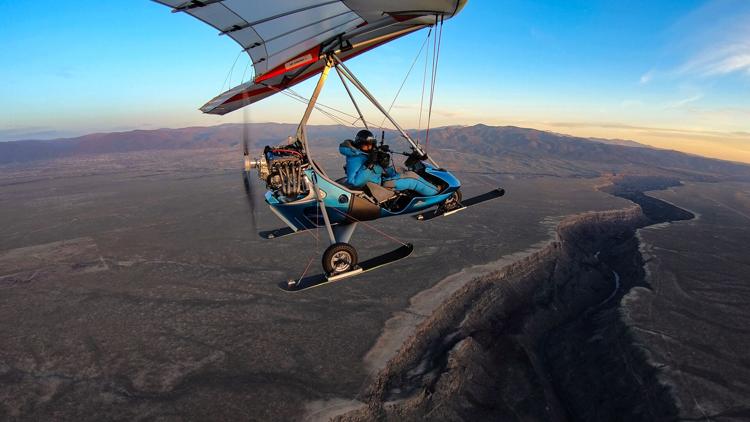 Whether surfing, skiing, river rafting or flying, Dahl-Bredine has spent his life seeking ways to tap into and interact with the raw power of nature. Those experiences have left the New Mexico native with a tremendous appreciation for the planet that serves as his inexhaustible muse.
It's now Dahl-Bredine's mission to pass on that passion to others through his photography, offering a unique angle of the lands he says we must work to protect and preserve.
"I have an 8-year-old daughter with a big life ahead of her, and I want to be a part of helping the planet get on the right course," Dahl-Bredine said. "I want to show people the beauty around them, want them to connect with it and feel like this is our land, our Earth. We're in charge of taking care of it."
The area around Taos, Dahl-Bredine's home since 1988, has provided him with plenty of stunning subjects.
A river guide in his early years in Taos, Dahl-Bredine now spends many mornings gracefully gliding above the great chasm of the Rio Grande Gorge, watching a ribbon of gold appear on the canyon rim as the sun rises on the horizon.
His French-crafted ultralight trike, which weighs in at just under 500 pounds and sports hang glider-like wings, can also soar up to 17,000 feet in elevation to put him well above some of the state's tallest peaks around Taos Ski Valley.
His view from on high is the stuff dreams are made of.
"It can be really moving and emotional to be up there, to know what it took to get up there, and to witness that kind of beauty while flying solo like that," Dahl-Bredine said. "It's a powerful experience."
Fascinated by flight for as long as he can remember, Dahl-Bredine said it was the 1996 family movie Fly Away Home that opened his eyes to what would become his preferred mode of air travel. In the film, a father and daughter raise 16 abandoned Canada geese and teach them to fly using an ultralight aircraft.
In 2002, not long after seeing the film, Dahl-Bredine enrolled in flight school near Phoenix. His first couple of times in the air, he nearly became sick due to turbulence, but a third flight the next evening was "as smooth as glass" and the thrill convinced him to immediately buy a trike.
From there, he started flying every day, immersing himself in a new lifestyle.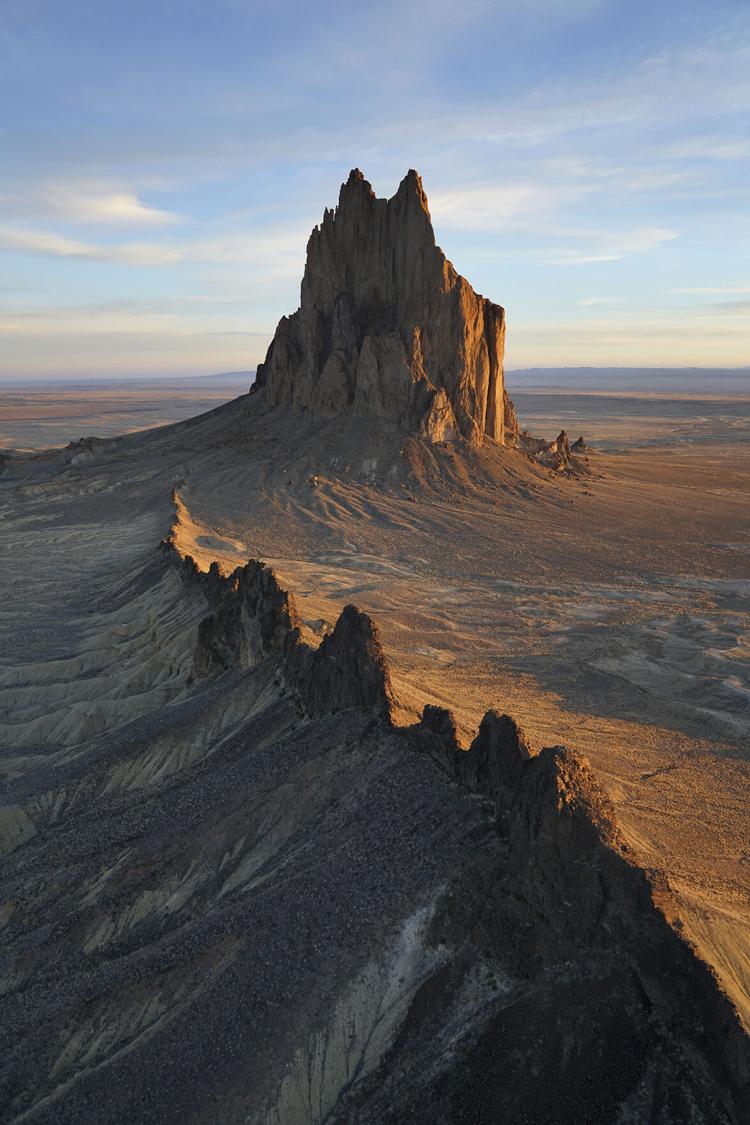 Eventually, Dahl-Bredine made a trip to the French Alps to train for a week with master pilot Franck Toussaint, who was the first person to put skis on a trike to be able to land in snow. Among the skills Dahl-Bredine learned was to land on snowy mountaintops, allowing him to ski remote runs, skin back up to his trike and fly away.
Dahl-Bredine's trike carries 17 gallons of fuel that allows for six-plus hours of flight time.
Traveling an average speed of 50 to 60 miles an hour, he said he can go about 250 to 300 miles on one tank of gas, possibly even up to 500 miles with a major tailwind.
Back home in the Four Corners, Dahl-Bredine took every advantage of his newfound freedom of flight.
One of his favorite activities became loading his trike with gear, flying up to the mountains in Colorado and setting down in the middle of nowhere, where he would spend a week or two camping in total solitude.
It didn't take long for Dahl-Bredine to turn his passion into a profession.
He had dabbled in photography when he was younger, but once he started flying, Dahl-Bredine went all in and invested in better cameras to capture the remarkable landscapes he was seeing.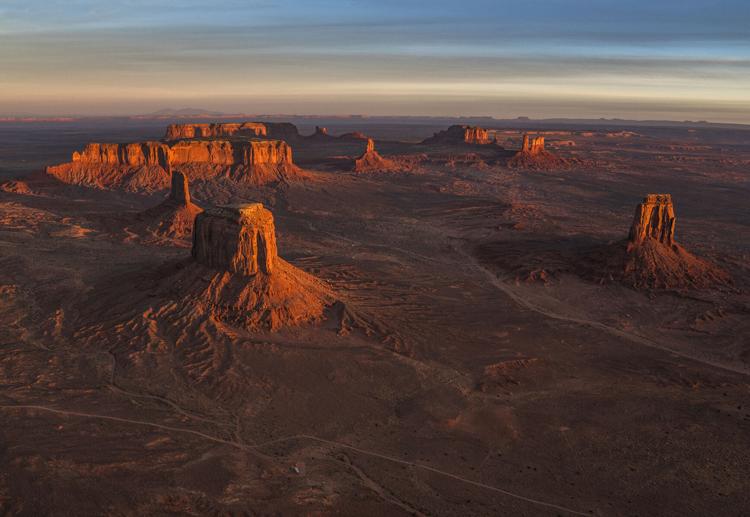 He shoots handheld, currently with a Sony a7R III, maneuvering his trike to get a clear shot of the subject — be it the buttes of Monument Valley in Arizona, a herd of elk on the Great Sand Dunes in Colorado or the earth receding into itself in Utah's Canyonlands.
"This is my passion, this is what I really love to do," Dahl-Bredine said. "To be up there, see it all, experience it and share it with people … I feel blessed."
Aerial photography has become Dahl-Bredine's sole source of income. He's done jobs for the New Mexico Tourism Department, worked on numerous small documentaries and recently traveled to North Carolina to shoot Imax film, video for a large-format screen, of migrating birds and their habitats.
Often he'll just go up and shoot photos, then sell them to whoever needs them for an ad campaign.
"It always ends up working out," Dahl-Bredine said. "In Taos, it's always a struggle. Most of us are just trying to make ends meet."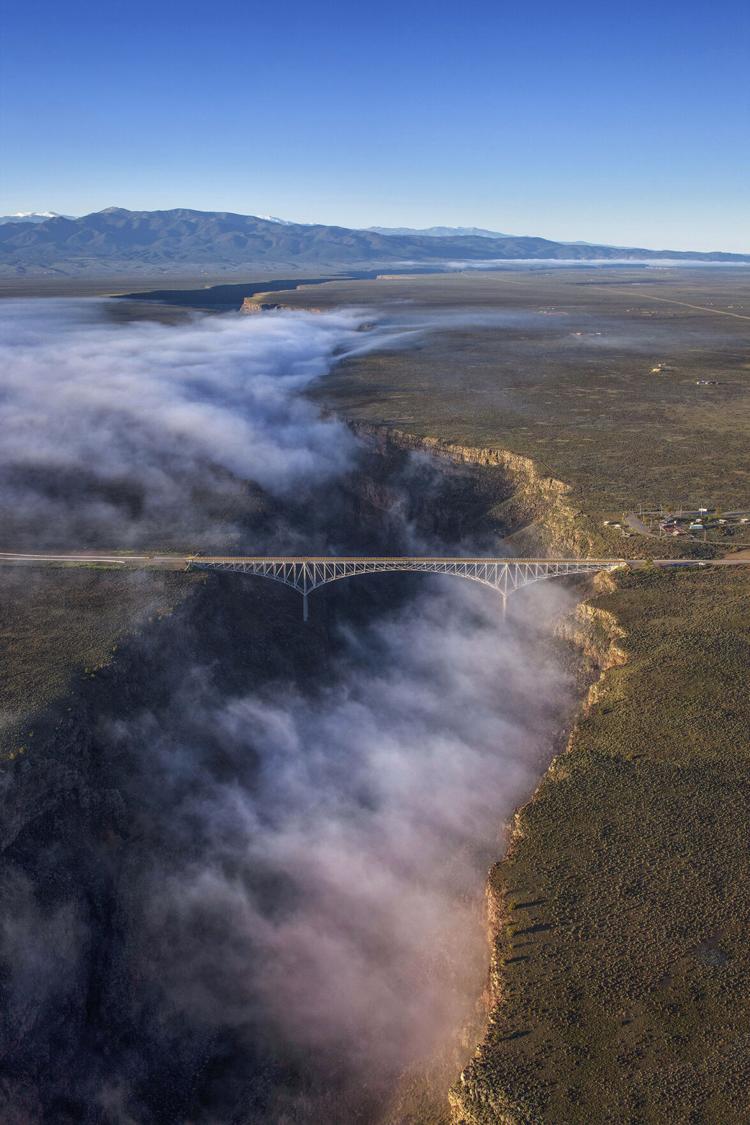 While business has been slower this year during the coronavirus pandemic, and he's not taking people outside of his family up in his two-seat trike anymore due to safety concerns, Dahl-Bredine said his day-to-day life has largely remained the same.
But now he feels an even greater responsibility to share his work and provide a source of joy for those who have struggled in a year that's been filled with health concerns, economic uncertainty and political division.
"I've had people thank me for helping them see the world in a positive light through these photos and brighten their day," Dahl-Bredine said. "It's really gratifying."
The uncertainty wears on him, too, and he said his ability to take off into the sky to clear his mind has been his saving grace.
"Flying over this incredible creation, I can't even put it into words," Dahl-Bredine said. "It makes me hopeful and happy to be here, to be part of it all. To witness the world from that angle is such a gift."