The joy of being on the water helps Britt Runyon momentarily alleviate some of the stresses that have entered his life over the six months he's spent as the new owner of New Wave Rafting.
The gray-haired, easygoing guide who since the 1970s has kept daily journal entries of the changing conditions of Northern New Mexico's rivers has never before seen anything like what he and fellow outfitters have experienced this year.
As it has with nearly every other business sector, the COVID-19 pandemic has dramatically disrupted the local rafting industry. Along with a delayed start to the season, there's been a scarcity of guides, a shortage of customers, a host of new safety regulations and financial insecurity for companies that already operate on slim margins.
Since rafting outfitters were allowed to resume business May 29, Runyon has been fielding words of congratulations on his new position from fellow guides while launching trips from the banks of the Rio Grande, though they all know these are turbulent times for the industry.
"I'm an optimist at heart," Runyon said. "I tell them, 'I can only go up from here.' Who knows? But that's my attitude. It can only get better."
Memories of a rare big water year in 2019 have all but faded as New Wave and other local rafting companies try to salvage what's left of a 2020 season no one expects to approach anything that resembles normal.
Members of the New Mexico River Outfitters Association came together in March when Gov. Michelle Lujan Grisham ordered the closure of nonessential businesses, and they spent two months devising a uniform safety protocol that would allow the industry to gain approval to reopen.
The list of new practices they created is long and thorough. Outfitters feel it provides an opportunity for customers and employees to remain safe while operating in what is considered a close-contact business.
Guides have their temperature checked as part of daily health screenings. Customers fill out a questionnaire to determine their possible exposure and whether they are exhibiting symptoms of the virus. Company vans, most of which seat about 15 people, are now limited to half-capacity to allow for social distancing while transporting rafters. And groups of different families or households are not allowed to mix in a raft.
Companies are also required to wash all gear and equipment between each use, something that wasn't even considered in the past for some equipment.
"Our paddles had probably never been cleaned before, ever," said Jared McClure, owner of Santa Fe Rafting Co. "This is the first time in the history of rafting any company has washed a paddle."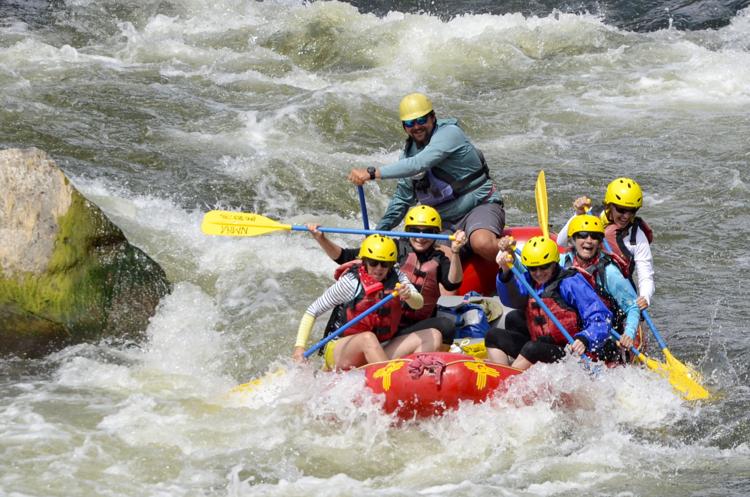 Steve Harris, a longtime guide and river conservationist who founded Far Flung Adventures in the 1970s, said the extra precautions are making it more difficult for outfitters to tell if they're making money.
The inability to mix households or families means sometimes rafts that seat six will go out with two people and a guide. There's also the added time and cost it takes to clean everything that's used.
"Safety has always been important for us, but it's been very challenging to try to have to layer public health concerns over the top of that," Harris said. "It's more work, more uncertainty, more stress and more expense."
Harris estimates Far Flung Adventures has gotten a little more than half of the number of customers that it did at this time last year. McClure said Santa Fe Rafting Co. is seeing about a quarter to a third of the business it would typically expect.
"Annual revenues will be really poor because we lost the early season and because we're having a low water year," Harris said.
"I'm guessing the industry will come in well under 50 percent of average revenue," he added.
The federal CARES Act, which provides direct economic relief to small businesses impacted by the pandemic, has been a life preserver for rafting companies.
McClure said the financial assistance will help many outfitters survive a bleak season that could have otherwise forced them to shutter.
"It's not a highly profitable business anyways, unfortunately, but I think most people are going to pull through," McClure said. "Obviously the federal aid has helped out a lot. If companies wouldn't have had that, things would have been way different."
Even with far fewer customers, it's still been a struggle for some outfitters to find enough guides.
New Wave Rafting employed 10 guides last year, but Runyon has only been able to find three so far this season. He said some employees from last year sought guaranteed summer work when they realized the rafting season would be delayed, while a couple of others weren't comfortable working with the public because of health concerns.
Runyon, Harris and McClure said they've all heard other outfitters complain of guides not returning because they were able to make more money on unemployment than they would be working on the river.
It's been experienced guides that most outfitters have been able to bring back into the fold. The two-month delay for the start of the season meant there was little time to train new guides, though there was still much to learn for everyone with the new safety guidelines.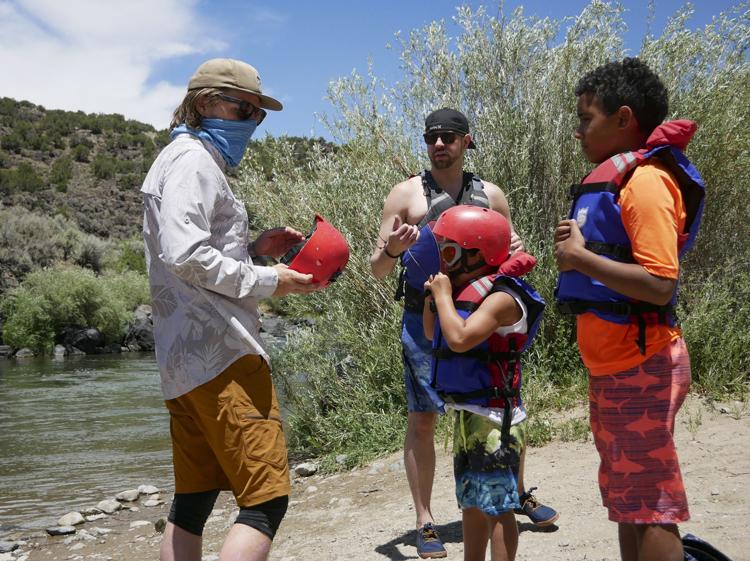 Trevor Snow, a second-year guide for Santa Fe Rafting Co., said this season has in ways felt like his first year all over again. Along with getting acquainted with additional safety protocols, the lower river levels have required a change in style on runs.
Though there's no big water this year and concerns surrounding the coronavirus, Snow didn't hesitate when presented with the opportunity to guide. He's enjoyed the season thus far and said he feeds off the enthusiasm of customers who had been cooped up by COVID-19 throughout the spring.
"I thought the rafting season might not even happen at all," Snow said, "but right when I got the call, I was as excited as ever.
"This season has definitely been interesting, but we're seeing that people are excited to get outside and wanting to do this, which allows us to do the same."