On July 4, 2019, I hiked Penitente Peak for the first time and had the incredible fortune of encountering four bighorn sheep rams majestically lounging on the bald summit amid green grass and pink clovers.
They barely seemed to acknowledge my presence, allowing me to observe them for about 20 minutes before I felt I might be overstaying my welcome.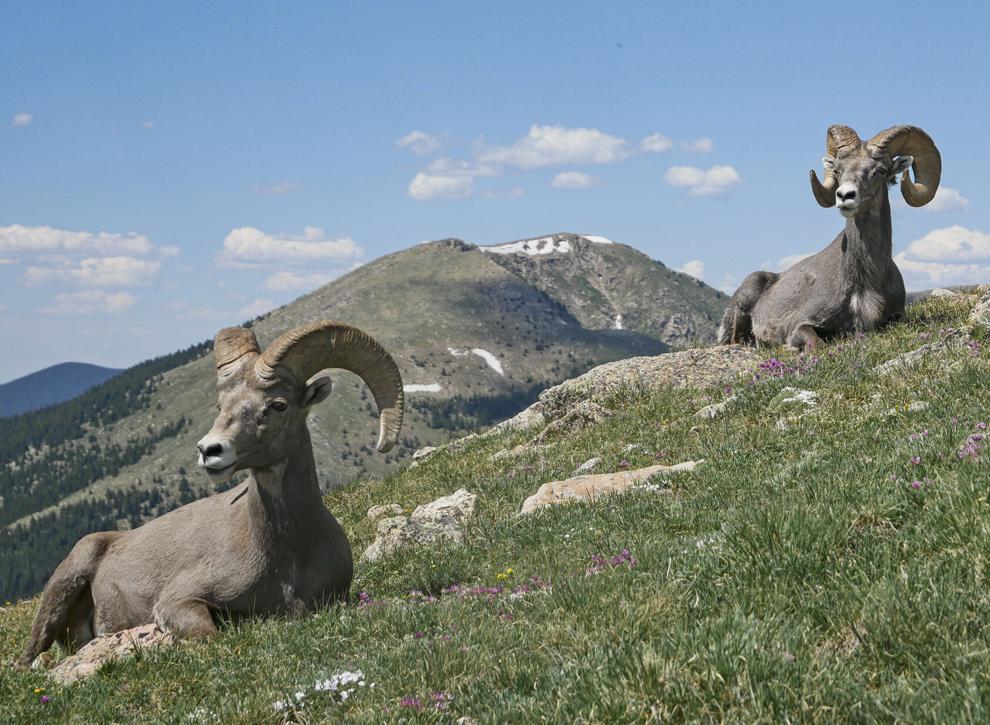 Luckily, it was a day I'd thrown my camera into my backpack, and before I continued down the mountain, I took a photo of two of the rams chilling on the 12,249-foot peak with Santa Fe Baldy framed in the background.
If you've ever met me on a trail in the Pecos Wilderness, or pretty much anywhere in public, there's a good chance you've seen this photo before. Rarely can I last more than a few minutes without retrieving my phone and pulling up the image to put in a stranger's face. They don't usually seem to mind; it is a pretty cool photo, after all.
This is one of my favorite photos I've ever taken, and the experience heightened my interest in wildlife photography.
It's what Aldo Leopold would call a trophy.
In his seminal work, A Sand County Almanac: And Sketches Here and There, the renowned ecologist and conservationist wrote of the physical objects and tokens of achievement that recreationists seek in their outdoor activities.
These trophies can include a basket of mushrooms, a deer killed by a hunter or a photo of a great blue heron. It is a certificate, he wrote, that "attests that its owner has been somewhere and done something — that he has exercised skill, persistence, or discriminations in the age-old feat of overcoming, outwitting, or deducing-to-possession. These connotations which attach to the trophy usually far exceed its physical value."
Leopold writes the pleasure our trophies give us should be "in the seeking as well as in the getting." I've found this to be the case in wildlife photography, an activity that is full of rewards even when an outing fails to yield the images we desire.
Only a small fraction of wildlife photography actually involves taking photos. Most of it is learning animal behavior, studying habitat over multiple visits, waiting, more waiting and hoping you've put yourself in the right place at the right time.
Sitting still and watching the light change over the land, seeing small creatures scurry about and feeling present in a beautiful natural setting is a joy in itself. If the moment comes and an animal you've been waiting for finally appears, the feeling of exhilaration is intoxicating.
Just remember to maintain a safe distance from the subject, no matter how tempting it is to get close. You're in their home, and it's their space. The National Park Service typically recommends staying at least 25 yards away from most animals and 100 yards away from large predators.
Many times, the best photos come by sheer luck. There's a bear eating some berries on the side of the road, or a mother mountain goat and her kid drinking from a trickle in a rock wall near a trailhead.
All you've got to do is pull out your camera, get a good composition and take the shot. It almost feels like cheating, but it's really just making up for past and future fruitless trips.
Fall is the season I think most about photographing wildlife. The elk rut in Valles Caldera National Preserve entices me with the potential of capturing an image of a bugling bull, while the captivating sandhill cranes and other migratory birds arrive en masse along the Middle Rio Grande Valley.
I've made multiple trips to Valles Caldera over the past month to hike the backcountry in hopes of getting a close look at an elk — an animal I've never gotten a good photo of. I've walked in their tracks, seen tons of their scat, found their wallows, heard the bull's eerie bugles in the distance and caught glimpses of cows running through the lower treeline. They seem like ghosts of the mountains, a feeling enhanced by the fog that frequently hangs over the valleys in the early daylight.
I haven't come close to capturing a clear photo of an elk yet, settling instead for shots of dozens of them appearing as tiny specks far off in the middle of Valle Grande. But never has a trip felt wasted or my spirits been dampened.
Having learned more of their habits and spent time in their habitats, I still feel close to the creatures.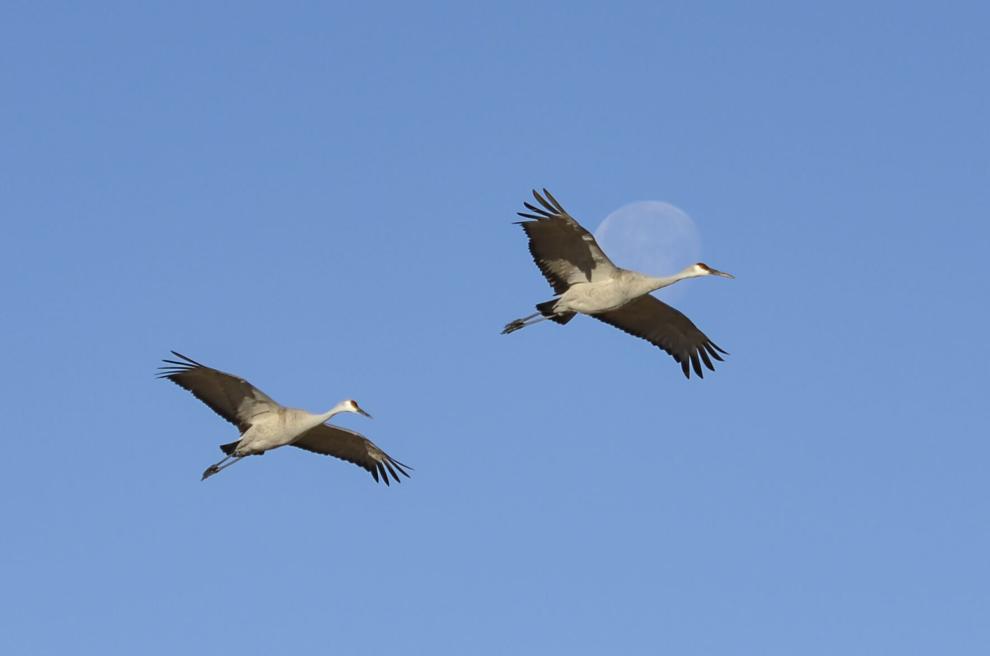 Last winter I made my first trip to Bosque del Apache National Wildlife Refuge near Socorro to view the sandhill cranes. Hearing the chorus of thousands of cranes all day and being enraptured by wave upon wave of the elegant birds flying overhead was one of the most entrancing experiences I've had in my life.
I spent a couple of hours shooting photos just after sunrise and then passed a few more hours mesmerized while watching the birds feeding, frolicking and flying over the cornfields.
If you have trouble understanding the appeal of birding, you won't after a trip to Bosque del Apache from November to February.
I haven't collected many trophies in the handful of years I've been photographing animals. I wouldn't dare call myself a wildlife photographer, and I don't have the expensive long lenses that can get you closer to the subject.
Fortunately, the only expense to go out looking for wildlife is the cost of gasoline to get to your desired destination and maybe a fee to enter a park.
The opportunities to catch a special moment with a wild animal are fleeting and rare. That scarcity adds value to the encounters. But it's being present in the moment, feeling part of the world around you and realizing the abundant gifts of nature that make wildlife photography such a fulfilling endeavor.