Many seekers on a vision quest have hung their hats on Henry David Thoreau's explanation for his time in the woods at Walden: "I went to the woods because I wished to live deliberately, to front only the essential facts of life, and see if I could not learn what it had to teach, and not, when I came to die, discover that I had not lived."
Thoreau's Walden was the first story that came to mind when I began thinking about a yearlong photography project at Bosque del Apache National Wildlife Refuge near San Antonio, N.M. In a time of great civil chaos that has touched each of our lives deeply in a very interdependent world, living simply — sans phones, radios, televisions, computers, cars and other trappings of a modern life — is not as easy as it must have been in Thoreau's time. But with support from my wife, I have been able to arrange my affairs to make being on the refuge and photographing the center of my daily being. So, on Dec. 21, winter solstice 2021, Year of Refuge was born.
The self-imposed challenge is clear: make the nineteen-mile trek from my home in Socorro to photograph at the 57,331-acre Bosque del Apache National Wildlife Refuge daily for 12 months and reflect on the refuge as a place and an opportunity for personal learning and self-discovery. (I have allowed myself monthly visits to my now-96-year-old mother, a day's drive away in Arizona. These visits account for the only three days I have been absent from the refuge since I began, and, with luck, these visits will be the only source of days missed in the remaining nine months. And yes, I know Murphy's Law by heart.)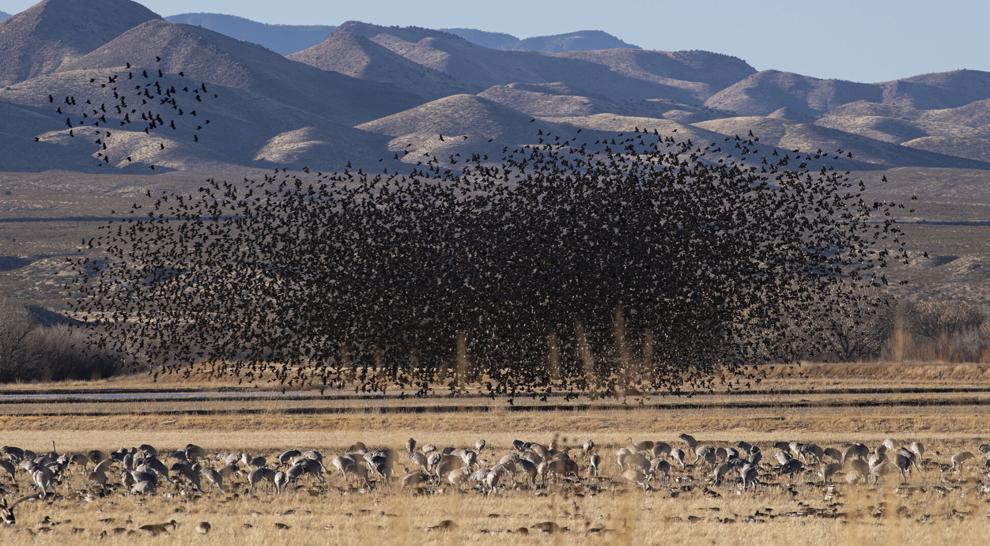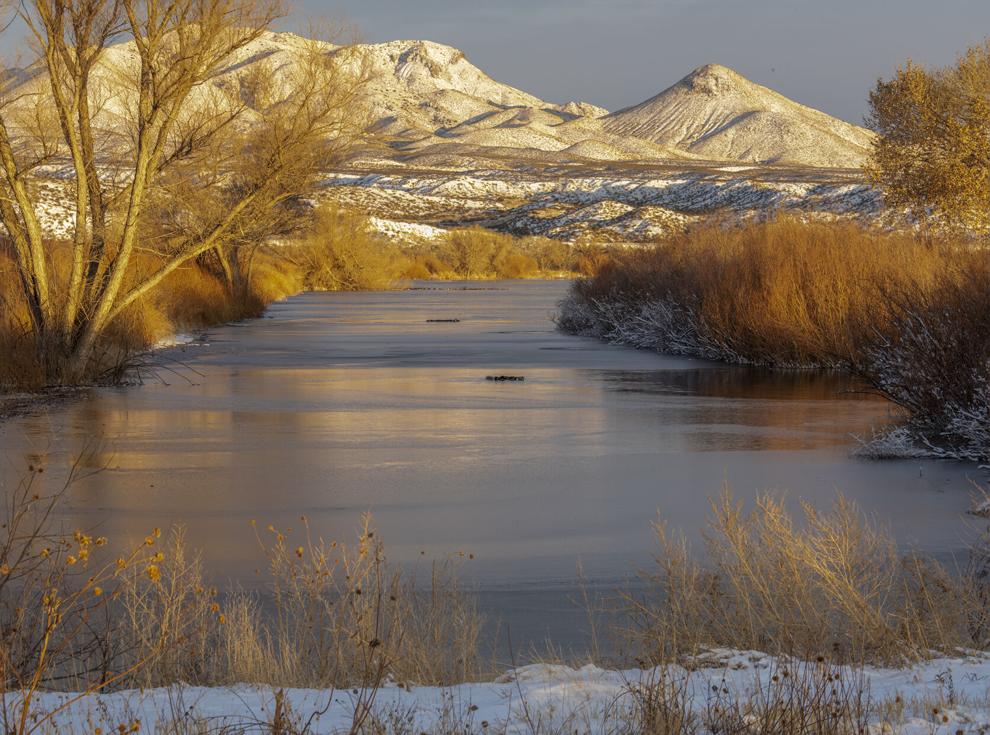 I had been visiting and photographing at Bosque del Apache National Wildlife Refuge for two decades before starting Year of Refuge and had always longed to see how the refuge changed over the course of a year and what I might learn from immersing myself in it daily. The refuge is on many birders' and photographers' bucket lists and is internationally famous for the opportunity to see its overwintering sandhill cranes, snow geese and ducks.
But Bosque del Apache National Wildlife Refuge offers a much deeper experience than what is evident to those who only take quick laps around the tour loops in the winter. My goal is to offer the viewer a broader and more intimate window into the refuge through my photography.
A painter will layer brush stroke after brush stroke to ultimately reveal her subject's essence, without an expectation that any single stroke will tell the whole story. Similarly, I want to offer each photograph as a small revelation of the essence of Bosque del Apache National Wildlife Refuge in hopes it will lead to a deeper appreciation of our natural world and the beauty and importance of this special place along the Rio Grande.
One of the important gifts of the refuge, a reason I think so many visitors have told me that it "feeds their soul," is it reminds us we humans are but a small part of the cosmos. Like looking at the stars on a clear night, our experience at the refuge can fill us with wonder and awe.
Three-thousand snow geese rising from the water simultaneously at daybreak, so close above you that you can feel the air from their wings pressing on your face, must feel the same as it did to the first humans in this area more than 23,000 years ago. And questions about our place in the universe seem to dissolve into irrelevance in the experience of a timeless moment. For many visitors, it is that experience of being in the moment that they will take home with them.
As a human and a photographer, a question I muse on frequently is, "Why do moments like these bring us such joy?" A desire to answer this question motivates my work and spurs me on to find images that are dramatic or more quiet, like a poem that grows deeper over time.
I have found no single answer to this question, but one that recurs to me often is that the experience of joy reflects our capacity for it, just as a mirror reflects the person peering into it. While we are seeing the wild objects of our joy — thousands of birds flying overhead in the chilly predawn morning, a mauve and crimson sunrise reflected in a pond, a clear crystal winter morning light that reveals a mountain blanketed by snow — we experience that part of ourself that too is wild and joyful. In those moments of intimacy, we must expose ourselves to what we are being offered, a clear, vulnerable path to our own wild heart.
I will update you on the Year of Refuge here in The Santa Fe New Mexican in about three months. In the interim, I invite you to view more of my images on my website, DonBoyd.com and follow my posting on the website blog and at facebook.com/DonBoydPhotography. If you would like to sign up for my blog and the occasional newsletter, you can also do so on my website. Thank you for accompanying me on my journey thus far.