The old roads rarely lead Liz Aicher to what she seeks to find.
They were bulldozed up mountainsides to access and haul away the towering trees of the Valles Caldera when the area was privately owned and heavily logged in the mid-1900s. Today, a network of more than 1,000 miles of legacy logging roads is slowly being reclaimed by the resilient landscape, surrounded mostly by young trees of second-growth forests that have emerged from the clearings.
Her backpack filled with measuring tools, notebooks, guides, water and snacks, the 73-year-old Aicher leaves these beaten paths behind to trek off-trail along the slopes of the caldera's wooded volcanic domes.
Covering ground at the pace of someone decades younger, she spends many of her days from late spring to early fall exploring remote pockets of forest in search of rare relics that have been spared by saws and fire to rise above their nearby neighbors.
When Aicher finds these hardy trees, she gives them compliments, words of encouragement and sometimes a nice pat on the trunk.
"Look at you guys. You're all so pretty," the Los Alamos resident said as she hiked in the national preserve on a sunny morning in late August. "Just keep growing. You'll be fine."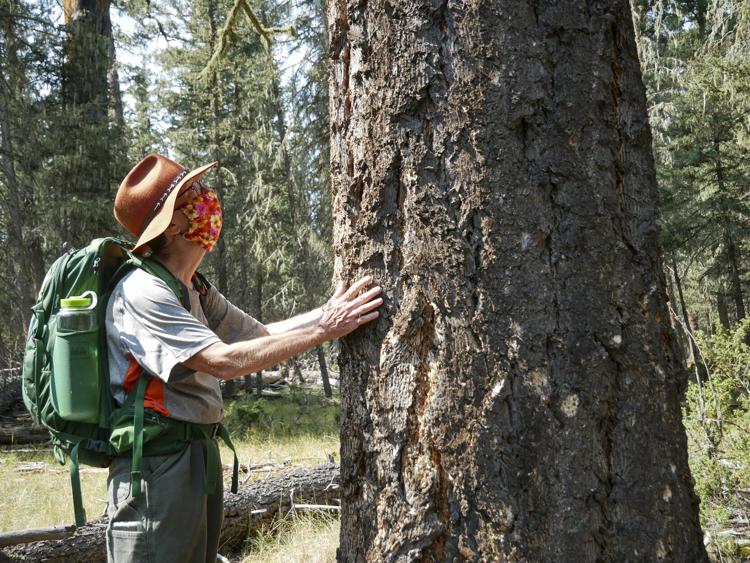 There are big trees, and then there are big trees. Aicher, known as the "Big Tree Lady" to some who frequent the preserve, looks for the latter.
Eight years ago, she got involved in a large tree inventory project intended to identify and document the biggest trees of each of the 16 species in the preserve. She worked on the project with Dorothy Hoard, a noted author and historian who was the first friend Aicher made when she moved to Los Alamos 11 years ago.
Aicher took over the citizen science project when Hoard died in 2014. She usually heads up to the caldera once or twice a week, hiking anywhere from 2½ to 9 miles depending on terrain and the location she wants to reach.
A map that shows the preserve's 30- and 40-meter trees serves as her guide. They were detected using lidar (light detection and ranging) technology that uses the reflection of pulses of light to detect the presence, shape and distance of objects.
On this idyllic summer morning, Aicher discovers a big tree right away.
A massive Colorado blue spruce sitting in a swale immediately draws Aicher's attention as she looks over a hill after about 20 minutes of hiking. She walks down below the tree and tilts her head back to look up at its crown that is leaning directly above her slight 5-foot-3 frame.
She measures the circumference of its trunk at breast height to be 11 feet, 10 inches — the largest she's found in the caldera by 6 inches. She then steps back 66 feet to use her clinometer, a device that measures the angle of elevation, and determines the height to be 117 feet.
This is a big tree, and Aicher is excited.
"It's like Christmas," is how she describes her emotions when she encounters one of these giants.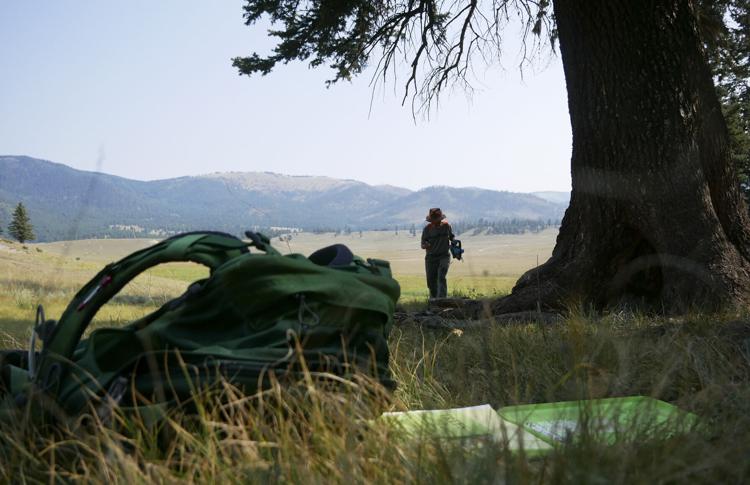 In past years, Aicher has gone out with other volunteers in a group of up to a half-dozen people to locate and measure big trees. The most prevalent they find are ponderosa pine, Colorado blue spruce, Engelmann spruce and Douglas fir, Aicher said.
This year, the COVID-19 pandemic has meant Aicher has been poking around the forests and measuring trees by herself, though she never feels alone.
"It's just like coming home," said Aicher, who grew up fishing, hunting and chasing opossum in the Chain O'Lakes region of northern Illinois. "I just meld into the countryside and feel like I'm part of it."
It seems Aicher would probably take on this endeavor just for the fun of it, but the project does serve a purpose.
Bob Parmenter, chief of science and resource stewardship at Valles Caldera National Preserve, collects annual reports from Aicher that provide helpful information for biologists.
Researchers can look at tree ring samples from big trees around the preserve to see where and when fires occurred in the distant past based on burn scars.
The samples can also offer insight into the climate of the area from long before records were kept. A ring usually grows wider in a warm and wet year, thinner in a cold and dry year.
"Many of these big trees are three, four, five hundred years old," Parmenter said. "We can take a tiny core sample from a tree and have a record of the climate in the area over the last several centuries."
The past doesn't appear to be much on Aicher's mind when she's roaming the swales and hills in the caldera. She always seems in the moment, taking time to look not only at big trees, but also bones, rocks, vegetation, wildlife and even animal droppings to make note of what creatures have passed through the area.
"I find a connection with everything I step on, trip over or hug," Aicher said. "I'm an outdoors girl. I grew up in the country, and it's ingrained in me."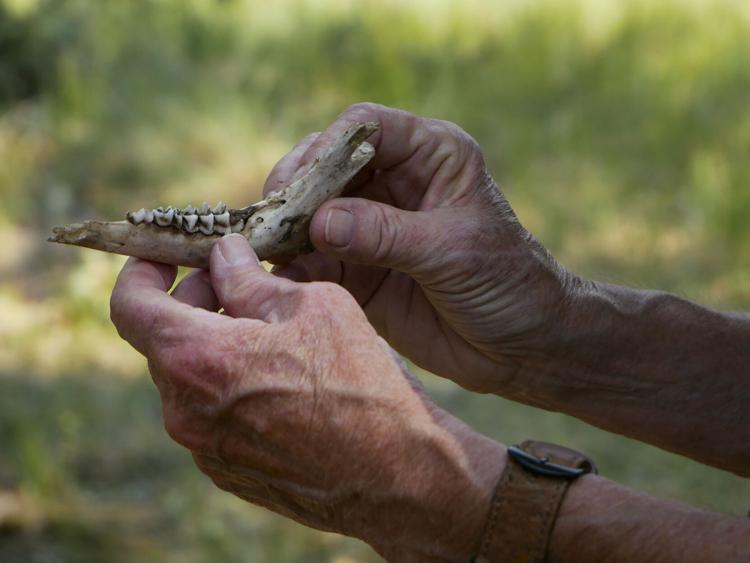 While Aicher was raised in the country, as an adult she long held office jobs that were "less than exciting," she said.
In 1989, Aicher began volunteering as a steward at a local nature preserve near Batavia, Ill., and took classes on plant identification at a nearby arboretum. The new knowledge and experience provided a gateway that allowed her to get various jobs related to conservation, preservation and planning of outdoor spaces.
Aicher retired just before she moved to Los Alamos with her husband, Kevin Aicher, 11 years ago. She now spends most of her time painting, hiking and volunteering.
While Kevin Aicher enjoys the outdoors, he said his wife's love of nature is much stronger.
"I'm a little more civilized than she is," Kevin Aicher said. "I like the finer things, like plumbing and pizza delivery.
"She's definitely more of a nature person than I am. She's out hiking all the time. She's 10 years older than I am, and man, I can't keep up with her."
Though he's confident she can handle herself in the wilderness, Kevin Aicher said he worries about his wife spending so much time alone off-trail.
He makes sure he knows which part of the preserve she is planning to visit before she departs, and she always carries a GPS device and cellphone whenever she goes out.
A member of the Los Alamos County Auxiliary Fire Brigade's search and rescue team, Liz Aicher said she doesn't worry about getting lost or hurt out there. She would rather focus her attention on the beauty around her.
The Valles Caldera covers 89,000 acres, and Liz Aicher has many more big trees to meet.
"There's so much to explore," she said. "That's what I like about this project. It'll never end."