Nearly three hours had passed before I realized I hadn't moved at all, entranced by a wall of sound and wave upon wave of countless birds filling the sky.
I'd spent the first two hours of daylight on a recent trip to the Bosque del Apache National Wildlife Refuge snapping photos of elegant sandhill cranes dancing in the wetlands, flying in front of a setting moon and feeding in cornfields. My hands were stinging in the freezing air, so I went inside my car to warm up, only to fall deeper under the Bosque's spell.
The overwhelming visual of a sea of birds lifting off, flying and landing en masse, combined with their spectacular chorus of calls — the throaty, rattling bugles of the cranes and the one-syllable honks of snow geese — displaced all other thoughts in my mind. I remained captivated for hours, immersed in this rhythmic scene until the sun began to drop on the horizon and golden light illuminated the cranes' massive gray wings and the red patch atop their heads.
The sound continued to echo in my ears throughout the two-hour drive home and, later that night, ushered me into the soundest sleep.
"For a time I rest in the grace of the world, and am free," is how Wendell Berry closes his exquisite poem, "The Peace of Wild Things." During a pandemic that has caused tremendous upheaval and uncertainty, visitors to Bosque del Apache say time spent resting in this refuge has helped alleviate the stress of a disrupted life, if only for a few hours.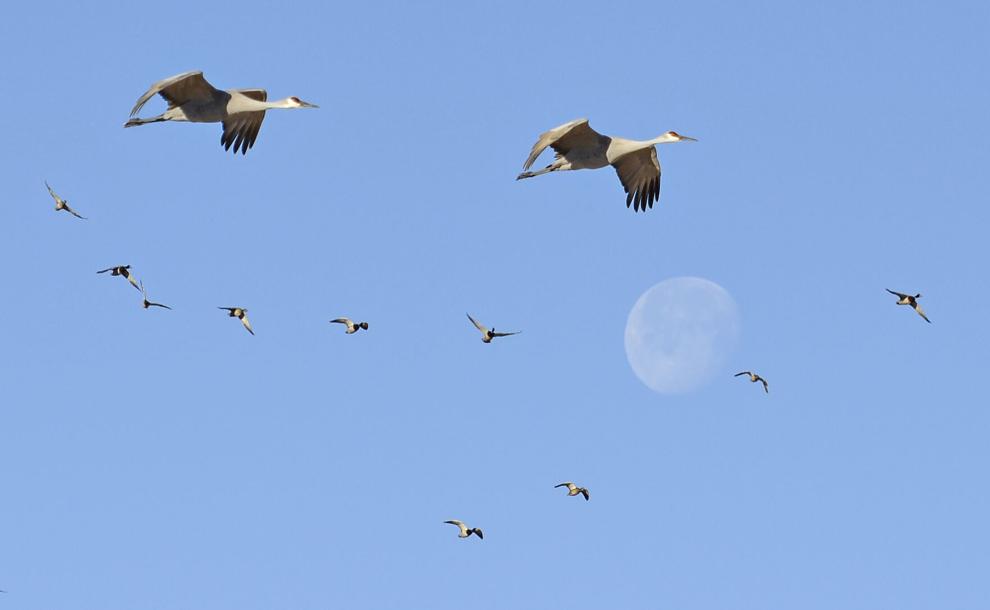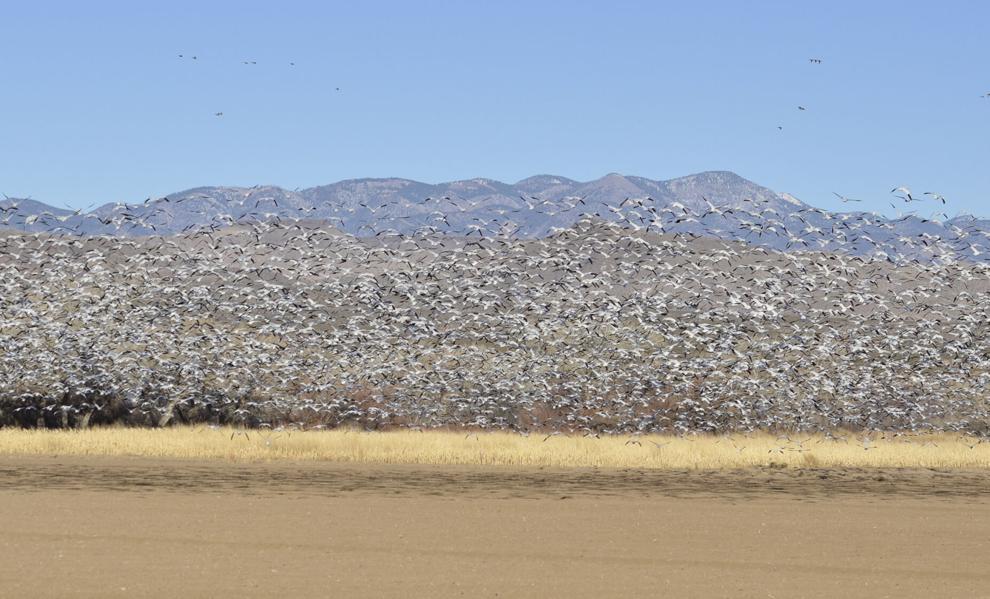 The 57,331-acre refuge has developed into a go-to escape for John Courtney over the five years since he moved to New Mexico from New Orleans. A prescribing psychologist and photographer who lives in nearby Socorro, he said he visits one to three times per week year-round and has taken at least 100,000 images of the wildlife and landscapes.
Courtney, 60, said he's formed a strong emotional attachment to the area and regularly recommends trips to Bosque del Apache to others, especially those who need to recharge or clear their minds.
"It's such a jewel to have here," Courtney said. "I tell a lot of my patients, one of the nicest things you can do for yourself is go there, be still and watch. Let the place wash over you."
Interacting with clients who have suffered a heavy toll during the pandemic, from the loss of loved ones to financial instability, has caused stress for Courtney himself.
When entry was restricted to Bosque del Apache in the early months of the pandemic, Courtney said he would make the 20-minute drive from his home, park his vehicle along N.M. 1 outside the refuge, stand there and gaze in. It was something small to help maintain a connection to the place he loves.
In late June, the popular Tour Loop reopened, giving Courtney access to his favorite retreat.
"Nature demands that you be present in the moment," Courtney said. "The Bosque reinforces that in me.
"Every time I go out, whether I shoot anything or not, I always feel better during those two or three hours of guiding myself around."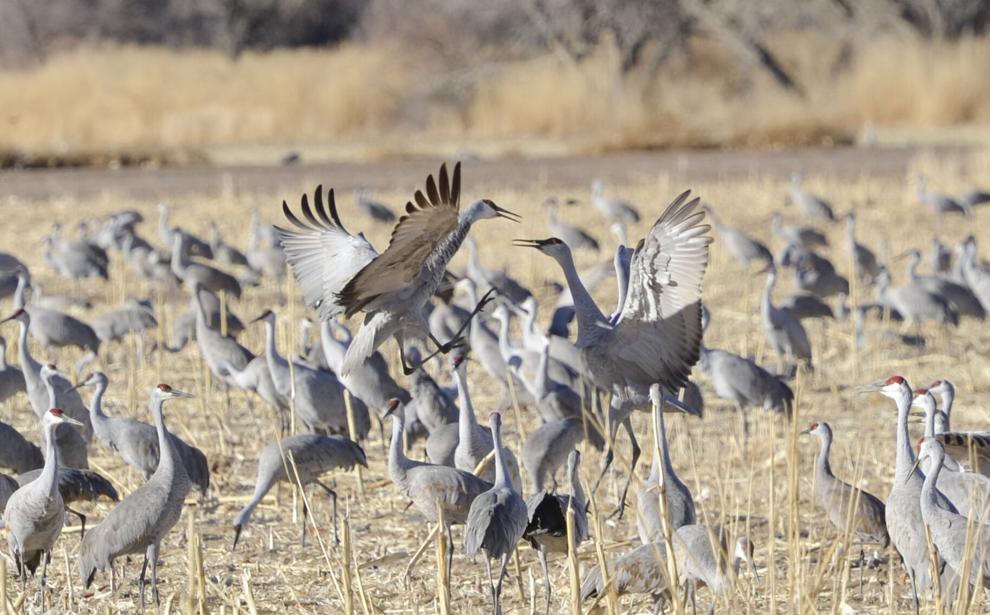 The past year has been filled with disappointment across New Mexico and the country as beloved annual events have been canceled due to the pandemic. Bosque del Apache is one place where the show has gone on, much to the delight of birders and nature lovers.
Starting in mid-October, hundreds of thousands of sandhill cranes and other migratory birds descend upon the Middle Rio Grande Valley to spend the winter. They fly back north in early to mid-February, with some cranes traveling as far as Alaska and Siberia.
The Friends of the Bosque del Apache held its popular Festival of Cranes as a virtual event in November, providing an alternate option to enjoy the cranes for people around the world, but lovers of the outdoors also have been flocking to the refuge in recent months to witness the breathtaking mass gathering in person.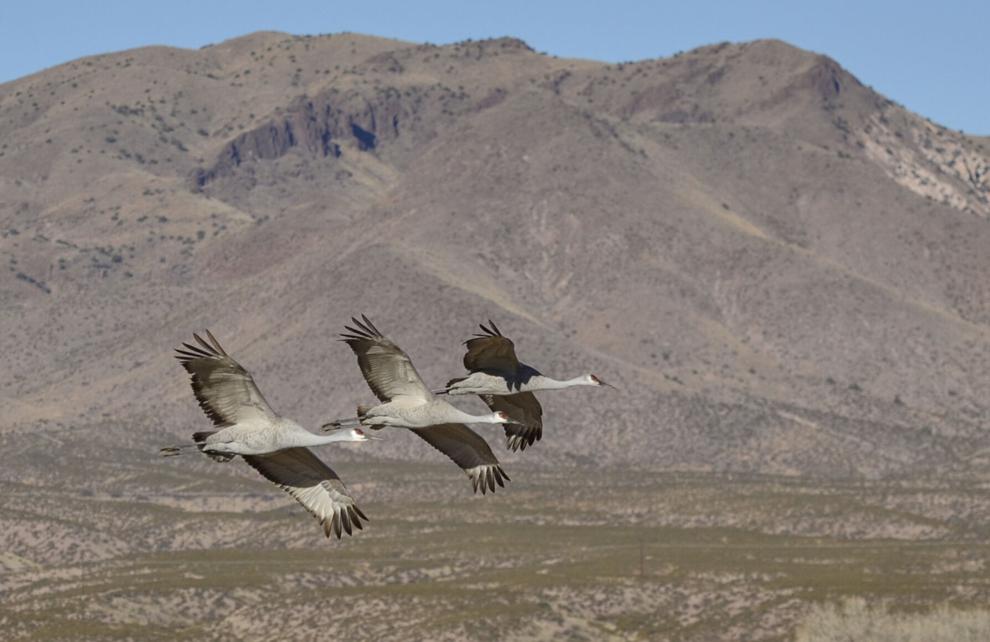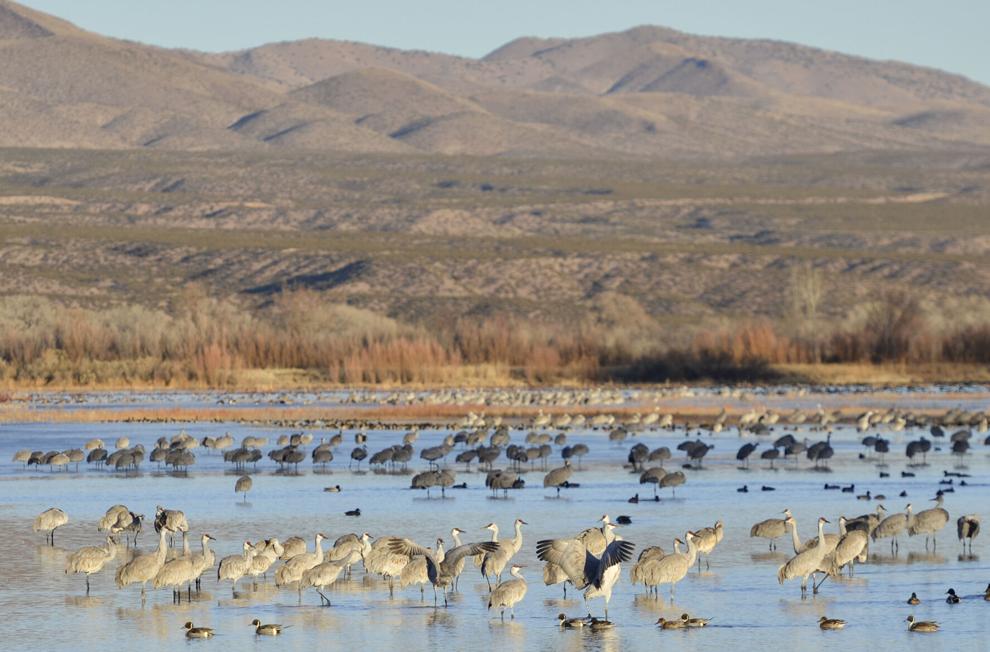 Bill Gorum, a Los Lunas native who is in his first year teaching physics and biology at Socorro Consolidated Schools, has been visiting Bosque del Apache for three decades. To the avid wildlife photographer, it's a place he can always count on having interesting animal sightings.
Gorum has long preferred seeking out the reptiles and amphibians that call the Bosque home, but he's gained a growing appreciation for birds, as well.
"The whole experience when they take off at the same time along with the sound they make, it's really a spiritual thing for me," Gorum said of the sandhill cranes. "It's awesome. It's amazing. I don't think people are prepared for that.
"People can see it in pictures, but until you're there and hear the sound, you don't have the full experience."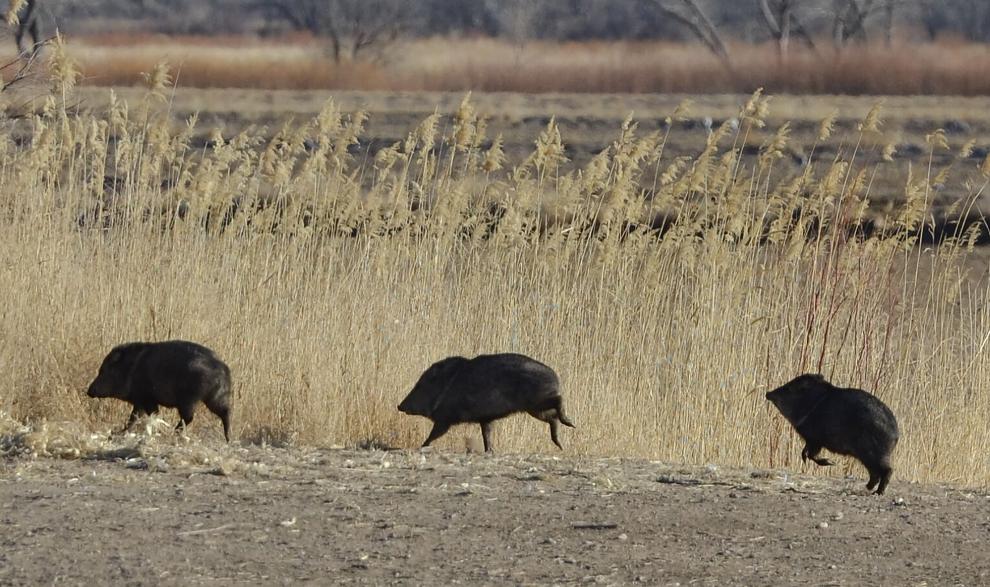 Though it's about time for the cranes to start returning north, the refuge contains many other interesting animals that are present year-round — from coyotes to roadrunners to javelinas.
There are also several short trails to hike, including the 2.2-mile Canyon National Recreation Trail that snakes through a slot canyon and climbs to a scenic overlook above the wetlands.
After a week of teaching classes online, Gorum enjoys getting out to explore it all. And he's always encouraged to see others do the same.
"As a teacher, I worry about people not being connected with the natural world anymore," Gorum said. "I see that in young people, especially, who spend so much time in front of screens.
"One of the good things that may be coming out of this [pandemic] is that one of the only things people can do these days is go outside, and hopefully more people are connecting to the natural world again."