Touchstones to the known world begin to melt away with each step upon crossing the threshold of the Bisti/De-Na-Zin Wilderness. In the labyrinthine desert dreamscape, weathered rocks rise out of the dirt to take on forms that almost defy imagination.
Tens of millions of years ago, this region was an inland delta and tropical forest filled with dinosaurs unique to the area.
Today, there are Manta ray-shaped structures that balance precariously on eroding sandstone pedestals and large oval rocks with bizarre markings huddled in a cluster commonly known as the "Alien Egg Hatchery." Crusted hills of red, white, green and black form layers on the horizon, concealing more oddities and wonders waiting to be discovered.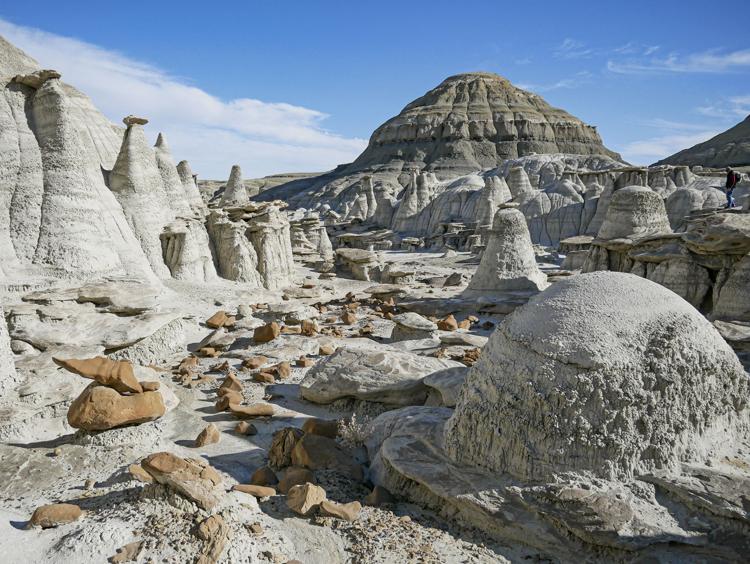 The mind struggles to identify any location that can compare, so when asked to describe the Bisti Badlands, the majority of visitors to this remote wilderness commonly cite some celestial body outside of Earth's atmosphere.
"It's kind of like you're on a different planet or on the moon or something. Not that I've ever been to a different planet or the moon," Stan Allison, an outdoor recreation specialist with the Bureau of Land Management's Farmington field office, admitted with a laugh.
It wasn't long ago that this BLM-managed area 40 miles south of Farmington had about as many visitors as the moon. But in just the past few years, a trickle of tourists has turned into a steady stream as images of the Bisti's otherworldly setting have circulated on social media and enticed a growing number of photographers and sightseers to the region.
The reputation of the Bisti/De-Na-Zin Wilderness was further elevated in December 2018 when it was included in National Geographic Traveler's list of "Best Trips 2019." Joining 27 other locations around the world, the recently expanded 45,000-acre wilderness was recognized alongside more high-profile destinations like Cairo, French Polynesia and the Peruvian Amazon.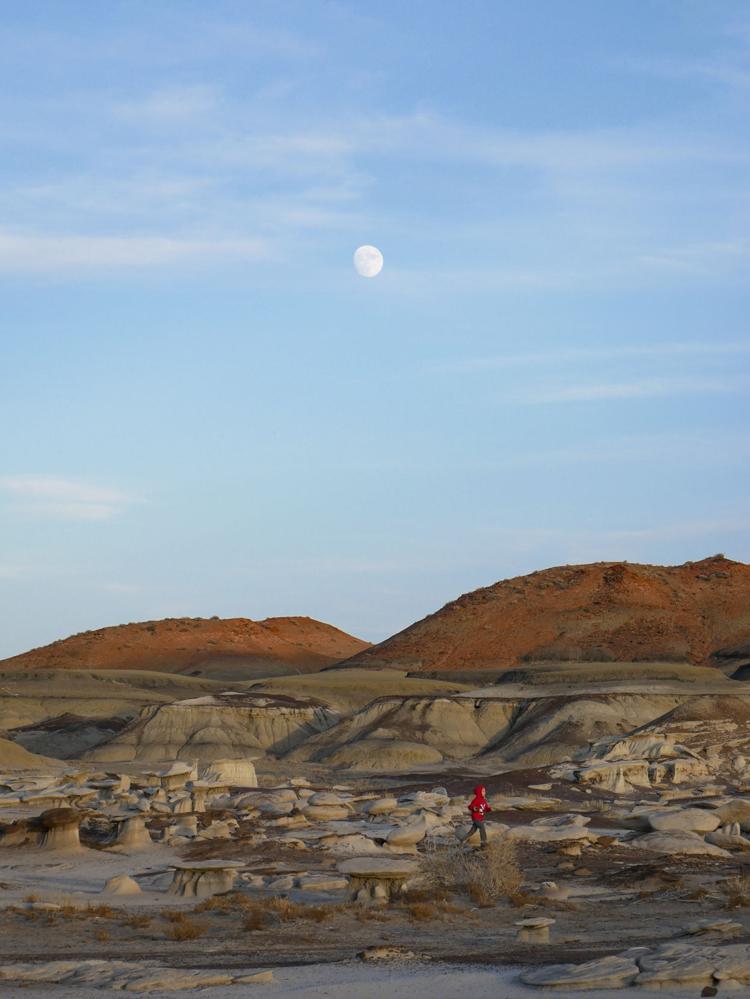 Doug McKim, a colleague of Allison's, said he lived in the Farmington area for more than a quarter century before he first ventured into the Bisti Badlands upon joining the field office four and a half years ago. On his initial trip, he said it felt like his eyes had been opened to a new world that was right in his backyard.
"I was kind of disappointed in myself that I had been here that long and had never gotten into it and seen what was there," said McKim, an outdoor recreation planner. "I just didn't know."
McKim says many other locals have recently made the same discovery and are now taking the drive down N.M. 371 to the Bisti — which is Navajo for "at the sandstone location" — on a frequent basis.
A first trip to the badlands tends to leave visitors with an appetite for more.
There are no trails in the wilderness, just an expansive maze of canyons, washes and gullies, each of which leads to a different psychedelic scene. Venturing over the next hill or beyond the next bend is always rewarded as the Bisti coaxes hikers to explore deeper into its crevices.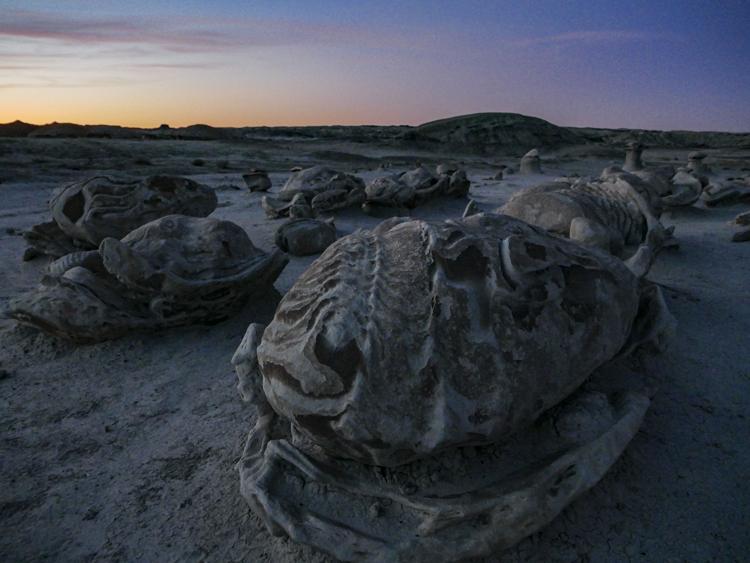 Michel and Therese, a Canadian couple who declined to give their last names, were wandering the Alien Egg Hatchery shortly after sunrise on a recent morning. They have a farm outside Quebec City that they've left each of the past five winters to roam outdoor destinations across the Southwest in their RV.
It was the couple's second time visiting the Bisti. While they noticed more footprints in the washes and cars in the parking lot than their first visit three years ago, they said wandering the badlands still fills them with a sense of adventure.
"You have the impression that you're discovering something," Therese said.
Though the Farmington field office doesn't have accurate attendance totals (no fees are charged to enter the wilderness), McKim and Allison say they've observed a significant increase in international tourists over the past two years. Based on sign-in logs at the wilderness gate, they've noted the vast majority are from Europe.
Navajo Tours USA is the only outfitter permitted by the BLM to lead guided tours through the Bisti/De-Na-Zin Wilderness. The company had only been giving tours in the badlands for one year before it was mentioned in National Geographic Traveler's snippet for the Bisti in the "Best Trips 2019" list.
The notoriety has resulted in a boon for the young company, which founder Kialo Winters says now gives tours to the badlands an average of twice a week in addition to tours through Chaco Canyon just to the south.
A year ago, Winters said he could almost always count the number of vehicles in the Bisti parking area on one hand. Now, on busy days, he says there can be close to two dozen vehicles there at a time.
With the influx of local and international visitors roaming such a delicate ecosystem, there comes an increased potential for damage to the fragile formations. In addition to sharing the Navajo lore of the area that has been passed down to him, Winters said he stresses to his travel guests the importance of respecting the wilderness they visit so it can be passed on as well.
"What we're witnessing out in the wilderness area is something that's being witnessed throughout national parks and wilderness areas in America is our demographic of visitors who want to get their social media shots, their selfies and stand on the delicately balanced hoodoos," Winters said, "and what has taken tens of thousands of years to form can be destroyed within seconds.
"But the majority of visitors who make it out there, a lot of them are responsible travelers. They respect the places they roam."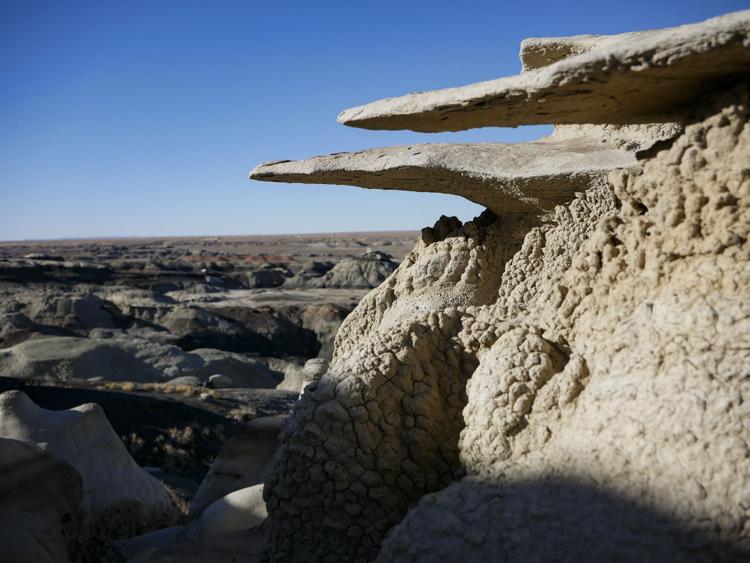 Allison said he hasn't seen enough evidence of destruction of the hoodoos to cause concern yet, but he has noticed that fossils and petrified wood have been illegally collected within the first mile or two of the wilderness.
"People, maybe in the past, they might have justified it by saying, 'It's just me picking it up,' " he said. "But after a thousand 'just me's,' all of a sudden there are no more fossil fragments for people in the area today to see."
The Farmington field office has made improvements near the Bisti parking area to help visitors better enjoy their experience and reduce their impact. Allison recently installed a vault toilet in hopes of lowering the amount of waste and toilet paper left in the wilderness by campers. And about three months ago, a pavilion and two picnic tables were installed to provide shade in an area that can experience extreme heat in the summer.
With the secret now out on the Bisti Badlands, BLM staffers don't expect the flow of visitors to subside anytime soon. The mesmerizing landscape is one that demands exploration, and McKim says he's only begun to scratch the surface of what the wilderness has to offer.
"You just find new things and there's so much to see and to look at," McKim said. "You can spend a lot of time wandering around and never get bored.
"Every time you go down there it's a new experience."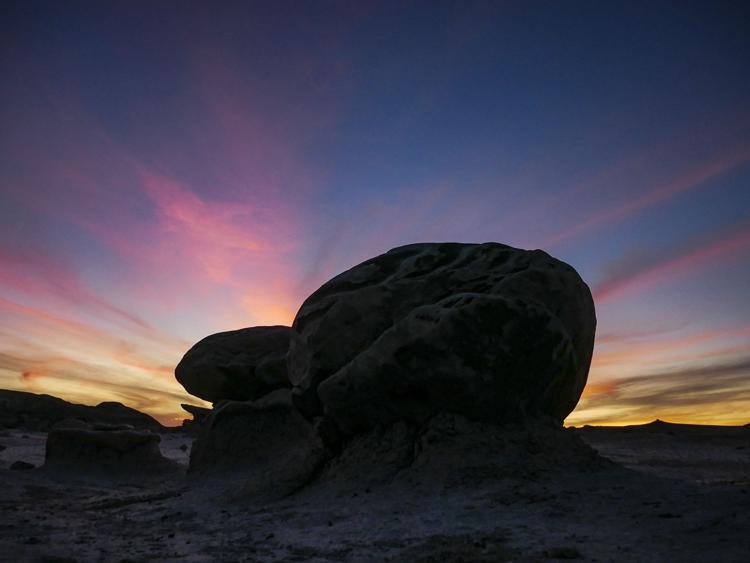 Tips for visiting the Bisti/De-Na-Zin Wilderness
Follow the wash: If you're feeling unsure where to go upon entering the wilderness from the Bisti access, just hike east across the main wash. Some of the well-known features are located just off this route and keeping track of where the wash is can prevent you from becoming lost.
Bring water: There are no water sources in the badlands, so bring plenty of your own and stay hydrated while hiking.
Watch for water: Storms turn the badlands into a muddy mess and can transform arroyos and washes into turbulent tributaries. Keep an eye on the sky and be ready to head back if rain seems imminent.
Leave no trace: Bring out whatever you take into the wilderness. Also, refrain from the temptation of collecting fossils and petrified wood. It's prohibited.
Branch out: In addition to the more accessible Bisti parking area, the De-Na-Zin parking area also offers access to some incredible sights. From Farmington, follow N.M. 371 about 44 miles south and turn east on County Road 7500. The parking area is 13 miles down the dirt road.