There is no turning back after a maiden journey into New Mexico's badlands.
Considering the minimal vegetation, water and shade, these inhospitable regions shouldn't be so alluring. But upon first sight, the mind-bending visual feast sprawled out before visitors all but demands exploration.
Bizarre hoodoos with wing-like rock structures balanced on cone-shaped pedestals are surrounded by multicolored mounds of burnt red, black, white, brown and green. It's without question the most alien landscape I've ever encountered.
The psychedelic scenes were almost overwhelming, but as soon as I left, I knew I wanted more.
Fortunately, it doesn't take much time Googling to discover there are opportunities abound for badlands expeditions in Northern New Mexico. And while hiking trails in the mountains are covered in snow, winter is a great season to investigate these fascinating high desert locales.
A pair of badlands areas within an hour's drive north of Santa Fe are well worth seeking out.
Plaza Blanca, or the "White Place," near Abiquiú was a source of inspiration for Georgia O'Keeffe and many others who have visited before or since. A short walk under gorgeous white rock walls and pillars leads to peaceful pockets of tranquility.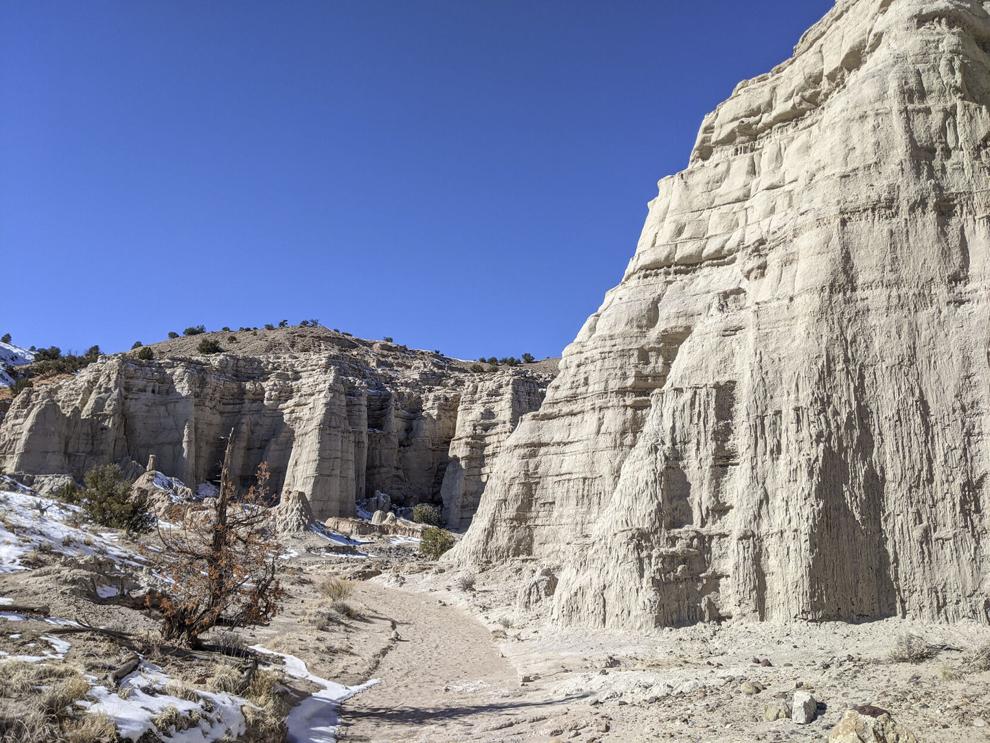 Located on private land owned by the Dar al Islam education center, Plaza Blanca has been closed during the coronavirus pandemic, but there are similar "white places" on neighboring public land for those willing to do a bit of extra searching.
Closer to Santa Fe and accessible from the High Road to Taos, the Nambé Badlands is one of the few badlands areas that has developed trails.
Mountain bikers and hikers can climb up ridges to gain fantastic views of the Sangre de Cristo Mountains to the east, the Jemez Mountains to the west and the badlands below.
The highest concentration of badlands is in the San Juan Basin in the northwest corner of the state. While the Bisti/De-Na-Zin Wilderness has gained international attention in recent years since being featured in National Geographic Traveler's list of Best Trips for 2019, there are many other areas nearby that are also incredible.
Most of these areas are on land managed by the Bureau of Land Management and accessible by dirt roads, many of which are oil and gas roads.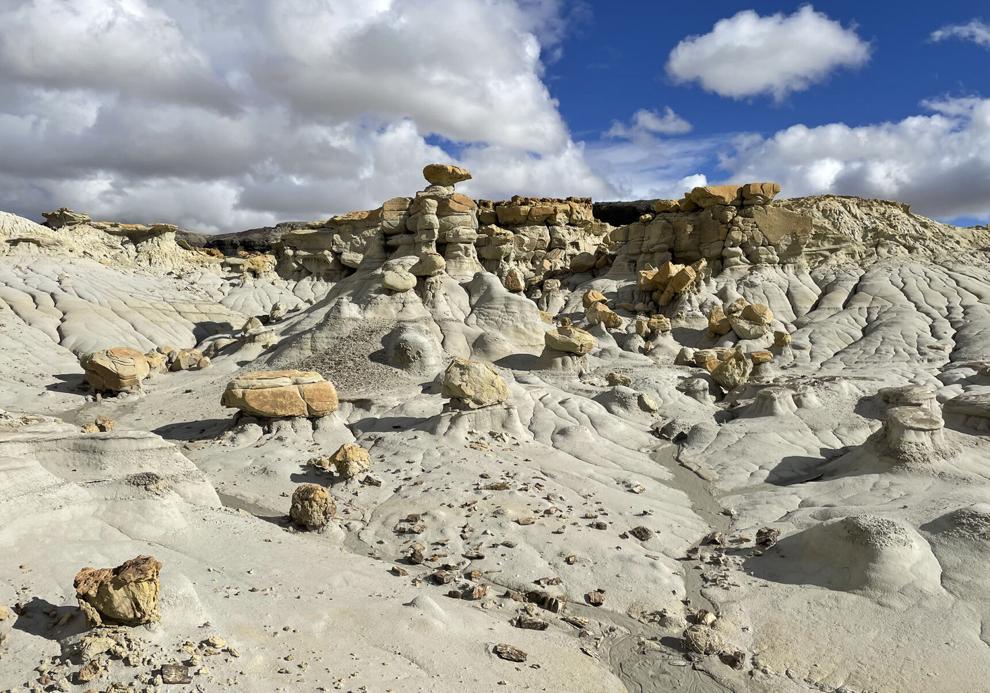 Just south and east of Bisti/De-Na-Zin and very similar in geology is the Ah-Shi-Sle-Pah Wilderness. Along with the colorful badlands and sandstone hoodoos, visitors can find petrified logs and fossils within the ravines.
O'Keeffe's love of badlands spread from Abiquiú to the San Juan Basin in what is known today as the Lybrook Fossil Area, or Lybrook Badlands. A location she called the "Black Place," near Nageezi and partially visible from U.S. 550, features rolling gray and black badlands that were the subject of many of her paintings and drawings in the 1930s and '40s.
The Black Place is located in the northwest portion of the Lybrook Badlands. Other sections contain large hoodoos similar to what would be found in Bisti/De-Na-Zin or Ah-Shi-Sle-Pah.
There are several other badlands areas scattered throughout the San Juan Basin, many of them unnamed and seldom visited.
Each trip to the badlands leaves me in awe. I feel an innate reverence for these weathered lands, whose eroding and fragile formations show the work of time.
These desolate, secluded spaces don't provide what's necessary to sustain much life, but they have much to offer to satisfy one's appetite for adventure.