The first thing to know about What the Truck is that it's not in the truck. It's in the airport.
Though you might not have picked up many arriving passengers at Santa Fe Regional Airport this year, there's still reason to pull up curbside these days. That's thanks to What the Truck owner Victoria Bruneni, who took over operations at the Santa Fe Airport Grill two years ago so she could keep it up and running as her catering business's kitchen. (You can come inside to order and eat, per current COVID-19 rules, but they're happy to run your food out, too.)
And there is indeed a truck — a 1961 Ford converted milk truck "that I'm in love with, but it's completely unreliable," Bruneni says — but it's more of a mascot for its owner's culinary efforts. Previously the general manager at the Inn at Santa Fe for a decade, Bruneni turned What the Truck into a full catering business in 2018 and continues to provide food for corporate events, film and TV productions, and other happenings.
Travelers headed in and out from the airport kept the grill going until the pandemic wreaked havoc on things like air travel and catered events. Even as her business struggled, Bruneni looked for ways to help, including serving 5,000 meals to front-line workers at Christus St. Vincent Regional Medical Center. (That philanthropic philosophy remains a bedrock of Bruneni's business, with a Pay What You Can meal offering for anyone who needs it. More on that in a moment.)
Now, this culinary whiz and catering pro, who can whip up anything from Italian pasta dishes to Thai soups to burgers and burritos, is exploring her niche in the Santa Fe food landscape.
"It's a vast array, from gourmet to diner items — it's just that wide," she says. "I'm doing everything so I can figure out what I should be doing."
That's lucky for us. Because in addition to a regular menu that incorporates breakfast, grilled fare, salads and the like, Bruneni puts out an inventive, ever-changing specials menu each week that showcases the diversity of her skills.
Last week's menu, for instance, featured a creamy potato and leek soup; a Thai coconut chicken soup ($5); and a croissant sandwich with maple mustard, egg, sausage and bacon. I tried the five-cheese tortellini Alfredo with chicken — a dreamy affair featuring pillowy tortellini stuffed with ricotta, aged Parmesan, mozzarella, mascarpone and aged Romano, coated in thick, rich sauce. It came ready to be heated later, and with a slice of bread and a simple green vegetable, it was more than enough for a hearty weeknight meal for two.
On the other end of the flavor spectrum, the Thai green curry with pork (served with brown rice, $8) had a classic bright and tangy profile, with the heartiness of the meat, eggplant and mushrooms balanced by the slight heat of small red chiles.
I also tried, as one does in New Mexico, the handheld breakfast burrito ($7.50 on the regular menu), and while the mix of scrambled eggs, meat, beans, chile, diced fried red potato and cheddar hits all the right notes, it's the size that's most impressive. It clocks in, according to a recent What the Truck Facebook post, at a whopping 2 pounds.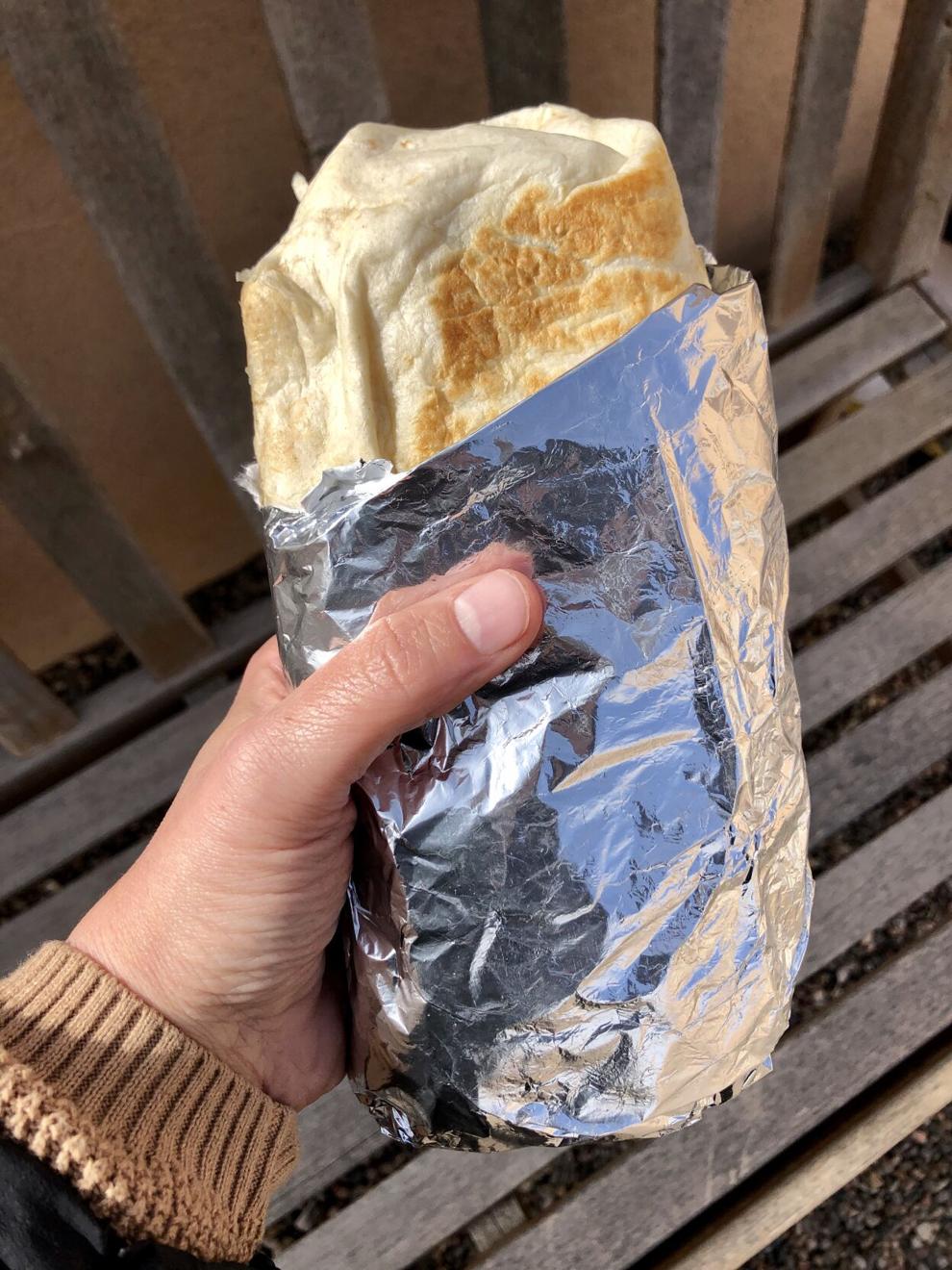 But perhaps the current star of the menu is the California Dreaming Burger ($7.95), a special that's proven so overwhelmingly popular that Bruneni is adding it to the permanent menu and just held a contest to give it a new, more local name. It's inspired by a certain West Coast style, with two patties, cheddar, lettuce, tomato and onion and slathered with an utterly addictive special sauce, an extra cup of which comes on the side for dipping your skinny fries.
Previous specials menus have run the gamut from tomato and shrimp bisque, biscuits and gravy, fish and chips, and beef stroganoff to corn chowder, chicken cordon bleu pasta, shrimp and crawfish etouffee and a loaded hummus bowl. What the Truck's weekly specials change on Sundays, and I've already started looking forward to seeing what surprises the new menu will hold when it's posted each week on Facebook.
Now about that Pay What You Can option. People in the community can call or order online and request up to four of the meals while supplies last. Then you simply pick them up at the airport; no need to say how much, if anything, you can pay. Last week's offerings — an extension of the specials menu — included the Thai coconut chicken soup, potato leek soup or house salad, and the Thai green curry, tortellini or shepherd's pie.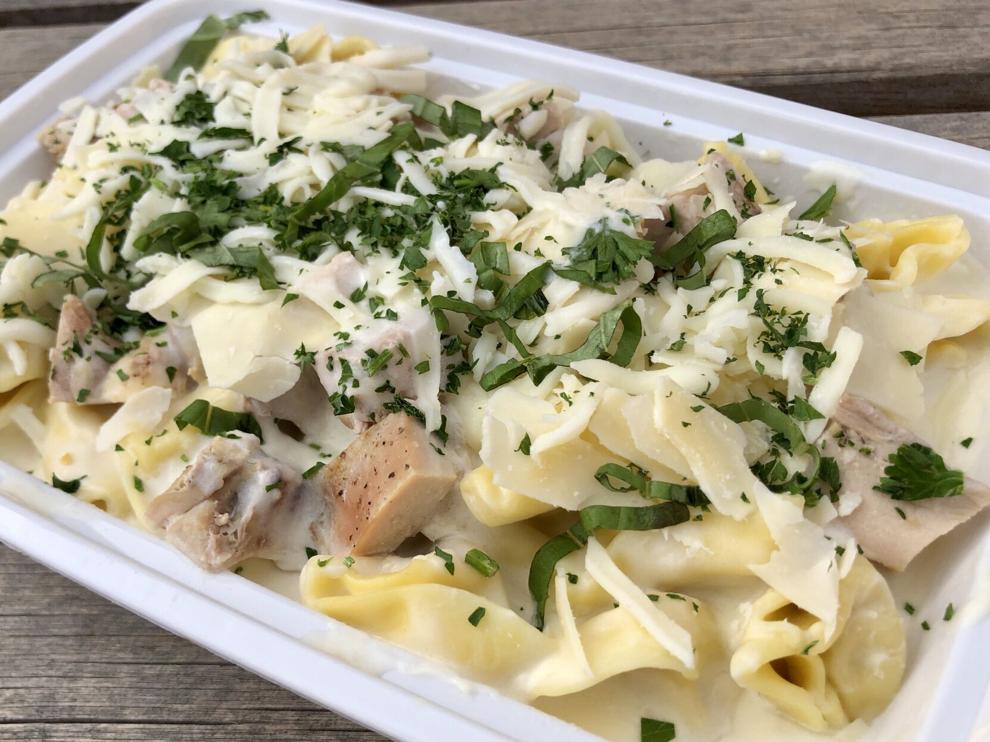 Bruneni said she was inspired by serving meals to seniors who were quarantining during the pandemic. Some of them would receive food bags, but they wouldn't have the energy or the kitchen savvy to turn those ingredients into wholesome, tasty meals.
"Giving back is a massive part of my being," Bruneni says. "My heart's on my sleeve. I find ways to cut costs now because I have a big passion for the community and I want to give back."
And kindness brings all kinds of rewards. Those 5,000 meals she donated to front-line workers? One of the nurses booked her to cater her wedding next year; another community member read about the good work and booked Bruneni for her wedding, too. She gave 90 days' worth of meals to The Life Link for its outreach program, and the nonprofit contracted with her to provide food services later on.
"I truly believe that if you put good food into the world, good will come back to you," she says.
And if you want to do a little good, too, you can cover the cost of someone's Pay What You Can meal when you pick up your own curbside order of West Coast burgers … or breakfast burritos … or whatever culinary creations Bruneni has dreamed up this week.
Step up with takeout
Here's another way to give back and get great food at the same time: On three upcoming Thursdays, you'll have the chance to order takeout and support the local Kitchen Angels program, which prepares and delivers free, nutritious meals to Northern New Mexicans who are homebound and facing life-challenging illnesses and conditions.
On March 18, a portion of proceeds from orders at Cafecito, India House, Pecos Trail Cafe and Piccolino will go to the program. On April 15, place your order at Andiamo, Joe's Dining, Paper Dosa or Plaza Cafe Southside. On May 20, order from 315 Restaurant, Arroyo Vino, Jambo Cafe or Santa Fe Bite.