My friend brought Christmas to my doorstep on a recent night.
It didn't look like any Christmas before, of course; the pandemic has canceled parties, playdates, the ability to flit from shop to shop in search of the perfect presents, even the handing out of holiday gifts with a hug.
Instead, my friend and I texted no-contact drop-off details, and her daughter included a handmade card for my kids. I caught the faint slice of headlights as her car headed back down the driveway and into the cold night.
But her thoughtful gift brought back some of the old holiday magic. Inside, she'd packed an array of goodies from Chocolate Maven: fudgy brownies, a sweet-and-tart mini loaf and two festive, oversized Christmas tree cookies. Even seeing the logo transported me to brighter times, of stopping into a local bakery or ice cream shop with my little ones for an after-school treat.
While we can't linger in the places that have given us so much joy here in Santa Fe and beyond, bringing a little bit of it home helps. Maybe it's takeout from a local restaurant, a box of pastries picked up curbside, or any number of foods and products made by local people.
We know the holidays are a perfect time to spend your money locally, but this year it's even more important to help local businesses survive the upcoming months. New Mexico has a rich tradition of celebrating the land and the resources that come from it — and that extends to the people who grow, harvest and create the things that nourish us, both physically and emotionally.
All of this must have been on the minds of the folks in Taos, too. On Dec. 1, Visit Taos launched the Bring Taos Home campaign (bringtaoshome.com), which included two limited-release boxes of Taos-made culinary and wellness goodies, both of which sold out so quickly online they're considering bringing them back on an ongoing basis.
"This is a new effort for Visit Taos," said Karina Armijo, marketing and tourism director for Visit Taos. "We did it because we see our local businesses struggling in the pandemic and wanted to introduce this effort to encourage people to support the economic vitality of the Taos community and keep Taos top of mind for a visit as soon as it is safe to travel again."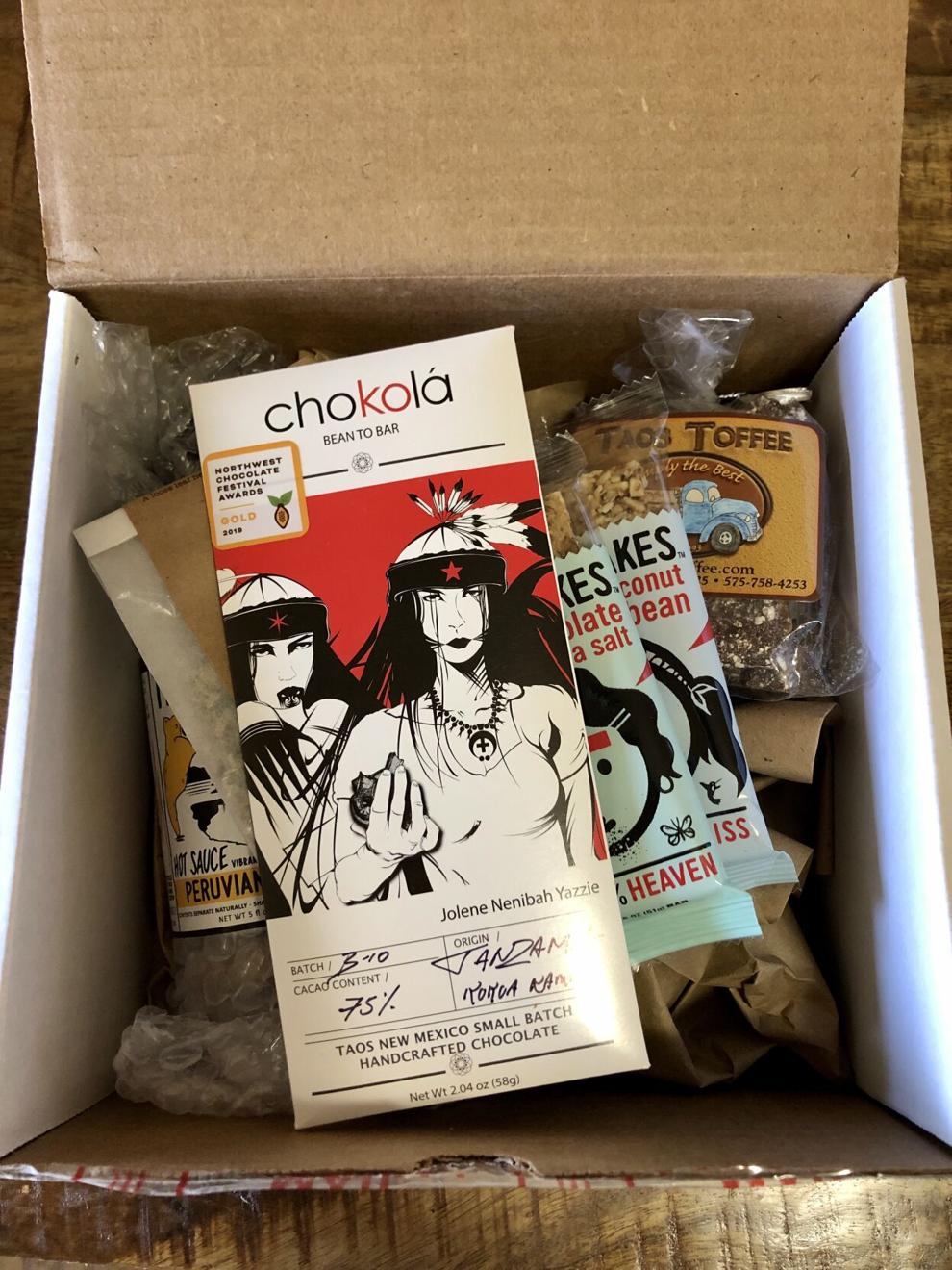 The culinary box featured a sampler of local offerings, including snacks from Taos Bakes, a bag of lightly spiced piñon chile Taos Toffee, a bottle of blazing-hot sauce from Taos Hum, and a jar of raw whipped honey from the Taos Honey Co. My favorite discoveries were the High Desert Sage loose-leaf tea from tea-o-graphy — with a pleasing herbal blend of sage, cinnamon, peppermint and Dutch lavender — and a bright and jammy Tanzania Kokoa Kamili chocolate bar from Chokola, which creates small-batch bean-to-bar chocolates.
Traditionally, you might discover these kinds of products while browsing in a downtown Santa Fe shop or taking a leisurely day trip to Taos, picking up something here or there as a holiday gift for friends or family. For now, you can support all of these businesses — and many of your local favorites — online by buying their products.
Here are a few other food-related ways you can bring home a bit of what makes our state so special:
While the ordering and shipping deadline has passed for many gift boxes for our out-of-town loved ones, you can still order one of two delightful holiday boxes from Dolina, 402 N. Guadalupe St. The small box ($34.99 plus shipping) contains nutty granola, chocolate chip cookies and gingerbread; the large box ($49.99 plus shipping) includes all of that plus a bag of Sightglass Coffee's special winter roast. Ship or pick up in town; order by emailing info@dolinasantafe.com
The aforementioned Chocolate Maven (821 W. San Mateo Road) has a wide range of holiday goodies for sale, but it's also putting together boxes featuring eight of its decadent brownies for $44 (at press time, on sale for $35). Order online at chocolatemaven.com/online-store/The-Maven-Brownie-Box.
Pick up a four-pack of 375 ml bottles of Tumbleroot's organic spirits — London Dry Gin, Cane Vodka, Blanco Rum and Plata Agave Spirit — for $40. Order at tumbleroot.square.site and pick up curbside Tuesday through Friday at 2791 Agua Fría St.
Many specialty shops are also offering curbside pickup, and a tin of loose-leaf tea or box of artisan chocolates makes a welcome gift. At Santa Fe Olive Oil & Balsamic Co. (santafe
oliveoil.com), for instance, you can custom-create a package of two, four or six of their olive oils and vinegars.
Support a local cookbook author. Christine Hickman is offering a special virtual teaching class, "No-Fail Gnocchi," through the Chibo website (cookwithchibo.com). For $40, Hickman will teach you how to make ricotta gnocchi with sundried tomato and olive pesto as well as Sagrantino cream sauce — and she'll include a copy of her cookbook, Gnocchi Solo Gnocchi, which retails for $35 on its own. "I'm teaching ricotta gnocchi because it's the easiest to learn, and I want to inspire people to let go of their fear of making gnocchi," Hickman said. Register yourself or a lucky recipient for a course at bit.ly/3mauEVu and then email her at christine@sonomarcella.com with a receipt from Chibo and the mailing address of the person who gets the book.
And last but not least, don't forget to pick up gift cards to your favorite locally owned restaurants. Recipients can use them now for takeout or save them for the future — and investing now for a meal in the future will help those places make it through the hard winter months.