On a recent, typically blustery early April afternoon in Santa Fe, I did something I almost never do: I stopped by Canyon Road.
Excuses, excuses: There'll be too many tourists. There'll be nowhere to park. There's nothing I could afford there anyway.
But then I stepped into the sweet, airy courtyard outside Manolla Cafe, and suddenly I wondered why I hadn't been here already.
Manon Pierme, a licensed nutrition and wellness practitioner, opened her cafe in June 2020, and the concept is ideal for a cautious, pandemic-weary world. There's beautiful outdoor seating, and everything here is already packaged to-go, arranged so prettily you'll forget you're not eating off china.
The setting is equally charming — in the first block of Canyon Road off Paseo de Peralta, across from the mesmerizing kinetic wind sculptures at Mark White Fine Art. I found side street parking with no trouble just a few minutes away.
Pierme, whose family moved here from France when she was 5, describes her menu as a modern take on health food with a Mediterranean twist. The simple but thoughtful menu includes healthful sandwiches, tartines and salads, smoothies and Ohori's espresso and tea drinks. Items on the menu are labeled as gluten-free, vegetarian, vegan, organic or dairy-free.
"We've had really wonderful feedback," said Pierme, who also offers postpartum packages and personal nutrition services. "People appreciate that we're delivering 100 percent organic food."
A top seller is the housemade tuna, studded with figs and herbs. You can have it all on its own ($8) or in a sandwich ($10.50) with goat cheese and arugula. I had a scoop atop the Amour De Kale salad ($13 topped with tuna salad, smoked salmon or tempeh), a tangy and satisfying medley of massaged kale, mixed greens, blueberries, walnuts, goat cheese, hemp seeds and dressing. It's the kind of lunch that's filling without being overwhelming, the kind that makes it easy to feel good about eating healthy because it tastes so good.
I also tried a new customer favorite, La Parisienne ($13), a simple but flavorful sandwich of shaved ham, P'tit Basque cheese, greens, cucumber, watermelon radish, grain mustard and butter. The Avocado Tartine ($9) was a picture-perfect snack with cashew-based cream cheese and a scatter of hemp and sesame seeds. A Golden Goddess smoothie ($10) — with mango, banana, turmeric, ginger, coconut water and coconut milk, hemp protein and maple syrup — had just the right amount of sweetness.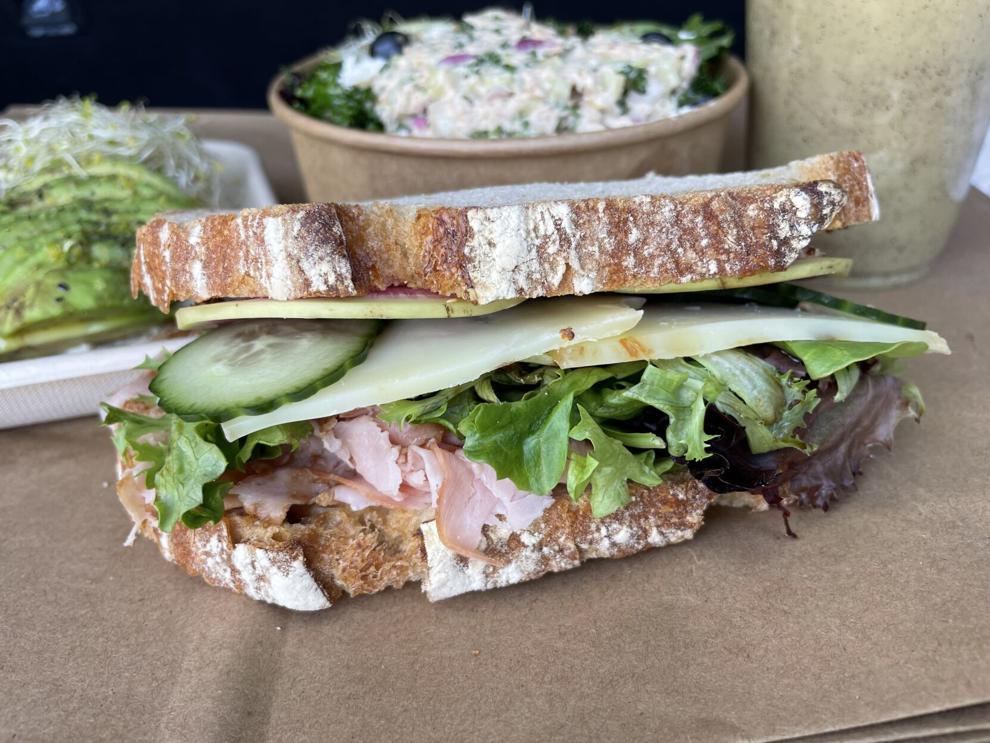 Manolla also sells vegan, gluten-free, low-glycemic granolas ($9.50 per package): Lavender vanilla and chocolate cacao are regular flavors; I tried the perfectly springlike seasonal offering, a crisp and light lemon coconut.
Then there are the cookies ($3.50), which manage to be vegan, gluten-free and paleo-friendly — crisp yet moist sweets that are so popular they can sell out. Chocolate chip and lemon lavender are always on offer, but specialty flavors pop up, too.
"I'm not just making food to have a restaurant," Pierme said. "We try to pass along as much good energy into the food as possible."
I carried some of that good energy back outdoors as I passed tables of diners chatting happily and headed to my car. Across the street I paused, taking in the spring blossoms and those slowly spinning wind sculptures glinting in the sun. A man drove past in a gorgeous Jaguar, and the whole thing felt too fancy to be true.
Then reality reared its head, and I laughed out loud in the middle of Canyon Road: Stuck in the grille of the Jag was a stubborn spring tumbleweed.
Sometimes it's nice to visit a place you haven't been to in a while, to eat and drink something nourishing and look at something beautiful — and it's so nice we have places like Manolla Cafe to remind us that a lovely little break from the everyday is just around the corner.
Be an Angel
Grab breakfast, lunch or dinner April 21 from one of 31 local restaurants, and 25 percent of the revenue will go to local nonprofit Kitchen Angels. This is the 23rd year for Angels Dine Out, which benefits this community-based, volunteer-driven agency that provides free, home-delivered meals to people in Santa Fe who are homebound living with life-challenging health conditions.
Here's the list of participating restaurants: 315 Restaurant & Wine Bar; Andiamo!; Arable; Arroyo Vino; Bourbon Grill; Cafecito; Café Castro; Café Fina; Café Pasqual's; Cowgirl BBQ; Herve Wine Bar; Hidden Mountain Brewing Co.; Horno Restaurant; India House; Izanami; Jambo Café; Joe's Dining; La Casa Sena; Le Pommier Bistro; Mariscos Costa Azul; Museum Hill Café; Paper Dosa; Pecos Trail Café; Piccolino; Plaza Café Southside; Posa's Tamale Factory & Restaurant; Pranzo Italian Grill; Rio Chama Steakhouse; Rustica; Santa Fe Bite; and TerraCotta Wine Bistro.