Santa Fe native Melissa Dominguez has cooked everywhere from the much-loved Mu Du Noodles to the celebrated La Boca/Taberna, from down at Lamy's Legal Tender up to the Santa Fe Opera. But you won't catch this chef happier anywhere than inside the tight quarters of Tumbleroot's newly opened East Root food truck.
Dominguez took over as executive chef at Tumbleroot in September, refining the taproom's pub menu and adding dishes like pork belly tacos and crab cake sliders. The space has always welcomed food trucks, but after Bang Bite moved from the lot in the latter part of 2019, Tumbleroot's owners came to Dominguez with a sweet proposition: create her own food truck menu alongside the kitchen offerings.
"That was a little dream of mine," said Dominguez, who had long had a concept for a pan-Asian food truck.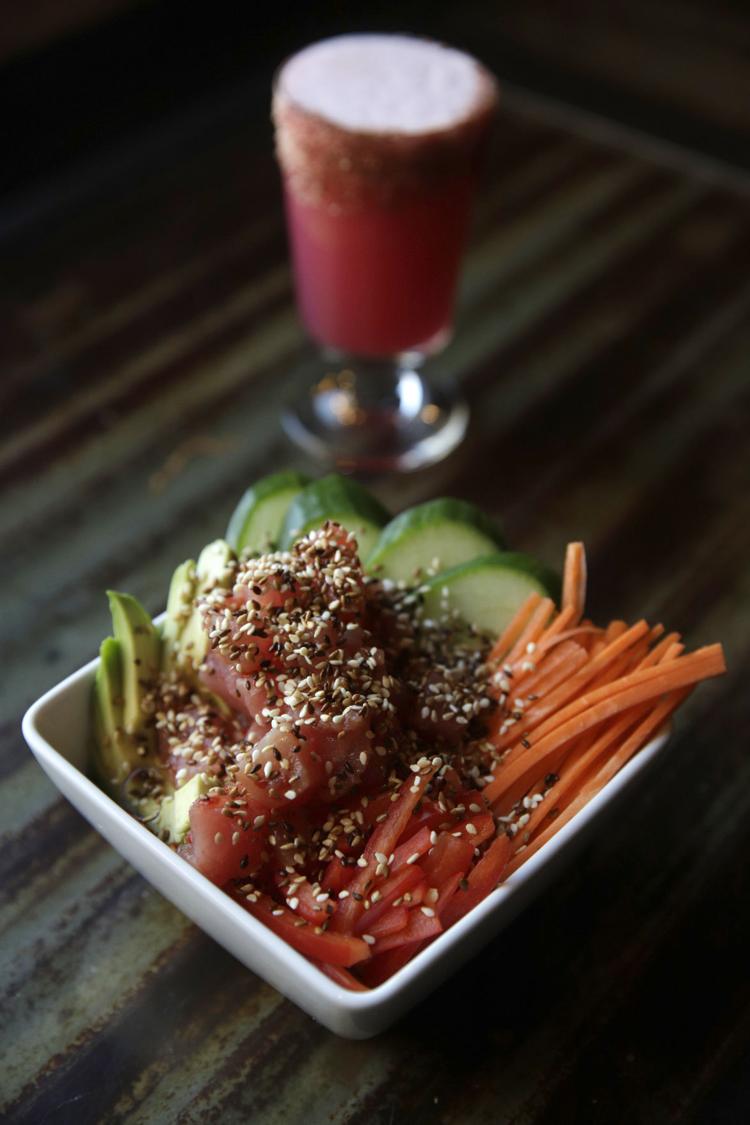 And happily, that concept slotted right in to the global mindset at Tumbleroot, whose owner, Jason Kirkman, is a world traveler: He and his wife took their three young kids on a two-year globe-trotting adventure they dubbed "The Big Field Trip." Cuisine played a large role in their cultural education, and Kirkman even developed a recipe book from the travels.
"That's been part of the Tumbleroot identity from the get-go: to explore broadly and connect deeply," said Kirkman, who launched the brewery and distillery in 2018 with co-founder Jason Fitzpatrick. "We look to global traditions in our beer and cocktails, and we've been waiting for the right fit. I feel really proud of where we're going."
The brewery and distillery, which currently is seeking official designation as producing organic products, has a from-scratch, seasonal, carefully sourced ethos that extends through the beer and spirits lineup to the cocktail program and into Dominguez's culinary creations.
"It's a really cool dialogue we're creating around the products and really around the seasons," Kirkman said. "We're having a conversation with the kitchen menu."
East Root isn't a walk-up food truck: Right now, it's more of an auxiliary kitchen anchored out front near the taproom's more limited indoor kitchen. Customers peruse a menu that offers both the in-house pub fare menu (served all day Tuesday through Sunday) and the East Root lineup (served 4 to 9 p.m. on the same days). On Monday nights, they'll still be serving chef Brent Jung's Korean dumplings, an addition whose popularity in part inspired the decision to have East Root focus on Asian street food-inspired cuisine.
"It's built a steady following, and we felt that we had permission to expand that idea," Kirkman said. "People want that authentic, tasty Asian food. We thought we could take that and really do something."
The food truck menu offerings are diverse, with lighter offerings than traditional pub fare, and Dominguez, who is a vegetarian, made a point to include flavorful vegetarian, vegan and gluten-free options.
"There's so many highlights," she said with a smile while looking over the menu. She particularly loves the samosas ($8), which come with a mint cilantro chutney, and the vegan pad thai ($11), which can be customized with chicken, tofu or shrimp for $3 and is one of the most popular dishes so far.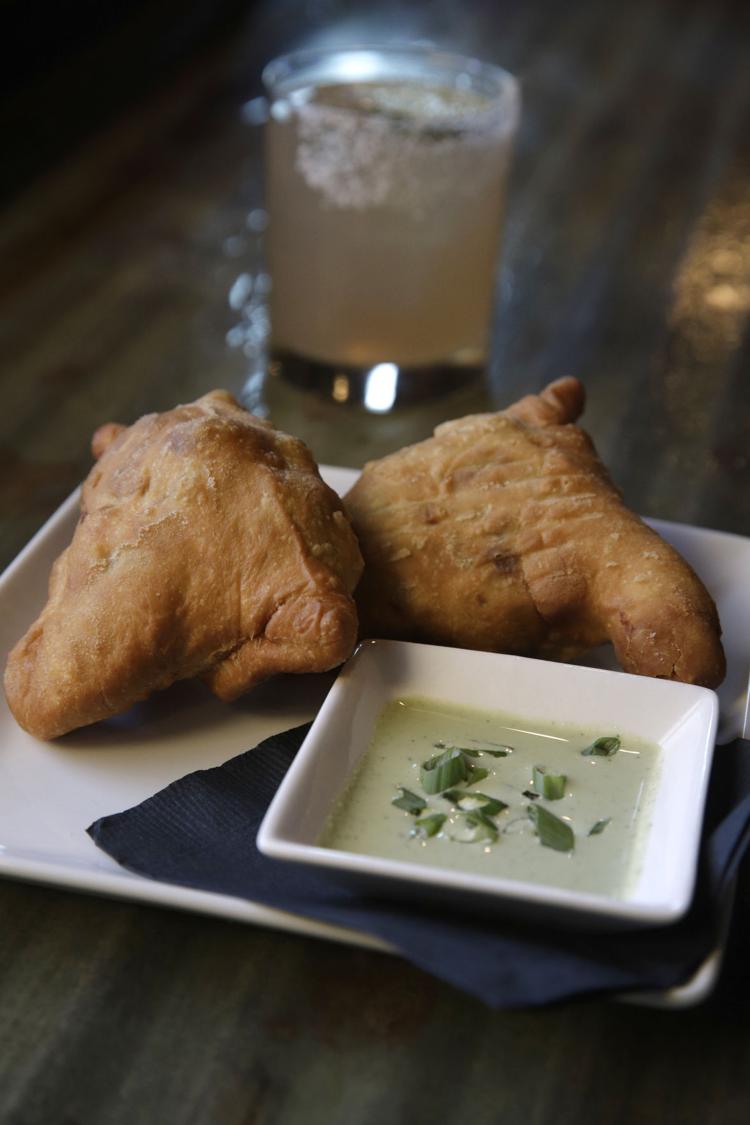 There's also a poke bowl ($12), tandoori chicken wings ($13), fried calamari ($13) and teriyaki sliders ($13), which feature grass-fed beef, wasabi aioli and Asian slaw and are served with fried long beans. Kids, she said, love the tempura veggies and spring rolls, which also appear on a kids menu with items like grilled cheese and a hot dog — important because Tumbleroot, which features indoor and outdoor kids' spaces, is known as a family-friendly respite for parents in addition to its reputation for drinks and live music.
"East Root really hits with people," Dominguez said. "People have been wanting this, and Santa Fe was in dire need of great pan-Asian food."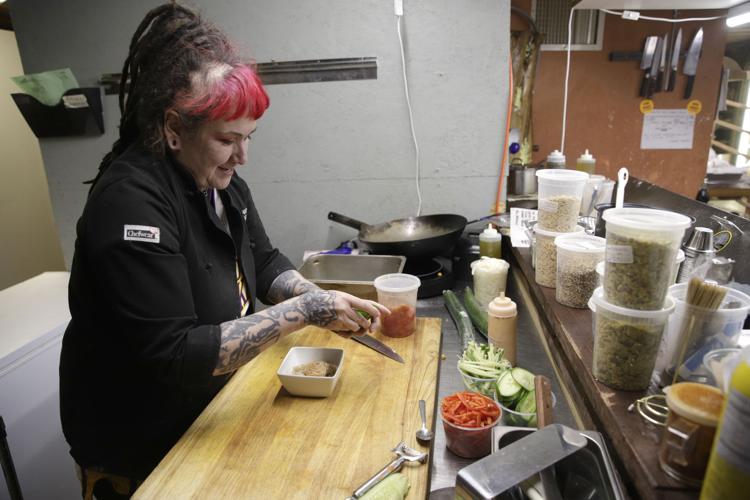 Customers can choose from the thoughtful cocktail menu featuring Tumbleroot's spirits (and a few soft cocktails as well) and the ever-rotating lineup of craft brews. Dominguez pointed to a low-alcohol-by-volume Japanese-style lager that pairs especially well with the East Root lineup, as well as a specialty cocktail that features Tumbleroot's Oro Rum with housemade pho syrup and aromatic spices.
Next up, Tumbleroot hopes to make its food truck mobile for events and catering. Dominguez has her eye on introducing more global takes on pub food to the kitchen menu. And a special Sunday menu featuring brunch is in the works. Throughout, there's a feeling of synergy, from the kitchen to the bar to the Bisbee Court production facility just south of Santa Fe (which features a small tasting room and tours).
"I absolutely love what I do," Dominguez said. "I've found my place."