Pieces of dough, wrapped around fillings, and cooked. There aren't many simpler, more rewarding dishes than dumplings. Maybe that's why you'll find variations of them around the globe, from empanadas to pierogi to samosas.
Chinese dumplings in particular contain a world of nuance: delicate seasoning, subtle flavors emboldened by savory sauces and, of course, fresh ingredients artfully presented.
There are several origin stories tied to Chinese dumplings, or jiaozi, but this is the most popular: During the Han Dynasty, a practitioner of traditional Chinese medicine named Zhang Zhongjian tried to cure citizens of his ancestral home who were suffering from frostbite on their ears by combining mutton, chile and medicinal herbs and wrapping it dough. He folded the dumplings to resemble ears, boiled them and gave them out to the poor along with the broth.
Today, dumplings are especially popular around Chinese New Year, but here, as elsewhere in the world, they're eaten year-round.
In Santa Fe, dumplings pop up in all sorts of places. At recently opened Horno, for instance, you'll find a $19 pork or vegetable dumpling dish with lemongrass, coconut, kaffir lime, bok choy, mushrooms and Szechuan chile oil among dishes as diverse as Korean barbecue short ribs and roasted meatballs with marinara. Other restaurants place dumplings center stage, offering a wide range of fillings.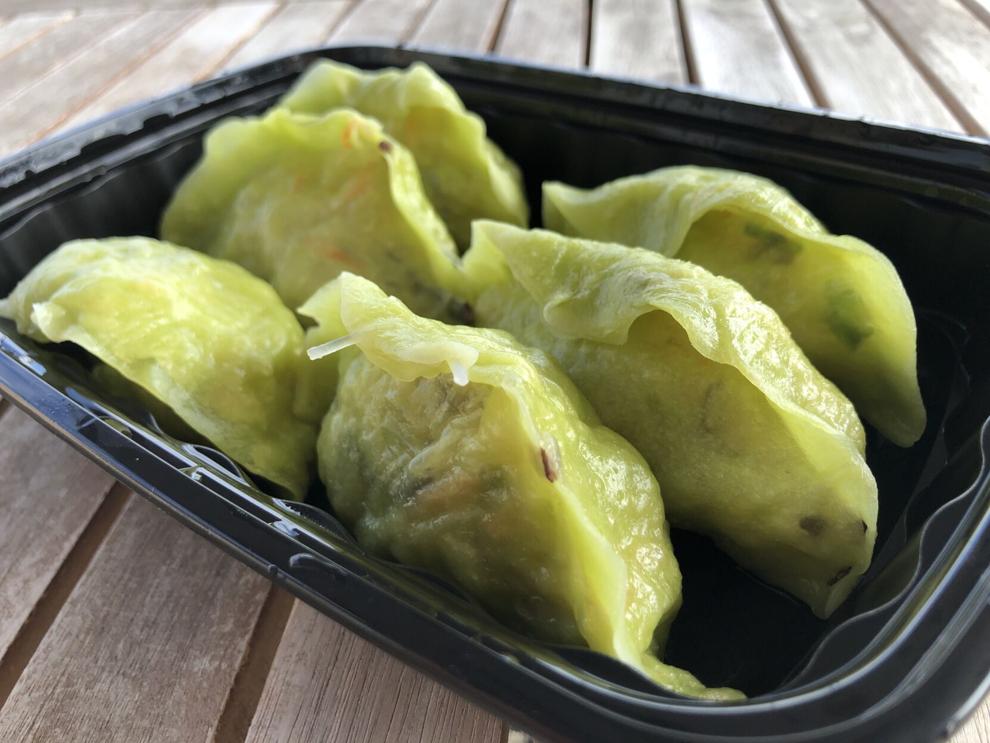 During a pre-pandemic visit to Dumpling Tea, in the Plaza Galeria, I watched an employee meticulously hand-fill and form dumplings at a wooden table in the main dining room. This time, I ventured downtown on a tourist-heavy Friday evening and couldn't manage to find a parking spot. No worries: Dumpling Tea is happy to run your order out if you call.
Back at home, I unpacked two sets of six dumplings each ($7.99), the ample half-moons tucked in plastic takeout containers and accompanied by a soy sauce and a more complex, tangier chile sauce. The pan-fried pork dumplings were my favorite of the bunch, but the delicate green-hued steamed vegetable dumplings had a mild, refreshing tenderness about them.
There are six varieties of dumplings here, as well as pouch-shaped buns, or bao. The soup buns ($9.99 for six) revealed a small, meatball-like pork mixture inside, surrounded by a rich broth mostly held in by the dough. Dumpling Tea also offers a flavorful array of wonton soups and noodle dishes — and either would make a wonderful partner to a tray of dumplings.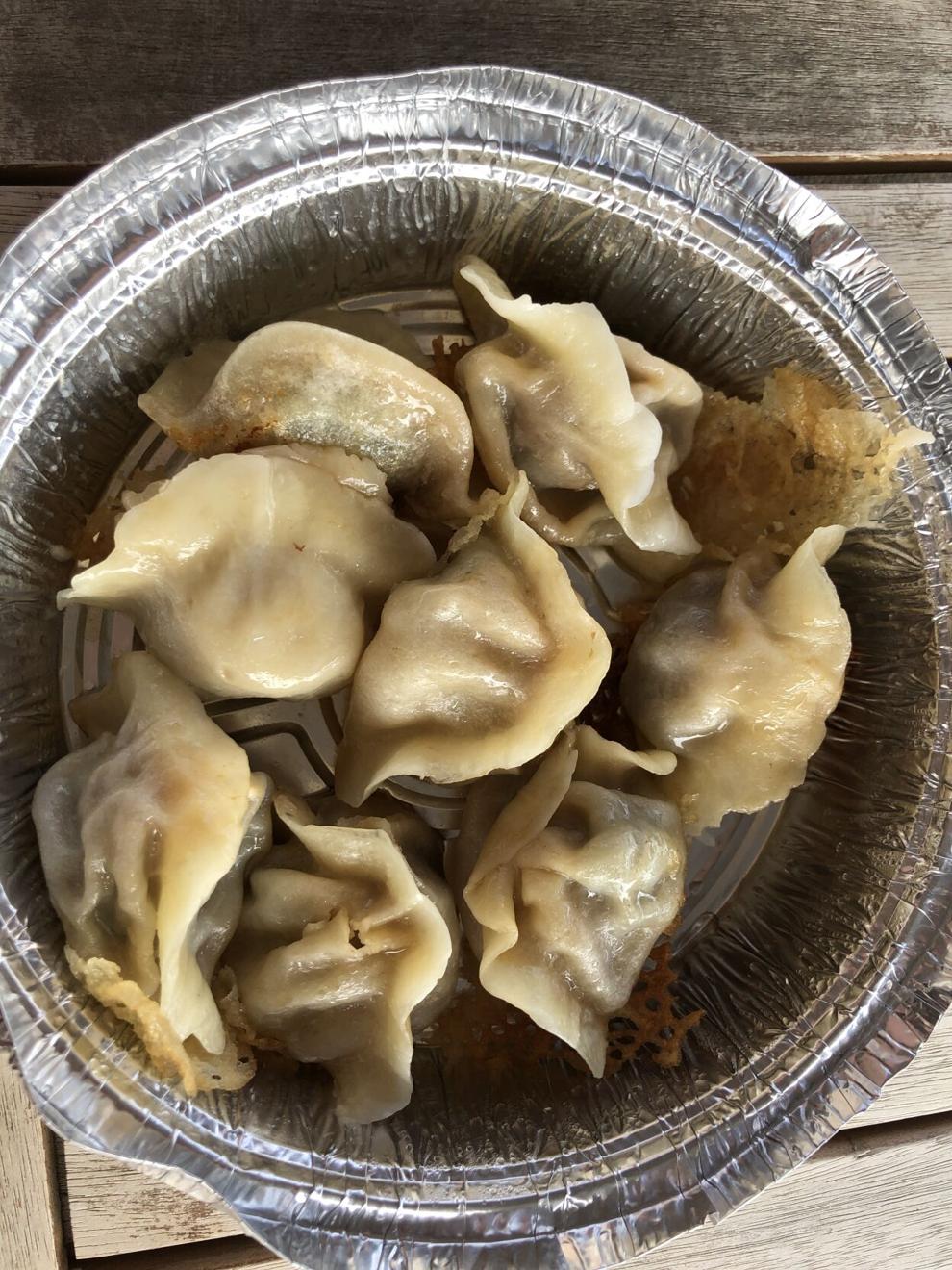 Pickup was nearly as seamless at Chang's Dumpling House, across the street from Backroad Pizza. Twenty minutes after I ordered, I walked into a nearly empty space and up to a table, where an employee rang me up and handed me my takeout order. Here, too, buns and dumplings are the stars of the menu along with a few other intriguing options, including Korean bibimbap. (I tried a Chinese burrito, or jian bing, which had an appealing crispy texture thanks to the romaine and fried wonton inside.)
The dumplings are smaller here, and servings come in eight or 15 pieces. The "Signature Dumplings" ($6.99 for a small order, $12.99 for a large) contain a mixture of shrimp, pork and chives. I opted for an order of steamed chicken dumplings and an order of beef and green chile dumplings. The latter were my favorites by far: The slight heat of the chile paired with the beef packed each tiny pillow with flavor.
And if you don't want to eat your dumplings right away — or you'd like to pair them with sushi — make at stop at the new Golden Land Cafe in the Plaza Del Sol shopping complex off St. Michael's Drive. The restaurant offers a huge range of items prepared to order, including dim sum, sushi, noodle bowls, teriyaki bowls, hot pot ramen and poke bowls. But I was drawn to the promise of grab-and-go items: Golden Land also sells some of its packaged dishes at the Eldorado Super Market, the Hilton Santa Fe Buffalo Thunder and Chomp Food Hall.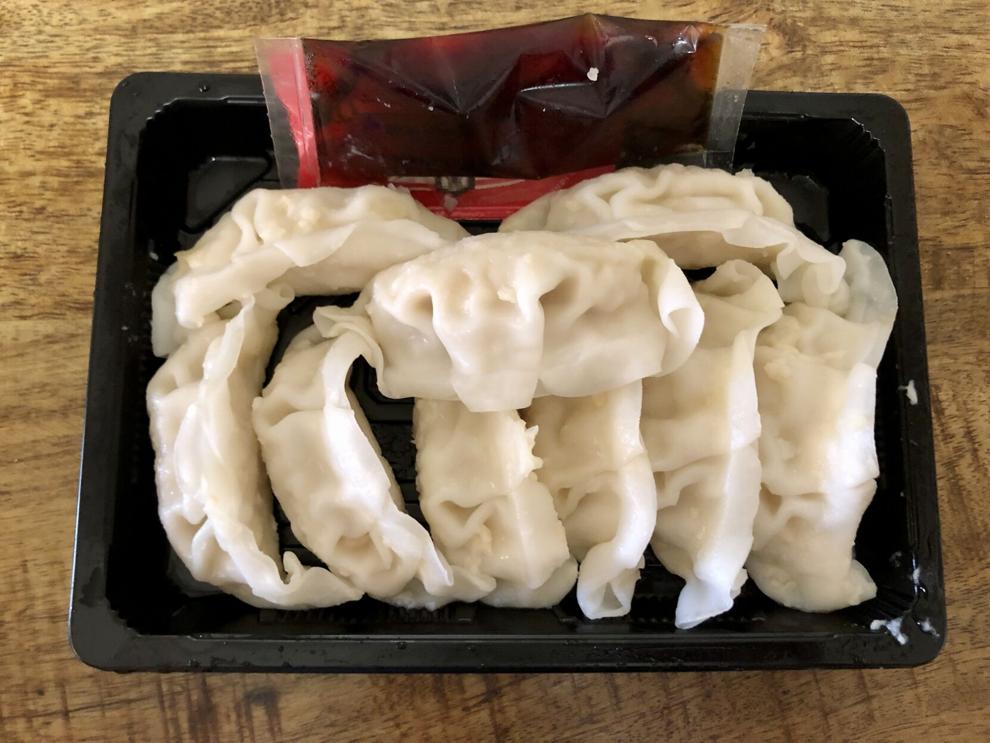 I stopped in on a quiet afternoon and perused the small refrigerated case up front before selecting a couple packs of chicken dumplings ($7.99 each), a California roll and a pint of chicken soup. Later that evening, I pulled everything out, heated the dumplings (nine of the half-moons were tucked into a package) and the soup, and fashioned myself a leisurely meal. As the pandemic drags on, I appreciate options that don't require me to reheat previously hot takeout meals at home, and Golden Land's grab-and-go case satisfied the assignment.
But is there ever a "right" time for dumplings? Not if there's never a wrong time. I'll take just about any opportunity to celebrate our town's abundance of these simple, tiny treasures.